WELL-KNOWN keywords like the "Belt and Road Initiative" and "building a community with a shared future for mankind" tell us that today's China is becoming the central and guiding factor not only in the field of economics, but also international politics.
At the Central Conference on Work Relating to Foreign Affairs held in Beijing from June 22 to 23 this year, Chinese President Xi Jinping in his keynote speech called for a reassessment of China's position and function in the changing world. In his words, China's foreign policy should "uphold the flag of a community with a shared future for mankind to help make the global governance system fairer and more reasonable."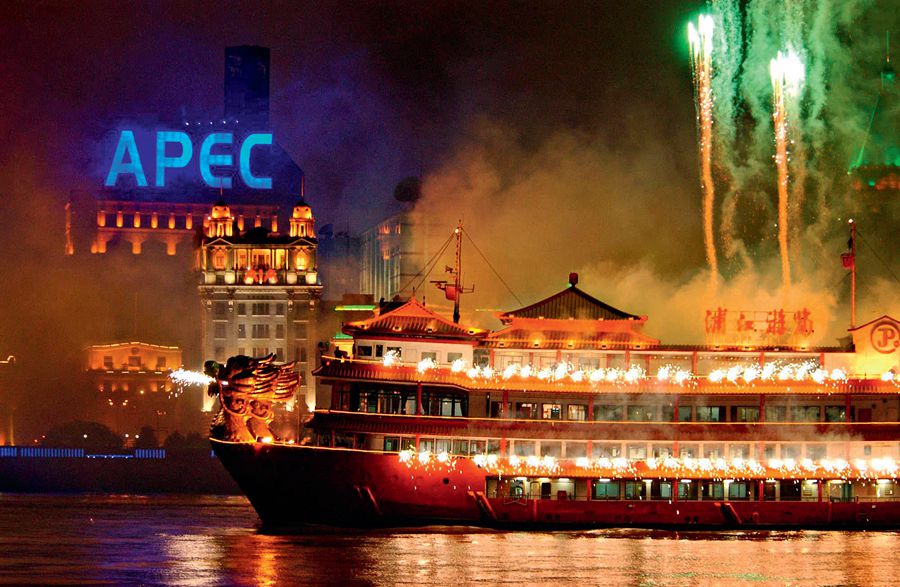 A fireworks extravaganza to mark the opening of the APEC Summit: Dragon boats on the Huangpu River in Shanghai welcome the major political event on October 20, 2001.
At the same time, Xi clearly stressed the peaceful and friendly character of Chinese politics and underlined that China will continue to follow the path of peaceful development based on mutual respect and common prosperity. Solidarity and cooperation with other developing countries should be intensified, he said.
China is playing a key role in global economy and politics. Who would have dared to imagine such a development just 40 years ago?
What President Xi is pushing forward more consistently than ever before is the further development of the courageous and visionary political decision that was made in 1978, a decision that has given much more than a new direction to the fate of China.
This decision was the reform originally introduced by China's most important politician at the time, Deng Xiaoping.
Chief Architect of China's Reform and Opening-up
When one speaks today of China's policy of reform and opening-up, one immediately thinks of the name of the statesman who initiated the turn from a planned economy to a freer state and economic system — Deng Xiaoping.
But more than being the father of the reform and opening-up policy, Deng Xiaoping's measures also formed the basis of China's breathtaking economic success for the last four decades. It is hard to believe how China in just 40 years has transformed itself from a largely backward third-world country into one of the world's leading economies.
For example, in 2008, the 30th anniversary of the reform and opening-up, Germany was outperformed by China in terms of economic strength. Striving to become a world leader both quantitatively and qualitatively for a long time, China has now taken a leading position in the world in many high-tech segments.
The innovative strength of Chinese engineers is indeed impressive. A particularly vivid example of the changes resulting from Deng's policy of reforms and opening-up is the story of the company Haier in Qingdao.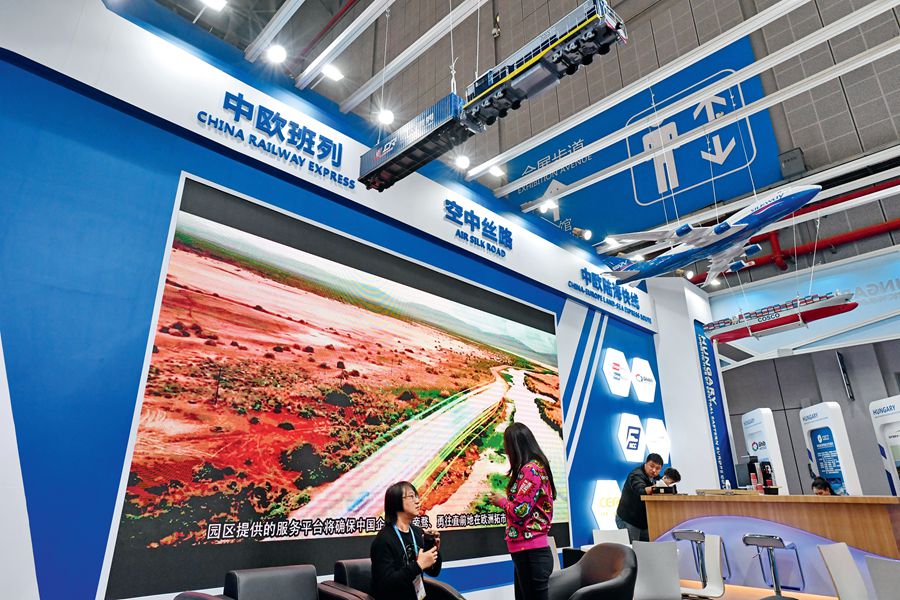 Silk Road by rail and air: This stand at the CIIE provides information on the transport links within the framework of the Silk Road Initiative.
This once loss-making state-owned company dependent on government subsidies has now grown into a world-leading corporation. Now Haier's products range from kitchen appliances to integrated semiconductors, all of which are of undisputedly top quality. During a visit to China in 2008, I had the opportunity of taking a tour of the company and was quite impressed with the futuristic architecture and the beautiful campus of the company site.
Without Deng Xiaoping's policy of reform and opening-up, there would probably have been no progress in the political or even social spheres.
China has now become a cosmopolitan society. Of course, the rapid expansion of the Internet and other new forms of communication has also ensured that people in China today are very open-minded and well informed about global political and economic developments.
As a result, this development has led to a very open and lively dialogue within the cultural sphere. During all my visits to China, I was very taken with the well-developed culture of discussion that I found there. On many occasions, I have discussed many even controversial topics with different Chinese interlocutors, and learned a lot through the process. The important thing is to be as open as possible with your Chinese counterparts and be willing to listen.
Opening-up Brings New Ideas into the Country
As we have seen, with the country's opening up to the outside world, inevitably new ideas also found their way into China.
At the same time, the country is also strongly interested in presenting its own art, culture, and language to the world. Confucius institutes in many countries of the world, worldwide student and pupil exchange programs, friendship associations, twin cities, to name a few – there is now a great variety of mutual, worldwide exchanges between China and other countries.
In the end, indirect interaction with each other increases, people communicate their thoughts, and mutual learning takes place.
In my opinion, the opening up for tourism – internally and externally – is also an important part of this development.
Chinese travellers can now be seen at famous places all around the world, and people from every corner of the globe are fascinated by the beauty of China and the hospitality of its people.
On a cultural level, China is experiencing blossoming and diversified development. Peking Opera co-exists with experimental theater, traditional folk songs live in harmony with classical Chinese and European music, and you can also find techno and rap; almost everything is represented in the music sector. This diversity would have been unimaginable just a few years ago. In addition, performing arts and literature are also just as colorful.
In 2009, China was the guest of honor at the Frankfurt Book Fair. With my German novel Im Zauber der weißen Schlange (The Magic of the White Snake), I was able to make a small contribution to the broad spectrum of the Chinese book landscape. The book was published by the Beijing-based Foreign Language Teaching and Research Press (FLTRP) in a German-Chinese edition and two years later also in an English-Chinese edition.
The West of China Is Catching up
However, despite various developments in China over the last 40 years, today, there are still some significant economic and social inequalities between Chinese provinces. The well-developed and prosperous east still stands out from the much less developed west China.
Repeatedly objections have been raised, especially from Western media, that China overlooks its poorer provinces in favor of the rich east, but they hardly do justice to reality.
For many years, tax reliefs and development aid have been granted to the western areas that are lagging behind in development, so that they can take advantage of the opportunities to keep up with the richer provinces in the east and expand their ties with them.
Since 2007, for example, the VAT system in Northeast China has been reformed in order to achieve balanced regional revenues and promote economic development in underdeveloped areas.
The Chinese government has also made great efforts to reduce the gap between urban and rural areas. For example, the state supports farmers in purchasing modern agricultural machinery or high-quality seeds, while education in rural areas is also being promoted and developed.
In addition to free compulsory education in urban and rural areas, children of poor farmers are completely exempt from school costs.
Without the economic boom in the successful regions, the comprehensive development and support for the less developed regions, as practiced by the Chinese government today, would not have even been possible.
There are very few countries in the world like China where the state leadership is making such great efforts to minimize development differences in various sectors and compensate for social injustices.
Of course, one cannot overlook the growing gap between the rich and the poor in China. However when contrasted with Western countries, the Chinese government is constantly looking for ideas and concepts to mitigate the disparities.
One-Sided Western Reporting
The Western media reports about the human rights situation in China often tell only one side of the story. Of course, there are still things in China today – as in any other country – that need to be improved.
However, to reduce China's image to that of a state which does not sufficiently respect the civil liberties of its citizens, as it is repeatedly claimed by Western media, is just as unfair and untrue as it is insulting for China.
As I already mentioned before about the open culture of discussion in China, I was particularly impressed by China's guest of honor appearance at the Frankfurt Book Fair in 2009.
During that time I took part in several exciting and informative rounds of discussion and learned a lot about the diverse literary landscape in China, as well as the fact that many contemporary Chinese publications do not spare societal criticism.
The German public apparently did not take much notice of all this. In any case, German newspapers hardly did any reports on it at all.
As is often the case, our media representatives often make it very easy for themselves. One person copies the other instead of getting a picture of the real China for themselves.
Like it says in the Chinese proverb, "Seeing once is better than hearing a hundred times." I can only confirm this and advise anyone who has made it their task to write about China to learn for themselves the reality of the country with their own eyes.
Indeed, anyone who demands that such a large, multi-ethnic state like China drop all barriers is either naive or alien to this world.
It is obvious that China's ongoing reform of its administrative and judiciary systems has significantly improved the human rights situation in the country.
I know from discussions with German professors and experts that legal experts from Germany are also involved in the Chinese reforms in an advisory role, for example in the judiciary field. Ideas from the German legal code have even been introduced into Chinese reform projects. Freiburg professors have also given advice to the codification and reform of the Chinese legal system.
Seeking Mutual Benefits
It is no longer just the Chinese who are benefitting from Deng Xiaoping's successful reform and opening-up policy. Over the past decades, China has developed into one of the most important engines of the world economy.
While people in Western countries benefit from inexpensive and high-quality products, China is one of the largest and most profitable sales markets in the world. Today, China is also a leader in many areas of high technology.
A prime example of this is the photovoltaic system I have installed on the roof of my house which is produced in China. For me, choosing a strong, experienced, and reliable manufacturer was a top priority when selecting the solar modules.
In addition to this, China's responsible reponse to the European financial crisis cannot be overestimated. Throughout the crisis, it once again demonstrated the importance of Chinese partnership and friendship.
The high level of prosperity that we enjoy in our world today would not have been made possible without China's economic power.
With new ideas and initiatives, China's president Xi Jinping is reaching out his hand to all states to work together in building a community with a shared future for mankind. Only in the harmonious coexistence of all countries can it be possible to solve the major political, economic, and ideological issues of these days and bridge the gaps, which have been newly created.
The Belt and Road Initiative, a Concrete Step Forward
An impressive example of China's aspiration to share the fruits of its development and a proof of its resolution for economic development is the Belt and Road Initiative put forward by President Xi Jinping.
Today, more than 100 states and international organizations are actively involved in the development of the initiative. China has already concluded agreements with countries all over the world on cooperation in the production sector and created many cooperation zones along the routes.
The consequence and vigor with which the Chinese government is advancing this large-scale project, is quite impressive. There is no doubt that the ancient Silk Road is already in the process of re-emerging. This is also another valuable step for China and the whole world.
On the 40th anniversary of Deng Xiaoping's initiation of China's reform and opening-up policy, I would like to express my sincere congratulations. I wish China and its people all the best for the future, and hope that the new, visionary ideas of President Xi can be successfully implemented for the good of China and the rest of the world.
HELMUT MATT is a German writer and China scholar.