THE reform and opening-up is a bold undertaking by Chinese people under the leadership of the Communist Party of China (CPC) in building Chinese socialism, and is part of the self-revolution, self-perfection, and self-development process of Chinese socialism. It is of great historic significance for the development of socialism with Chinese characteristics and realization of national rejuvenation.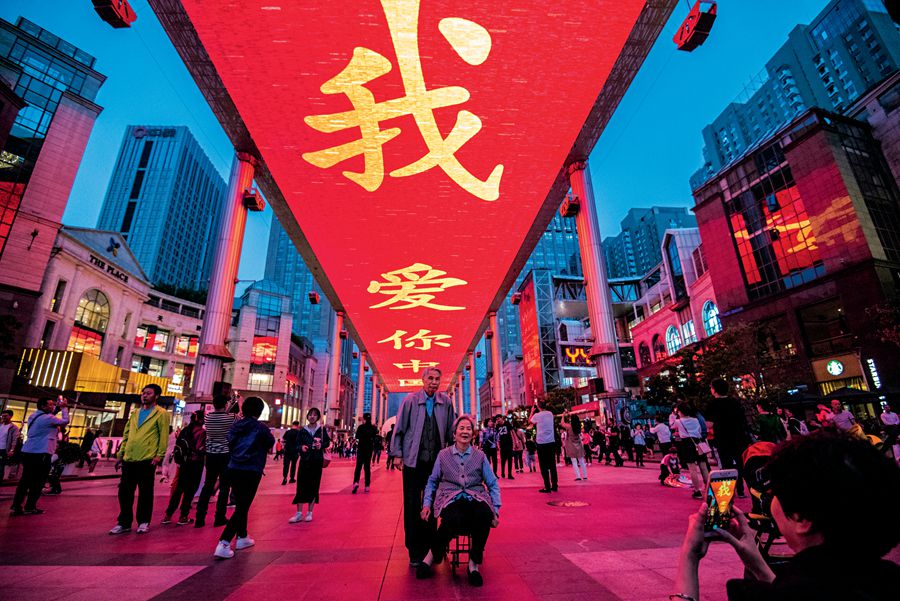 Neon lights flash "I Love China" in The Place, a commercial district in downtown Beijing, during the 2018 National Day Holiday.
Since the 18th National Congress of the CPC in 2012, China has espoused a broader vision for its reform and opening-up, going beyond merely improving domestic productivity and sharing its development experience and benefits with the rest of the world to seek win-win results. A more developed China now participates in international governance with greater ardor, contributes wisdom to it, and shoulders its international responsibilities.
As President Xi Jinping noted, China's relationship with the world is undergoing profound changes. China is more connected and interactive than ever before with the international community, and its dependence on the bigger world and involvement in international affairs has also increased. Correspondingly, the world is also becoming more dependent and exerting greater influence on China.
On multiple occasions over the past few years, President Xi has stressed the development philosophy of shared benefits, win-win cooperation, and shared future. Under this philosophy, China has rolled out a number of measures and programs including the Belt and Road Initiative, free trade zones, and opening wider its service sector. All of these initiatives have already achieved remarkable results.
The BRI Draws Global Attention
The Belt and Road Initiative is a major step of reform and opening-up in the new era, epitomizing China's commitment to shared, win-win development. Since President Xi first made the proposal in 2013, the initiative has grown into a new platform for international cooperation, and the steady progress made in its construction and expansion continues to draw global attention.
The initiative meets the needs of countries along the routes for faster growth and a better livelihood for their people. The concept of shared, win-win development which it advocates is welcomed by more and more countries and regions around the world, establishing an increasingly interconnected network among them.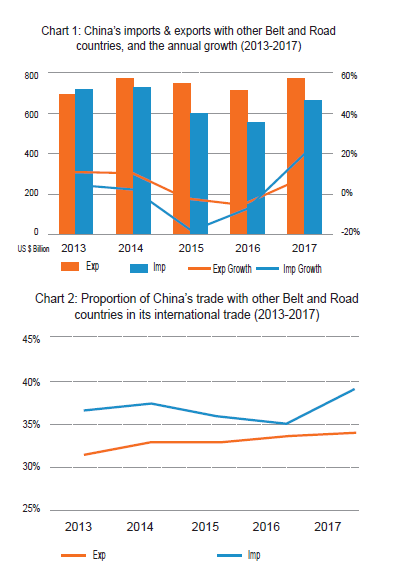 At a 2016 meeting of the Political Bureau of the CPC Central Committee, President Xi articulated that when building the Belt and Road, China shall pursue common interests and put justice first; it does not seek quick success or instant profits, nor is short-termed in nature. Over the past five years, China has carried out extended policy communication with relevant countries, mobilized domestic resources in a coordinated manner, and increased policy support for the initiative. It is now a growing understanding among countries along the Belt and Road and beyond that the initiative is not an economic or political expansion motivated by the zero-sum mentality, or a "one-man play" meant to fuel the development of one country at the cost of others. Following the principle of consultation, cooperation, and benefits for all, it is instead aimed at bilateral and multilateral cooperation to seek a shared, win-win development.
Over the past five years, the Belt and Road Initiative has significantly boosted foreign trade among countries along the routes. Last year China's imports and exports with the countries along the Belt and Road rose by 13.4 percent over 2016, reaching US $1,440.32 billion, after negative growth for two successive years. For the first time in five years, annual growth in China's imports with these countries exceeded that of its exports to them, by 11.3 percent. For the past five years China's trade in goods with these countries had added up to US $5 trillion. These have effectively boosted exports from the Belt and Road countries.
Infrastructure construction is a key factor in the success of the Belt and Road Initiative, and epitomizes the Chinese principle of shared, win-win development. Since the initiative was launched, transport on land and over the sea, oil and gas pipelines, and telecommunication networks have improved with the passing of every year.
The financing environment in the region is also changing for the better. With China taking the lead, a diversified financing system is going from strength to strength, boosting currency circulation and financial connectivity. International financial cooperation now plays a more important role in stimulating trade and economic cooperation between countries. As China's financial sector is opening wider, the shared and win-win development that the Belt and Road Initiative advocates is becoming more a reality.
Under the initiative, Chinese people stand united with people of other countries and help each other. Out of concern for the future of all humanity, they transcend the limits of political systems, culture, and ideology, and continue to take their cooperation to a much more significant and higher level. This is evidenced by the vast number of conferences, expositions, and other forms of exchanges that have been successfully convened and evolved into regular events. They are platforms to enhance mutual understanding between peoples the world over.
FTAs and FTZs
The free trade area (FTA) is part of China's efforts to advance reform, opening-up, and free trade in the new era. A special area with multiple functions to boost trade liberalization and facilitation, the FTA's goal is to create an international business environment that conforms to international rules and appeals to both domestic and international investors. The FTA is another innovative move by China to get more integrated with the world and make contributions to it in the new era.
It was decided at the 18th National Congress of the CPC to accelerate the implementation of the strategy of building free trade areas; the Third Plenary Session of the 18th CPC Central Committee declared that China will build a high-standard network of free trade areas that is based in its neighborhood and faces the entire world; and at the 19th National Congress of the CPC, China declared that it will expand foreign trade, develop new models and new forms of trade, and turn itself into a trader of quality. As a result, the Shanghai Pilot Free Trade Zone was established in 2013, the first one on the mainland. At present, China is in the process of negotiating with 27 countries regarding 12 free trade deals or upgraded deals. Signing and upgrading of such deals and the consequent establishment of FTAs have significantly boosted trade between China and the concerned countries.
Domestic free trade zones serve as the testing field and engine of deeper reform and further opening-up. They have so far conducted three rounds of pruning to the negative list to reduce restrictions on foreign investment and ensure fair play for foreign businesses on the Chinese market. This shows China's sincerity to embrace international rules and integrate with the world.
China is also accelerating the construction of free trade ports, which will be the new beachhead in the country's reform, opening-up, and shared, win-win development. These ports are expected to improve China's business environment, expand its opening-up to a higher level, and facilitate foreign traders' entry into China and their participation in the Chinese economy on a level playing field.
Trade in Services
In the time of globalization and the information technology age, trade in services is a major field of economic competition among countries, and also a key index for the measurement of a country's development level. Developing countries in general lag behind their developed peers in this regard, which consequently impedes their economic development, transformation, and upgrading. Opening up the service sector conforms to the global trend, and is also critical for China's pursuit of opening-up on all fronts. It is an endeavor of China to boost world economic growth amid anemic international trade.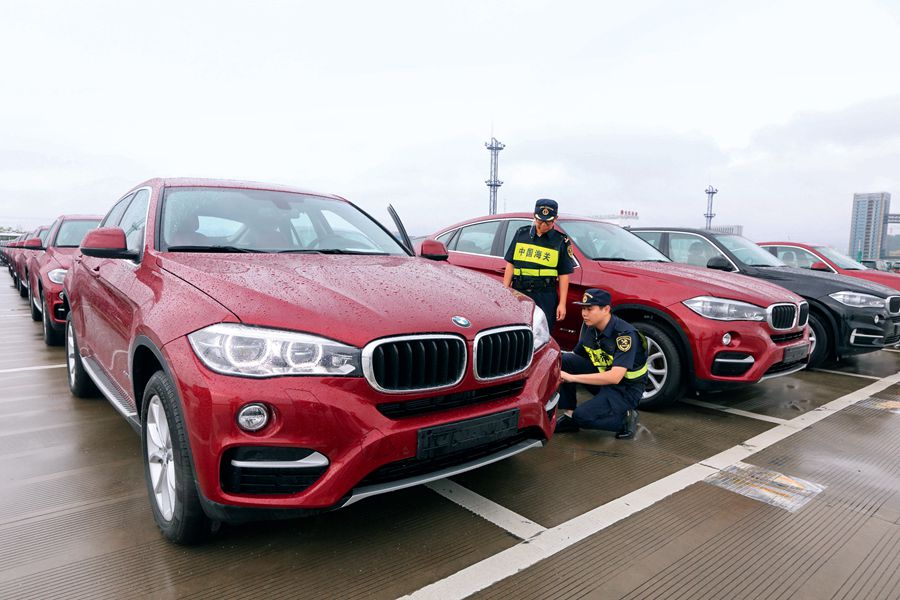 Imported cars in the Ningbo Mei-shan Bonded Area waiting for customs clearance.
Today, the Chinese economy is undergoing transformation and upgrading, while the world economy is undergoing an onslaught of trade protectionism. China is paying more attention to synergy with other countries when developing itself, because it is fully aware that only when the world as whole is doing well, can the country really thrive. The service sector is a key area for expanding opening-up in the new era. After carrying out pilot programs over the past four years, China has gathered experience in 29 different areas that can be applied nationwide.
The current opening-up measures of the service sector put much emphasis on fairness, free competition, and protection of intellectual property rights. Policies are made to ensure a fair employment environment for international talent, so that people from all over the world can jointly contribute to the world's economic development and globalization, science & technology innovation, and cultural progress.
This decision was made in light of China's vision for an open, inclusive, shared, and win-win development. It is also the Chinese solution for the issues of optimizing the division of labor and dissolving trade conflicts. It is creating new growth points for the world economy.
For the Shared Future of Mankind
Today the world is undergoing the most significant changes in a century, and have made the connections between countries grow closer and become more exigent. The strategic decision of China to continue reform and opening-up in the new era follows the trend of world development and the law governing historical development.
As President Xi Jinping pointed out in his speech commemorating the 200th anniversary of the birth of Karl Marx in May, 2018, we now live in an integrated world where people enjoy broader and deeper contact with each other, and countries are more interrelated and dependent on each other. Those who reject this reality will be rejected by it. In this context, China needs more than ever before the interconnectivity and collaboration with other countries in order to realize its own development, and the world also needs the vigor and dynamism of China to boost its own growth. China has been unswervingly following the path of peaceful development and the opening-up strategy of mutual benefit and win-win cooperation. The decision to advance reform and opening-up in the new era is the natural result of the country's resolve to remain an active contributor to global development.
The surging tides of anti-globalism and trade protectionism which have emerged recently raise barriers between countries. They pose a grim threat to the efforts made to solve global issues and realize common development of human civilizations. China's reform and opening-up provides an antidote to these virulent trends. Only when countries open up to and connect with each other, and pursue shared, win-win development can they find solutions to issues that are of interest to all levels of humanity, instead of getting involved in disputes that bring deconstructive consequences to all sides. Those peddling "China threat" ideas out of fear of a rising China will find no audience in a world which China's reform and opening-up is helping to build, a world of shared, win-win development.
In February 2017, the 55th UN Commission for Social Development adopted a resolution that calls for more support to Africa's economic and social development by embracing the spirit of building a human community with a shared future, a concept first raised by China. Guided by this concept, China's reform and opening-up in the new era pursues common interests and values of humankind, and responds to shared concerns for humankind's shared future. It strives to boost global economic growth and improve the wellbeing of all humanity through better connectivity and closer cooperation between countries around the world. The reason that a number of proposals China has made as part of its reform and opening-up policy are well received globally is that they express humanity's shared concern for our shared future, and provide targeted and feasible solutions. China's reform and opening-up has no geopolitical agenda to build the Chinese hegemony; nor will it lead the country into the Thucydides Trap. China firmly believes that the world of the future will be a shared community, as peace, development, cooperation, and progress are the hope cherished by and worked towards by all countries.
ZHANG YANG is a doctorate student of the Party School of the Central Committee of CPC, and HONG XIANGHUA is a professor of the school.