EVERY morning, 65-year-old Qu Rongliang shows up at the riverside in Lujiazui, a financial center in Shanghai's Pudong New Area, to practice tai chi with a local social group. "While exercising and enjoying fresh air along the Huangpu River, we can also take in the breathtaking landscape on the other side of the river. It's amazing that in the high-priced prime area, senior citizens can have a space for exercising."
The space the seniors enjoy is no random circumstance. It is actually a long-term plan by the local government to enable more residents to enjoy leisure time besides the river in order to share the benefits brought about by the country's reform and opening-up.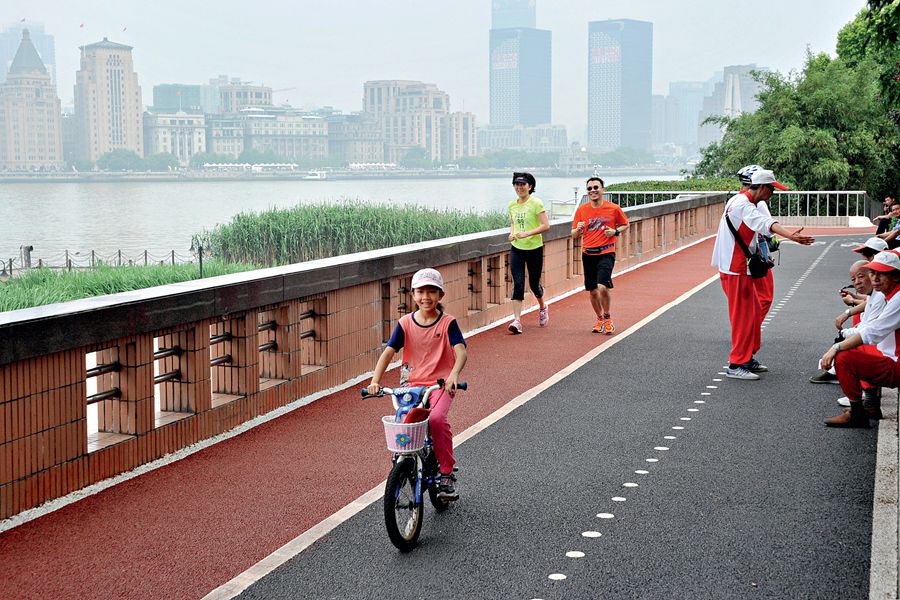 The Huangpu River bank in Pudong has become the perfect place for local residents to exercise.
In the early 1990s, for work purposes, Qu and his family moved to Pudong (literally means the east bank of the Huangpu River) from Puxi (the west bank of the Huangpu River), the old urban center of Shanghai. The striking contrast between Puxi and Pudong (a former less-developed suburban area of Shanghai) initially left Qu depressed. However, he always believed things would get better. "Back then nobody could imagine Pudong would achieve today's levels of development," said Qu, conscious of the radical changes in both the cityscape and in the lives of ordinary people in the area.
Pudong Speed
Yang Dongxu came to the enterprise service center of Pudong New Area on August 28, 2018 to apply for an extension of his food business license. It took him only 15 minutes to complete the whole process. "In the past, it would take me at least an hour," Yang told China Today. "As many application documents had been submitted online, all that was left to do today was just a simple procedure and getting an official stamp. Very convenient and efficient."
Liao Shijie, a 59-year-old businessman from Taiwan, shared the same sentiments about the center's quality service and efficiency. "It's my first time to apply for a business license in the mainland. I knew little about the application process and encountered problems in the online application. Thanks to the help of Wang Zhuanzhuan, I managed to complete the process."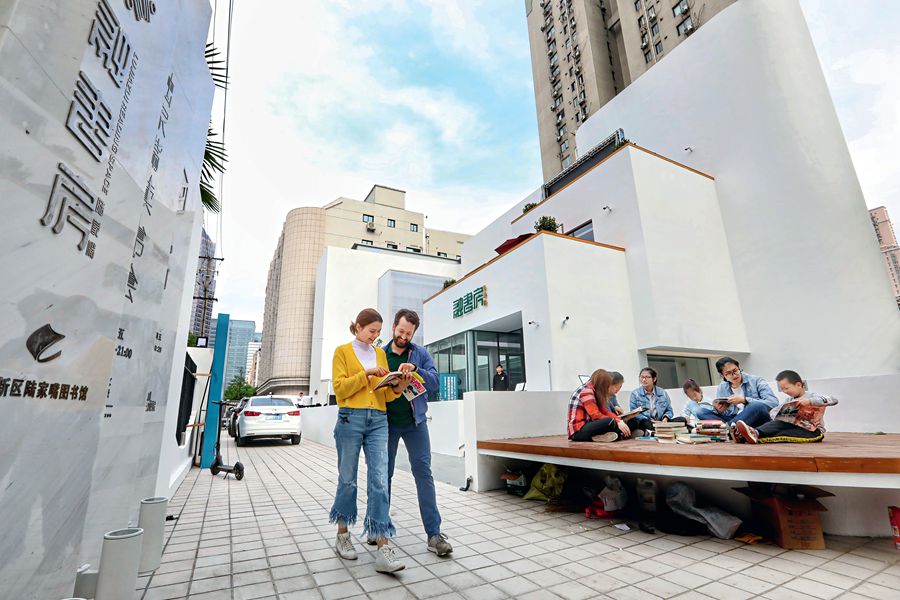 Pudong Lujiazui Reading Space enriches local people's cultural life.
"Since the one-on-one service started, we have helped more than 2,000 people with their applications," said Wang, a staff worker at the center. She told China Today that the tailored service has greatly improved people's satisfaction with the service center. "After submitting an online application today, Liao will be notified of the verification within 24 hours. This means tomorrow he can finish the whole application process," said Wang.
Another businessman, Li Minghua, had just completed his application process. "I came to register a new company. I first submitted my documents for preliminary online review. You know, in the past it would take a lot of time just verifying a company name," said Li. Now, you know whether a chosen company name has been already registered immediately via the online system. Moreover, the verification of a company name and application for its establishment have been merged, and there is no need to make note of your business scope as many options for that are provided. "What you have to do is just to click your options, and after 20 minutes the procedure is complete," said Li.
What has speeded up Yang, Liao, and Li's applications is the "one-stop shop" online service platform provided by the enterprise service center. "By combining online and offline services, the service center quickened the application for market entry permission to 3.3 working days from the former 22 working days. Now, 52.9 percent of application steps can be completed online, and the remaining 47.1 percent only required one stop at the center," Jiang Hongjun, director of the enterprise service center, told China Today.
According to Jiang, the convenience owes a lot to the local streamlining of administrative review and approval processes. At the enterprise service center, one single window can deal with all review and approval procedures related to business permission, and another window for all investment and construction-related review and approval procedures. In addition, a trial program has been introduced in some areas like Lingang and Zhangjiang to allow Internet-based acceptance inspections of some projects. One important guiding principle for streamlining the review and approval process is that staff at the service center cannot turn away applicants for any reason, but are there to offer them any help they may need. In addition, a database was established to pool all information required for the application and the issued licenses for different governmental branches to share.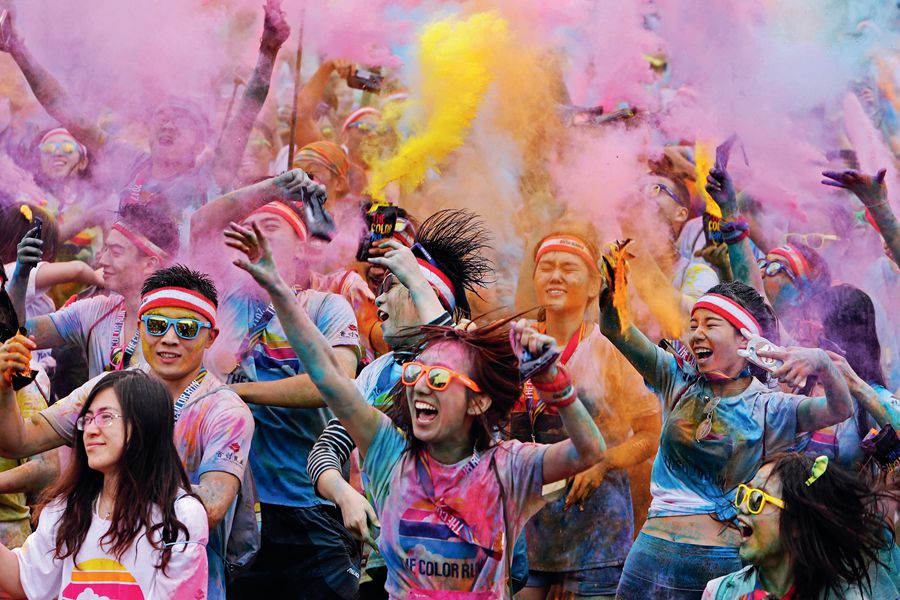 The Color Run 2017 in Shanghai attracts tens of thousands of revelers to Pudong.
Currently, Pudong's enterprise service center has built a service network covering all 327 local administrative items related to enterprises, and planned to extend it to involve 240 municipal and state-level review and approval items.
"To be in tandem with Pudong's rapid development, we have to improve our efficiency," said Jiang Hongjun.
A Convenient Life
At 9 a.m. on August 31, 77-year-old Shen Lingen thumbed through a military magazine while chatting with people around him at a reading room of Shixin community in Lujiazui Subdistrict of Pudong New Area. "I have been retired for many years. Since 2007, I've visited the reading room almost every day to browse books, magazines, and newspapers. I am a community volunteer. While enjoying reading and chatting with people here, I can also learn about big domestic and international events," said Shen.
"In Lujiazui, such a prime area for business, the local government has managed to provide a space like the reading room for senior residents, which fully shows our government has the people's needs in mind," he said, adding that the government should be praised for that.
Next to the reading room, a class on flower arrangement is going on. "This is the place for retirees to learn new skills and relax. Classes of calligraphy and drawing are given every week. We also have a choir and reading club, which also have weekly activities," social worker Fan Ruilian told China Today.
According to Li Juan, Party secretary of the Shixin community, the service center provides the area's nearly 4,000 elderly residents with up to 180 community services. The service center has effectively coupled local residents' needs with community resources. Via the online platform, the center collects local people's service requirements, provides interpretation of service policies, and deals with service application procedures.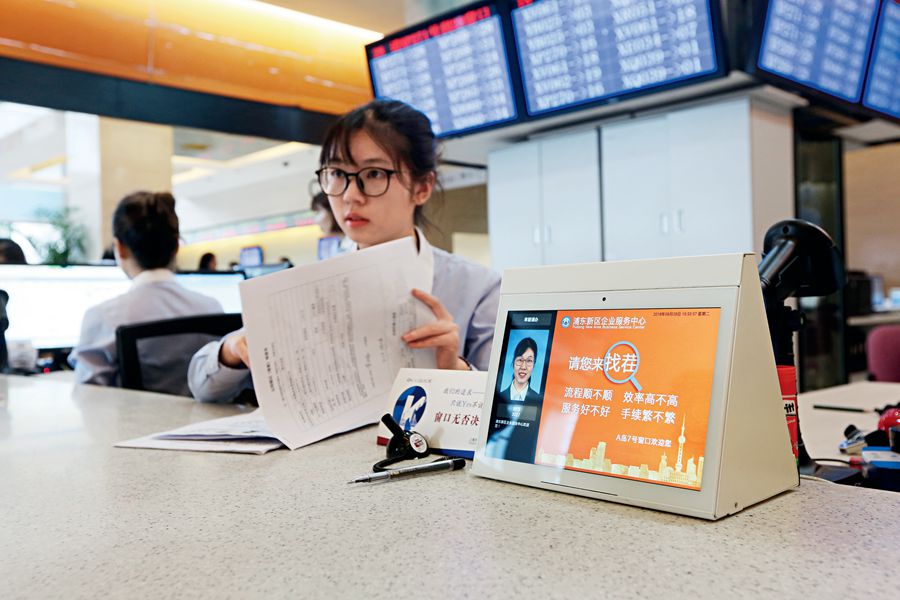 The enterprise service center of Pudong New Area offers quality and streamlined services.
As Shixin is an aging community, the health station of the service center is very popular among local residents. The station is equipped with a contracted doctor, an aide for health management, a family doctor, and several health service volunteers. Its health management program provides at least one round of visits a week, making it possible for local retirees to have their ailments treated at home.
To improve their lives, locals came up with a system that divides the community into different sections per the household number. Each section has a chief, who is responsible for collecting people's requests and acting on them. Wang Jing, a 35-year-old, is one of the section chiefs. She is responsible for helping to solve problems of more than 200 households. These include things like power failure and leaking pipes. Sometimes, she has also helped to mediate family disputes.
This type of community service center has also been established in international communities of Pudong New Area. Biyun, located in the west of Jinqiao Town, is the largest international community of Shanghai. Over 2,000 foreign families from 60-odd countries including the U.S., the U.K., France, Japan, Italy, Spain, India, and Switzerland live here, accounting for more than half of the total residents. Catering to their special needs, an international community service center extending services related to such aspects as daily life, law, health, culture, and community management has been set up.
There are 1,284 community service centers covering 36 sub-districts and towns in Shanghai providing local residents with convenient services.
New Cultural Experiences
Recently, an innovative library, which has quickly gained popularity after it went viral online, is becoming a cultural landmark in Pudong New Area, attracting more and more young people.
Occupying a three-story white building in Pucheng Road of Lujiazui, the Pudong Lujiazui Reading Space is different from traditional libraries as modernity permeates every corner of the space. The 1,400-square-meter space houses over 50,000 books, of which 20 percent are in foreign languages.
Apart from traditional library functions, the reading space also offers an online-to-offline borrowing service, digital library, 24-hour loan facility (via Alipay), and book club activities. In addition, by paying RMB 3, a reader can enjoy the book delivery service.
Since its establishment on April 22, 2018, the book club at the Lujiazui Reading Space has attracted nearly 6,000 attendees – meaning full houses each time. Meanwhile, via its online platform, the reading space has also involved 220 million people nationwide in its book club activities with details of events presented online. To broadcast its activities even more broadly, the reading space has cooperated with Himalaya FM, trying to reach a global audience.
"A once ordinary community library with shabby decor and simple services that seldom saw young people's patronage has evolved into a new cultural landmark in Pudong New Area," said Huang Wei, deputy chief of the publicity department of the Pudong New Area District Party Committee. Over the past 28 years, while creating domestic and even worldwide economic miracles, Pudong has lagged behind in the cultural development stakes. "Pudong's per capita cultural venues were once only one-eighth that of London," Huang said.
Huang believes tailoring creative cultural products for the youth who can then drive the cultural industry with their vitality was the key for Pudong to make a breakthrough in cultural development. In Huang's eyes, Lujiazui Reading Space's successful evolution has undoubtedly epitomized Pudong's efforts to shape local cultural brands and improve its cultural industry.
In fact, distinctive reading spaces are mushrooming cross the whole of Pudong New Area. For example, Xuexishufang, located on the fifth floor of the Pudong Library, is Shanghai's first reading space with a focus on the Communist Party of China; the Lujiazui Reading Space is Shanghai's first urban library distinguishing itself with its focus on finance; Select Zhangjiang is a reading space featuring black technology product exhibition and transaction, and a social platform; Dayin Book Mall took the national lead to introduce the book sharing model.
Meanwhile cultural and creative industries are booming in Pudong. China's first digital publishing base, first private equity fund, first bonding company for cultural industry, and first online game company listed overseas all originated here.
In 2017, Pudong's cultural and creative industry's value added grew nearly 20 percent year on year to reach RMB 105.6 billion, accounting for 10.9 percent of Pudong's total value added and 28.4 percent of Shanghai's total for the cultural and creative industry. With its cultural and creative companies above the designated size (with an annual sales revenue of more than RMB 5 million, RMB 10 million, or RMB 20 million per the business scope) creating jobs for around 300,000 people, Pudong is shaping its cultural and creative industry into a national model.
"A batch of new stylish cultural facilities will be in place in Pudong to further improve people's lives and enable them to share achievements of local development. Culture is also expected to instill new vitality into the city's development," said Huang.