By staff reporter MA HUIYUAN
IN the 2018 Government Work Report, Chinese Premier Li Keqiang mentioned "high-quality development" six times, and pointed out that China's economy has moved from a high-speed growth stage to a high-quality development stage. The report delivered at the 19th National Congress of the Communist Party of China (CPC) also stressed to "move Chinese industries up to the medium-high end of the global value chain, and foster a number of world-class advanced manufacturing clusters."
As economic globalization enters a new development stage, global industries see greater value transfer and a deepening integration of division of labor. "In the process of globalization, China's winning secret is to constantly make a leap towards the high end of the value chain, and increase the breadth and depth of participation in the global value chain," said Wu Yabin, executive director of Research Institute for Global Value Chains, at the University of International Business and Economics.
Increased Level of Participation
"The participation of a country or a company in the global value chain is mainly manifested in two dimensions – its position in the chain and the breadth and depth of its participation," said Wu. "The broader it occupies the value chain, the more jobs and wealth it can create."
The completion ceremony of the second-phase river closure of the Laos' Nam Ou River hydropower project, spearheaded by POWERCHINA, is held on November 8, 2017.
According to Wu, the value chain is generally interpreted as a "smile curve." A product's research and development (R&D), design, and core components are at one high end, while related processing, assembly, and manufacturing have a relatively low added value, and then go to another high end, such as marketing and after-sales service. The position in a value chain determines how much added value a country or a company can obtain.
China's 40 years of reform and opening-up is essentially a process of continuously deepening its integration into the global value chain. Before the reform and opening-up, Wu said, China mainly exported agricultural products. During the initial period of the reform and opening-up, its exports were dominated by industrial products such as staple primary commodities. In the 1980s, the exports gradually transitioned to manufactured goods of light and textile industries. In the 1990s, China's main exports evolved into mechanical and electrical products, but at that time, the exported products were medium to low-end. Entering the 21st century, China's foreign trade began to gradually move to high-tech and high value-added products, such as high-speed railways, nuclear power, and other large-scale, complete sets of equipment.
In July 2017, Wu's research center, together with the World Bank, the WTO, the Organization for Economic Cooperation and Development, as well as the Institute of Developing Economies (affiliated with Japan External Trade Organization), announced the Global Value Chain Development Report. The report assessed China's efforts of reducing trade costs and integrating into the global value chain: China's reform and opening-up began with the establishment of four special economic zones. Following the model of export processing, these zones had constructed convenient infrastructure and adopted fast customs clearance procedures. In a short period of time, all these trade facilitation policies had been applied to more than 30 cities across the country. The competition among cities helped lower trade costs and further inclusion to the global value chain.
Move up the Value Chain
Wu used smart phones as an example to show that China's participation in the global value chain is gradually extending. Smart phones are China's largest industrial product export. At present, the average localization rate of domestically produced mobile phones has reached 35 percent to 40 percent, and the localization rate of Huawei mobile phones has exceeded 50 percent.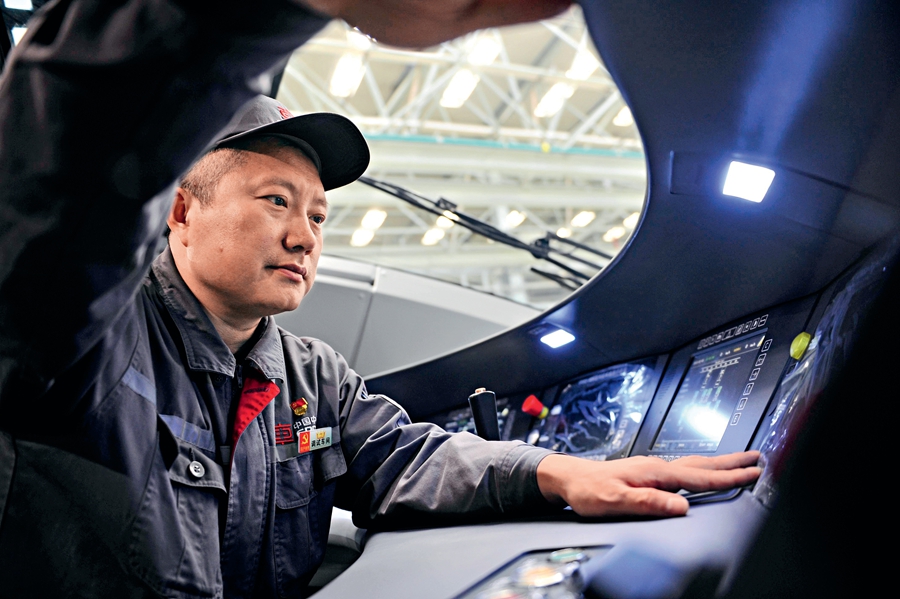 Engineer Luo Zhaoqiang debugs the electronic equipment inside a Fuxing bullet train.
The report Intangible Capital in Global Value Chains published by World Intellectual Property Organization on November 20, 2017 drew the same conclusion. According to the report, the pace of technological upgrades by Chinese mobile phone manufacturers is impressive. For example, Huawei has rapidly become one of the world's leading manufacturers of high-end smart phones through high R&D investment and global branding. In addition to Huawei, China's Xiaomi, Oppo, and Vivo also rose to the world's top 10 smart phone brands. China's position in the global manufacturing value chain has steadily increased in recent years, manifesting into increments in China's high-tech value-added products and services.
The progress of China's high-speed railway is an example of "whole value chain development." In September 2017, the Fuxing (meaning rejuvenation) train operated at a speed of 350 km per hour on the Beijing-Shanghai high-speed railway. It has completely self-owned intellectual property rights, marking a milestone in China's moving towards a manufacturing power and towards the mid- to high-end global value chain. Up to November 2017, more than 20 overseas railway projects have been implemented and mainly tracked by Chinese companies, and the total investment of implemented overseas railway projects has exceeded RMB 100 billion. According to statistics, more than 80 percent of the countries and regions that have railroads in the world are using products and services from CRRC Corporation Limited (CRRC).
"In the high-speed rail industry, China has the ability to carry out design integration in the early period, system integration in the middle period, and operational management in the later period. According to the principle of the smiling curve, China has formed a capacity of whole value chain development in this field," said Wu, who is also a research fellow at the China High-Speed Rail Development Strategic Research Center. He pointed out that from technical cooperation, export of standards, to spare parts processing, the production of a high-speed rail cannot be separated from international cooperation. This is also a perfect example of global value chain in the modern equipment manufacturing industry, Wu added.
According to Zhao Hongwei, a member of the National Committee of the Chinese People's Political Consultative Conference (CPPCC) and chief engineer of the China Academy of Railway Sciences, China's motor train units will continue to develop in a smart and green direction by developing energy-efficient and environmentally-friendly new technologies and materials, and will realize automatic driving.
These are inseparable from Chinese government's support and investment in innovation. In the 2018 Government Work Report, Premier Li Keqiang pointed out that in the past five years, China's R&D investment increased by 11 percent annually, ranking second in the world; and the contribution rate of scientific and technological progress to economic growth increased from 52.2 percent to 57.5 percent. China has obtained spectacular innovative results in such fields as manned spaceflight, deep-sea exploration, quantum communications, and large aircraft, and led the world in high-speed rail networks, e-commerce, mobile payments, and the sharing economy.
Meanwhile, China's foreign cooperation and outbound investment continue to grow. According to Hu Xiaolian, a member of the National Committee of CPPCC and chairman of The Export-Import Bank of China, China's outbound investment exceeded US $124 billion in 2017, which are more focused on technical progress, further expansion of the industrial chain, and green field investment. Contracted projects overseas have also achieved continuous transformation and upgrading. More companies with contracted projects get involved in the investment stage, and actively participate in the follow-up operation. In addition, Hu said, China has built nearly 100 industrial parks overseas, driving China's equipment, technology, and standards to go global. All these show that the extent of China's participation in the global value chain continues to expand and its position continues to rise.
From "Made in China" to "Created in China"
"The global value chain is not necessarily the traditional U-shaped curve. Many scholars have also proposed the rainbow curve," said Wu. "Manufacturing is not necessarily a production link with a very low added value. It can also be a high value-added link, because there is no sunset industry, only sunset products." A new round of scientific and technological revolution and industrial transformation is reshaping the global value chain. To upgrade from "made in China" to "created in China," it is necessary to use big data, intelligent technology, and personalized customization to further increase the added value of the manufacturing process, helping the process evolve from simple processing and assembly to a core, active link between upstream and downstream sectors.
In this year's government work report, Premier Li proposed that steps would be taken to "ignite a quality revolution in Chinese manufacturing." Ning Gaoning, a member of the National Committee of CPPCC and chairman of Sinochem Group, has observed China's progress from being a world factory to a manufacturing power. "China's manufacturing industry has become very large. The cost is relatively low, but the quality, technical level, technical sophistication, and added value need to be raised," said Ning, adding that through the supply-side structural reform and other measures, China's manufacturing industry has quietly begun to improve its quality, changing to a stage of quality improvement.
In order to promote China's advancement into the mid- to high-end of the global value chain, the Chinese government has successively introduced measures to reduce tariffs on intermediate goods, open up the service industry, and facilitate trade and investment. However, in this process, China still faces a series of challenges such as insufficient original innovation capacity, lax control over end product prices, and the exodus of industries and orders to other developing countries.
"We also hope that in the future when formulating international rules, we will not only focus on market segmentation. What's more important is how to make the market bigger and more "nutritious" with higher added value, so as to not only benefit the developed countries, but also allow more developing countries to share in this development achievement," said Wu. In this regard, China hopes to contribute more programs and wisdom. Take the Research Institute for Global Value Chains where he works as an example. It built an open research platform Global Value Chain Research Center, which is committed to promoting an inclusive, sustainable, and green global value chain.
"Chinese companies should actively participate in global environmental governance, take the lead in implementing the concept of green development, grasp the initiative in the era of green development and intelligent manufacturing, and promote the establishment of a green, low-carbon, and sustainable value chain," said Wu.