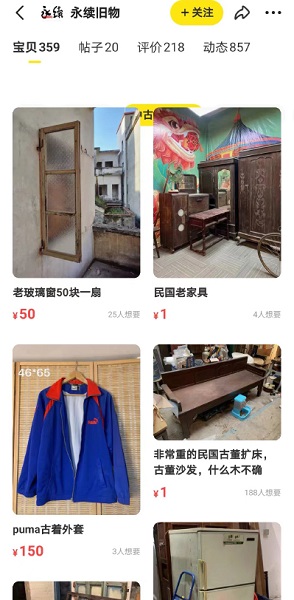 Xianyu (Idle Fish), an online platform for secondhand items (FILE)
As the saying goes, one person's trash is another person's treasure. Twenty-seven-year-old Wu Kaisi often wears secondhand clothes and is always on the lookout for the next piece of discarded furniture, or other household items, ripe for the picking.
Based in Guangzhou, capital of Guangdong Province, he has been collecting castoffs for personal use, trade and exchange for seven years now. Wu is a proud stooper.
The stooping trend, basically acquiring free secondhand furniture from the city streets, is becoming a new way of more affordable living for many young urbanites in China.
Picking up a piece they need on the street is literally rescuing it from the waste stream—if they don't take it, a garbage truck will just pick it up and take it to a landfill.
In the summer of 2019, an Instagram account called Stooping NYC, based in Brooklyn, New York City, the U.S., started posting photos of free items sitting on the curbs and marking their locations for people wanting to go pick them up.
In July of this year, a Shanghai-based blogger called Mikiko posted a picture of a discarded bathtub and its location on Chinese social and e-commerce platform Xiaohongshu (or Little Red Book). This was believed to be the first stooping note to appear on Chinese social media. Stooping groups soon emerged across China, especially in major cities like Beijing, Shanghai and Guangzhou where young people gather and the population is more transient. With the rise of China's secondhand economy in recent years, people are becoming more open to trading and using recycled products.
A second lease on life
"Once given full play, trash can be given a second life," Wu told Beijing Review. Born in Shanxi Province and brought up in Beijing, his parents would often take him to flea markets, such as the capital's biggest one, Panjiayuan. The incredible assortment of goods on sale there led Wu to develop a deeper interest in the secondhand philosophy.
After graduating with a degree in law from the South China University of Technology, a well-known university in China, in 2015, Wu did not go on to become a lawyer as his parents had wished and instead expressed his desire to open his own secondhand shop. "My parents opposed my decision, but I insisted and settled down in Guangzhou," he said.
No sooner said than done, Wu launched his own secondhand retail business in 2016. He frequented flea markets to collect goods he was interested in and sauntered along the streets to gather discarded items. As people in the neighborhood got to know more about him and his undertaking, many started sending their castoffs his way. Inside his store, you will find books, photos, and black-and-white televisions.
Wu is not a collector of antiques per se, but more a hoarder of memories—in his own words. Many of his collections date back to last century. "Some collectors favor old stuff purely for the sake of nostalgia, but I often accumulate things for their originality or the stories they tell. Collecting old stuff is like flipping through the pages of history," Wu explained.
His girlfriend Liao Junjun has also become a stooper. At first, Liao felt embarrassed when stooping with Wu, but over time she had a change of heart. Together, they have brought home many abandoned items and disinfected and remade them for reuse, lending their home a full-on vintage vibe.
Wu's stooping journey comes with many stories—and the stories of many. "It's like reconnecting with an old friend, being connected with the past. While we seek progress, we should also look back," Wu said of his experiences.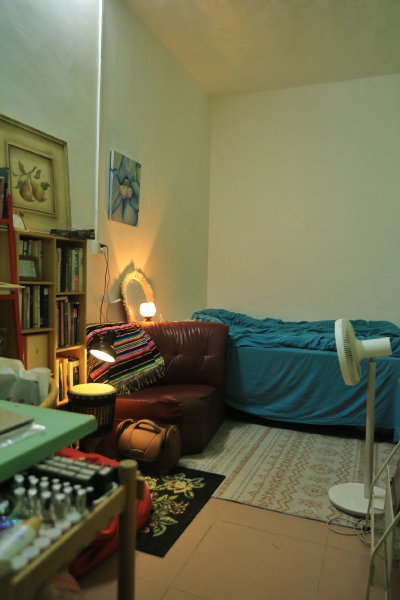 The room of Wu Kaisi, where most stuff is secondhand (COURTESY PHOTO)
The more, the better
Born in the 1990s, a Beijing resident under the pseudonym Luo Ergou is another dedicated stooper. He created the account Stooping Beijing on Little Red Book in August, swiftly gathering a large following. China's capital is nothing short of a mecca for stoopers. In the hutongs, or Beijing's traditional alleyways, Luo often stumbles across a pleasant surprise.
Luo will usually leave his house after 9 p.m. to hunt for hidden treasures around different garbage sites. After checking with sanitary workers the things he's uncovered are in fact castoffs, he will post photos of their locations. The stooping group in Beijing now has 4,480 members.
This fall, Wu set up Little Red Book stooping accounts for Guangzhou and Shenzhen of Guangdong Province, gathering over 2,000 and nearly 4,000 followers—of all ages, respectively.
As the stooping trend expands across Chinese megacities, many people wonder: How is this any different from scavenging? In Wu's view, stoopers are different because they reach out to each other online and prioritize the minimizing of living costs and maximizing of resources.
Luo hopes people who collected secondhand items can share how they remake them online as to attract more people to participate in stooping and exchanges.
The trend is expanding from the exchange of discarded items to mutual assistance. On the Stooping Shenzhen account, for example, a group member named Shi Ba once posted an urgent call for cat food as stores had already closed, and soon received free packages from other users nearby.
Stooping culture is still adapting to the Chinese environment. According to Wu, secondhand trading is fully matured in Western countries, where thrift shops, flea markets, yard sales, and so on, are ubiquitous. For example, when he was traveling around the U.S. in 2015, he was astonished to see the buzzing secondhand trade in the country.
But things are different in China. "Chinese sanitation workers work efficiently, picking up every trashed item in sight; that reduces the possibilities of collecting a lot of stuff. Chinese people also have different concepts, e.g., people who like to hunt for 'bargains' here are mostly seniors," Wu said.
He hopes more [younger] people can adjust their mindset and participate in stooping to create a more sustainable way of life. "We will organize more offline activities to promote this type of lifestyle," Wu said.
(Print Edition Title: Stop to Stoop)
Copyedited by Elsbeth van Paridon
Comments to lixiaoyang@cicgamericas.com