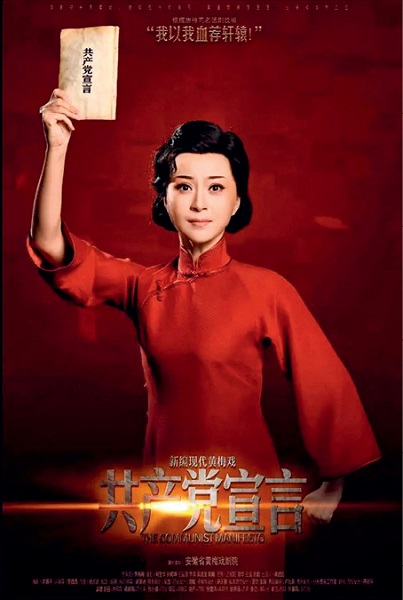 This poster shows the image of the leading female character Lin Yufei in The Communist Manifesto played by Yuan Yuan.
The Communist Manifesto, one of the most influential political documents in the world, has a new avatar in China centuries after Karl Marx and Friedrich Engels presented it to the world. In the centenary of the founding of the Communist Party of China (CPC) in 2021, the masterpiece inspired a namesake Huangmei Opera play starring Yuan Yuan, a young opera actress from east China's Anhui Province.
Yuan is an ideal choice for the heroine of Lin Yufei in the opera The Communist Manifesto, a CPC member who braves prison and death to spread the message of the revolution. When Yuan Yuan appears on stage, singing, "We shall have faith and work tirelessly to turn our dreams into reality; we shall not hesitate to devote our lives to the revolution" to her audience, she appears to be Lin personified. Yuan Yuan, acknowledged as one of the top national actress and an inheritor of the Huangmei Opera as cultural heritage, portrays Lin so vividly because she is also a CPC member.
In October, Yuan Yuan was cast into a new role. She was one of the over 2,000 delegates to the 20th National Congress of the CPC held in Beijing. She attended the CPC National Congress as a delegate from the literary and art sector. "To have been elected as a delegate means not just recognition and honor, but also a responsibility and mission. I will promote our traditional culture," she said.
Her assignment was to report on the development of the cultural undertakings in Anhui since the 19th CPC National Congress five years ago. She was also to offer suggestions on how to promote high-quality development of cultural undertakings and China's cultural industry. In addition to the official mission, Yuan Yuan has a personal one: to have more connections with people through cultural and artistic activities and create more and better operas.
From Stage Revolutionary to CPC Member
From the opera stage to the CPC national congress, it has been a long march for Yuan Yuan. And it was not easy. During the first few years after she joined the Huangmei Opera Theater in Anhui, she was given only insignificant roles, some were just walk-on parts. She was over 20 when she got her break with her first major role in Sister Jiang, a modern Huangmei Opera about Jiang, an ardent communist who is arrested and tortured after her husband's death but refuses to betray the Party.
Despite her joy, Yuan Yuan was also full of misgivings: "The acting was different from the traditional opera we learned at school. I kept wondering, if I could really do it!"
In the 1960s, the character Jiang, played by Huangmei Opera master Yan Fengying, became a household name. Unfortunately, no video of her performance was left. Yuan Yuan did plenty of research to get to know the character. She listened to audio recordings of the opera and consulted experienced actors. She also visited the composer of the opera, Shi Bailin, to seek suggestions. "He told me many things like the social background of the creation of the work back then, about the rehearsals, and how Yan Fengying sang the lines. He shared many precious audio recordings and I learned from them, and then added my own acting touches to what I learned."
It was the experience of playing the role of Jiang that made Yuan determined to join the CPC. She said she was inspired by the spirit of the revolutionaries in the opera who died for their beliefs and principles.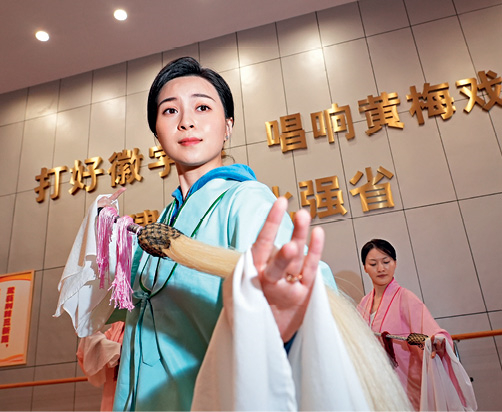 Yuan Yuan is rehearsing her character role of the Seventh Fairy in October, 2022.
Establishing a Heroic Character
Another highlight moment for Yuan was her performance of the heroine Lin Yufei in The Communist Manifesto, an opening opera for a revolution-theme opera gala staged in Anhui in celebration of the CPC's centenary. Yuan was to play a character much older than herself. So, she had to spend a lot of thought on how to portray an older woman convincingly. Make-up would help to some extent but for the audiences seated at a distance, the nuances created by make-up was hardly recognizable. To build the character, she had to engage more efforts.
"I thought of how to depict Lin through body movements," she said. For example, after Lin is tortured, she is shown tottering on stage with others holding her arms to support her. But Yuan Yuan decided to change that to show Lin's unyielding spirit. She would come onto the stage by herself, swaying but unsupported. In another scene, when Lin meets her son in prison, Yuan Yuan made her steps unsteady. When Lin meets her son again after being tortured, Yuan Yuan made her steps falter dramatically. As the actor who played her son was older, she couldn't use her actual voice which sounded young, so she had to lower it to sound older.
Such minute details enabled her to create a convincing Lin Yufei. It was so convincing that when a member of the audience came backstage after the opera, he was stunned to see how young she actually was.
While rehearsing for The Communist Manifesto, Yuan Yuan injured her knees as she had to kneel frequently. But she dismissed the injury and went ahead with the performances. The Communist Manifesto, since its debut, has toured many cities, receiving lavish praise from the audience.
People's Theater
From her role of Sister Jiang in 2011 to Lin Yufei in 2021, Yuan spent 10 years in rendering heroines in the history of China's revolution.
Yuan Yuan likes to quote Xi Jinping, general secretary of the CPC Central Committee, on what art should be like. "There are hundreds and thousands of ways to create literature and art. But the most fundamental, most crucial, and most reliable way is to base them on the lives of people and on life." She keeps that philosophy in heart and ensures that every year she and her troupe find time to perform in schools and other primary-level organizations "to better serve the people." The students receive them rapturously: "When we sing, they sing with us." Yuan Yuan says she discusses culture with the students and older people and learns "pure things" from them: "The people are our best teachers."
PENG YINI, CHEN HAO & TANG YOUJIA are reporters with www.anhuinews. com