She cut off her waist-length hair and keeps it short for convenience of playing the role of young males on stage.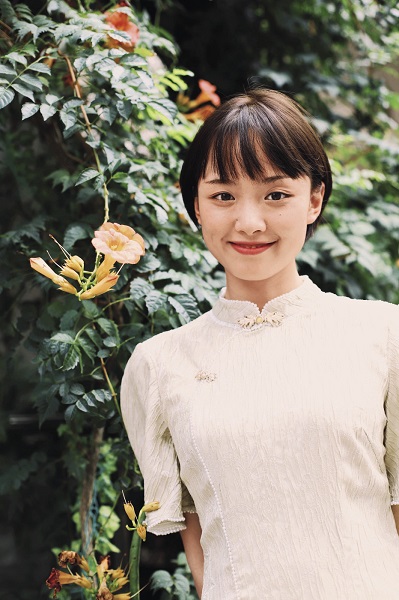 A moment from Wang Wanna's daily life.
Pretty, sweet, and always putting on a big smile is how those who know Wang Wanna describe her. On stage, Wang always takes on a totally different look and persona. As a Yueju Opera actress, she plays male roles on stage. For a 27-year-old, half of her life has been spent singing Yueju Opera which has become a part of her being.
Yueju Opera is the most popular opera style following Peking Opera in China. It takes themes from fairy tales, literary classics, and historical stories. In the eyes of Wang, the stories performed on stage are also realities which have become surreal. Standing on the stage, she pours her soul into the stories, and also adds her own dreams and emotions to the characters she plays.
Wang enrolled in a Yueju Opera apprenticeship program 15 years ago. She was trained to play the roles of young men in Yueju Opera since the very beginning. Her voice is sonorous, and she looks handsome in costume and makeup.
Five years ago, after her graduation from the Shanghai Theatre Academy, Wang immediately gained prominence in the Yueju Opera circle and has now grown into an outstanding actress in Shanghai Yueju Opera House.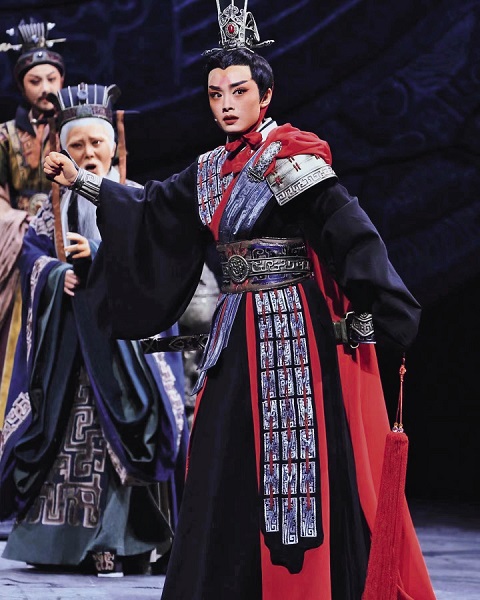 Wang Wanna plays the eponymous hero in Beidi Governor Liu Chen in honor of the 100th birthday of the Yueju Opera master Xu Yulan in November 2021.
First Encounter with Yueju Opera
Wang Wanna, born and raised in Ningbo in east China's Zhejiang Province, was fond of singing and dancing since childhood. She discovered Yueju Opera by chance while she was in primary school. One day, one of her teachers took out an enrollment poster of a Yueju Opera secondary school, and she signed up for the selection exam. She recalls herself reciting the famous Tang poem "Thoughts in a Quiet Night" written by Li Bai, and then singing the Anthem of the Young Pioneers of China during the exam. Before she knew it, she was selected by the judges. To this day, she still remembers one judge saying, "She's got eyes which can talk."
With the support of her parents, Wang left home at 13 and went to the boarding school in Shanghai to learn Yueju Opera. She said frankly that she did not understand what Yueju Opera was at that time until the second year when she watched a rehearsal of Qian Huili and Fang Yafen's Romance of the Western Chamber, a Chinese classic. She was deeply touched both by the story and the elegant performance. That was the moment when she fell in love with the art form she was going to devote herself to.
At the Yueju Opera secondary school, all students got up at 6:45 in the morning to practice their basic skills. Wang got up even earlier, and was always the last to leave at the end of the day. Till this day, she still remembers the chilly winter wind and her hands numb with cold. But back then, she only had one belief that starting early would ensure she would not lag behind.
Wang and her classmates were the first batch of students enrolled in the Yueju Opera school. As planned, after six years of study, they took part in the college entrance exam like other high school graduates. As it turned out, about half of her classmates were accepted into Shanghai Theatre Academy to continue to learn Yueju Opera. Wang was among those who made it to a broader stage. Recalling her teenage years, being far away from home, Wang laughed and said that whenever she was stressed out, she would find a quiet place and cry out loud. She told herself that it was a long way to go to be a real artist, and tears were useless.
She availed many opportunities that came her way. In April 2018, Wang was awarded the Performing Arts Award for New Drama Performers of the Magnolia Award for her role of Juror No. 8 in her graduation drama, the Twelve Roles. The next year, she was accepted into the young writers and artists cultivation program of Shanghai. With her talent and diligence, she embarked on a promising road.
"I Was Picked by Yueju Opera"
Yueju Opera is a local opera that originated in Zhejiang Province, and is reputed as "the most widely spread local opera in China." Kids from Shanghai and its neighboring Jiangsu and Zhejiang provinces are preferred when new generations of apprentices are chosen, as Yueju Opera is sung in the local dialect, the nuances of which are hard to master for kids from other parts of the country.
When she was enrolled at the Yueju Opera school, Wang was advised to work on young male roles, and she heeded her teacher's advice. She said that male roles in Yueju Opera are different from those in Peking Opera; they don't have to tone down their voices to sound more masculine. Only some minor adjustments are needed. Yueju Opera is excellent at expressing emotions through singing. It has developed a rich repertoire of romance stories throughout its long history, as well as elaborate costumes and facial makeup. Its soft, sweet tunes and melodies, and gentle and refined style help create a strong cultural bond among Chinese opera lovers, especially people living around the Yangtze River Delta area.
In addition to the classics such as Romance of the Western Chamber and A Dream of Red Mansions, Shanghai Yueju Opera House has also tried to localize some Western classical plays, such as Shakespeare's Twelfth Night and A Midsummer Night's Dream. But how to present them in a Yueju Opera way is something that needs to be thought over. The Chinese way of dealing with "love" in traditional opera tends to be reserved and playful, while love in Shakespeare's plays is known for its passion and boldness.
During the rehearsal of Twelfth Night, scriptwriters, acting instructors, and actresses sat together to brainstorm, trying to keep the straightforward way of expressing love in the original play as much as possible in their adaptation, going over the minutest of details in these sessions. In the original character setting, there was only a single elf in A Midsummer Night's Dream. In the adaptation, it was changed to a pair, a symbol of good luck in Yueju Opera. In terms of dramatic form, the Yueju Opera Twelve Roles which was based on the American classic Twelve Angry Men, also adopted a more thought-provoking play-within-play form.
Wang is fascinated by the process of exploration and innovation. She is quite curious about the world. Upon her graduation from secondary school, she recalled, before continuing on the Yueju Opera road in college, she did consider the notion of trying out other possibilities: maybe she could be a TV anchor, or an actress in TV dramas. But when she thought of all the hopes of her opera teachers placed on her shoulders, she hesitated, and could not bear to leave the Yueju Opera stage.
During her college years, teachers and famous Yueju Opera actresses such as Qian Huili helped her to grow quickly. After graduating from college, she got the chance to play Jia Baoyu, the protagonist in A Dream of Red Mansions, which put her in the limelight.
Wang said that all that she wanted to do on the stage was to play a good role. "It could be that among audiences who come into the theater to watch our show, many come for the first time. A minor mistake made on the stage might leave them with a bad impression of Yueju Opera," she said.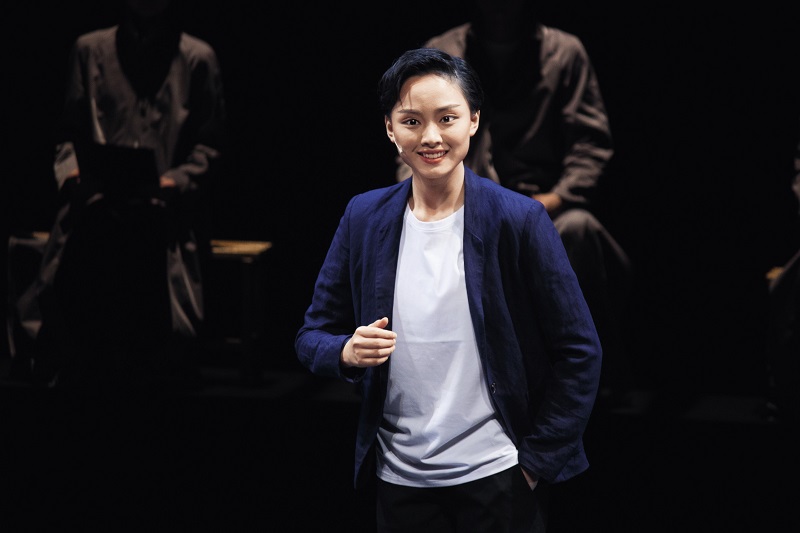 Wang Wanna performing in her graduation play The Twelve Roles in May 2017.
Opening the Door to More Audiences
Today, as more and more young audiences pay attention to Yueju Opera, and considering that the Shanghai Yueju Opera House is now fully funded by the state, Wang acknowledges that she is in a good era of cultural development and has more opportunities as a Yueju Opera actress.
However, compared with other popular art forms such as modern drama and talk shows, Yueju Opera is still not very familiar to mainstream audiences. Wang noted that the cost of putting on a show on the Yueju Opera stage is high; the costumes are elaborate, and there is always a traditional band needed to play live music, so ticket prices cannot be set as low as smaller plays. Meanwhile, as for the selection and adaptation of literary works, Yueju Opera is quite limited due to its unique singing and performing style which is slow, relaxing, and soothing. In this regard, works grounded in realism are not suitable for the Yueju Opera stage.
For her own part, as a young Yueju Opera performer, Wang and her colleagues are trying to attract more people her age to the theater through new forms of performance and promotion. They have planned to put on some performances in small theaters to lower the threshold for college students and young whitecollar workers to enjoy a relaxing show at an affordable price, and to feel the charm of traditional culture.
At present, Wang and her young colleagues are focusing on bilibili.com. They plan to edit and upload some videos there to introduce the art of Yueju Opera, and to bring new vitality to this traditional art through communication and interaction with young netizens.
"Yueju Opera is still relatively young among traditional Chinese operas. Now I have two wishes: I hope to be a qualified inheritor and take an innovative approach in my career, and at the same time, I also hope to find a way to open a door for audiences of my generation to fall in love with Yueju Opera," said Wang resolutely.