A charitable vocational school hopes to help children from poor families build a better future through education.
"Education brings light into one's life, and skills give one a foothold in society."
These thoughtful words greet every visitor who walks into Beijing-based BN Vocational School (BNVS), the first of its kind in China to offer free vocational education.
The school was founded as a charitable institution for children of migrant workers in Beijing, and later opened its admission to children of low-income families all over the country.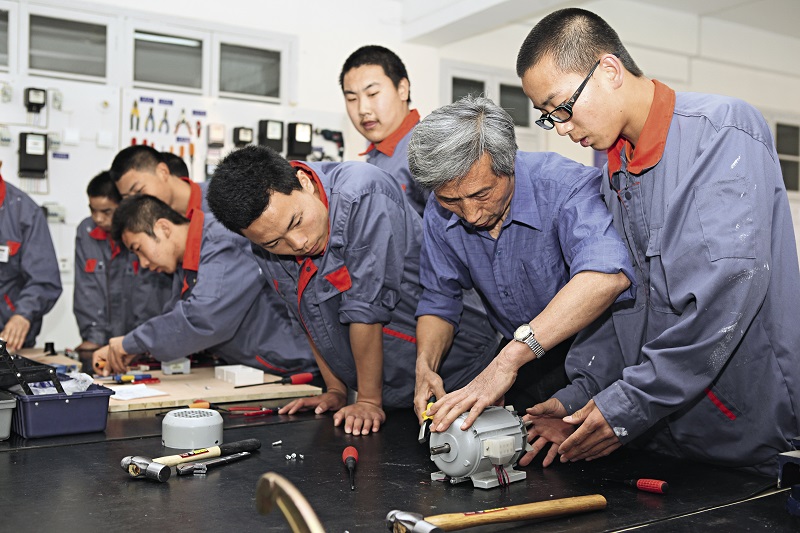 Students enjoy hands-on learning during an electrical engineering class.
Education Changes Fate
The school's founder Yao Li worked for a state-owned foreign trade company in the 1980s. During this time, she made business trips to Western countries, where she was exposed to contemporary philanthropic ideas. In a later position as the head of a property management company, she found that the industry faced a severe shortage of skilled workers, while many children of rural migrant workers dropped out of school at an early age. This inspired her to open a charitable vocational school for them, and in 2005, with donations from friends in the corporate world, Yao founded BNVS.
"For the first enrollment, we selected 84 out of 200 applicants by giving them written tests and interviews. The children came from low-income families in 21 provinces or autonomous regions across China," said Wen Bo, president of BNVS. The school board was aware that a vocational school should be different from an ordinary school, and that a different teaching method should be employed. "Businesses are involved in the design of the curriculum to make it correspond to market demands. Skilled staff teach some of our classes. And internships are part of the education process," said Wen.
In its early years, BNVS offered skill training courses, such as electrical engineering, air conditioning engineering, and hotel customer service. There was big demand for these skills in the labor market. To meet the changing social demands, the school's curriculum has also evolved to cover new technologies and skills. "At first, the length of schooling was two years, the first on campus and the second in the workplace. When the first class of students graduated in 2007, they were sought after by employers," said Wen.
The school pays particular attention to helping students foster a sense of career honor. A human resources manager of a five-star hotel once told Wen that he observed that BNVS graduates took great delight in performing their duties. This is why the school receives regular positive feedback from employers, said Wen, adding that the school has seen nearly 5,000 graduates joining the workforce.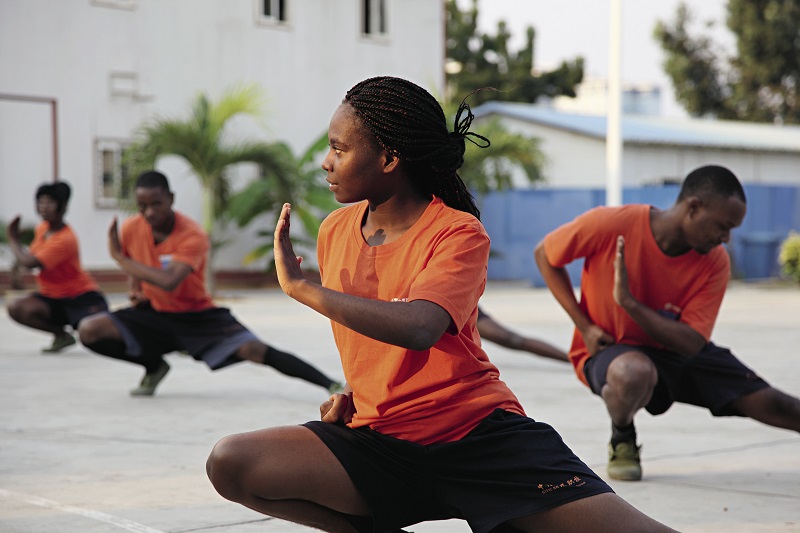 Angolan students exercising during a PE class at the BNVS Angola school.
Holistic Education
To ensure educational quality, BNVS limits its enrollment – the number of students on one campus is below 100. But it has opened more schools across China to make vocational education accessible to a larger group of children from poor families.
In the wake of the Wenchuan earthquake in Sichuan Province in 2008, BNVS in Beijing took in 20 students from the quake zone. One year later, BNVS founded its first branch school in Chengdu, capital city of Sichuan Province, recruiting students from Wenchuan and other parts of the province mainly inhabited by Tibetans. By 2021, it had expanded its operation to other cities like Sanya, Nanjing, Wuhan, Zhengzhou, Dalian, Yinchuan, Lijiang, Meizhou, and Leishan.
BNVS stresses holistic education, which is not only about imparting knowledge but also about increasing civic awareness. As an example, Wen said a good driver should not only know how to run a vehicle properly and understand traffic rules, but also have the awareness of safe driving and respect for the lives of others.
For this purpose, BNVS designed 30 percent of its courses to be about culture, arts, and languages. Cao Yingjie, a BNVS graduate, was abandoned by her father at the age of 13, and has since taken on the responsibility of caring for her mother, a cancer patient. At BNVS, she mastered the Japanese language, and planned to work in Japan after graduation. As this plan was interrupted by the COVID-19 pandemic, she found a job at a shopping mall. The regular salary has made sure she is financially capable of supporting her mother as she continues doing further study for an even brighter future.
There are many students like Cao at BNVS. Another girl from Henan Province to dropped out of school so that her family could pay for her younger brother's education. When working as a migrant worker, she learned of BNVS and the free education programs it offers. The girl then signed up for the school and was accepted.
"There are many poor families in rural China who cannot afford to educate all their children. It is important to provide opportunities for young girls from these families to return to school," said Wen. "Our goal is to foster ordinary people who have the skills and ability to create a happy life," he added.
Education at BNVS has greatly improved the financial situation of its graduates and their families. To pay back, as many as 97 percent of them have donated to the school in the hope of helping more children like them, said Wen.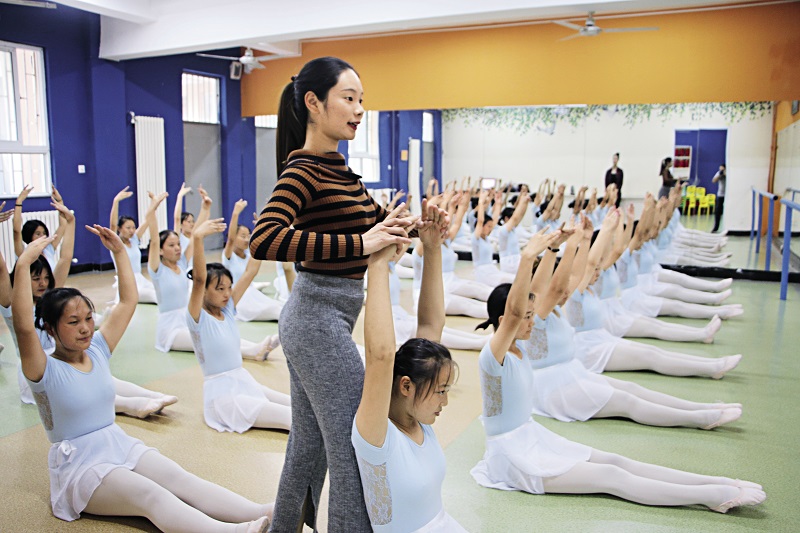 A ballet class.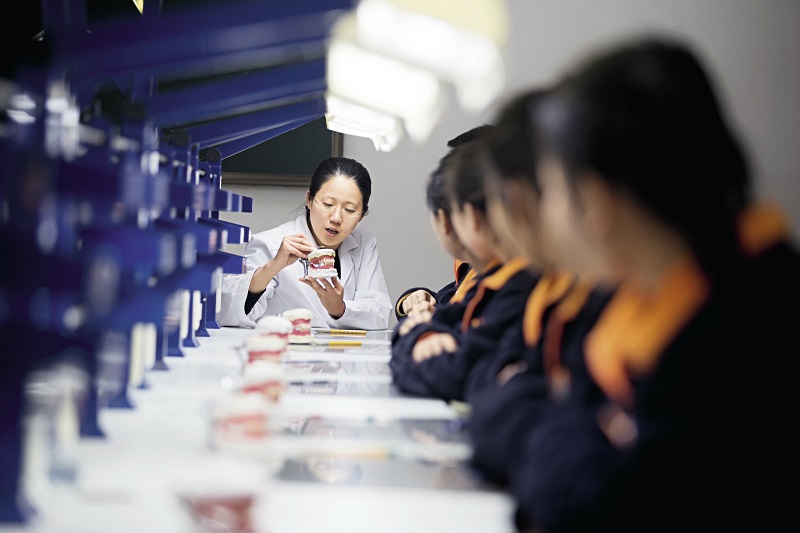 Students attentively listening to a prosthodontics class.
Reaching More in Need
BNVS, China's first charitable school offering free vocational training, plays its part in the country's effort to alleviate poverty. After the eradication of absolute poverty in China in 2020, many people wondered if there would be changes in the school's enrollment.
"A 2015 study shows that up to 85 percent of students in secondary vocational schools were from rural families. The main target of our enrollment will remain children from rural areas even after the national campaign to combat absolute poverty concluded," said Wen. The school will also introduce new practices in response to new social developments.
Last October, the general offices of the Central Committee of the Communist Party of China and the State Council released a document on promoting high-quality development of modern vocational education. It set the goal of elevating China's vocational education to a world leading level, improving the social status of skilled workers and ensuring that the supply of vocational education resources meet the country's economic and social development needs by 2035.
BNVS is expected to play a pioneering role in advancing vocational education.
The school is also building its presence globally. After a civil war ended in 2002, Angola started massive reconstruction. Chinese company CITIC Construction Co., Ltd. went to the country in 2008 to offer help. In order to prepare impoverished young Angolans for employment and train workers for its business operation there, the company founded a vocational school, following the BNVS model.
"BNVS Angola enrolls impoverished people aged 16 to 25, and provides them with training programs on electrical engineering, mechanical operation, construction, and hotel services among other subjects. The students are offered opportunities to study in Beijing," said Wen.
Most of the faculty members are Angolans who are devoted to education and charity. In addition to funding from CITIC Construction, the school has been supported by local community, Chinese businesses and international organizations in Angola.
As the Belt and Road Initiative (BRI) gains traction, BNVS is exploring more ways for China's vocational education institutions to go global, with the aim of cultivating more skilled workers for countries along the BRI routes.