At 4,500 meters above sea level, Gar County, located in the western tip of Ngari Prefecture in western Xizang (Tibet) Autonomous Region, is cold and arid. For centuries its soil was infertile and its eco-system fragile, making the county a "lifeless zone." In the 1980s, an afforestation campaign was launched adding leafy patches to barren land. Today the streets in Gar are lined with various species of willow and poplar, and for the first time in history its residents have locally grown vegetables and fruits on their dinner tables.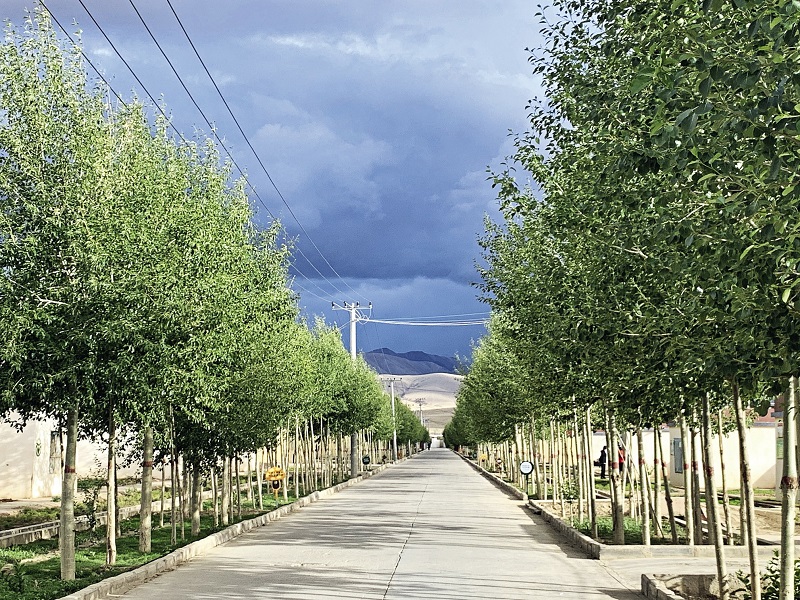 Local residents started a greening drive in Gar, a county in western Tibet, back during the 1980s. Thanks to their persistent endeavors, Shiquanhe Town now has taken on a completely new look.
A Green Miracle
Degyi, a Gar native, is impressed by the changes in the local diet. "In the past, there were very limited varieties of vegetables and fruits here, and few were fresh," she recalled.
Until recently Gar had been unable to grow vegetables and fruits locally because of the low temperature and thin oxygen. It depended on supplies from out of the region, and the prices were high. This began to change after an eco-agricultural park was built in the county in July 2017.
In the greenhouses of the park, leafy vegetables thrive in three-dimensional hydroponic systems and ripening tomatoes cluster on dense vines. Shi Peineng, an agricultural technician from Shaanxi Province nearly 4,000 kilometers away, pointing to the watermelons, said, "This is a species introduced from the inland. Those grown here are sweeter because of more hours of sunshine in this region."
According to Liu Jiang, a manager of the eco-agricultural park, its 40-odd greenhouses have adopted modern agricultural technologies, and the park has employed experts from other regions to produce two dozen types of vegetables and a dozen types of fruits. "In summer our production accounts for about 40 percent of the supply to local market, and in winter it is 10 percent. This allows more choices for local consumers," he said.
In Ngari, the annual evaporation is 30 times larger than precipitation. This means that the local air is extremely dry. To preserve humidity and heat, some greenhouses in the eco-agricultural park are of the semi-underground design, with earthen walls and hemispherical roofs of plastic film.
Other greenhouses are glass structures using modern technologies, including three-dimensional hydroponics in pipes and aggregate culture on walls. They make it possible to grow several non-seasonal vegetables for most of the year (barring the frigid winter months).
Monam Gyaincain, a 38-year-old worker living in the vicinity of the agricultural park, is employed in a watermelon greenhouse. Every day he earns RMB 200, a handsome sum for locals. "This job is available for six to seven months out of a year. My elder son is getting a school education for free, my wife takes care of our younger son, and I work close to home. Life has improved greatly," he said.
The agricultural park operates under the "corporation + cooperatives + farmers/herders" model, under which the corporation (the park) provides capital and technical support, cooperatives organize the participation of farmers and herders, and farmers and herders get paid for their labor in addition to dividends from the plots of land they invest in the park as shares. This partnership has helped impoverished families in the region to rise above poverty.
Desert Control
"We have only two seasons here, winter and close to winter," joked Xiong Yinglong, chief of the Forestry and Parks Bureau of Gar County. Five years ago, he started to lead local people in planting Populus przewalskii Maxim, a kind of poplar. In the harsh natural environment of the region, to keep the trees alive is, in his words, more difficult than raising kids.
The people of Gar have worked toward their green dream for decades. Back in 2005, the prefecture government of Ngari hired forestry experts from Shaanxi Province to guide local afforestation efforts. In 1989 the prefecture government made addressing sandstorms in Shiquanhe, a town in Gar, a priority on its agenda. In 1994, a sandstorm and desertification control project was initiated in the Shiquan River basin. Since 2016 the county government of Gar has invited forestry experts to draw up detailed afforestation plans based on extensive field studies. It also sent technicians to other provinces with similar environmental conditions, including Qinghai, Gansu, Shaanxi, and Inner Mongolia to learn from experts and operators of large forest farms there. After repeated experiments, the Qinghai poplar, Xinjiang poplar, fluffy-head willow (of the Salix matsudana family), Chinese scholar tree, and Alfalfa were introduced to Gar, and planted en masse together with native drought-tolerant species.
These endeavors paid off. In the Shiquan River basin alone, more than 3,500 hectares have been turned into forests, and 8.85 million trees and 400 hectares of grass have been planted. Drawing on the successful experience of Shiquanhe, the prefecture government expanded the greening campaign to all urban and rural areas under its jurisdiction, encouraging local establishments and residents to plant trees and flowers wherever possible.
The survival of forests and lawns requires attentive management. In this regard the people of Ngari have garnered rich experience, including applying growth supplements and root stimulators, coating trunks with quilts, covering plants with plastic films, and spraying anti-transpirants.
In the past, sparrows were rarely seen along the Shiquan River. Today various fowls such as the brown-headed gull swim gracefully in the glittering water amid reflections of a stunning landscape along the banks. Splashes of greenery adorn every town and township in Gar. The green dream of Gar people has come true.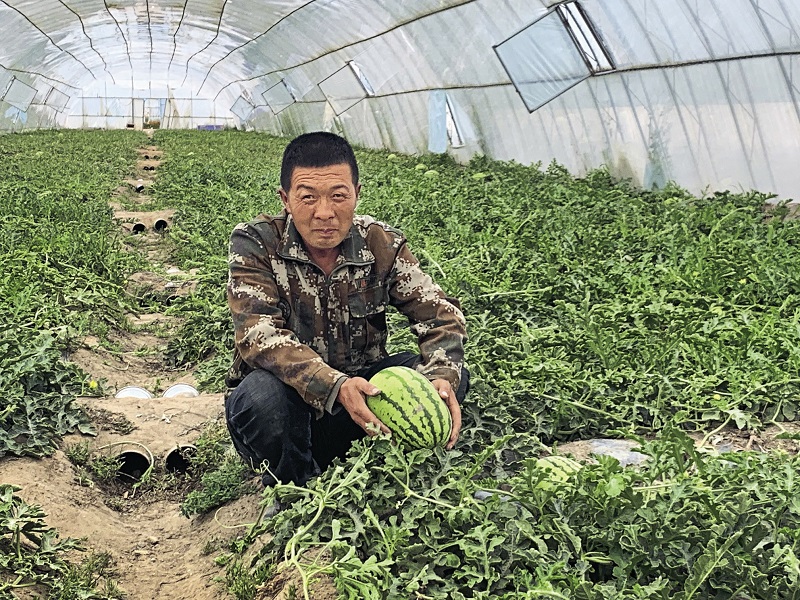 Jobs created by the eco-agricultural park help increase the incomes of nearby farmers.
Green Development
Afforestation has significantly improved the local climate. In Shiquanhe for example, from 1994 to 2020, annual rainfall increased from 76.5 millimeters in 1994 to 135.3 millimeters. Last year, the air quality in Ngari was declared good for 99 percent of the days. Marked improvements to the eco-system have brought local people health, economic, and social benefits, as evidenced by the throngs of tourists who visit Mt. Kangrinboqe, the fresh vegetables and fruits produced by the eco-agricultural park in Gar, and the bustling city scenes in what was formerly a desolate desert.
"Today Ngari maintains steady economic growth and social progress, its people live in peace and prosperity, its rivers are clear, skies blue, soil unpolluted, mountains pristine, and biodiversity intact," Norbu Wanglag, deputy publicity chief of the prefecture government, said proudly.
Ngari has set the goals of helping build the Qinghai-Tibet Plateau into an ecological security barrier in China, improving people's livelihood through building a healthier eco-environment, and making the region a national pilot for ecological civilization.
"When President Xi Jinping inspected Qinghai earlier this year, he said that good eco-environments are invaluable resources and assets of our nation. The people in Ngari of all ethnic groups will remember his words, and strive to make more progress in pursuing high-quality development and environmental conservation on the plateau. Ngari will do its due part in building a modern socialist country," said Zu Zhongkui, Party secretary of the prefecture.