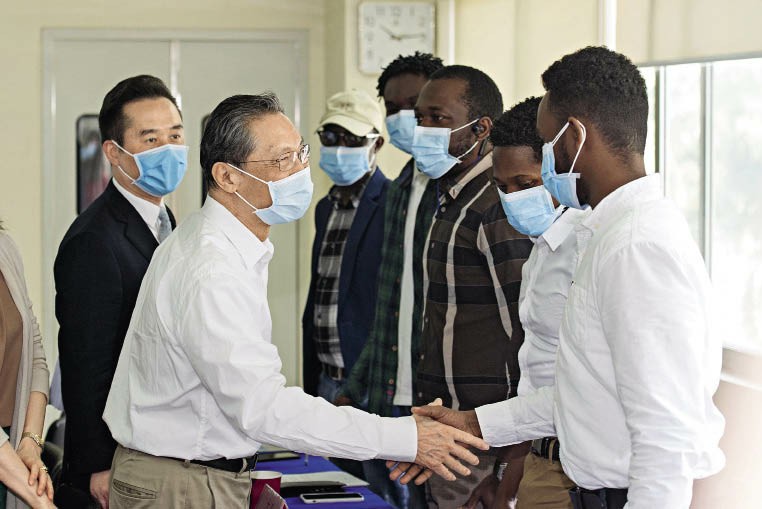 Dr. Zhong Nanshan talking with foreigners studying or working in Guangzhou, south China's Guangdong Province, on April 15, 2020 during a news release and interview activity about COVID-19 prevention and control conducted by the local people's government.
In the face of the sudden outbreak of COVID-19 in 2020, 84-year-old medical expert Zhong Nanshan proposed effective strategies for epidemic prevention and control as well as treatment protocols, which have saved countless lives in the process. Because of his outstanding contribution, Zhong was awarded the Medal of the Republic, the highest state award which honors people who have made exceptional contributions to the development of China, in September 2020.
A Meticulous Medical Practicioner
Zhong was born into a medical family in October 1936 in Nanjing, capital city of east China's Jiangsu Province. Both of his parents graduated from the Peking Union Medical College and went on to further their studies in the United States. His father, Zhong Shifan, went on to become a renowned pediatrician and virologist. His mother, Liao Yueqin, was one of the founders of the Cancer Center of Guangzhou Medical University.
Zhong excelled academically throughout his school days. He was also a good athlete, particularly in basketball. Years later, he married a professional basketball player.
In 1955, Zhong was admitted to Peking University Health Science Center. Five years later, he took up a teaching post at the university. When he was 35, he went to practice medicine at the First Affiliated Hospital of Guangzhou Medical University, starting out in the emergency department. During the first eight months, he worked late into night every day, filling copious notebooks with medical notes gained from his arduous experiences, losing 12 kilograms in the process. Zhong's medical skills improved exponentially.
Later, the hospital set up a special research group on chronic bronchitis. Zhong signed up for it. After years of hard work, the research group made some remarkable achievements in the study of respiratory illness, and was recognized at the national science conference in 1978. One year later, the Guangzhou Institute of Respiratory Disease was founded based on the research group. That same year Zhong was offered a chance to study this discipline in the U.K. He left on his 43rd birthday, saving money by traveling by train – a journey that took him nine days.
During his study overseas, Zhong impressed his teacher with his respiratory knowledge and dedication to research, even at times using himself as a guinea pig. He drew 600 milliliters of blood from his own body and did close to 30 tests to verify a theory put forth by his teacher. He even inhaled large amounts of carbonic monoxide during one test, driving up the carbon monoxide concentration in his blood to 22 percent, which is roughly equivalent to chain smoking 60 cigarettes. His efforts paid off. He verified his teachers' formula calculation, and also found a flaw. The teacher subsequently offered Zhong an indefinite stay at the college which he declined as he was eager to return home. The teacher wrote to the then Chinese ambassador to the U.K., praising Zhong as the most diligent and cooperative scholar he had met in his teaching life.
In 1984, Zhong was recognized as one of the first national experts who had made outstanding contributions to the country. He went on to become president of the First Affiliated Hospital of Guangzhou Medical University three years later, and in 1996 was elected an academician of the Chinese Academy of Engineering. Later, he also assumed the director post of the Guangzhou Institute of Respiratory Disease. But he never abandoned his patients. When encountering difficult and complicated diseases, he routinely takes the cases back to the laboratory to work on them until he finds a solution.
Life Comes First
In early 2003, severe acute respiratory syndrome (SARS) hit Guangzhou. Conditions reached critical proportions.
People didn't know what the disease was. Zhong denied the idea that the atypical pneumonia was caused by typical chlamydia infection. His conclusion made it possible for timely and effective treatment.
After working on the frontline checking the oral cavity of every patient, together with his team, he came up with an efficacious treatment protocol in a short period of time. This substantially lowered the mortality rate.
Seventeen years later on January 18, 2020, Zhong was on board a high-speed train from Guangzhou to Wuhan. He was commissioned by the National Health Commission (NHC) to find out what caused an unknown pneumonia in Wuhan. Days earlier, it was Zhong who called on the public not to visit Wuhan unless it was absolutely necessary. On January 20, Zhong, as the head of the special team commissioned by the NHC, told the public that the novel coronavirus was spreading among people. He went on to attend many news conferences and answered public questions, injecting confidence in to the fight against the epidemic. When fighting SARS in 2003, Zhong had said, "Send the most serious patients to me." In the face of the coronavirus, he said, "We will never give up on a patient."
During the critical moments of the COVID-19 fight, Zhong offered his advice on treating patients in critical condition in Hubei Province via online platforms. His words helped to calm and assure local doctors and patients.
To help Wuhan battle COVID-19, China's central government acted swiftly and dispatched more than 42,000 medical workers to support Wuhan. In a very short period of time, two makeshift hospitals — Huoshenshan and Leishenshan — were built. "Every single medical professional coming to help took pride in being there," Zhong said. "Putting people's life and health first, we did it."
On August 27, 2020, Zhong and his ICU team from the First Affiliated Hospital of Guangzhou Medical University announced that a COVID-19 patient staying on an extracorporeal membrane oxygenation (ECMO) machine for 111 days recovered and was discharged from the hospital, creating a medical miracle. ECMO is a core lifesaving technique to temporize major lung and heart damage. "Even with slim hope in sight, we will work to save the patient at any cost," said Zhong.
Contributing to Global
COVID-19 Fight
"The virus is still wreaking havoc around the world. We cannot stop, [and must] continue to improve research and develop better treatment protocols. We should make contribution to the world," said Zhong.
He has been sharing China's experiences in fighting the virus with the international medical community.
"Infectious disease respects no border. The world needs to work together to triumph over the epidemic," said Zhong, particularly in the face of the COVID-19 pandemic and future possible pandemics. "By sharing, we can help other countries avoid unnecessary twists and turns. We human beings should support each other."
Zhong has spoken with medical experts from 13 countries including the United States, France, Germany, Italy, Spain, Singapore, Japan, and South Korea, as well as 158 representatives of diplomatic missions in China via video link on 32 occasions.
In September 2020, Zhong was selected as a member of a panel appointed by the World Health Organization to review the COVID-19 response.
In August 2020, Chinese President Xi Jinping conferred the Medal of the Republic, the highest state honor, to Zhong in recognition of his outstanding contributions to the country's COVID-19 fight. Ever humble, Zhong said he was only an ordinary doctor doing his duty. But this doctor has been making extraordinary contributions to the people and the country with his expertise and principle of following the truth.