TALL poplars, dryland willows, and salix mongolica willows are part of the golden autumn landscape around Salawusu Village in Ordos City, Inner Mongolia Autonomous Region. It is hard to imagine that 30 years ago, this was a barren place, desolate and uninhabited.
All these changes are inseparable from a woman named Yin Yuzhen.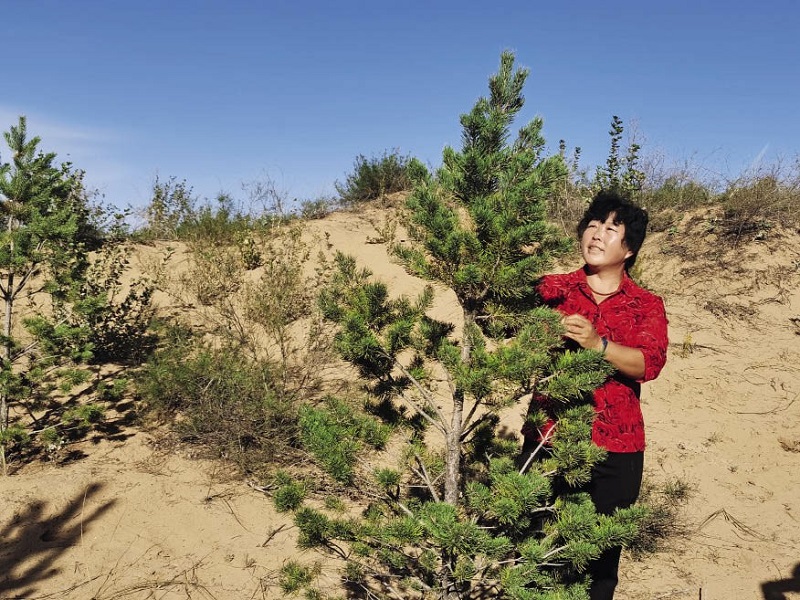 Yin Yuzhen is explaining her experience of reforesting the desert area to visitors.
Green Vision
In 1966, Yin Yuzhen was born in a small village in Jingbian County, Shaanxi Province. The fifth of seven siblings, she helped her family with housework since childhood, and did not go to school. However, this has never affected her environmental conservation drive and ambition.
When she was 19 years old, she was betrothed to Bai Wanxiang, a poor man who lived in the Mu Us Desert, in an arranged marriage. Yin obeyed her parents' wishes and left home to start a life in Mu Us, one of the four largest deserts in China. Located between Yulin of Shaanxi Province and Ordos in Inner Mongolia Autonomous Region, it covers an area of 42,200 square kilometers. "One wind a year, blowing from spring to winter" is how the region is described. Yin's home is in the hinterland of the desert, a place called Jingbeitang in Salawusu Village, Ordos.
Yin clearly recalls first living in an underground cave dwelling. The ground was covered with firewood and deadwood. She had to bend down to get in and curl up during sleep. Frequent sandstorms filled the skies and the harsh environment meant few people ever made their way to the village.
Unwilling to live like this, Yin vowed secretly that she would rather break her back planting trees than die being bullied by the sand. Hence, she exchanged the family's most valuable property — a lame ewe and its newly-born lamb — for more than 600 saplings, and started her long road of desertification control efforts.
Desert to Oasis
Knowing nothing about planting trees in the infertile desert, Yin was determined to succeed. Roping in her husband's help, she planted the first trees in front of their home.
The saplings were battered and bruised by the sand and wind and after a cold winter and spring drought, only a dozen of the 600 saplings survived.
But it was these trees that gave Yin hope. In order to buy more saplings, the couple worked for other people in building houses, and doing farm work, being remunerated in saplings.
Yin has persevered with planting saplings for 30 years, and constantly explored afforestation methods tailored to local conditions.
Water sources in a desert are extremely deep, and it takes more than 120 meters to drill a well. "We mainly predict the weather of the coming spring based on climate situation, such as the amount of snowfall that year, and prepare the number of saplings in advance. After years of research and experimentation, we have gathered experience, and as a result, the sapling survival rate gradually increased."
Yin said that in the past she had no experience in afforestation and so planted a lot of salix mongolicas (willows) and poplars, which can only live for a few decades.
"In recent years, we have begun to adjust the tree species structure and plant pinus sylvestris (pine species) in large areas. This tree can grow for hundreds or even thousands of years," said Yin.
Three decades of persistence has turned the former 4,700 hectares of barren land into a greenbelt. Due to the improvement of the ecological environment, many wildlife species driven away by sandstorm have returned to the forest, and the barren land is rejuvenated. Yin has also been recognized as a national model worker, one of Top 10 female role models, and desertification control model worker.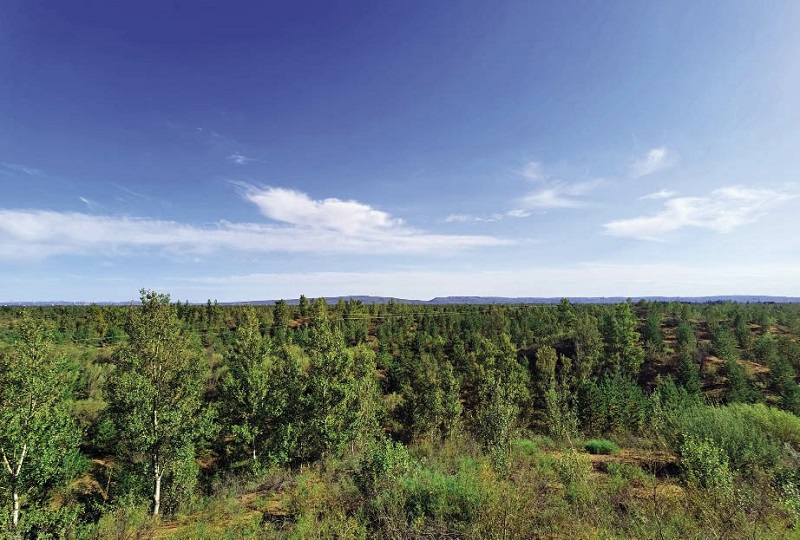 Trees planted by Yin Yuzhen have already grown into a forest.
Safeguarding the Environment
"Come on, eat some watermelon!" Under the two big trees in her yard, Yin skillfully cut the watermelon she had cultivated to treat her visitors. It's hard to believe the big fruit can be grown in a once barren land.
"In addition to watermelons, I also planted peach trees, pear trees, apricot trees, and roses, and the varieties continue to increase," said Yin who has established a company and built an ecological park. "Now the eco-park can generate more than RMB 50,000 every year just by collecting seeds. In order to fund her afforestation efforts, governments and forestry departments at all levels have increased their investment. Yin's annual afforestation area continues to expand and the ecological industry is also developing rapidly.
Yin has four children and six grandchildren. She has moved out of the old cave dwelling, and now lives in a spacious house. She has also built a 1,000-square-meter ecological restaurant, an office building covering 400 square meters, and a patriotism education base of 5,000 square meters.
Now in her 50s, Yin is still fighting on the frontline of desertification control, leading other villagers to plant trees and control the sand. They have combined sand control with a planting and breeding industry, invested industrial income in sand control, and formed a sustainable and virtuous cycle of ecological industry.
Government and the people in Inner Mongolia have unremittingly managed the Mu Us Desert for more than six decades, bringing the current controlling rate to 70 percent. "The overall improvement of the ecology is a remarkable achievement!" said Chinese President Xi Jinping during the 2020 National People's Congress, praising the effectiveness of the afforestation endeavors in the region.
"This forest is just like my children, which are my hope," said Yin, gazing out into the distance of endless green.