BEIJING Tong Ren Tang is a time-honored brand in China's traditional Chinese medicine (TCM) industry. Committed to making itself a global brand for years, in 2019, it became one of China's first batch of national export bases to provide TCM services.
As a window of Beijing Tong Ren Tang's cross-cultural communication, Beijing Tong Ren Tang Chinese Medicine Co., Ltd. is the only platform for its overseas development and the only listed company of Beijing TRT Group outside China.
Since the outbreak of COVID-19, Beijing Tong Ren Tang Chinese Medicine has been focused on the prevention and containment of the pandemic. It has offered China's solutions to tackle it, and provided health services to people of other countries on the premise of ensuring that no staff are infected. With its humanitarian work, Tong Ren Tong has built up a brand name for reliability.
Beijing Tong Ren Tang Chinese Medicine Chairwoman Ding Yongling signs strategic cooperation agreements with Yonyou (Hong Kong) at the CIFTS held in Beijing in September 2020.
Strict Prevention and Control Measures
Beijing Tong Ren Tang Chinese Medicine has opened more than 140 outlets in 28 countries and regions, with over 1,000 overseas staff. During the pandemic, on the basis of meeting the prevention and control requirements of the countries where they are located, its outlets also follow Chinese standards, which are stricter. Workplaces are disinfected, and all staff are required to take daily protection measures. So far, no staff member has been infected.
Taking advantage of its overseas connections, Beijing Tong Ren Tang Chinese Medicine has made every effort in its power to collect and transport medical materials from countries and regions around the world to serve domestic needs. More than 500,000 protective masks were purchased from Dubai, Japan, the Czech Republic, the U.S., and South Africa, and 150,000 masks and 6,100 sets of protective clothing were purchased for state-owned enterprises, providing concrete support for epidemic prevention and control in China.
Besides, Beijing Tong Ren Tang Chinese Medicine made timely plans to deal with the worsening situation abroad. Special posts and spaces were set up to promote epidemic prevention and control products; multi-lingual manuals for self-protection were compiled and distributed; telemedicine and postal services were also put into use when needed.
It also worked with Tang Zuxuan, a TCM master, to form a panel of 20 TCM experts from overseas for the better prevention and containment of COVID-19. They used neural modeling and big data to analyze wind, hydrology, climate, human physique, drug use, and dietary habits of 50 countries and regions since day one of the local outbreak. In this way, they provided differentiated portraits of different places in the pandemic, and prescribed medicine accordingly. What they've done has benefited more than 500,000 people worldwide.
Meanwhile, Beijing Tong Ren Tang donated medical supplies worth RMB 2 million to other countries, and donated more than 100,000 doses of medicine to 86 Chinese embassies and consulates, Chinese-funded enterprises and institutions, overseas Chinese, and overseas Chinese students through China's Ministry of Foreign Affairs.
Early Resumption of
Production to Serve the Public
Since the outbreak, Beijing Tong Ren Tang Chinese Medicine has been providing safe medicine at reasonable prices to the public without delay. It had planned the resumption of work and production in advance to retrieve the losses incurred due to the pandemic as much as possible.
To respond to the emergency calls of the market, the Tong Ren Tang production and R&D center in Tai Po, Hong Kong, resumed work in early February to produce the Angon Niuhuang Pill, Sporoderm Broken Ganoderma Lucateum Spores Powder Capsules, and other medicine to help people.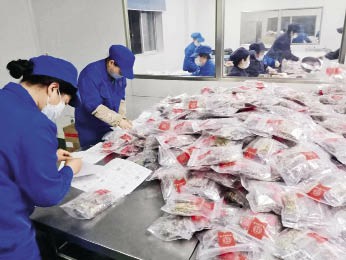 Beijing Tong Ren Tang Chinese Medicine staff are working extra hours to package medicine they produced to help Italy fight COVID-19.
Introducing New-Tech
At the China International Fair for Trade in Services (CIFTS) held in September 2020, Beijing Tong Ren Tang showed its achievements in overseas epidemic prevention and control. It also invited visitors to experience new changes in TCM diagnosis and treatment services brought about by "TCM+AI."
At the five-day CIFTS, the Tong Ren Tang booth was visited by vice mayor of Beijing, officials of State-Owned Assets Supervision and Administration Commission of the State Council (SASAC), and president of China Council for the Promotion of International Trade (CCPIT), among others. Its achievements in fighting the pandemic overseas were highly praised.
At the CIFTS, Beijing Tong Ren Tang participated in two activities, introducing the role of TCM in safeguarding public health, and signing contracts. At a symposium on public health held by the National Health Commission (NHC), as the only enterprise on behalf of the TCM industry, it shared its take on the opportunities and challenges brought by the COVID-19 pandemic to TCM at home and abroad, the advantages TCM had in meeting people's needs, and how TCM could continue to contribute to the world after the COVID-19 pandemic.
Beijing Tong Ren Tang Chinese Medicine Chairwoman Ding Yongling signed strategic cooperation agreements with Yonyou (Hong Kong) and iFLYTEK, aiming to work with them to promote office automation, explore new sales methods, use AI and blockchain technology in the TCM industrial chain, establish barrier-free communication between TCM doctors and their overseas patients, and cooperate in cutting edge areas such as stem cell treatment and cosmetology. The two deals totaled nearly RMB 50 million (US $7.3 million).
In addition, Tong Ren Tang also participated in the International Fair for Commerce Services of China and Brazil, a sub-fair of CIFTS, and shared its take on the overseas development of TCM, which helped to seek new opportunities for China-Brazil trade in traditional Chinese medicine.
A Bigger Picture for Its Future
At present, Beijing Tong Ren Tang Chinese Medicine is focusing on how to make itself bigger and stronger in China's 14th Five-Year Plan period (2021-2025), with the aim of providing TCM solutions to global health problems. It is also learning from China's Pien Tze Huang Pharmaceutical Company, Yangtze River Pharmaceutical Group, China Resources Pharmaceutical Group, and Japan's Tsumura Pharmaceuticals in areas of public communications, marketing, quality control, and intelligent manufacturing.
Tong Ren Tang is set to make its products, sales, supply chains, brand culture, innovation, and capital operation more competitive, and to realize an annual revenue of over RMB 10 billion in the long run.