ON April 12, Easter Festival 2020, a live concert was held at the Duomo di Milano in Milan, Italy, without a single person in the audience. Via live streaming, Italian tenor Andrea Bocelli and organist Emanuele Vianelli prayed for the world through their music, conveying a message of hope for love and rebirth. This concert called "Music for Hope" was interspersed with satellite photos of downtown Milan. Following Bocelli's footsteps, the audience passed through a long passage way with sunlight penetrating through the stained glass and arrived at the once bustling church square, which presently is absolutely empty, allowing viewers to cherish the simple and beautiful life of today.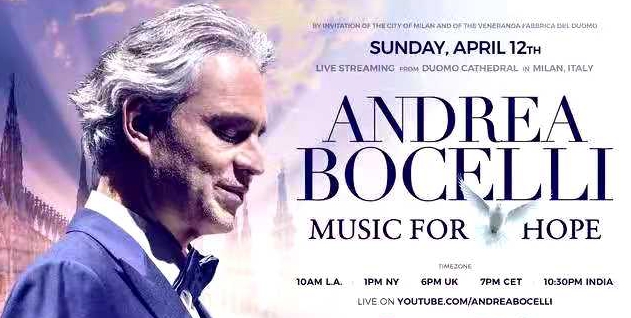 Via live streaming, Italian tenor Andrea Bocelli prays for the world through the music, conveying a message of hope for love and rebirth.
"Cloud Classes" at Home
"Have you listened to Bocelli's concert with no audience?" This was a "cloud class" that Huang Weilin prepared for her students to take at home. After graduating from the Royal College of Music in 2018, Huang has been engaged in music education at South China Normal University. Due to the coronavirus pandemic, since the beginning of the spring semester on March 2, Huang has been busy working from home and teaching classes online.
Usually, she has six to eight courses every semester, with 30 students in small classes and up to 60 students in large ones. For each online class, Huang had to rack her brain in preparation to find a sufficient variety of teaching materials, even opening her own WeChat official account called "Music Cultivation Academy" to share learning resources with students. According to Huang, offline teaching only requires well-designed teaching plans and in-class demonstrations, however, online teaching requires more – at least one hour has to be invested in recording audios and videos, editing, and adding subtitles just to make a 10-minute knowledge point video to help students on the network platform.
Teaching online is totally different. For example, Huang previously taught professional piano classes in a 30-person capacity classroom, and each student sat at an electric piano. The teacher played at the front of the classroom, and the camera would directly project her performance onto a big screen for students to observe and practice. Today's piano lessons are recorded by Huang in advance and broadcast on online teaching platforms for students to follow and practice for about a week, and then she will give one-on-one online Q&A based on students' feedback.
"Recording and broadcasting online courses is not an easy job," Huang said, then explained how she had been learning new skills while teaching her classes. For example, recording a small piano lesson requires at least two shoots. The first time is shooting the music score while playing the piano, and the second is shooting the teacher's gestures following the rhythm of the piano music, and finally the two videos are post-composited via editing software iMovie. All the work is done by Huang alone at home.
"Tencent Classroom is accessible and suitable for live stream teaching as it is convenient to display one element of the traditional teaching mode – power point presentations. At the same time, I prefer the UMU interactive learning platform recommended by Beijing Institute of Technology, which is friendlier for teachers to show their recorded teaching videos and interact with students in real time," said Huang, sharing her experience in online music education over the past few months. The key difference, from her perspective, is that live stream courses can only be watched once, while recorded ones can be played repeatedly, allowing students to practice after class, a feature which is particularly beneficial for music education.
"Of course, online teaching also requires that teachers and students have a relatively stable internet network in their homes, as well as some basic playback equipment and software," Huang said. In her opinion, this period of time is of great significance as it provides a chance for both teachers and students to learn from each other, and also serves as a trial period for combining hi-tech media with online art education, helping us learn how to better use them together.
Awarded as "My Favorite Teacher," Huang said that she has a constant passion for teaching music. Whenever she stands in front of a class, she has a strong wish to inspire her students with music and train them into future educators who are equipped with good artistic accomplishments and teaching wisdom, knowing how to apply music to classes. Huang further pointed out, "I see every opportunity of teaching as a special performance and prepare wholeheartedly. Whether it is online or offline, adequate preparation is always the key to a well-received lesson."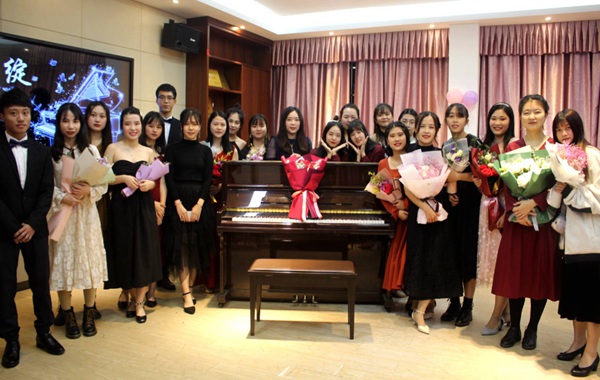 Huang Weilin takes a group photo with her students after completing the piano lessons.
Inclusive Learning Resources
Western classical music is what Huang is devoted to in her teaching and research. Classical music is considered to be a lonely voice with very few people to join in on the chorus. Only the well-dressed audience would sit in the concert hall and listen to those wonderful melodies. Many students or children from ordinary families rarely have a chance to listen to that kind of music. The expensive tickets have made classical music a relatively niche art style. However, the free online art resources during the pandemic "make fair and quality education accessible to every child" a reality. "Online performing art, with the help of high technology, provides an opportunity for classical music to enter the homes of ordinary people, which is of great benefit to the popularization and promotion of this art form," said Huang.
Huang said that for a long time, there have been numerous platforms in Europe sharing online music resources, such as the high-definition digital hall of the Berlin Philharmonic Orchestra, where music lovers can enjoy concerts with high-quality pictures and sound effects online. During the pandemic the domestic market is booming. For example, Tencent Art Channel and POLY Cloud-Theater have successively opened their online music platforms, opening a door to the art palace for all the children studying at home.
Starting on January 27, the National Center for the Performing Arts of China has successively launched seven series of "Online Theatre" activities, and subsequently launched the "Cloud Show" of its classic theater collections, including the classic operas Carmen, La Traviata, The Marriage of Figaro, Tosca, The Barber of Seville, and Aida – all for free online.
Meanwhile, on domestic video platforms, audiences can also see the original video of National Theatre Live for free, which aims to bring the best of British theater at a cinema near you. On the night that the British National Theatre's comedy One Servant of Two Masters premiered online globally, the Chinese subtitle version was also launched on domestic media platforms. Up to now, the number of its viewers has exceeded 100,000 on Weibo, Tencent, Youku, Station B, and Poly Ticketing APP.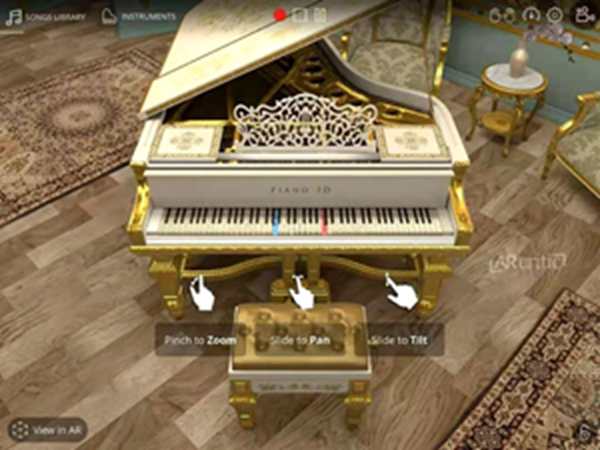 Piano 3D
Immersive Art Experience in Virtual Reality
"5G network, virtual reality (VR) and augmented reality (AR) technologies have all made the online expression of art more real, diverse, and three-dimensional." Huang said that there were online music platforms before, but most of them were special-group-targeted videos. Many live performances have been recorded long time ago that are shown with low-quality sound or picture effects. However, with the application of new technologies, the recorded works now feature high quality images.
With the deep integration of technology and art, "Immersive Art" has become reality with the help of VR technology. Audiences are no longer confined to a "fixed field" while listening to a concert, because VR, the panoramic display, and other technologies allow the audience to choose the angle they want to watch from, even from the position of the conductor or band members, all to experience the whole process of the performance "on the stage."
In the last two years, immersive classical concerts have been well developed. Many internationally renowned orchestras and music festivals have made breakthrough achievements by using VR technology. Huang said that she once watched a live classical concert with VR glasses using the 5G network, and the experience was really amazing.
By means of various kinds of technology, people can also experience the once rare art resources. Huang recommended to students the Chopin Piano Competition – an international music event held every five years. The next competition will be presented online in October 2020 and will allow fans with VR glasses to experience the performance from the perspective of performers or contestants via the lens set on the stage. "It's hard to get a ticket for this highly anticipated international event. Nowadays, just a pair of VR glasses can offer students a special experience of watching it within a close distance," said Huang excitedly as her unfulfilled dream in school days will finally come true.
Some people worry that after the pandemic, people who are used to free online arts will no longer be interested in going to a concert hall and enjoying a real performance. "This concern is unnecessary," Huang said. Live performance emphasizes the interaction between the artist and the audience. That kind of presence is of great significance for artistic creation and viewing experience, and is precisely what online art forms cannot truly reproduce. "In in-person teaching, I also have this kind of feeling. For example, you can see students' facial expressions and body language while teaching offline, and thus have interactions with them based on their emotional reactions. But it is difficult for you to capture these kinds of feedback online."
As the world-renowned conductor Gustava Dudamel said, he was willing to participate in the recording of VR concerts with the Los Angeles Philharmonic Orchestra, because VR technology can better promote classical music and bring it closer to the general public. However, VR has not been able to replace the immediacy, sympathy, and interactivity of performing arts at least at this period of time.