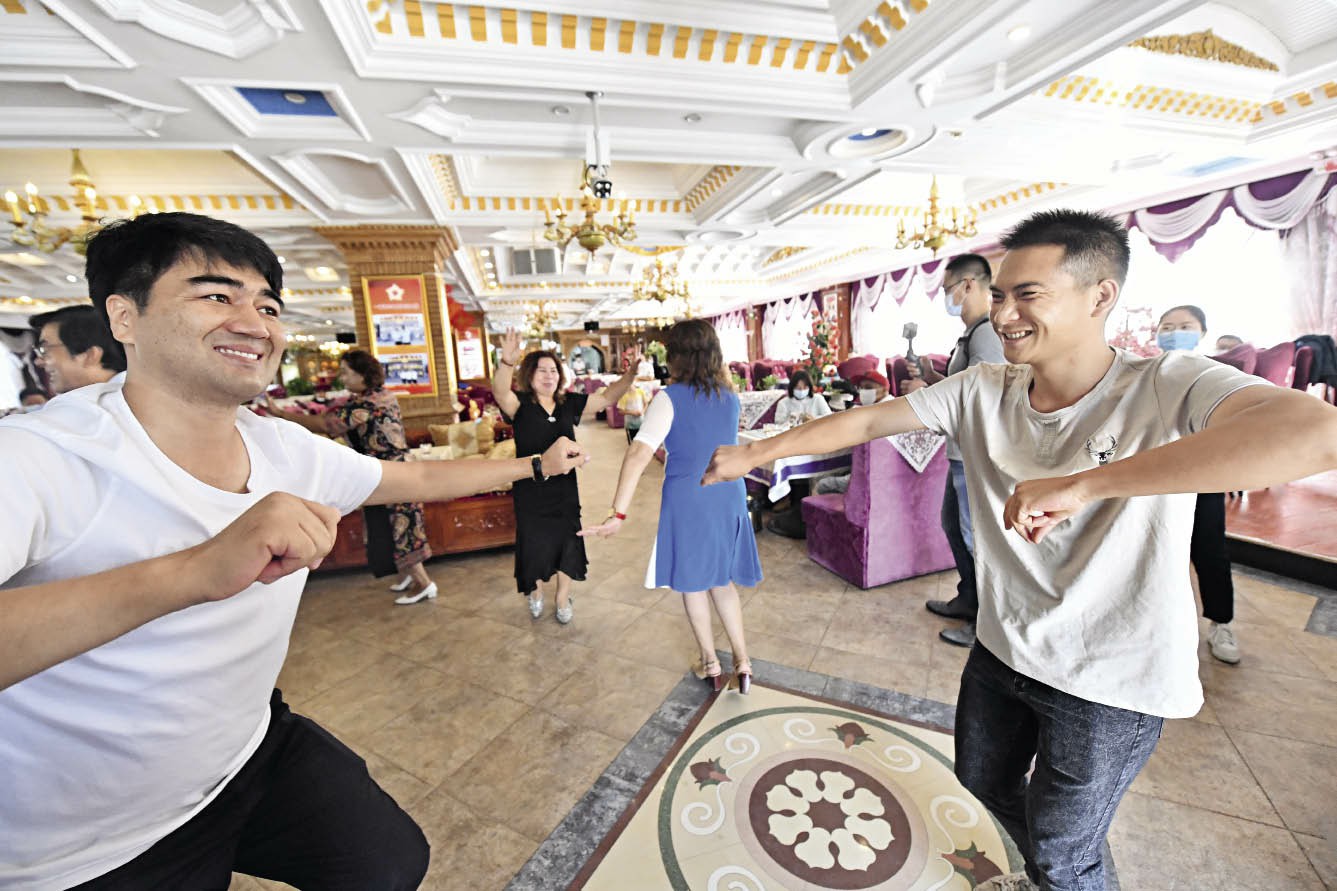 The close relationship among merchants of various ethnic groups in this centuries-old street not only drives economic development, but has also become a highlight of Aksu City.
EVERY Tuesday morning, Lou Jianbo, who runs a printing house, and Muhtar Abudurousuli, who runs a clinic practicing traditional Chinese medicine in Aksu City, Xinjiang, meet at the One Family Restaurant on Wangsan Street to check up on its operating conditions. This restaurant, unlike other restaurants, has 44 pairs of shareholders. Lou, a Han, and Muhtar, a Uygur, the founders of the restaurant, are two of them. From acquaintance to business partners, the two businessmen gradually became good friends in life. Their story started from a social activity in Hongqiao Community in 2016.
Establishing Partnership
In December 2016, 54 commercial tenants on Wangsan Street and Xinglong Street became 27 counterparts under the pairing program carried out by the Hongqiao Community and Aksu Civil Affairs Bureau.
Well-known in southern Xinjiang, Wangsan Street and Xinglong Street are both commercial and pedestrian streets in the city. The difference is that 99 percent of the merchants and practitioners on Wangsan Street are Uygurs or other ethnic minorities, and 99 percent of the merchants and practitioners on Xinglong Street are Han people. After the twinning, the tenants gather regularly to promote development together, and have successively contributed to ethnic unity in malls, groceries, and stores. The One Family Restaurant was opened in this context.
According to Lou, the twinned pairs frequently communicate and carry out exchanges with each other. Food can narrow the gap, so he and Muhtar thought of opening a restaurant to provide a venue for friendly exchanges and interactions with more friends.
The restaurant was opened by crowdfunding. "This was a bold idea at the time. We had no idea how many people were willing to become shareholders," Muhtar said, then added how they hoped to use this approach to invite more partners to participate, so as to promote exchanges between businesspeople of different ethnic groups. "It is not easy to run a restaurant," said Muhtar. "At first, only three people were willing to invest in it."
Fortunately, local community workers soon learned about the crowdfunding and provided their strong support. "We immediately became confident and actively mobilized friends and relatives, and told them about the restaurant's business cooperation model and what we plan to do in terms of ethnic unity and poverty alleviation," said Muhtar. The number of shareholders has since then grown from the initial three to 88, and the restaurant opened in January 2018.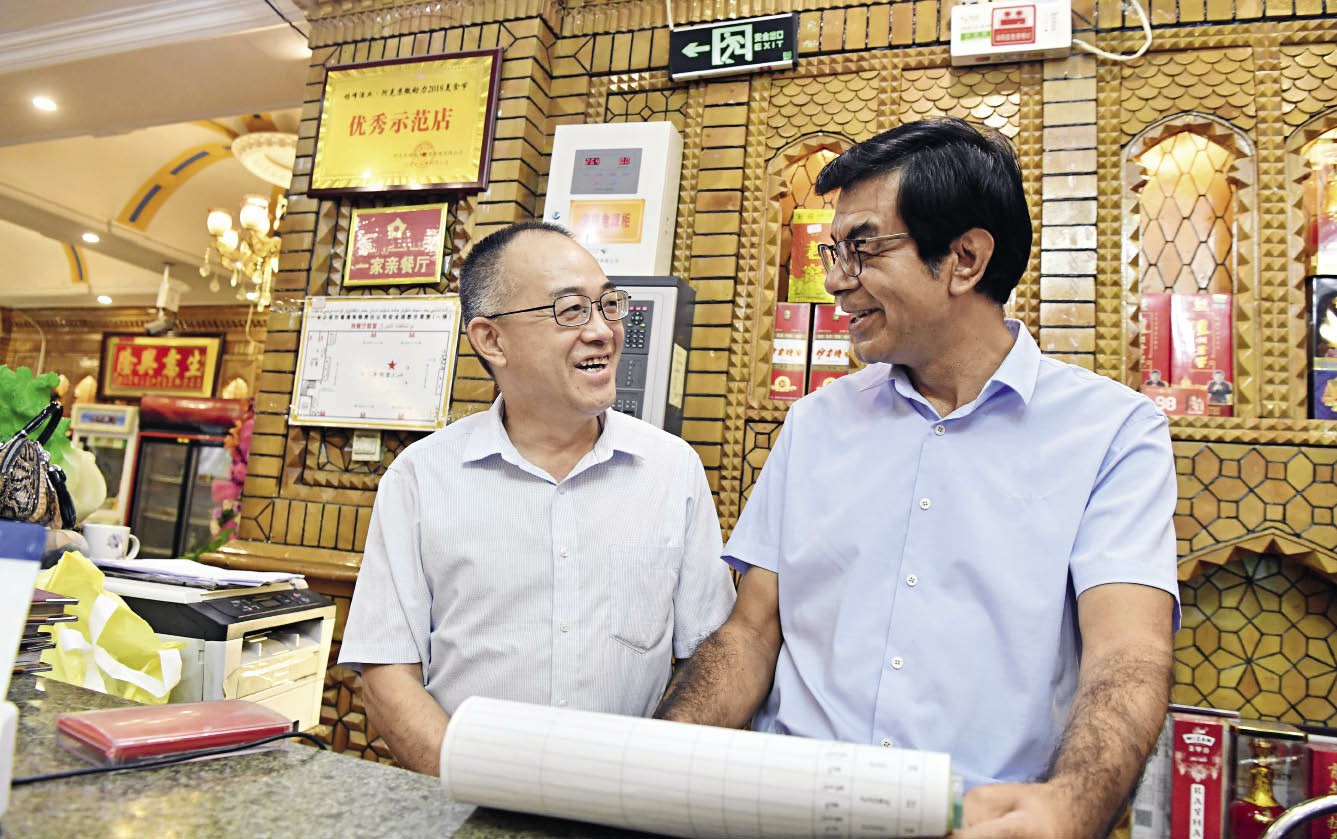 Lou Jianbo (left) and Muhtar Abudurousuli discuss business plans in the restaurant.
Old Story of the Street
Wangsan Street is the only street named after a person in Aksu, and the story of Wang San is well known to the locals.
During Emperor Guangxu's reign (1875-1908) in the late Qing Dynasty, a Tianjin businessman named Wang Fucai went to Xinjiang with a trade caravan. He fell from a horse and broke his right leg when he was purchasing Chinese medicinal materials in Aksu. He recuperated for more than a year in the home of a local Uygur man and they became sworn brothers. In order to deepen the brotherhood, the Uygur entrusted one of his twin sons to Wang Fucai as a foster son and changed his name to Wang San. Later, Wang San followed his foster father to Tianjin to learn Chinese medicine and business. When Wang San was 14 years old, Wang Fucai took him back to Aksu to find his relatives, but could not find them, so Wang Fucai built a bazaar on a large area of land over which Wang San's old family house stood. As time went by, this bazaar slowly evolved into the present-day Wangsan Street.
Today, Wang San's grandson Maihemaiti Tohti works in the radio and television station in Aksu. Since childhood he has been told his grandfather's story by his father many times. For many years, he and his father have not forgotten family traditions and actively upheld ethnic unity.
"In order to remember the friendship between the Uygur and Han people, my grandfather specially named my father Wang Shiying, and my father gave me another Han name, Wang Weihan. I also gave my son a Han name Wang Hanqing. We must pass on the tradition from generation to generation and maintain this beautiful and harmonious relationship between the Uygur and Han people." He and his partner Zhao Qing are shareholders of the One Family Restaurant, and the two families communicate closely. Their children have also become good friends.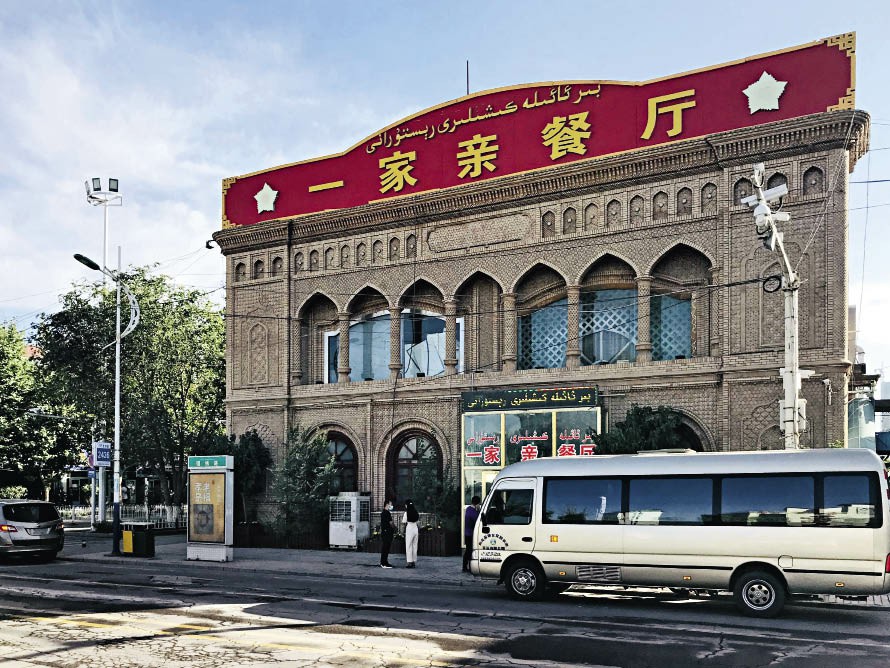 The One Family Restaurant in Wangsan Street in Aksu.
New Story of the Street
Avidly listening to Wang San's story since childhood, Muhtar also wants to do something for ethnic unity.
Muhtar gained admission to the Nanjing College of Traditional Chinese Medicine to study Chinese medicine in 1984. After graduation, he put great effort into his studies and returned to Aksu in 1992 to practice TCM. According to him, Wang San used Chinese medicine to cure many Uygur people' illnesses while he was there. He was largely influenced by Wang San in his decision to study TCM, and also wants to help others.
The first step is always a challenge. When he first came back, few believed in TCM until he won their trust by curing many locals with superb medical skills. Now, more than 10,000 patients of various ethnicities are treated by him annually. "My friend Lou Jianbo also introduced me to many Han patients. Now my patients are spread all over Xinjiang."
In 2018, Maihemaiti went to Tianjin to look for the Han kinsfolk of his grandfather Wang San, but due to age, the search ended in vain. "At that time, many Tianjin citizens told me that although you did not find your relatives, all of us in Tianjin are your friends." Maihemaiti said that every time he thinks of this sentence, he is deeply touched.
The shareholders then had the idea to open a restaurant in Tianjin. They want to tell the story of ethnic unity that happened in Aksu and for it to be passed down from generation to generation in Tianjin more than 3,600 kilometers away.
In recent years, with the continuous advancement of the Uygur-Han pairing work, the partners in Aksu are no longer limited to Wangsan Street and Xinglong Street. Ethnic unity promotion associations have been established beyond the city. Now, there are about 400 such pairs using their actions to tell the new story among different ethnicities.