My China adventure began on the heels of the SARS epidemic in 2003 when I arrived at Nanjing University on a college exchange program. I fell in love with the culture, the language, the food, the energy and excitement of the place and was surprised to feel completely at home here in China.
I can still remember nearly every day of those four months in Nanjing. Biking on the city's bustling streets I felt completely invigorated and told myself I had to return one day. Though I returned to the U.S. for a year to complete my studies, I felt like I never really left China. I really only had one goal after graduating and that was to get back and be involved in some way in efforts to protect the environment.
Now, nearly two decades later and on the heels of another epidemic, that "China adventure" has become my daily life, and I feel extremely fortunate to be able to now call China home.
To say the country has changed in the time I've been living here is an understatement. The transformations happening in China over the last few decades are unparalleled in human history. And to be able to witness, live, and breathe that change on a daily basis, has been truly remarkable.
There are so many aspects of China's transformation that have been exhaustively covered, but the one that my entire professional career has been shaped around are China's efforts these last two decades to protect wildlife and improve the environment.
China faces some of the most staggering environmental challenges in the world. Securing employment, food, and a high quality of life for its enormous population have always been national priorities. How to do this while also maintaining clean air and water, defense from natural disasters, and protecting the country's incredible diversity of wildlife and ecosystems has been a monumental challenge. It's also one of the most crucial challenges to get right, not just for the health of China but for the planet.
After being on the front lines of these challenges for the last 15 years, I'm increasingly confident that China is finding ways to achieve this balance. Right in front of our eyes, for anyone living in Beijing, is the much-improved air quality these last few years. But there has been so much more happening on all fronts to protect the environment, that when added together they culminate in a true green wave of change in the country.
My career has straddled two sides of the environmental protection landscape, both working for the China branches of major international organizations. First at The Nature Conservancy, working on the ground to protect China's land and waters. Then at WildAid, working with media to inspire the public to protect wildlife.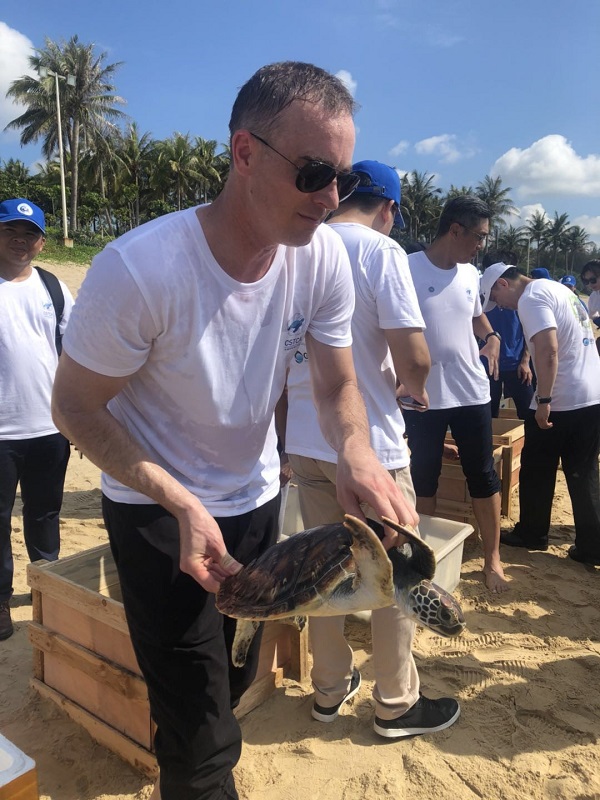 Steve Blake in a government-sponsored activity of releasing
rehabilitated sea turtles back into the ocean in Hainan, China.
These roles have taken me to some of the most unique places on Earth to both witness and be a part of this green transformation. I've helped plant trees as part of the biggest reforestation program in the world in north China's Inner Mongolia Autonomous Region. Off the coast of south China's Guangxi Zhuang Autonomous Region, I watched endangered Chinese white dolphins encircle our little boat in a soon-to-be established marine nature reserve. In the lush mountains of northern Sichuan Province, I found panda poo on the trails at one of China's first community managed nature reserves. On the island of Hainan I helped release rehabilitated sea turtles back into the ocean as part of a larger effort to restore their numbers in China. And in Jilin of northeast China I saw Siberian tiger tracks and claw marks on trees, where a new national park is being established to restore their dwindling numbers.
On the upper reaches of the Yangtze River in Yunnan, I stood at the base of huge glaciers and ancient forest home to Yunnan snub-nosed monkeys, where China's first national parks were being established over 10 years ago. Down river, in Hubei, I stood on top of the Three Gorges Dam and learned from its operators how they will be adjusting water flows to protect downstream fish. Further down the Yangtze in a quiet wildlife sanctuary, I threw fish in the river to feed the endangered finless porpoise. Then at the river's mouth I stood in the mud and wetlands at Chongming nature reserve surrounded by a beautiful array of birds, just in the shadows of Shanghai.
These are just a snapshot of the conservation efforts happening on the ground to protect China's wildlife, but there are even bigger changes happening in the hearts and minds of people here. Chinese media companies have provided unbelievable support over the years to promoting wildlife protection messages, leading to notable shifts in attitudes towards wildlife. In this time the consumption of endangered wildlife products such as shark fin, elephant ivory, and tiger bone has decreased dramatically.
Now in the wake of the COVID-19 pandemic, the public have shown unprecedented support for ending high-risk wildlife consumption. This has been assisted by China passing some of the world's most ambitious and admirable laws to better protect public health, and banning the consumption of wildlife as food in the country.
None of these issues are anywhere close to being easy to solve, and there is still a tremendous amount of work to be done in finding a better balance in how we coexist with the natural world. However, after showing great determination and responsibility so far, China is getting closer to achieving this better balance sooner than many imagined possible.
In these two decades, China has gone from facing daunting environmental challenges to becoming a much-needed global leader in green policy, technology, and initiatives. I'm so glad that I listened to myself on that bike ride in Nanjing all those years ago and came back to China to live this green transformation. I'm both proud and honored to have been even a small part of it.
STEVE BLAKE is the Chief Representative of WildAid China.