WHEN celebrating this year's Dragon Boat Festival with a family gathering, Xiong Yong found his good old days back. The 38-year-old man from Yeliping Village, Sanjian Township in Fengdu County, southwest China's Chongqing Municipality, now has finally risen above the financial stress caused by his uremia condition thanks to a chicken farm he now runs.
About eight years ago, the disease sent an already poor family to even more straitened circumstances. "Dialysis therapy three times a week depleted my hard-earned savings, and I ended up borrowing money from family and friends, running into debt," Xiong recalled. Illness and poverty haunted their family at that time.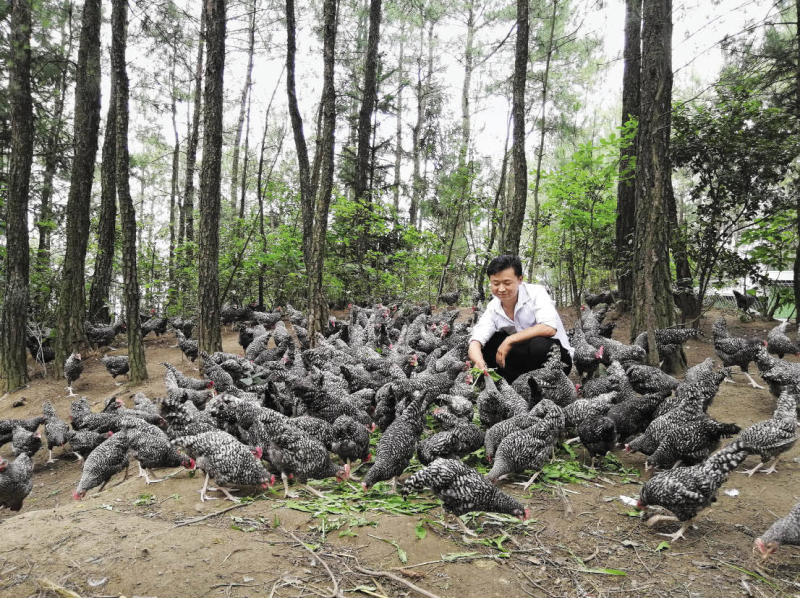 Xiong Yong raises Luhua chicken in the woods on a mountain 900 meters above sea level.
A silver lining came in 2019, when village officials dedicated to poverty reduction helped Xiong build a chicken farm. From the original 1,100 chickens that brought him an annual income of some RMB 20,000 (US $2,868), the farm has expanded in scale and standardized the breeding procedure. "The earnings are expected to surpass RMB 200,000 (US $28,680). This will enable me to pay off the loans I've accumulated over the years," Xiong said with hope.
Poverty Due to Illness
In 2012, Xiong Yong, the bread winner for his family, was diagnosed with uremia. The unexpected serious illness dealt a heavy blow to the whole family.
In order to manage treatment for Xiong Yong, his mother left home and migrated to other places for work; his father-in-law gave away a calf to Xiong to help him raise funds; his brothers also sent him the money they earned from manual work sporadically.
Xiong's aged mother saved every single penny she earned and sent them all back for his treatment. He had to raise the calf for three years before he could sell it. Unable to break the destitution, Xiong had to reduce the frequency of the dialysis from three times a week to twice or once a week, which led to the accumulation of toxins in his body, and deteriorated his condition.
Xiong Yong had been subjected to lasting torment due to the affliction, and the ensuing debt and poverty it led to, as he was helpless while his family was toiling in despair. Later, as more of his medical expenses were covered by the basic health insurance system, Xiong could take dialysis at a higher frequency, and gradually got better. "Then, I thought I could do something to reduce the financial burden encumbering my family," Xiong recalled. The first thing came to his mind was building a chicken farm. "The geographical conditions in my village are suitable for raising chickens. And I also learned some ideas about chicken feeding from TV programs."
In 2018, Xiong Yong's family was identified as a poverty-stricken household under government support. Village officials came to learn Xiong's situation and tailored an assistance plan for the family. With the help, Xiong bought 400 chicks and started his first business in February 2019.
"Unfortunately, all the chicks died within a month due to my insufficient experience and lack of application of proper techniques," Xiong said. He never expected that his first venture would terminate in this way.
Another misfortune befell this poor family. In March 2019, Xiong's family almost fell in desperation after a tragic traffic accident. Just when everything was falling apart, village officials once again offered a helping hand. "They helped me buy 1,100 chicks, funded me to attend a training program on chicken raising, and donated RMB 7,200 (US $1,032) in cash to my family," Xiong said.
Targeted Poverty Alleviation
Sanjian Township of Fengdu County, where Xiong Yong lives, is among the 18 townships under government support in the poverty fight in Chongqing. They pose the most daunting challenge in poverty alleviation. Local rugged mountains and infertile land are not suitable for agricultural cultivation. The economy has also developed slowly over the past decades. To root out poverty, local governments have been scaling up investment and encouraging farmers to develop ecological industries and poultry breeding. The efforts have substantially increased people's incomes.
Village officials have been following Xiong's conditions. They visited Xiong on many occasions and discussed with him ways to help him based on his unique situation. Finally, the officials and Xiong agreed on continuing the adventure of chicken farm business.
This time, Xiong embraced real hope. By the end of 2019, Xiong sold the 1,100 chickens and earned more than RMB 20,000 (US $28,680). After that, he received another funding of RMB 300,000 (US $43,020) from local government, built a new standardized chicken farm, and expanded the farm's capacity to hold 10,000 chickens. Xiong Yong and his family shook off poverty by raising chickens.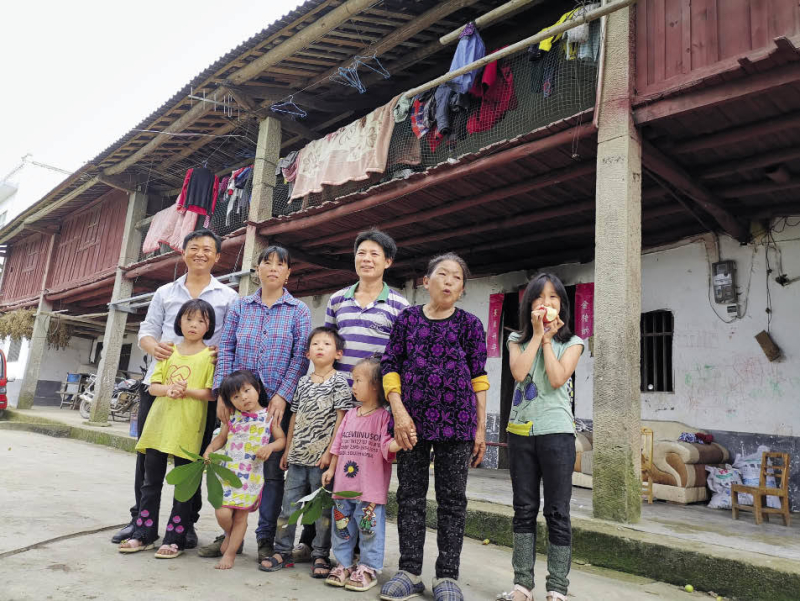 A group photo of Xiong Yong and Xiong Xinghong's family.
Now, Xiong goes to the hospital 50 kilometers away for dialysis every Wednesday, and spends the rest of his time on the chicken farm. His story of fighting the disease and entrepreneurial success attracted widespread attention and admiration.
Xiong Xinghong, who lived in the same village with Xiong Yong, is one of those who was inspired by his success. Xiong Xinghong's life has not been easy. Born deaf and dumb, he lost two brothers in succession and had to support a big family including his 70-year-old mother, his brother's wife who has mental issues and their children. The only sources of his income are farming and gig jobs. Xiong Xinghong and his wife wanted to follow Xiong Yong's lead and strive for a better life.
Local government came to help Xiong Xinghong and his family. "Now, all of his nine family members are provided with subsistence allowances and disability allowances. We also offered Xiong a sanitation job, with which he earns RMB 1,700 every month," said Yang Yun, a village official for poverty eradication.
Without any worries about food and clothing, Xiong Xinghong and his wife also wanted to generate enough funds to "build a new house, because otherwise the five children in his family will be confined to very limited space."
Learning the couple's wish, Xiong Yong lent them 500 chicks in the beginning of 2020, and promised to teach them proper methods of caring for them and help them sell the chickens. Delivering on his promises, Xiong Yong goes to offer them on-site guidance twice a week.
Xiong Yong said that all the 10,000 chickens he raised would be put on the market in August. The working team for poverty alleviation in Sanjian Township is helping Xiong and his fellow villagers sell the chickens on e-commerce and live streaming platforms among other methods. "I don't worry about the sales," Xiong said.
"With the demonstrative effect of Xiong Yong's chicken farm, we will lead the wider public to mold a local brand after the sales go up. It will be a way to generate sustainable incomes for local people," Yang Yun said.
Charging Toward the Target
At present, all the 125 poor households in Yeliping Village have been lifted from absolute poverty, and there are only 11 people in five households in Sanjian Township that have yet to surmount this obstacle. By making use of local resources and empowering individuals like Xiong Yong with funds and skills, the local government has explored a path for eradicating poverty and building prosperity for local people.
The county is charging toward winning the last part of the battle against poverty. "In the 28 township-level regions and two urban communities in Fengdu, 51 households with 103 family members still remain in poverty. As more support goes to them, they are expected to get rid of poverty as scheduled by the end of the year," said Mi Qing-yuan, chief of the publicity department in Fengdu. Mi added that local government had established 51 work teams to pair up with these households to ensure the target can be achieved by the end of this year.
While overseeing whether support policies go to the needy, the work team helps poor residents secure jobs and solve their difficulties in life. "People's satisfaction and happiness is our ultimate goal," Mi said.