AS an important part of the eco-system, wild animals are essential to ecological balance and stability, bio-security, and economic security. China is among the 12 countries in the world with the largest variety of wild animal species. To ensure their protection, it has promulgated a number of laws and regulations, including the Law on Wildlife Protection, and compiled a list of animals on heightened protection by the state. China has also established a unique wildlife protection and management system of it own. These efforts have delivered remarkable results. Data from the National Forestry and Grassland Administration shows steady growth in the population of endangered wildlife species over the past decades, with some terrestrial species no longer facing the immediate risk of extinction.
The red deer, an animal under second class state protection, strolls through the woods of Mt. Changbai.
Earlier this year the infrared camera installed in the Tongbiguan Nature Reserve in Yunnan Province captured sights of wild pangolins, a sight that was great news for its staff. According to 2018 figures of the CITES (the Convention on International Trade in Endangered Species of Wild Fauna and Flora), the population of pangolins plummeted by 90 percent over the previous 20 years, bringing it to the verge of extinction. To reverse this trend, China upgraded the protection of this animal to the highest level this June, and later removed its name from the Chinese list of medicinal drugs.
Nature Reserves
Nature reserves are a key component of China's wildlife protection system. The one at Mt. Changbai in Jilin Province is one of the earliest nature reserves in the country.
In the 1980s, poachers plundered this densely wooded area of valuable fauna and flora species, resulting in a sharp decline in their numbers and devastation of the local eco-system. "The reserve arranges annual patrol missions in accordance with the change of seasons and distribution of different species," said Shao Longzhu, head of the reserve's Fengling Station. Such patrols can be dangerous. While surveying red pine trees recently, Shao and his team narrowly escaped being stampeded by a group of boar that were disturbed by illegal hunters. In addition to being attacked by large animals, they have experienced retaliation by poachers and face-to-face confrontation with armed criminals. Despite all this, their hard work has paid off: the eco-environment and wildlife population at Mt. Changbai have recovered rapidly.
"During patrols conducted in recent years, we have often encountered red deer, black bear, and other large animals. It's evident that the number of wild animals is increasing," said Shao, who is very happy with the results. Today, the work priority of nature reserve employees like Shao has shifted from fighting poachers in the 1990s to research, monitoring the number and density of wildlife, and filming them with infrared cameras.
The protection and development management committee of Mt. Changbai gives top priority to preservation, and has increased personnel and improved infrastructure for this purpose, including assembling a team of professional forest fire fighters, building fire-proof roads, and purchasing new patrol vehicles and other equipment. The reserve employs the latest technologies, such as geographic information system (GIS) and remote fire monitoring, in its daily work. It also reaches out to the public through the Internet, TV, and radio broadcasts to guide and encourage citizens to join in its efforts to protect wildlife.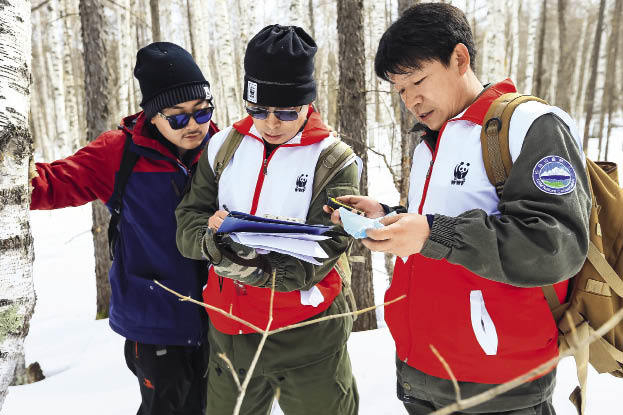 Nature reserves provide the environment for highly endangered animals to survive and reproduce.
Thanks to many years of strenuous efforts, the number of wild animal species has increased to 1,586 and that of wild plants to 2,639 on the mountain. This progress received high praise at the International Coordinating Council of the Man and the Biosphere program at its meeting in June 2017, which recognized that Mt. Changhai met the criteria for becoming a World Biosphere Reserve.
According to the National Forestry and Grassland Administration, in 2018 China's mainland had established 2,750 nature reserves of different kinds and levels, whose share of the national territory was higher than the world average, and which were home to 85 percent of wildlife on the mainland. Due to effective protection in these reserves, the population of many endangered animals, such as the giant panda, crested ibis, Père David's deer, and the Chinese alligator, has grown significantly.
Wild Horses Returning Home
Nature reserves provide the environment for highly endangered animals to survive and reproduce. In 1878 the world's only wild horse, called Przewalski's horse, was spotted in China's Xinjiang. It however died out in the wild within only 90 years. The 13 horses kept in captivity in Germany became the last hope for continuity of this family.
In 1985 the wild horse breeding and research center of Xinjiang imported 24 Przewalski's horses, bringing the animal back to its ancestral land.
Ent Mark, an ethnic Kazakh, is a veterinarian at the Xinjiang center. Coming from a herders' family, he grew up with horses, but didn't know much of Przewalski's horses until he joined the center. "When I was still a vet student, my teacher often treated horses at the center, and talked about his experiences with us," said Mark. He went on to develop an interest in this beautiful creature, and after graduation in 1998 he applied to work at the center.
In his early days on the job, the wild horses would not allow Mark to get close to them. To gain their trust, he kept busy with feeding and cleaning their area for three years. His perseverance paid off. Eventually they lowered their guard. With few reference materials on this rare animal, Mark learned as he went along. "At first we didn't have an effective anesthetic for wild horses, so we had to restrain them manually. It needs at least eight men to pin down an adult horse," said Mark. It was all too common to get injured in this process, and he still has bite scars on his shoulder. The work became easier after the center acquired a drug tailored for wild horse anesthesia, and imported special equipment to immobilize them.
Mark is now writing a book on common diseases among Przewalski's horses, which is scheduled to be published at the end of 2020. It will be the first of its kind in China.
During the first half of 2020, four foals were born. So far the center has bred a total of 718 Przewalski's horses over six generations, which makes it the world's largest wild horse base.
"True preservation and rehabilitation is to release wild animals back into their natural habitats," said Yang Weikang, a researcher with Xinjiang Institute of Ecology and Geography of the Chinese Academy of Sciences. In the past, his institute has reintroduced more than 110 wild horses into the wild, and plans to release 10 more this year. After reproduction over three generations in the wild, their number has exceeded 260.
There are 250 preservation and breeding bases for wild animals across China. By means of human intervention, more than 230 wild animal species have developed sustainable populations, and 14 of them, including the crested ibis, Przewalski's horse, Père David's deer and Chinese alligator, have been successfully reintroduced into the wild.
Love Nature, Love Ourselves
Protecting wildlife is non-negotiable for the future wellbeing of our planet. Only through global efforts can we stop the illegal trade of wild animals.
In 2013, China joined forces with two dozens of countries in launching Operation Cobra against wildlife crimes. During that year and 2014, law enforcers were successful in busting more than 500 cases involving wild animals and plants, seized 42 tons of red sandalwood, nearly 10 tons of ivory, and other wildlife products. The operation won high praise from the international community. John E. Scanlon, former CITES secretary-general, called it an important operation by law enforcement agencies in many of the countries where trafficked wildlife products originated, transferred, and consumed, and is curcial in the fight against organized wildlife crimes.
Biological preservation is also a key element of the Belt and Road Initiative and the concept of building a community with a shared future for humanity that China has put forward. To add additional pressure to this preservation, the COVID-19 pandemic now also requires improving the system for monitoring diseases from wild animals as well as the renewed call for combating wildlife crimes. China's 2020 government report said explicitly, "Illegal hunting, trading, and consumption of wild animals will be severely punished." This is a clear indication of the unprecedented attention to wildlife protection.
President Xi Jinping, during an inspection tour of a wildlife sanctuary in Zimbabwe in December 2015, commented that wild animals constitute an important part of all lives and the eco-system on Earth, and that the state of their subsistence has direct bearing on the sustainable development of humankind. Dr. Zhou Jinfeng, secretary-general of China Biodiversity Conservation and Green Development Foundation, observed that biodiversity conservation has long-lasting significance. "A great number of species die out every year, and more come close to extinction. I hope we can step up protection before almost all wild animals have disappeared, as then there is little we can do," said Zhou.