ABOUT 100 tea pickers gathered at the 280 hectares of organic tea plantation in Chisadi Village, Fugong County, Nujiang Lisu Autonomous Prefecture of Yunnan Province, during the Qingming Festival in early April this year to pick the earliest mature spring tea leaves.
Amomum tsaoko farmers of Nujiang Lisu Autonomous Prefecture, Yunnan Province, enjoy a bumper harvest.
Deng Ashe's family has a 0.53-hectare tea garden. This year, his sons and grandsons all participated in harvesting the tea leaves. "The epidemic has little impact on us tea farmers, and the new leaves this year can still be sold at a good price," Deng said. Deng also indicated that the new leaves picked so far had already been reserved by tea traders. Like 76-year-old Deng, growing and selling tea leaves has become a steady source of income for the residents of his village.
In recent years, Nujiang Lisu Autonomous Prefecture has accelerated green development based on local mountain resources, the results of which "have not only strengthened the foundation of ecological protection, but also brought real economic benefits to local people, making great progress in poverty alleviation," Nujiang prefecture magistrate Li Wenhui said.
A Chain Reaction
Mi Bosi, a villager from Sanhe Village, Luzhang Town, Lushui City of Nujiang prefecture, is making money at home by taking advantage of his village's ecological environment.
With the COVID-19 gradually coming under control in China, during the month of April, an increasing number of photographers came to Mi's pond to photograph birds. "We accommodate five to six batches of photographers a day. We provide them with accommodations and meals, all of which bring us money," said Mi. As environmental conservation has been improved in recent years, many birds have come to stay in the village, making it an attractive destination for outdoor bird photographers.
Over the past two years, based on its climate and ecological resource advantages, Sanhe Village has adopted the development model of "cooperatives + poverty alleviation workshops + bases + poor farmers," and built 15 ponds for birds, 120 bird-watching spots, and a poverty alleviation workshop. "This village is one of the first bird-feeding, bird-watching, and bird photography bases in the prefecture, directly helping 45 poor households escape poverty. The average monthly income of a local poor household from the bird pond business alone can be up to RMB 1,500," Li Wenhui said.
"The better the environment gets, the larger number of birds there will be, and we will be able to earn a higher income," said Mi.
Similarly, what brings ecological benefits to poor people in the prefecture is the amomum tsaoko. This ginger-like aromatic plant grows very easily in the natural environment of Nujiang. The plant itself can stop soil erosion on the mountain slope and bear fruits with high economic value.
During the months of spring, villagers of Bingfeng in Shangjiang Town of Lushui City get up early in the morning to weed and fertilize the amomum tsaoko. Growing it has become their main source of income.
"The tsaoko fruits have become our source of wealth. Villagers earn more by growing tsaoko than by working elsewhere," said Kong Zhongyi, head of the Bingfeng Villagers Committee.
A 50-km-long tsaoko corridor extends from Pihe Township in Fugong County to Puladi Township in Gongshan County. This corridor now is a beautiful scenic route of the "ecological Nujiang River."
"Even gold and silver are not as valuable to us as tsaoko," said Yang Yuhua, the Party secretary of Puladi Township. He further pointed out that by growing amomum tsaoko, the valley has become beautiful, the locals have increased their income, and the soil and water are well preserved.
The 72,000 hectares of amomum tsaoko, the 133,333 hectares of walnut trees, and the 20,000 hectares of sumac, all greatly beautify the Nujiang valley and help farmers on both sides of the valley to make a good living. "This is a dividend of ecological benefits. The Nujiang valley has become a green and sustainable bank for locals," Yang Yuhua said.
Growing amomum tsaoko helps to invigorate the local woodland economy, according to Yang. While environmental protection is emphasized for sustainable economic development, the lives of local villagers have also improved a lot.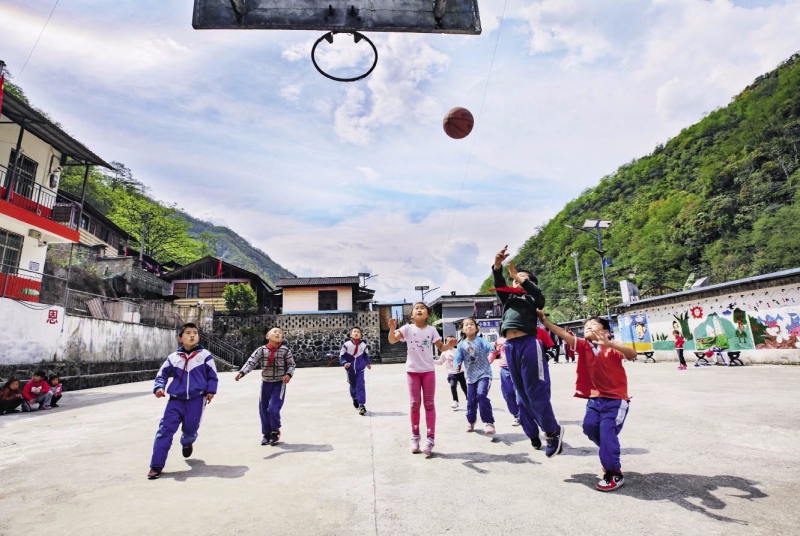 The Dulong people now have more means to spend on their children's education after rising out of poverty.
In the past, local villagers relied only on their land for a living; later they became drivers, businessmen, migrant workers, and tourist receptionists. Now, they are developing the green industry, farming, and breeding with local characteristics. They also cultivate medicinal plants. The source of income has gradually diversified. "Environmental protection is the foundation, and eco-economy will benefit us greatly," said Yang.
Up to now, Nujiang prefecture has planted 73,333 hectares of amomum tsaoko, making it the core production area of tsaoko fruits in China. "In 2019, the prefecture's fresh tsaoko fruit output reached 20,000 tons, with an output value of more than RMB 200 million. As a result, 40,000 poor people have lifted themselves out of poverty," said prefecture magistrate Li Wenhui.
"Ecological Dividend" of Rural Tourism
Gao Jianling, a resident of Bapo Village in Dulongjiang Township, Gongshan County, also enjoys the "ecological dividend" of the Dulong River as he runs a farmhouse inn there.
The Dulong ethnic people represent 90 percent of the local residents in Dulongjiang Township. They were lifted out of poverty by the end of 2018. Due to its high elevation, the township used to be isolated from the rest of the world by snow almost for six months out of a year. With the support of governments at all levels, the Gaoligong Mountain Tunnel of the Dulong River Highway was finally completed in November 2015, thus eliminating the challenge of snow halting the traffic there.
The improved traffic facilities and the relatively primitive ecological environment have attracted many tourists from outside the mountain region. "Many tourists are attracted by the secluded natural scenery here," said Gao Jianling. Having been running a small business for many years, Gao perceived an opportunity to make more money. He bought a house with a courtyard with a loan and opened an inn there.
The Dulong River gorge has a unique natural landscape and rich culture. In view of the fact that the Dulong people were still suffering from poverty in spite of having such resources, the local government decided to develop and promote rural eco-tourism, accelerating the construction of the Dulong River tourist town and a 5A scenic park. With the completion of a highway and other projects along the Nujiang River, the ecological tourism along the Dulong River is now in its heyday.
"Beautiful mountains, clear water, and fresh air make tourists reluctant to leave," Gao said. Since the upgrading of the Dulong River scenic park, his hotel business has been good. During the National Day holiday of 2019 alone, he made a net profit of nearly RMB 20,000.
Zhang Jun, deputy director of the publicity department of Gongshan county Party committee, indicated that in Dulongjiang Township, a great number of villagers are engaged in tourism. "You can feel how people's lives have been changed for the better, and they smile much more," Gao said.
During recent years, Dulongjiang Township has actively developed tourism, building several types of villages for ecological agricultural tourism, promoting local culture, and for tourists to experience the original folk customs. At the same time, it has taken advantages of local forest resources to create tourism projects such as scientific exploration and horse riding, which as a result have effectively inspired a number of villagers to rise above poverty and get rich.
Thanks to environmental protection and the eco-economy, 126 poverty-stricken villages in Nujiang were able to lift themselves out of poverty by the end of 2019, reducing the number of poor by 102,200. The remaining registered poor generally have enough to eat and wear, and have access to compulsory education, basic medical care, and safe housing. "We're definitely going to realize the goal of building a moderately prosperous society at the same pace as the rest of the country," said Li Wenhui.