THE Sichuan-Tibet Highway runs across the Litang Plateau, drawing a beautiful curve on the vast Maoyaba grassland.
"Forty years ago, having vegetables was a luxury for us in Litang. We were unable to grow vegetables owing to the technological backwardness of our area. We also had difficulties in transporting them here from inland parts of the country because of poor road conditious, and for a very few of them which were available here in the market, they were very expensive," recalled Luorong Zeren, 51, deputy director of the Litang County Bureau of Agriculture, Animal Husbandry and Technology.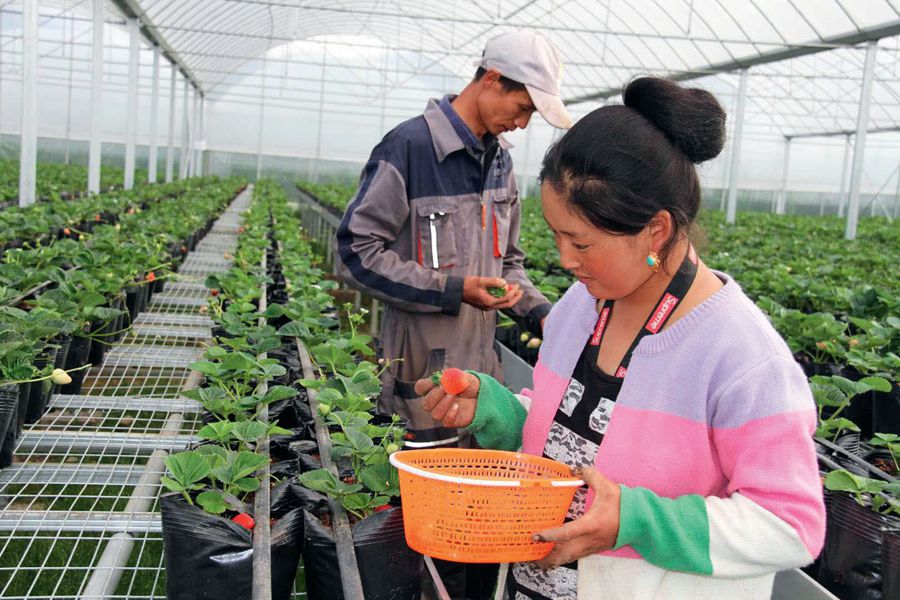 The fruits and vegetables grown in Litang are of supreme quality.
Litang County is located in Garze Tibetan Autonomous Prefecture, Sichuan Province, at an average elevation of 4,014 meters. In the past, because of the high altitude, low air pressure, low oxygen in the air, and poor land conditions, the conditions for the growing of ordinary crops were very fragile. Besides barley and potatoes, few crops could grow here. For generations, Litang people lived by collecting caterpillar fungus and raising yaks, depending on the mercy of the elements.
When people are in poverty they usually start thinking about changes, and the changes will lead them out of the predicaments. Litang changed its agricultural structure, and transformed its natural disadvantages into strengths through scientific and technological innovation. Today, high-quality fruits and vegetables produced in Litang not only have enriched the diet of local people, but also are sold to Hong Kong, Macao, and Southeast Asia, giving this "city in the sky" a new image.
Litang People's Spirit of Exploration and Development
Why cannot Litang grow vegetables? In 1991, the Litang Institute of Agricultural Sciences began to conduct vegetable-planting tests at selected plots of land in Jiawa Township. Then in 2002, the institute opened up a planting site in Zhuosang Township. Compared with 1991, the scale of the trial planting had expanded and achieved certain results, but was still unable to satisfy the daily needs of the local residents. In 2007, in response to the government's call, farmers in Litang put up small sheds in front of and behind their houses to grow vegetables, which to some extent helped to meet the demand for vegetables. However, the challenge of how to realize large-scale vegetable cultivation in Litang still needed further exploration.
"The large-scale development of vegetable growing in a real sense started in 2013," said Luorong Zeren. In 2013, more than 10 kinds of vegetables on 67 hectares of land were planted in the Shengdi Farm in Zhuosang Township, saying farewell to the previous small pilot programs. On March 9, 2017, Litang established the Zhuosang Modern Eco-agriculture Park, the first of its kind in Garze which integrates agricultural production, scientific and technological research, and recreational tourism. The park is composed of the Jiawa Pastoral Complex, Kangzang Sunshine Modern Eco-agriculture Entrepreneurship and Innovation Center, and Shengdi Farm Cultivars Demonstration Base. Subsequently, the collective mode for developing vegetable planting began to unfold in Litang.
After some 30 years of exploration and development, Litang has now become a land of fruits and vegetables. How did it turn its natural disadvantages into strengths? According to Su Yonggen, director of Kangzang Sunshine Modern Eco-agriculture Entrepreneurship and Innovation Center, at the average altitude of 4,014 meters, the air in Litang is fresh, the temperature difference between day and night is huge, and the sunshine is abundant with the average annual sunshine totaling 2,638 hours. The land here is stony though, but it is pollution-free, and quite fertile after being leveled. In addition to this, because of the high altitude, the water is clean, natural mineral water with organic matter of up to 6.0. All these natural elements turned out to be conducive to off-season vegetable production. "Technological advancement has shown that we could produce quality vegetables too here in Litang," said Su.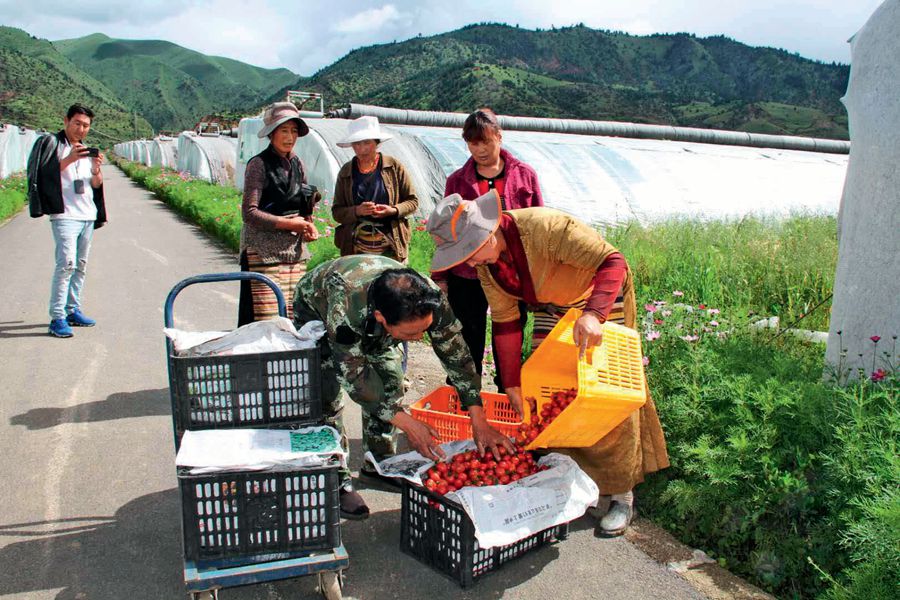 Vegetable greenhouses have been built in front and back of farmers' houses in Litang.
Currently, in addition to the traditional production of Chinese cabbage, radishes and potatoes, Litang has successfully cultivated more than 20 kinds of vegetables, including cherry tomatoes, greenhouse watermelons, fruit cucumbers, and green peppers. These achievements have greatly enriched the dietary structure of the local people. Now the county has witnessed the accomplishment of a 10,000-square-meter standardized seedling nursery center, 5,000 square meters of EPS intelligent modular greenhouses, and a 600-ton standardized vegetable cold chain storehouse. The present growing areas of organic fruits and vegetables amount to 556 hectares, with an annual production of 40.5 million kilograms and an output value of RMB 68.8 million. Fruit and vegetable plantation will remain a pillar industry for Litang in future development.
Access to Roads, Access to Broader Markets
There is an old Chinese saying that says "If you want to get rich, build roads first." Litang has undertaken a revolution in road construction.
In the late 1970s Litang only had a 170-kilometer-long section of National Highway 318 and a 90-kilometer-long section of Provincial Highway 217, greatly limiting the highway access of districts and villages. After more than 30 years of road and bridge construction, by 2013, the Litang sections of National Highway 318 and of Provincial Highway 217 were all tarred roads. Litang has become the transportation hub connecting the Sichuan-Tibet 318 National Highway, the Sichuan-Yunnan 217 Provincial Highway, and five routes in the southern part of Garze. At the end of November 2017, 890 kilometers of rural roads were completed in Litang, including 417.7 kilometers linking townships, and 472.3 kilometers leading to villages. So far all the townships have been connected by highways, while 95 percent of the villages in the county have access to rural roads.
With convenient road access now, selling its fruits and vegetables out of the plateau is no longer a dream for Litang. In September 2017, Kangzang Sunshine Modern Eco-agriculture Entrepreneurship and Innovation Center became a vegetable supply base for Hong Kong, Macao, Taiwan, and Southeast Asia. In 2018, it began to run 20 hectares of land from surrounding cooperatives under land trust agreements. The land has been used to grow white radish, the main single product, for the Pearl River Delta as well as Taiwan, Hong Kong, and Macao markets. On September 7 that year, five cold chain vehicles loaded with 135 tons of radishes drove out of the Kangzang Sunshine Vegetable Production and Processing Base, marking the first delivery of Litang's farm produce heading for Hong Kong and Macao. Three days later, the radishes arrived in Zhuhai, were sub-packed in Shenzhen, and finally delivered to Hong Kong and Macao.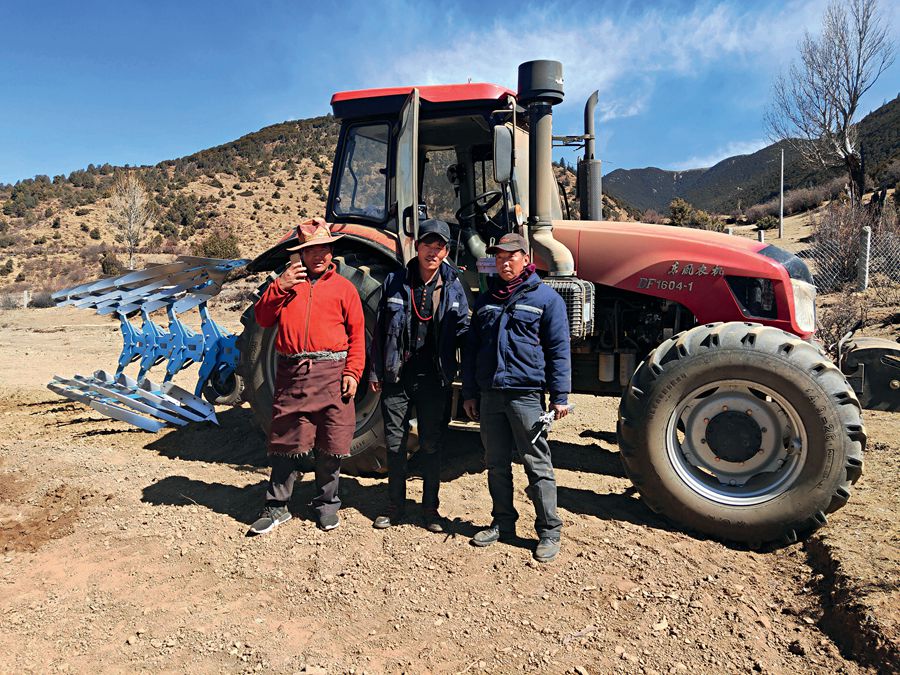 Zhenta is a tractor driver in a modern eco-agriculture center.
Yang Zhihua, executive deputy director of the Litang County Modern Agriculture and Tertiary Industry Management Office, said, "Ten years ago, due to poor transportation facilities, it often took two days and two nights to travel from Litang to Chengdu even under good weather conditions. Nowadays, it only takes three days to get to Zhuhai. The drastic change is hard for me to imagine. With the continuous improvement of national, provincial, and rural roads, transportation costs have been greatly reduced, enabling more consumers to enjoy the natural and healthy highland fruits and vegetables of Litang."
Training Local Talents
Zhenta, 27, is a Litang native. When he was still a child, he would follow his family onto the mountains to collect caterpillar fungus during the harvest season. But due to the high altitude and the low amount of oxygen in the air, extreme weather often occurred and four seasons can be experienced in a single day. The annual harvest was also unstable, leaving local people to rely on the mercy of the elements. In 2017, Zhenta became a tractor driver in Kangzang Sunshine Modern Eco-agriculture Entrepreneurship and Innovation Center with an annual income of RMB 50,000. Zhenta said happily, "My job now is much better than before, it is close to home, and I earn more!"
Just like Zhenta, many other residents in Litang now are living a better life because of the fruit and vegetable industry. In the Jiawa Pastoral Complex, Jiawa MajiAmi Garden Farm adopts a development mode of concentrating farmlands for operation by leading enterprises and distributing dividends according to shares. Under this approach, about 123 hectares of farmland in Jiawa Town has been transferred to the farm for unified operation. Other poor villages, by relying on industrial poverty alleviation funds, also transferred their greenhouses to the farm using the enclave economic model. The farm then introduced leading enterprises to undertake the production, management, and marketing, allowing the poor villages to reap dividends according to their shares. By the end of 2017, three townships and five villages in the county had 13 vegetable greenhouses operated under the enclave economic model, enabling these poor villages to increase their annual income by RMB 416,000 on average.
In order to meet the demands of the fruit and vegetable industry for specialized talents, Litang County has established a training base in the Zhuosang Modern Agriculture Entrepreneurship and Innovation Center. Experts and specialists from Sichuan Agricultural University, Sichuan Academy of Agricultural Sciences and Sichuan Academy of Animal Sciences are invited to give customized or targeted training sessions in order to foster leaders who create wealth, leaders of farming, and leaders of farmers' specialized cooperatives. At present, 12 training sessions have already been done, involving 480 people, of whom 300 are from registered poor households and specialized cooperatives. The primary goal of "one training session enabling a group of people to get employed and get rid of poverty"has been achieved.
Litang is already a tourist resort because of its high altitude and beautiful scenery. Now, it is also noted for its highland fruits and vegetables.