THERE is still a nip in the air along the Juma River in early spring, but the homestay in Nanyu Village is brimming with warmth. Five days before the Chinese New Year, the homestay began to see an endless stream of guests.
In the No.5 courtyard under the unified brand name of Mamahua's Hillside, the 42-year-old housekeeper Wei Hehong has seen off a group of guests from Beijing and is about to welcome new arrivals. An expert at doing the house chores and cooking, Wei has spent the Chinese New Year at the homestay for two years in a row.
The winding Juma River runs across Nanyu Village, in Laishui County, north China's Hebei Province. Over the past two years, local homestays have gone viral on social media, earning the village a reputation of being the most beautiful village by the Juma River.
An old courtyard has been renovated into a homestay in Nanyu Village, Hebei Province.
Since 2015, Nanyu Village has ridden on the express train of tourism-oriented development in the Yesanpo Scenic Spot. Local villagers established a rural cooperative and renovated their unoccupied houses on the hillsides into idyllic homestays with distinctive regional characteristics. Under the unified brand name of Mamahua's Hillside, the homestays received funds from foreign ventures, and are managed by professionals to appeal to upmarket consumers. Thanks to the business model, the unknown poor village deep in the Taihang Mountains was able to lift all its residents out of poverty in 2018.
Modern Amenities
"Last year, we had eight homestay residences from which each of the 671 villagers received a dividend of RMB 1,400. This year, we opened seven more, and all have been booked during the Spring Festival holiday," said Duan Chunting, Party secretary of the village.
In Nanyu Village, the third day of the first lunar month is the occasion to welcome good fortune. Early in the morning, Duan brought red diamond-shaped fu (meaning good luck) posters to every housekeeper in the hope of ushering in a thriving business in the coming year.
The housekeepers are actually hostesses of homestay residences. They attend to visitors' needs and offer tailored services to every visitor.
According to Duan, the housekeepers are strictly selected. The candidates must be between 35 to 50 years of age, and unemployed female villagers are favored. Qualified females have to finish a one-month training program and internship of the same duration before they officially become housekeepers. They are paid a monthly salary plus commission on the number of visitors they accommodate.
Nanyu Village nestled in mountains. Ma Li
The monthly income is over RMB 3,000, a good sum by local standards. "Women who used to be migrant workers are returning to Nanyu Village. They can find well-paid jobs close to home while taking care of their parents and children," said Duan. At present, there are 26 trained housekeepers in the village.
Cai Jinglan, 61, has been working as a housekeeper for nearly two years. "I started in April 2017 when I was 59. According to the rules, I was too old to be recruited. But the village officials offered me the post given the difficulties my family was facing," said Cai. "The job alleviated difficulties and gave us hope."
Several years ago, Cai's husband came down with uremia, a kidney disease costing tens of thousands of yuan annually in medical bills. Cai supported the family the best she could with the meager income she earned by laboring in construction sites not far away from home. But even with this, she could barely make ends meet.
"Since I became a housekeeper, the strain has relaxed gradually. Last year, I earned RMB 40,000," said Cai. While having a regular paycheck, she is able to take care of her sick husband. Now, Cai has been credited as a model housekeeper at Mamahua's Hillside.
The 15 homestays that dot the hillside vary in sizes and style, and are equipped with modern facilities to attract urban visitors.
"Despite our location in rural areas, tourists are offered modern facilities, making urbanites feel at home," said Duan Chunting. The homestays boast a tranquil ambience unique to the countryside. "We aim at creating an oasis which bridges the urban and rural life and makes the homestays into homes sought after by urbanites."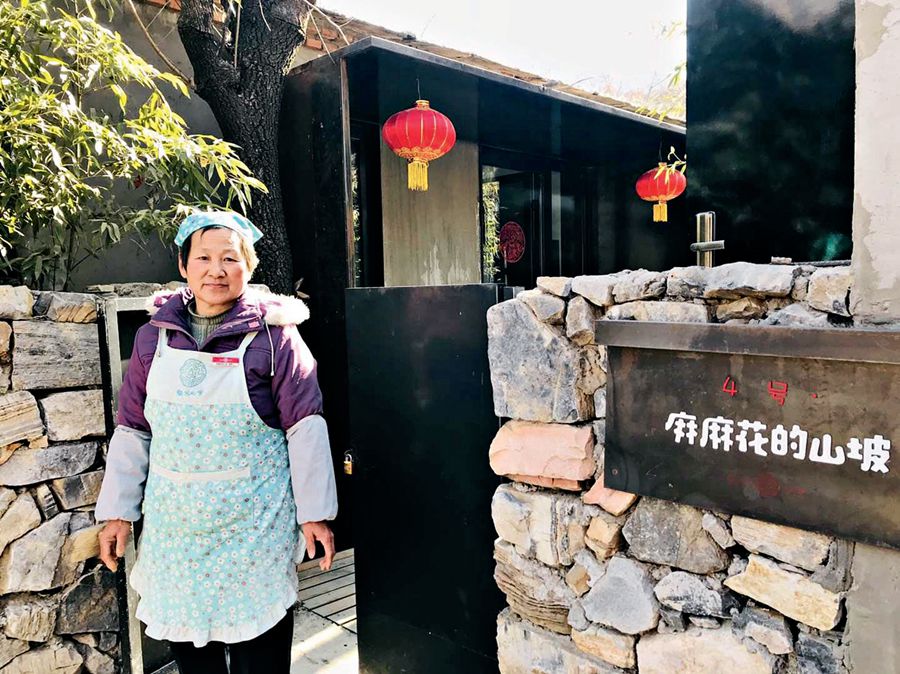 The job in the homestay has greatly helped model housekeeper Cai Jinglan to support her family.
With support of the public welfare project, Sharing Villages, launched by Samsung in partnership with China Foundation for Poverty Alleviation, the premium homestay brand, Mamahua's Hillside, came into being in 2016. According to Duan, it has been a golden goose for the entire village. Last year, the average income per capita was close to RMB 8,000, tripling its 2014 level.
Rural Revitalization
Checking in at the No. 12 courtyard was Zeng Ming, initiator of the China Rural Reconstruction and Art initiative who has participated in designing many classic homestays.
Zeng came to the village in the past as an expert at assessing the feasibility of building homestays. He offered many proposals for the design and layout. But this time, he came to Nanyu as a visitor to celebrate the Spring Festival with his family. He wanted to experience the facilities whose design he is credited with.
"It never entered my mind that the homestay project in Nanyu Village could be so successful," said Zeng. "From the two homestays in the beginning, a total of 15 premium structures have mushroomed in this small mountainous community with only 224 households. It is incredible that they accommodate tourists 320 out of 365 days a year," he added. "Hospitality has become a thriving industry as the nation steps up efforts in revitalizing the countryside."
In 2018, after having shaken off the shackles of poverty, Nanyu faced the issue of planning for its future development. "[The villagers should] continue to diversify their services in an effort to entertain visitors and convert them into loyal consumers," said Zeng. "Besides quality food and facilities, visitors should be offered entertaining services and meaningful experiences."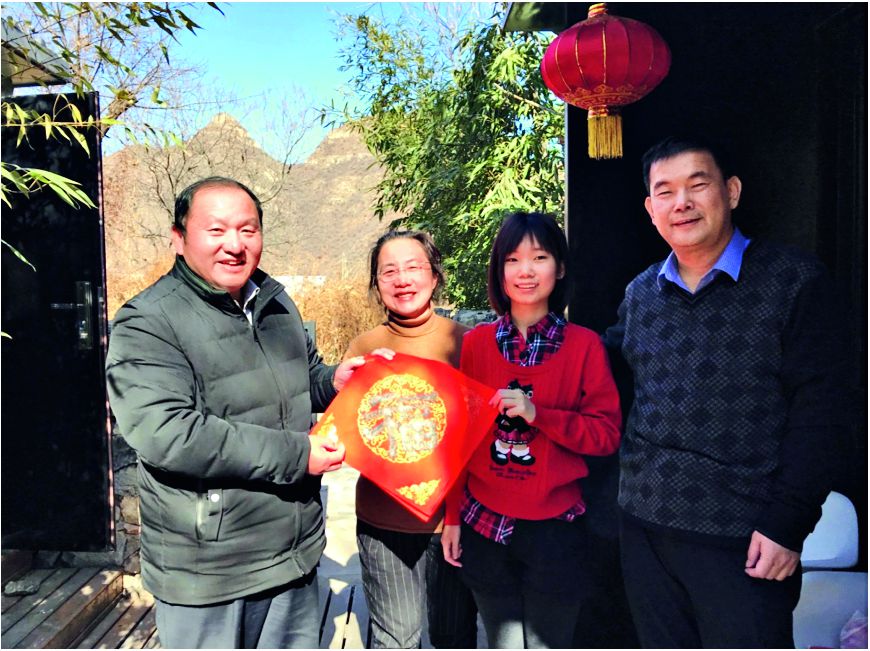 Duan Chunting presents visitors with a red fu poster. Photos by Ma Li
"Although the homestays are fully booked, we are well aware of our shortcomings," admitted Duan, who has been in his position for 20 years. "President Xi Jinping highlighted the importance of revitalizing the rural culture when he made inspections across the nation on rural revitalization. The key to a sustainable rural economy lies in how to infuse the indigenous culture into the homestays for a better visitor experience and boost the confidence of local people to develop themselves."
Zeng Ming has been thinking about these questions for years. "Rural revitalization is a systematic project. Offering aid and improving the appearance of the countryside will not solve rural problems at the root. The answer is to tackle them in a holistic manner," he said.
In terms of hardware, the appearance of the countryside and people's living environment should be improved through better planning. "Nanyu Village has accomplished this," said Zeng. "The software aspect means cultivating new villagers. This includes encouraging rural craftsmen and artisans to improve their skills and learn the latest market trends, so that they could create artwork that coincides with modern aesthetics. This is a way to add value to tourism."
On the other hand, he said, they should invite artists to the village and help tap the potential in rural culture with quality artistic creations. "In this way, villagers will not be restricted to only offering accommodation, but can also offer distinctive local culture," said Zeng.
What Zeng said inspired Duan. "Diversifying the business, we could achieve sustainable development." He planned to send local blacksmiths, carpenters, and other craftsmen to training programs, so that they will be better capable of creating more artwork that convey, the unique culture of the village.
Duan also has other plans for future development. He knows that the key to rural revitalization also lies in talents. "Our big challenge is now to attract college graduates from the village to return after they graduate, and create a favorable environment for them to grow their businesses. In this way, they can have a life as dignified as their urban peers."
"A revitalized village boasts thriving business, flourishing culture, and fulfilled talents. The last part of an endeavor is the hardest to achieve. We still have a long way to go before achieving rural revitalization," said Duan. "We, the people of Nanyu, are not afraid of the challenges because we have a dream and are on the way to realizing it." Driving him forward is what Xi Jinping once said, "Happiness is earned through hard work."