IMPLEMENTING targeted poverty alleviation campaigns and the rural vitalization strategy are endeavors of the leadership of the Communist Party of China (CPC) and the State Council to build a moderately prosperous society in all respects. It is also an important avenue for addressing acute problems caused by inadequate and imbalanced development. Understanding the internal logic between the two is the foundation and key to carrying out measures for targeted poverty eradication and rural vitalization.
Shared Targets
The rural vitalization strategy aims to tackle the root causes of issues relating to agriculture, rural areas and rural people, and promote balanced rural-urban progress, and the adequate development in rural areas. By prioritizing this development, rural areas will be built into places with thriving businesses, pleasant living environments, social etiquette and civility, effective governance, and prosperity.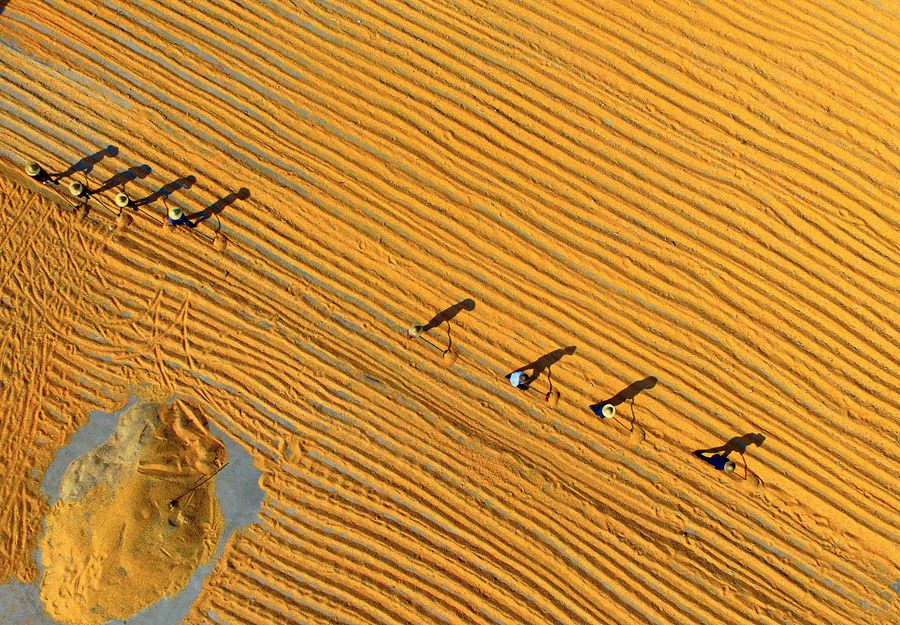 Shadows of farmers at work extend over the ground covered with golden corn.
Targeted poverty reduction is the fundamental strategy to win the battle against poverty. The goals are to ensure that impoverished rural population will have stable access to adequate food and clothing, compulsory education, basic medical services, and housing; the growth rate of per-capita disposable income in poor rural areas will be higher than the national average; indices of major basic public services will be close to the national average levels; the rural population living below the current poverty threshold and all impoverished counties will be lifted out of poverty; and the problems of regional poverty will be solved.
Common goals can be seen here, which are to build rural areas with housing for all, and people living in prosperity, thriving businesses, and effective governance. The outcomes of targeted poverty alleviation measures will lay the foundation for impoverished areas, poor villages in particular, to realize vitalization. The implementation of the rural vitalization strategy will create a favorable environment for the poverty-stricken population to become prosperous and boost their own strengths for development.
Realistic Demands
The multi-pronged approach to eradicate poverty with targeted measures is in line with the demands of advancing the rural vitalization strategy. Rural vitalization means development in the multiple fields of economy, culture, society, and ecology, among others. As the path to eliminating poverty, the five-pronged initiative, which features developing local industries, relocating impoverished residents to other places, offering compensation for ecological conservation, improving education, and providing a social safety net, covers multiple aspects of income, human resources, ecology, and people's basic rights.
The multi-pronged approach enables targeted poverty alleviation to effectively push forward the overall development of both the poor people and poverty-stricken villages. Therefore, it is in line with the advancement of the rural vitalization strategy. Taking developing local industries as an example, practices include support in building special agricultural bases with intensive involvement of the impoverished population, cultivating rural cooperatives and leading agribusinesses in poor areas, ensuring poor households' interests in leading agribusinesses, encouraging farming industries, and accelerating the integrated development of the agriculture, industry, and services in rural areas.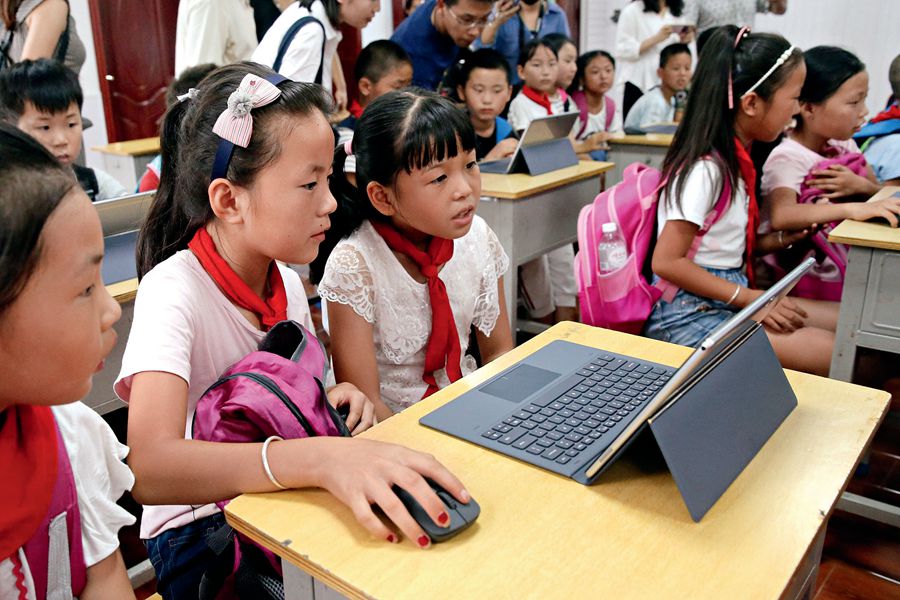 Students from poor families learn to use computers with the help of volunteers at a school in Weijiazhuang Village of Zhouzhi County in Xi'an on August 29, 2018.
With the rural vitalization strategy, China aims to establish modern industrial production and business operation systems for agriculture, cultivate new types of agribusiness, improve specialized agricultural services, and encourage small-household farmers to be involved in modern agriculture.
Targeted poverty reduction and elimination mean rural cooperatives and other types of agribusiness will get governmental support in leading impoverished households to increase their incomes via holding shares of the business. Poor households could buy the shares with their livestock and land use rights. When exploiting mineral resources or developing hydropower projects in poor areas, developers are required to scale up village collective's equity based on occupied land area, so that poor population will be able to share the benefits brought by resource exploitation. The rural vitalization strategy also requires improvement of the system for separating the ownership, contract and management rights for contracted rural land, safeguarding the property rights and interests of rural people, and growing the collective economy.
China has prioritized allocating ecological conservation projects to impoverished regions, and devoting more efforts to restoring the ecology of these regions. In this process, poor people will be raised out of poverty by offering them compensation. Some of them will have a stable income working as forest rangers. The rural vitalization strategy also includes environmental protection and measures to build livable rural communities with pleasant environments.
Practical Experiences
The practices and achievements of targeted poverty alleviation provide theoretical thinking and practical experiences for the implementation of the rural vitalization strategy. First, as the targeted poverty alleviation policy was enforced after the 18th CPC National Congress, decisive headway has been made in the battle against poverty. Many practices and theories have taken shape in this process. These theoretical methods and systems for governance offer inspirational lessons for the implementation of rural vitalization strategy.
Second, the successful practices of targeted poverty alleviation provide a new systematic and dialectical way of thinking. The diverse conditions in China's rural areas determine that the implementation of the rural vitalization strategy should follow the same people-oriented development path, and introduce targeted measures for specific conditions and based on the real demands of rural communities and rural people. Rural regions or communitied vary in resource endowments and development environments. A unified policy will undoubtedly present huge risks. In carrying out the strategy, the government should improve its capability of rolling out targeted measures for different conditions of rural areas.
Third, practices and experiences gained in targeted poverty alleviation campaigns provide references for advancing rural vitalization. They include the practices of turning resources into assets, capital into equity and farmers into shareholders, application of big data technology in poverty reduction, the reform of delegating powers and responsibilities, and assigning tasks and capital to the county level, the exploration of sending work teams to impoverished villages, and the support system for the new type of agribusinesses. There are also innovations to methods of poverty reduction by offering financial and insurance support, and priorities to impoverished regions on the capital market, encouraging e-commerce, and improving organization at the primary level.
Logically, targeted poverty alleviation will reinforce rural vitalization, but it should be understood that it is only tailor-made to some specific regions and groups of people. It is, however, inevitable that the reinforcing effect may fail under certain circumstances. For instance, it is a dilemma for the policy to choose between limited coverage of the targeted small population and the large amount of people in the rural region, and then the rural vitalization may face the challenge from funding shortfalls. It is an art to balance the interests of all parties.
HUANG CHENGWEI is director of the national publicity and education center for poverty alleviation under the State Council Leading Group Office of Poverty Alleviation and Development.