一种认为天地人相通的世界观和思维方式。这种世界观旨在强调天地和人之间的整体性和内在联系,突出了天对于人或人事的根源性意义,表现了人在与天的联系中寻求生命、秩序与价值基础的努力。"天人合一"在历史上有不同的表现方式,如天人同类、同气或者同理等。如孟子认为通过心的反思可以知性、知天,强调心、性和天之间的统一。宋儒寻求天理、人性和人心之间的相通。老子则主张"人法地,地法天,天法道"。根据对天和人理解的不同,"天人合一"也会具有不同的意义。
The term represents a world outlook and a way of thinking which hold that heaven and earth and man are interconnected. This world outlook emphasizes the integration and inherent relationship between heaven, earth, and man. It highlights the fundamental significance of nature to man or human affairs, and describes the endeavor made by man to pursue life, order, and values through interaction with nature. The term has different ways of expression in history, such as heaven and man are of the same category, sharing the same vital energy, or sharing the same principles. Mencius, for one, believed that through mental reflection one could gain understanding of human nature and heaven, emphasizing the unity of mind, human nature, and heaven. Confucian scholars of the Song Dynasty sought to connect the principles of heaven, human nature, and the human mind. Laozi maintained that "man's law is earthly, earth's law is natural, and heaven's law is Dao." Depending on a different understanding of heaven and man, the term may have different meanings.
◎以类合之,天人一也。(董仲舒《春秋繁露·阴阳义》)
(以事类相合来看,天与人是一体的。)
In terms of integration of categories, heaven and man are one. (Dong Zhongshu: Luxuriant Gems of The Spring and Autumn Annals)
◎儒者则因明致诚,因诚致明,故天人合一,致学而可以成圣,得天而未始遗人。(张载《正蒙·乾称篇》)
(儒者则由明察人伦而通达天理之诚,由通达天理之诚而洞明世事,因此天与人相合为一,通过学习而可以成为圣人,把握天理而不曾遗失对人伦的洞察。)
A Confucian scholar is sincere because of his understanding, and he achieves understanding because of his sincerity. That is why heaven and man are united as one. One can become a sage through studies, and master heaven's law without losing understanding of man's law. (Zhang Zai: Enlightenment Through Confucian Teachings)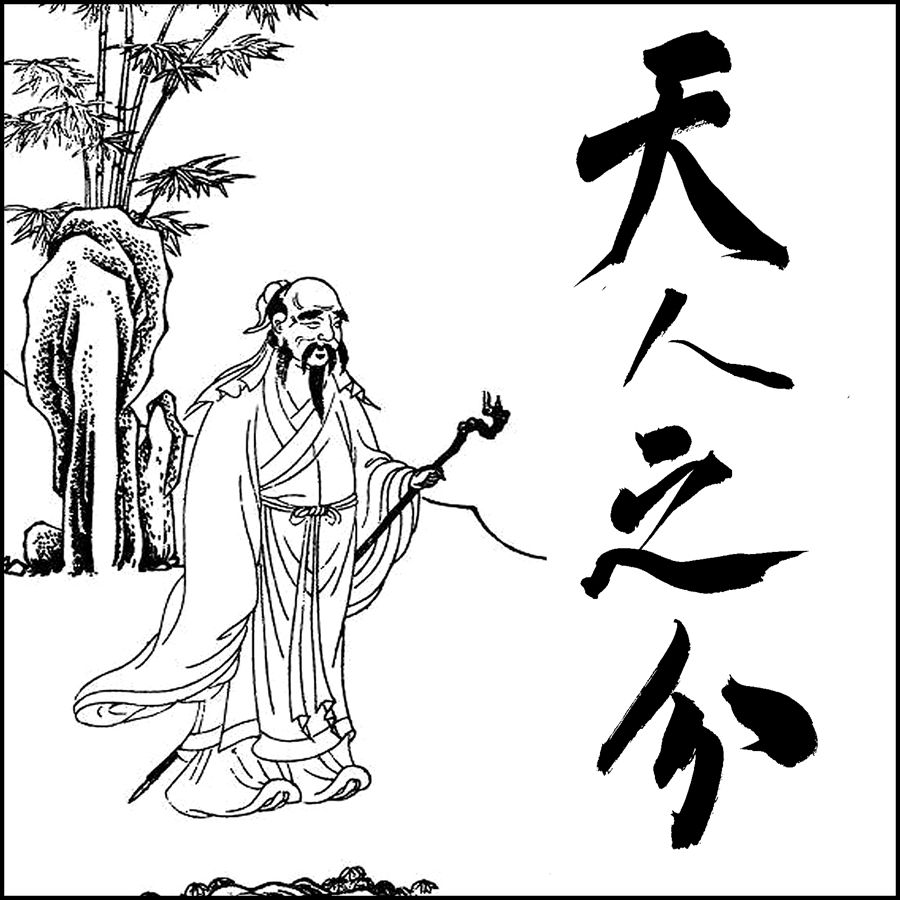 天人之分
tiānrénzhīfēn
Distinction Between Man and Heaven
一种认为天与人相分别的世界观和思维方式。此说最初由荀子所提出,他反对将人世的道德、秩序的来源或依据寄托于天。荀子认为,天与人各有其职分,不应混淆。天地日月的运行、寒暑水旱的出现,都属于天职的领域,有其常道,与人事无关,也非人力所及。而人的道德、人世的治乱则属于人职的范围,人应对道德的养成及社会的治理负责。只有明确了"天人之分",人才能在天所赋予和确立的基础之上发挥人的能力而不是僭越到人无法用力的领域。
This term refers to a world outlook and a way of thinking which hold that heaven and man are different. This explanation was first put forward by Xunzi, who did not believe that human morality and the order of human society emanated from heaven. He argued that heaven and man each had a different role and that they should not be mixed. Temporal changes of heaven and earth as well as the occurrence of seasonal changes in temperature and rainfall all belonged to the domain of heaven. They had their normal path, unrelated to human affairs, and were beyond the reach of human power. On the other hand, man's morality and order in the world belonged to the realm of man. People should be responsible for moral development and social order. Only by making a clear distinction between heaven and man could one develop his abilities on the basis established by heaven, without overstepping into a domain where man was unable to exert his power.
引例 Citations:
◎天行有常,不为尧存,不为桀亡。……强本而节用,则天不能贫;养备而动时,则天不能病;修道而不贰,则天不能祸。……故明于天人之分,则可谓至人矣。(《荀子·天论》)
(天的运行有其常道,不因为尧在位而存在,不因为桀在位而消失。……加强农事而节省用度,则天不能使之贫乏;供养充足而活动适时,则天不能使之疾病;循行正道而坚定不移,则天不能加以灾祸。……因此能够明晓天与人的区分,就可以称之为最高明的人了。)
Nature's ways are constant. They did not exist because Yao was on the throne or disappear because Jie was the ruler... When you work diligently in agriculture and are frugal in expenditures, nature cannot impoverish you. When you are well provided for with what you need and work at the proper time, nature cannot make you sick. When you firmly follow the right path, nature cannot bring you disaster... Therefore, he who understands the distinction between nature and man may be called the wisest man. (Xunzi)