FOR 35-year-old Niu Qinghua, a farmer in the Yimeng Mountain area of Shandong Province, roads mean a lot. Her hometown, Mengyin County, is surrounded by mountains. Despite the lush valley and fresh farm produce, due to insufficient roads, for decades, farmers there were plagued with poverty. In recent years, newly constructed roads have completely transformed their lives.
Highway Meets Doorway
Niu Qinghua lives in Beiyanzi Village of Mengyin County. Before 1993, a narrow unsurfaced road was the only path linking the little village to the outside world. The mountainous, zigzag road made the county seat a faraway destination for local villagers. "Back then, even with a bicycle, it would still take you several hours to get to the county seat," Niu recalled.
Niu Qinghua (second right) together with her workers is doing the final quality inspection of their products before packing.
In 1991, the Mengyin section of the Yimeng Highway broke ground. The 70-km road section, cutting through mountains and connecting five towns and 53 villages, significantly cut the journey between Niu's village to the county seat shorter.
In the following years, Mengyin County's transport infrastructure continued to improve. In 2003, the province started a campaign to make paved roads available to each village. Mengyin then took the chance to elevate its efforts to expand the county's road network, connecting more villages with more towns. Niu still remembered when her mother called her while she was working in Qingdao City as a migrant worker, with her mother exclaiming, "The road is paved right to our doorstep!"
Niu married in 2006 and at the end of the year, decided to move back to her village, ending her life as a migrant worker. "My roots are here. I feel at ease here. Besides, without a diploma and technical skills, it is really hard for me to make my fortune in big cities," she said.
However, her husband Zhang Ligong had a different idea. He still cherished his urban dream, reluctant to live in the village. While her husband worked in the city, Niu stayed at home to take care of their family. She also had to maintain their orchard, clean the pigsty, and do other manual housework. Due to the fatigue and monotony of her village life, she once cried, wondering if she would ever find a way to change her life.
Accessing a Big Market
Although paved roads were extending across the region, rough sections still existed between some villages and the highway. A county abundant in fruits, Mengyin is home to orchards of around 73,000 hectares, mostly known for its juicy peaches, which are famous throughout China. However, inefficient transportation infrastructure was the county's primary challenge for development. Local farmers' desire for a better road network grew stronger. In 2013, after being included in a demonstration project for village-level road construction, Mengyin embraced a new round of large-scale rural road construction.
With upgraded rural roads, logistics depots at different levels quickly emerged, which then led to a boom in e-commerce in this rural area, thus finally connecting Niu Qinghua with the outside world.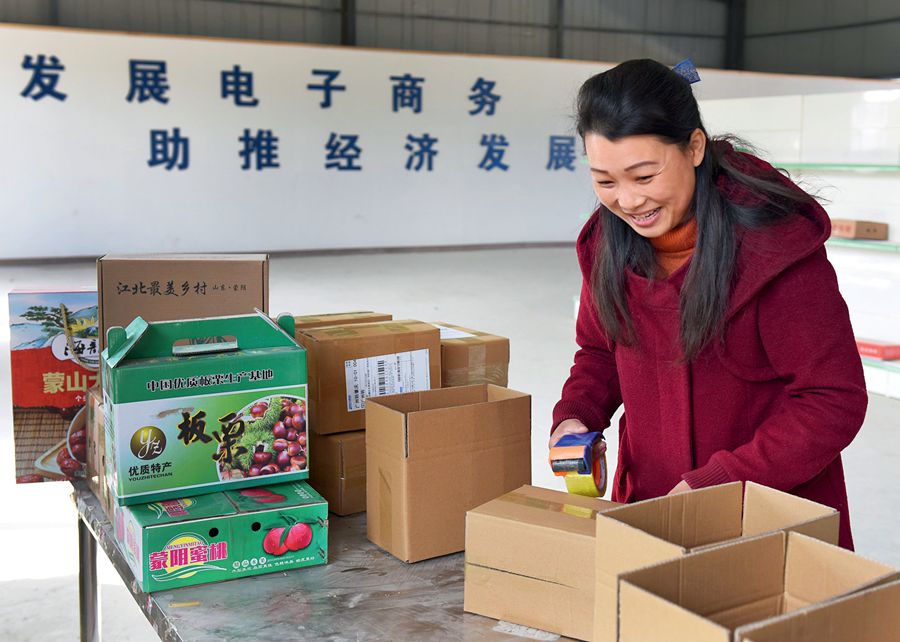 Niu Qinghua is packing local farm produce for her online store's customers.
Niu first learned about e-commerce at a training class organized by the county government in 2015. Later, at a training session about modern professional farmers held in Linyi City, she heard about the concept "Internet plus agriculture" for the first time, and attended a range of courses involving agricultural cooperatives, home farms, marketing, and e-commerce. A swarm of new words and new practices intrigued her. "The teacher told us our farm produce could be sold across the country. We thought that was unbelievable, and didn't take it seriously." However, at the end of 2015, Niu started her own online store Menglianggu Orchard.
"My goal was very small at first. I just wanted to sell all of the apples I grew," Niu said. Reality exceeded her expectations when in just six months all 5,000 kg of her apples were sold. Niu also helped her neighbors sell tens of thousands of kilograms of apples. Encouraged by her successful start, Niu devoted herself to the online shop. In 2016, she started to sell local peaches online.
To ensure the quality of supply, she personally goes to each orchard, tasting and selecting peaches for every purchase. She even has an instrument to test the sugar content. Niu has high standards for the products she sells, and only purchases high-quality fruits for her online store. Being familiar with the market demand for peaches, she tells local farmers that they should attach more importance to quality instead of quantity, and not apply banned chemical fertilizer and pesticides. She believes that only by improving the fruit quality can farmers increase their sales and profits.
Running an online shop, Niu is now, more than ever, aware of the importance of roads. "The delivery speed and whether or not fruits can be kept fresh during transport decide the customer experience. However, without good roads, nothing can be ensured," Niu pointed out. In recent years, a 380-km road was built in Linyi especially for the transport of local produce, providing a smooth link between mountainous villages and the outside market. Talking about these new changes, Niu is very elated, "Now, paved roads have directly connected farm fields and orchards with customers."
The produce sold by Niu's online shop has been distributed to places all across the country. In peak season, around 4,000 boxes of fruits are sold; in the off-season, about 400 boxes. Niu's peach sales volume has steadily increased, from 200 tons in 2016 to 300-400 tons in 2017.
Niu's workers usually go to pick peaches around three o'clock in the morning, then pack them, and deliver them around noon. It takes only 40 minutes to deliver peaches to the county seat. When the demand is large, they directly send the peaches to the city, which takes about two or three hours. The following day, the peaches can reach customers in Beijing, Shanghai, or Zhejiang. Even those set to be delivered to distant provinces like Guangdong can arrive in just two days.
In July 2016, Niu built a large greenhouse with integrated functions, covering fruit classification, packaging, and consignment, along with a built-in office. With the once rough path now paved between the village road and the greenhouse, even a 6.8-meter-long truck can drive to the doorway of the greenhouse.
Targeted Poverty Alleviation
With rural roads now paved all the way up to farmers' doorsteps, alleviating poverty has now become much easier. Niu has taken the lead in helping her fellow villagers increase income via e-commerce. In peak business season, Niu employs local villagers to do the classification and packaging work for her online store. As many as 40 people have been hired, with 90 percent of them female.
In 2016, Niu proposed to help poor households sell farm produce including peanuts and apples. In August of the same year, supported by local officials, Niu signed poverty alleviation agreements with 16 registered low-income families.
Niu often says, "People should share the profits. It's ok for me to get less. I believe I'll have more opportunities to earn money." When purchasing farm produce, she gives priority to poor households, and pays them above the market price. This way, only by selling fruits to Niu, local poor families can have an income increase of RMB 3,000-5,000 a year. Whenever a festival arrives, Niu visits these poverty-stricken households with presents such as bags of rice and flour or envelopes filled with cash. These have become her happiest moments.
By the end of 2016, 12 out of the 16 households, which signed poverty alleviation agreements with Niu, had shaken off poverty. And last year, the remaining four families also successfully found their way out of poverty. For Niu, this is just the beginning of her involvement in the targeted poverty alleviation cause.
"I'll continue to help poor families steadily shake off poverty and ensure that they will never go back to the old life. This is my dream." Her motivation is very simple, "I was born and grew up in this village. Local farm produce has made me rich. I just want to repay my hometown and my fellow villagers." For the other locals, she is still that capable and considerate eldest daughter of the Niu family.
Niu once said her world was very confined. Now, while running her online shop, she often heads to different places for training and business exchanges. Her vision and social network have both expanded greatly. Many people also visit her to learn from her experience in e-commerce. She always tells them all she knows, and voluntarily provides local farmers with e-commerce training sessions. Influenced by her, more and more local farmers get involved in e-commerce. Some local women have also started their own e-businesses.
With the e-business platform, she has made friends across the country. Some regular customers have become her good friends, some become her business partners, and some even contribute ideas to her business. Niu also hires college graduates to manage her online shop. She believes, "Professional business demands professional talents."
In 2016, sensing the great opportunities of rural e-business, Niu's husband, who once refused to work on the farmland, returned home, for which Niu was very happy. "With my family back together, my happiness is beyond words," she enthused.
Niu has witnessed her village's evolution from a secluded place to one with a developed road network and logistics facilities. The booming local economy has also shaped Niu, once an ordinary farmer, into a local e-commerce leader. "It's the newly-built roads that brought us a way out of poverty and into wealth," Niu said.
ZHANG YUANYUAN is a reporter with China Women's News.