AS school buses are not popular in China and young parents are often busy with work, many silver-haired grandparents can be seen herding toddlers or elementary students, commuting between homes, kindergartens, or schools, everywhere in Chinese cities. Speaking in various regional dialects, they converge outside school entrances at the appointed time. After picking up their grandkids, they also need to walk the kids to extra-curricular classes sometimes.
When many ambitious young Chinese flock to bigger cities to earn a better living, their parents often join them to help with the chores and childcare. According to the National Health Commission's statistics, this kind of migration has amounted to nearly 18 million people, accounting for 7.2 percent of the overall 247 million migrants. Among them, as high as 43 percent migrate to take care of their children and the younger generation. But how do they fit in their lives in new places?
"Invisible Population"
Guiyang in southwest China's Guizhou Province is experiencing fast development. Ms. Chen moved to Guiyang from another city in the province three years ago after retirement. She walks her grandson to kindergarten and home every day, and visits the market early in the morning and then prepares breakfast and dinner for the whole family. "I get tired," she admitted, "but I am happy at the same time to be with my family and watch my grandson grow up day by day."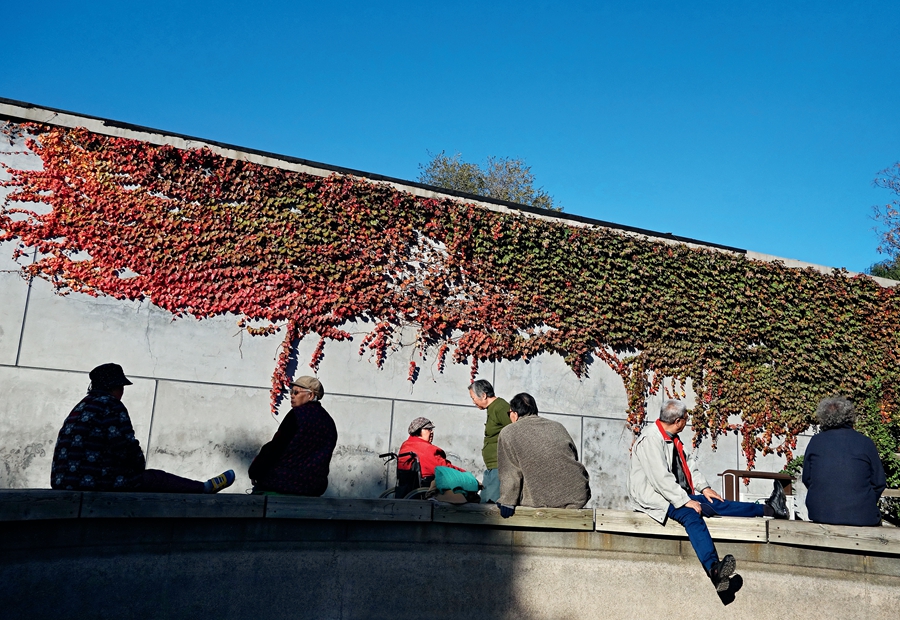 The number of senior migrants who move to cities to help their kids with the chores and childcare has amounted to nearly 18 million, accounting for 7.2 percent of the overall 247 million migrants.
In comparison, Ms. Ma who lives in Chaoyang District in Beijing is not happy. As she can't speak Mandarin or read, her only friends are her son and daughter-in-law. She seldom chats with neighbors or takes walks outside. Although the residential building is packed with hundreds of residents, they are all strangers to Ma. She admitted that she only feels herself needed when it comes to looking after her eight-month-old granddaughter.
She said she often feels empty after her children return home from work. "They just watch TV, read news on cell phones, play with the baby, or they have to spend some extra time at work. I understand why they don't want to talk as they must be tired after working for a whole day," said Ma.
It is common for elderly migrants to have few friends, miss their hometown, feel lonely, and find it difficult to adapt to their new lives in cities. As they are not registered local residents and therefore not covered by local medical insurance, they are reluctant to go to hospitals when they are ill. The 2016-2017 report on Beijing's social governance development disclosed that due to different dialects or living habits in their new cities, plus being far away from their extended families, relatives, and friends, many senior migrants feel there is an invisible wall between them and the new environment. This results in some of them seldom going outside and ending up being reduced to being an invisible population.
"Many migrant seniors are in the process of adapting to urban living, resembling the process of peri-urbanization," said Mu Guangzong, a professor of demography at Peking University. Since the reform and opening-up policy was launched, many people have moved to and settled down in better developed cities, resulting in a surging number of migrant seniors, who want to or need to live together with their children. It's a sign of improved urbanization in China, as well as a reflection of traditional Chinese culture in which generations are closely connected and grandparents are deeply involved in the care of young children.
Difficult to Fit in
Three years ago, Miao Yanmei, a social worker and associate professor at Beijing City University, launched a survey on the lives of migrant seniors in a residential community in Changping District, Beijing. Miao's survey indicated that half of these aged migrants come from rural towns and villages in other provinces and cities. As many as 70 percent of them move to Beijing to take care of their grandchildren. They admitted that they are satisfied with the developed infrastructure of the capital and feel happy to stay with their children, but they are not comfortable with the climate, different dialects, living habits, and the hurdles of making new friends at that age in a new environment.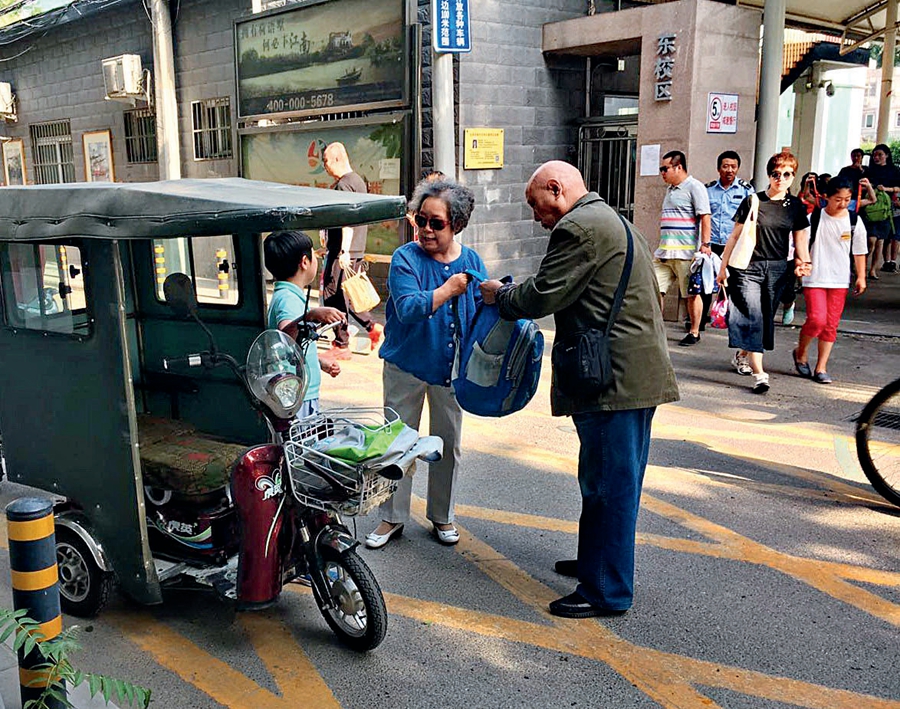 Grandparents pick up their grandson outside an elementary school entrance at the appointed time in Chaoyang District, Beijing.
From Miao's point of view, the lack of social communication remains an important reason for migrant seniors to miss their hometowns. "A senior complained that people living in cities just stay at home and keep their doors closed, but people in her hometown all live in their own houses and visit each other quite often," said Miao.
The famous quote from Leo Tolstoy that "happy families are all alike; every unhappy family is unhappy in its own way" perfectly describes the condition of migrant seniors. The aged and the young living together is an effective way to integrate family resources and to balance the challenges of taking care of both the aged and the young. However, as the seniors leave their hometowns and have to adapt to new lives, family members may face more frictions.
What is more worrying is that, as the seniors find it difficult to make new friends and fit in the new environment, they may end up suffering from mental illnesses such as depression. Statistics showed that migrant seniors constitute a majority of the aged who suffer from depression.
One of Miao's interviewees, an old woman from Tangshan City, Hebei Province, suffers from serious mental health issues. After her only daughter moved to an apartment near to the elementary school where her grandchild attends, she and her husband had to live alone at the old residence. After her husband passed away, she feels herself a burden on her daughter. She said she feels abandoned.
The associated risks of an elderly population leaving their hometowns are mainly old-age security, health care, and social communication, said Professor Mu. With a fixed mindset, lifestyle, and reliance on acquaintances, they may feel isolated and misunderstood outside of the familiar environment, which affects the quality of life in their advanced years.
Making Elderly Migrants Happy
Miao is dedicated to finding out how to make these older migrants find happiness.
To promote communication between elderly migrants and their native neighbors, as well as within the elderly migrants, Miao works with residential community-based social workers to initiate a series of activities to get aged migrants into communities, such as lectures on life and health preservation, and singing competitions. Through participating in these activities and interacting more with neighbors and community social workers, the elderly migrants become more confident in integrating into urban living.
Ms. Han is an example. Before she was unhappy about her daughter-in-law who likes shopping very much. After consulting with psychological experts in Miao's work group, Han understands more about the lifestyle of her son and daughter-in-law, while the children also pay more attention to Han's feelings. Miao also encouraged Han to participate in community activities to make her own friends. Now Han has many friends in the community, and she admitted that she feels better now and finds her long-term stay more enjoyable.
"Home is where the heart is," said Miao, describing the sentiments of the senior migrants. With a strengthened sense of belonging, they will feel secure and happy. Many of them will live with their children for the remainder of their life, so it will be better if they can fit in the new environment as soon as possible.
Miao pointed out that making elderly migrants happy requires the coordinated efforts of their children, government, and the whole society. Children should respect and take care of seniors at home, while a senior care system that combines both medical services and elderly care should be established.
According to Yuan Zhifa, author of the book Happy Old Age, elderly migrants can enjoy their lives through various ways. It is happy to be around children and grandchildren, to make friends in the residential community, and share with them moments of happiness and sadness, to work out regularly, to stay fit for life, to study every day to enrich themselves, and to develop interest in singing, dancing, painting, calligraphy, or cooking.
Yuan called for adults to treat their aging parents as they do their children, giving more time, attention, company, and understanding. The young should spend time with the old as often as possible by chatting with them or going out with them. "The seniors will feel happy if the children can accompany them to visit hometowns during the holidays," Yuan said.
In addition, the government and social organizations should provide better social services. In Beijing's Fangshan District, the local social workers association organized a series of activities to help over 500 elderly migrants better adapt to their new lives, such as sharing cooking experiences, birthday parties, and singing competitions. Some elderly care centers also work with social workers to support the organization of these activities.
Miao suggested that the government should also build up a nationwide advanced aged care system for this special group, covering aspects such as social benefits and medical insurance. With a vision for the future, a community-based elderly care network should be established. For example, day care centers for the elderly can be established to cope with the needs of both local and migrant seniors.
Professor Mu said that if elderly migrants can enjoy equal social benefits as locals, it is possible for them to truly settle down in cities and be able to call them home.
PENG XUNWEN is a reporter with People's Daily overseas edition.