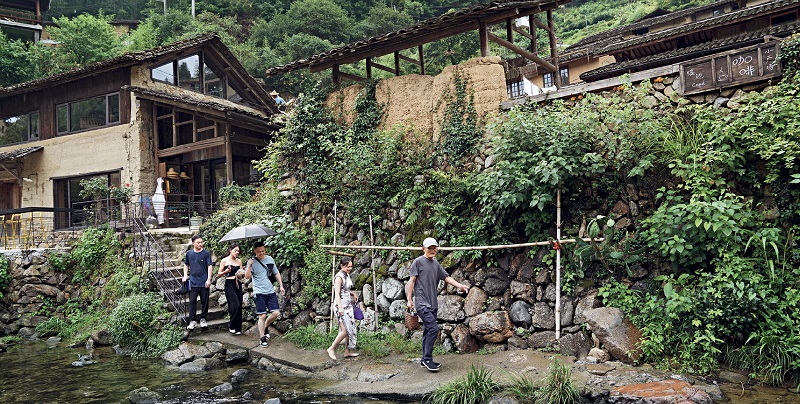 The "saving old houses" project in Songzhuang Village is named one of the best innovation cases of rural revitalization in 2022.
On the morning of July 3, Zhou Hongwei, Party secretary of Huangnidun Village, visited Zhou Wenping's home to hear the family's suggestions regarding the village's plan to install more street lamps and upgrade public water pipelines. After the meeting, the village Party secretary immediately headed off to visit another family to hear their opinions.
In Huangnidun, Huangcun Township of Lishui City, east China's Zhejiang Province, all issues concerning the immediate interests of its residents must go through surveys like the one Zhou was carrying out.
"Giving the power to villagers to ensure they decide on village affairs," the Party secretary stated the purpose of the survey.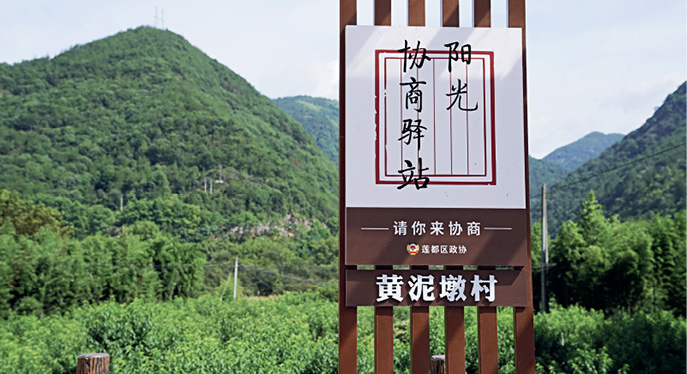 All major issues are put to a vote in Huangnidun Village.
Village Self-Governance
In early 2014, Zhou Hongwei, a former businessman, returned to Huangnidun and was elected the village Party secretary. At the time, the provincial government rolled out a raft of measures to support a greater degree of transparency in rural governance. Zhou and his colleagues put up the village's financial statements for public review. Instead of garnering applause, the move was snubbed by many who said these documents lacked credibility since the bookkeeping was done by the village officials.
This prompted Zhou to change his way of dealing with fellow villagers. He spent three months talking with villagers family by family and hearing their complaints and opinions about village governance. Zhou found out that any tension in the relationship between village officials and residents came down to opaqueness in village affairs. Residents complained that all village affairs, big or small, were decided at village officials' meetings, excluding the general public from the decision-making process. This "working-behind-closed-doors" approach to governance created unease among villagers. The officials, nevertheless, also had their fair share of grievances — they received no support or trust from fellow villagers even though they worked very hard and sacrificed a lot.
How to bring village officials and residents closer and enhance their mutual trust? Zhou believed the answer lies in greater transparency in the management of village affairs. For this purpose, a new practice was introduced: 52 representatives were elected from the 1,000-plus villagers, and they would vote on major village issues using secret ballots. Later, an advisory panel was established and invited to the discussion and voting of village affairs. By contributing their expertise in particular fields, these advisors help villagers make more informed decisions.
For generations, the people of Huangnidun survived on the yields of their farmland, which generated meager incomes. The Bishui Creek of the Yanxi River by the village has huge tourism potential, but to develop it, the neighboring farmhouses lying idle and some orange trees and bamboo forests had to be removed. Liu Lianfu was among the most affected, as his homestay business — in which he had invested RMB 200,000 — also stood in the way of the development. Demolition and compensation became a huge obstacle for the village's tourism development project.
Villagers decided to put the issue to a vote, and the project for developing Bishui Creek was passed unanimously. Liu agreed to close his business in support of the project, believing that it will bring more tourists and opportunities. Other villagers followed suit and participated in the development project in various ways.
Zhang Zheng, chairperson of the People's Congress of Huangcun Township, has been overseeing local efforts to increase transparency in community-level governance for many years. He said the purpose of these efforts is to ensure that residents decide village affairs themselves instead of officials making decisions for them. Institutions have been put in place for villagers to exercise their right to participate in and oversee the governance of village affairs. In Huangnidun, residents display a strong sense of responsibility as masters of their community, making collective decisions and concerted efforts to address issues that concern them all.
Since 2014, people of Huangnidun have voted on 106 issues of importance with the approval rate at 98 percent. All residents have been fully informed, and more than 90 percent of them expressed satisfaction with the process.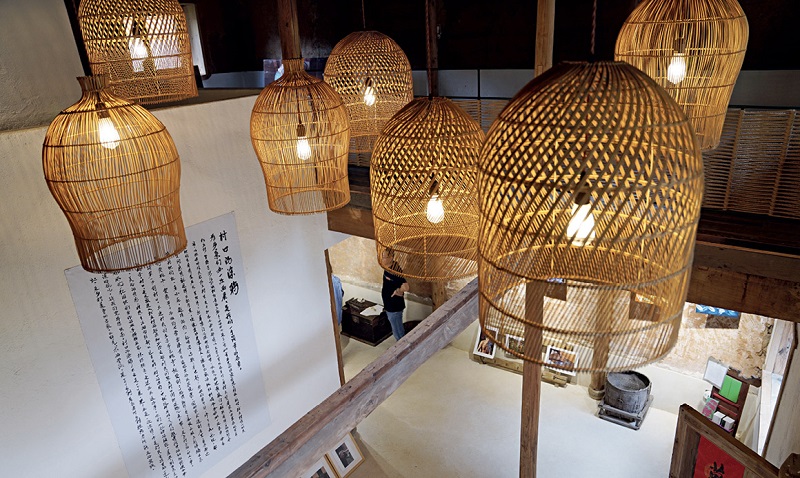 A farmhouse-turned gallery in Songzhuang Village.
Collective Governance and Common Prosperity
Songzhuang is a 500-year-old village in Sandu Township of Songyang County, Lishui. Its pristine environment and idyllic scenery have made it a huge attraction for people from near and far, in sharp contrast to its past as a "hollow village," where the elderly and children were left behind when people in their prime migrated to large cities for urban jobs.
The transformation started a decade ago. In 2014, Songzhuang was included in China's list of traditional villages, and received a subsidy of RMB 3 million for its restoration and preservation. Four years later, it got more funding for repairing old buildings. State support, along with joint efforts by local residents and migrants, has given this rural community a new lease on life.
Sun Yingying, an investor from Shanghai, is one of the "new settlers" in Songzhuang. Discerning business opportunities in the scenic region, she leased 18 old houses in the village and started a tourist resort in 2018 by refurnishing the houses into guest rooms, meeting rooms, cafe, restaurant, bookstore, and spa lounges. The investment breathed life back into a dying rural community. During the week-long National Day holiday of 2022, Sun's resort received 2,000 visits daily on average, a 10-fold increase from three years before.
Ye Shengzhong is a native of Songzhuang who grows peaches for a living. In the past, he had to carry the fruits on his shoulders to sell them in nearby towns. Today, the entire peach harvest of the village is bought by tourists coming to their doors, and the number of tourists has been growing year by year.
Li Wensheng, hailing from the village, returned to his hometown with his wife after working in Shanghai for his entire career life. Now retired, he opened a small grocery store in the village. Later, his younger brother, who lived in Ningbo 200 kilometers away, also returned and started a business selling the local food of Jinyun cake, which is stuffed with minced pork and preserved vegetables. During the peak tourist season, he would be able to sell over 1,000 cakes in a single day.
"Under the system for collective governance by natives, returned villagers, and new settlers, the village was rejuvenated, and a bustling life was back. Many village affairs are now discussed and worked out by these three groups of people," said Ye Genzhong, Party secretary of Songzhuang.
"Few had imagined that the village could have reached the current level of development," exclaimed 78-yar-old Ye Gaoshui, former Party secretary of the village. As natives, returned villagers, and new settlers are brought together to plan and work for the development of their community, they contribute in their respective ways by maintaining traditional operations, bringing in cultural innovation, and inspiring new ideas. This allows an ancient village to balance preservation and economic development.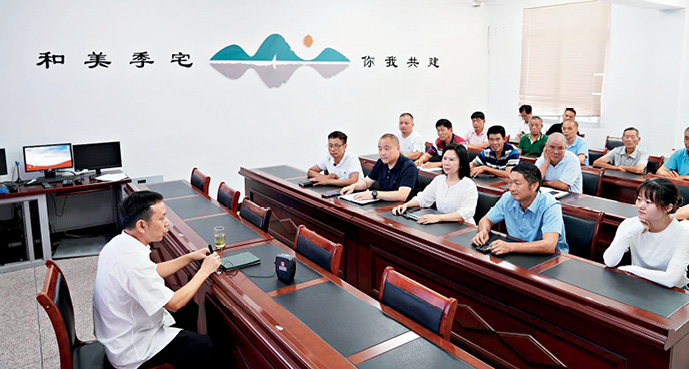 A legal expert gives a lecture to village mediators in Jizhai Township. Photos by Yu Xiangjun
Villager Mediators
When Huangfangkou, a village in Jizhai Township, Qingtian County of Lishui City, considered building new infrastructure and renovating part of the village, some structures on two families' premises had to be torn down to give way to the project, and the dismantling and rebuilding were expected to disrupt the life and work of some residents. The plan therefore met with strong resistance from the two families.
A project to improve the living and working environment for villagers must have their support in order for it to truly deliver. With this understanding, the township mediation center invited members of the two families concerned to mediation sessions, which were also attended by village officials, village advisors, and fellow villagers. After learning the need for and benefits of the project, the two families agreed to the demolition of the concerned structures so that the rural roads can be widened.
Today, Jizhai has established a reputation nationwide for this effective mediation model.
Under this model, the parties of a dispute can choose the mediators they trust, and the mediation process is open to the public, said Liu Jinglei, deputy Party secretary of Jizhai Township. After the mediation is concluded, villagers sitting in on the mediation are invited to share their comments. In this way, the mediation sessions not only settle disputes, but also provide legal education to the public. As villagers get better acquainted with the law, they can also resolve some issues by themselves, without the intervention of mediators. This has led to greater social stability and harmony.
There are over 100 rural mediators with both experience and legal expertise in Qingtian County. They help villagers seek solutions when disputes arise, and hence contribute to a harmonious countryside where people feel a strong sense of fulfillment, happiness, and security.