Beijing Cultural Heritage Protection Center (CHP), an NGO established in 2003, has always been dedicated to helping preserve cultural heritage in local communities.
The ancient Chinese civilization has left the nation an abundance of tangible cultural heritage, including magnificent royal buildings, and also numerous folk monuments scattered in urban areas and rural towns. Since the implementation of the reform and opening-up policy in 1978, China has increasingly paid much attention to the protection of cultural heritage. In addition to the legislative and administrative measures at national and local levels, many non-governmental organizations (NGO) have also joined in this cause.
One of these is the Beijing Cultural Heritage Protection Center (CHP), an NGO based in Beijing. In the nearly 20 years since its establishment, via cooperation with relevant experts and recruitment of volunteers, it has carried out various projects and activities to support public protection of cultural heritage in communities.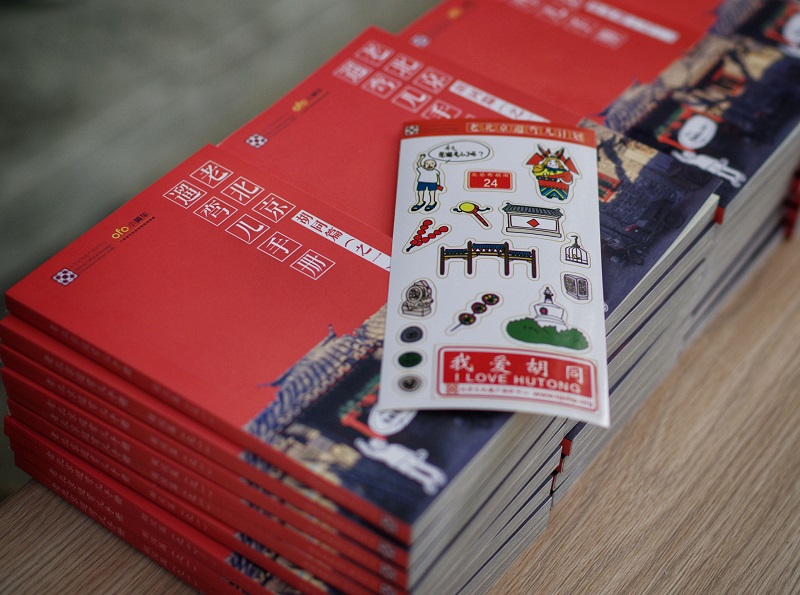 A brochure about walking in old Beijing hutongs is released on June 17, 2017.
Documenting Changes in Hutongs
Since its establishment in 2003, the CHP has focused on local cultural heritage protection, and from 2006 to 2008, it conducted a research project called "Friends of Old Beijing." Through field surveys, it collected basic information and examined the conservation status of historical and cultural perservation areas, hutongs and ancient architectures in the core areas of Beijing's old city. It also released two annual evaluation reports to promote the conservation of old areas.
Hutongs are typical alleys in Beijing's old city, with a history of more than 750 years since the capital of the Yuan Dynasty (1271-1368) was established in the area. Many old hutongs still function in the 62.5 square kilometers of the old city, within Beijing's second ring road. They are an important part of the city's traffic flow, witnessing the development of the city and the changes in people's lives.
Since the founding of the People's Republic of China in 1949, the number of hutongs has declined in the process of the country's economic and social development. The information of hutongs is also very limited. In 2006, a research report conducted by the Beijing Municipal Institute of City Planning & Design and Beijing University of Civil Engineering and Architecture shows that there were 1,353 hutongs in the old city of Beijing in 2005.
Based on more than 10 years of documenting and surveying of Beijing's old city, the CHP launched "Project Walk the Old City" in 2016. Hu Xinyu, trustee of the CHP, told China Today that the limited information shows that the total number of hutongs is decreasing year by year. In the economic development process, many old buildings next to hutongs have been transformed from one-floor bungalow houses to towering office buildings and some facilities now no longer meet traditional authentic standards. "Identifying the current situation, the problems, and possible solutions of hutongs are the original reasons of starting this program," he said.
The program ran for three sessions until 2019. The CHP team and over 160 volunteers recorded various details of hutongs by photographing, measuring, and observing them, forming a new hutong database. At the same time, a handbook and a report were produced to help the public experience and learn the history and culture of old Beijing. The CHP team hopes to make the program a long-term project, and will continue to focus on and record changes in the future.
The volunteers include both local residents and new Beijingers. Many of them want to learn more about Beijing and make their own contribution. "We are helping them to participate in the cause of cultural heritage preservation in the form of public engagement, which is what we have been doing so far," said Hu.
Volunteers are receiving training on how to conduct surveys in a courtyard house in 2021.
Regenerating Courtyard Houses
Siheyuan is a traditional countyard dwelling with one-floor bungalow buildings on all four sides. It has a history of more than 3,000 years, reflecting the traditional Chinese idea of hierarchy, the ancient Chinese theory of the five elements, and the Daoist idea of yin and yang.
With the growing demand for a modern lifestyle, many new materials and ways of house repair have emerged and proliferated, destroying the traditional architectural structure and aesthetic value. For example, wood is substituted with cement for pillars. And aluminum alloy security doors are used instead of wood ones.
Currently, the CHP is conducting a training program on the restoration of courtyard houses. They provide professional and technical support and various suggestions to the tenants, property owners, and construction teams in old house restoring, trying to meet residents' housing needs while pursuing traditional beauty, and reducing the destruction of traditional buildings, unnecessary conflicts, and recurring problems.
According to Hu, the aim of the project is to achieve the preservation of house structures. "We advise house agents to add insulation and waterproofing in the walls. Though the cost of renovation has increased, it can reduce subsequent home problems, preserve the overall aesthetics, and improve the value of the house," he said.
In addition to this, the CHP has also organized volunteers to map and record the basic data of the buildings in preserved courtyards. They have also given a number of lectures on the theme of repair and protection of Siheyuan.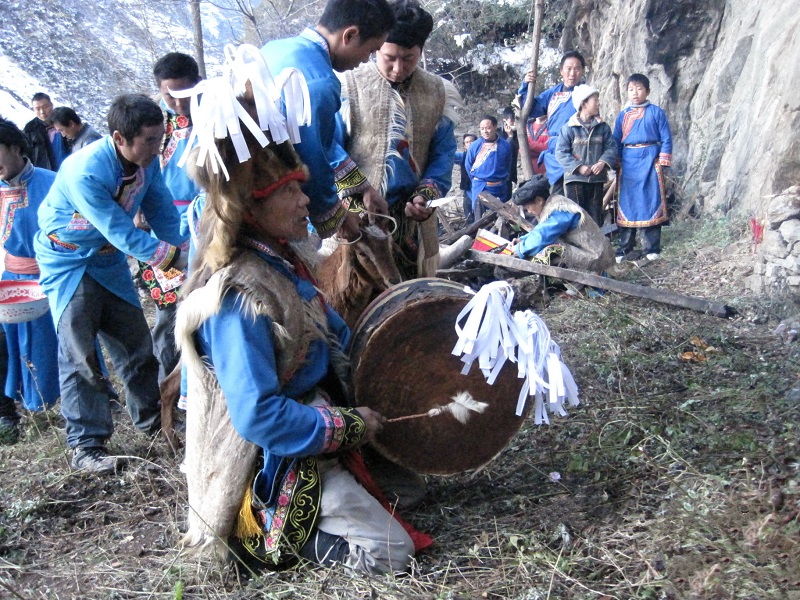 A Shibi, the priest and custodian of Qiang minority traditions, is leading out in a ceremony to invite the gods.
Revitalizing Ethnic Art
In China, the main ethnic group is the Han people, but there are other 55 ethnic groups living in different regions. According to the Seventh National Population Census, by November 1, 2020, the population of ethnic minorities was nearly 125.5 million, accounting for nearly 8.9 percent of China's population. Compared with 2010, the figure was up by nearly 10.3 percent.
In general, the community forms of many ethnic minorities are well preserved, and their relatively complete systems of languages, costumes, customs, and religious beliefs well retained. However, due to industrial development, natural disasters, and population movements, some minority cultural heritage has suffered loss and destruction.
In order to help ethnic minorities inherit their traditions and revive their culture, with funding and support from various sources, CHP has carried out four ethnic minority cultural revitalization projects since 2005, releasing compilations of ethnic cultural information involving Yunnan, Guizhou, and Sichuan provinces and assisting in one handicraft conservation program. The related publications are collected by local minority groups, libraries, and museums, and the woven handicrafts have been sold at home and abroad.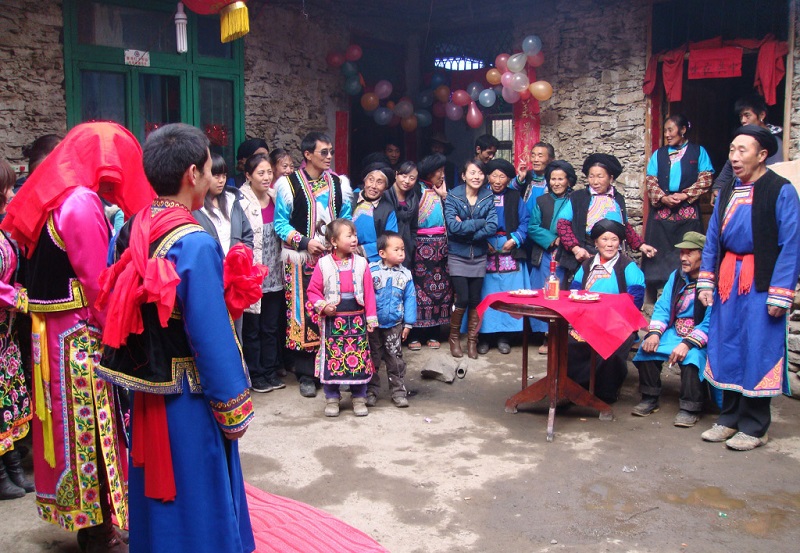 A wedding ceremony of the Qiang ethnic group in A'er Village, Sichuan Province. Photos courtesy of CHP
From 2009 to 2010, CHP conducted the third project named A'er Village Qiang Minority Cultural Revitalization, aiming to help the Qiang villagers preserve their ethnic culture.
The Qiang people have a long history and unique culture, and they currently reside in Sichuan and Guizhou. A'er Village is located in Sichuan's Wenchuan County. Some of their cultural heritage was damaged during the massive earthquake in 2008. In order to preserve the Qiang culture, the CHP team mobilized a group of local volunteers to record the traditional culture of their ethnic group in various fields, and then translate it from Qiang language into standard Chinese to form a published archive. "In the form of an archive, we support the local community so that they can pass on their valuable culture and enhance the internal drive for cultural recognition," said Hu. Besides, the CHP also helped the villagers repair a defense tower damaged by the earthquake.
Cultural heritage protection is a public affair, and there are still problems such as weak public awareness and disputes over interests. The CHP continues to cooperate with experts, scholars, lawyers, media, and other role players from all walks of life to discuss and promote related matters, hoping that they can retain traditional Chinese culture and pass on Chinese cultural wisdom.