Industrial heritage tourism is trending across China.
Shougang Park, transformed from a steel plant in west Beijing, dazzled the world during the Beijing Winter Olympics as its big air venue witnessed athletes across the world challenge themselves against the backdrop of shaft furnaces. The park is now a popular tourist destination. During the first week of its reopening in late February 2022 after the Olympics, more than 24,000 people booked a visit.
The park, integrating the reuse of industrial heritage with urban renewal, is the epitome of booming industrial heritage tourism across China over the past years.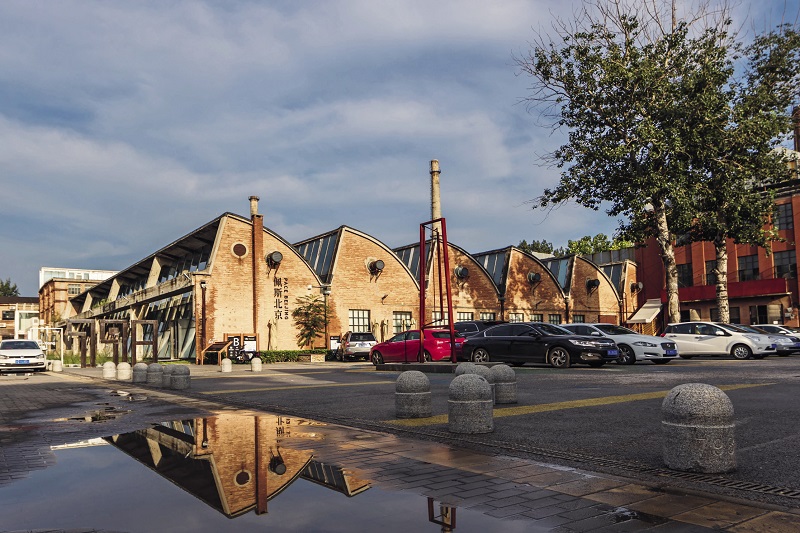 Old Bauhaus-style buildings in Beijing's 798 Art District.
Preservation of Industrial Heritage
Industrial heritage was defined in the Nizhny Tagil Charter for Industrial Heritage passed at the 2003 congress of the International Committee for the Conservation of the Industrial Heritage, the world organization representing industrial heritage, in Russia. According to the charter, industrial heritage consists of the remains of industrial culture, which are of historical, technological, social, architectural or scientific value. These remains consist of buildings and machinery, workshops, mills and factories, mines and sites for processing and refining, warehouses and stores, places where energy is generated, transmitted, and used, transport and all its infrastructure, as well as places used for social activities related to industry such as housing, religious worship, or education.
Britain began to pay attention to the protection of industrial heritage during the mid-19th century. As part of cultural heritage tourism, industrial heritage tourism germinated.
China started to utilize industrial heritage for tourism purposes around 2001. While drawing on foreign experience, the country focused its attention on the development of former industrial cities and areas that once prospered on natural resources.
In 2017, China released its first list of national industrial heritage. On the list were steel plants in Anshan and Hanyang as well as a vanadium mine in Wenzhou. To date, the list has been updated five times and now consists of 166 sites of industrial heritage.
In early 2018, China released its first list of industrial heritage under state preservation. Of the 200 sites on the list that has been updated once, there are government-supported enterprises established in the late Qing Dynasty and shipyards, military enterprises, and railway companies built during the early days of the People's Republic of China.
In 2021, Chinese central authorities including the Ministry of Industry and Information Technology and the National Cultural Heritage Administration issued an action plan (2021-2025) for advancing the development of industrial culture. The document aims at encouraging localities to create industrial tourism projects and build pilot centers for industrial tourism based on local industrial heritage, such as former plant buildings, industrial museums, and modern factories.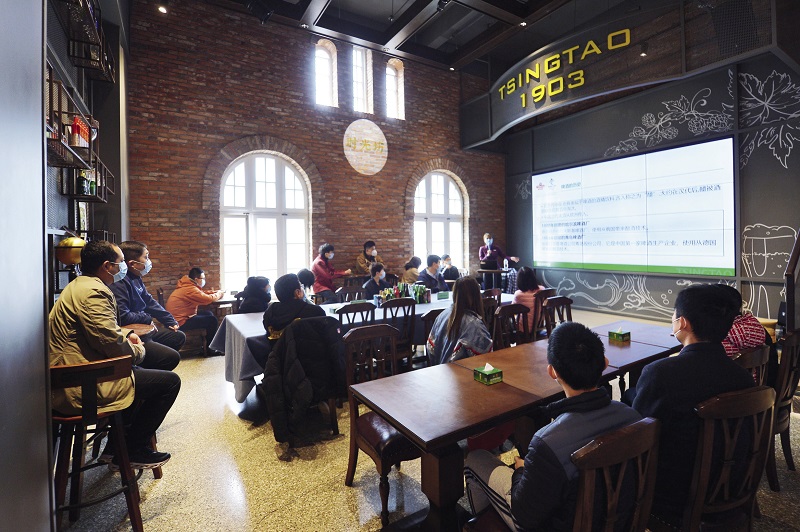 Visitors learning about brewing beer at Tsingtao Beer Museum on March 28, 2020.
Invigorating Memory of Cities
Industrial heritage, through protection and reusing efforts, is transformed to new scenes where people explore industrial culture and enjoy tourist experience.
In recent years, many industrial heritage sites have been converted into cultural tourist attractions, which not only keeps the memory of the cities, but also expands the space for people to soak in industrial culture. Many such tourist attractions are gaining popularity. Among them are the Shougang Park in Beijing, the Power Station of Art, a gallery of contemporary art turned from a power station in Shanghai, Intercontinental Shanghai Wonderland, a hotel built in an abandoned quarry pit, the TESTBED 2 in Chongqing, a cultural creation hub transformed from a printing house, and Tsingdao Brewery in Qingdao.
Beijing is considered exemplary in preserving and utilizing industrial heritage. Behind the big air venue that came under the spotlight during the Olympics is a story of a reborn century-old steelworks. Apart from the skyline added by former industrial buildings and shaft furnaces, the park now hosts bookstores, cultural creation centers, and franchised stores for Beijing 2022 Olympic products. On March 1, 2022, the Kappa Shougang Infinite Park was opened to the public. The extreme sports venue is expected to hold skateboarding and sport climbing events, and aims at creating a training base of extreme sports with global influence. More efforts will be made to translate the park's Olympic legacy into tourist and cultural experience.
Successfully hosting the World Expo 2010, Shanghai explored a unique path to protect and utilize local industrial heritage. The Power Station of Art was renovated from the Future Pavilion for the Expo 2010, and the predecessor of the Future Pavilion was a power plant built in 1985. The place is now a creative artistic cultural venue open to the general public. A similar venue is the Shanghai Museum of Glass converted from a previous glassware factory. In 2015, the museum was rated a national 4A-level scenic spot. It boasts a variety of interactive and entertaining experience.
The TESTBED 2 in Chongqing dates its history back to the central banknote printing plant of the Republic of China built in 1940. After innovation and renewal, the old exterior of the buildings stands in stark contrast to their modern interior style. It has been the setting for several popular films, attracting streams of fans for night-time cultural and recreational activities.
The Tsingdao Brewery was included in the list of industrial heritage under state preservation when the list was updated in November 2018. By establishing Tsingdao Beer Museum, the brewery works to integrate its development with tourism and culture-inspired products. The museum displays beer production process and hosts beer festivals. Apart from that, it has developed more than 500 beer-inspired products, ranging from toys to snacks, utensils and ornaments.
Even in less-developed third and fourth-tier cities, tourist destinations transformed from industrial heritage are popular. Changleyuan industrial park in Baoji, Shaanxi Province, used to be an industrial hub in northwest China when the country was fighting Japanese aggression. The site has been converted into a tourist attraction boasting an immersive experience of a period drama featuring the War of Resistance Against Japanese Aggression (1931-1945).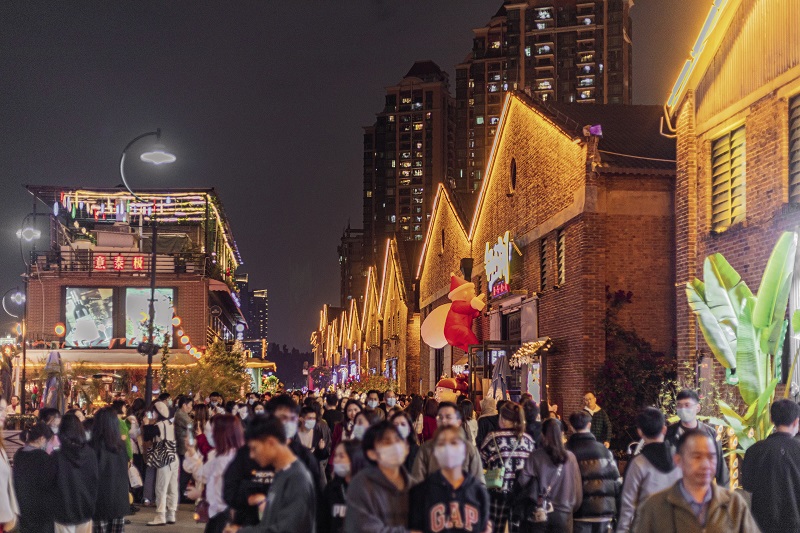 Tourists enjoy night life at Taigucang Wharf, located in Guangzhou's Haizhu District, on December 24, 2020.
Adapting to Local Conditions
How to protect and utilize industrial heritage in downtown and suburban regions has attached much attention. According to Wen Tong, a professor on tourism management with Jinan University in south China's Guangdong Province, China has been tapping the potential of industrial heritage in a creative manner. Some were transformed to museums, some to cultural parks, he said.
To invigorate the old sites, it is necessary to make plans based on local conditions, Wen said. Some cases in point are the Zhongshan Shipyard Park, theaters and restaurants in the former Taigucang Wharf region in Guangzhou, and museums which have been converted from old factories, Wen said.
As a famous historical and cultural city with a history of over 2,000 years, Guangzhou, capital of Guangdong Province, has a splendid industrial culture.
Built in 1904, Taigucang Wharf was once the busiest terminal at the inner port area of Guangzhou. The wharf witnessed the ups and downs of Guangzhou's foreign trade and shipping sectors in modern times. Since 2008, the region has been gradually converted into a space for new business forms, including creative office space, exhibition venues, theaters, and restaurants.
Wen also suggested designing travel routes of industrial theme. For instance, Germany's Industrial Heritage Trail connects some iconic sites revolving around its Ruhr industrial base. It provides an in-depth look at the evolution of Germany's coal and steel industry spanning hundreds of years. Some successful practices in China include the Guangdong-Hong Kong-Macao cultural tourism trail and industrial heritage trail in Guangzhou.
LI CUNGEN is a reporter at Yangcheng Evening News.