For at least a decade, presidents and prime ministers of European countries have wholeheartedly greeted the Chinese New Year. The last two Spanish presidents did so via social media. In January 2021, the mayor of Seville welcomed the Year of the Ox with a televised speech in Chinese. In recent years, moreover, the mayor of Barcelona has led several street celebrations, all resplendent in colorful, Chinese-character ornamented banners. These events reflect the importance Europe places on its community of Chinese entrepreneurs, Spain in particular, which is home to 228,000 Chinese citizens. The Chinese New Year festival has become part of our lives here in Barcelona and wherever else in Spain we may live.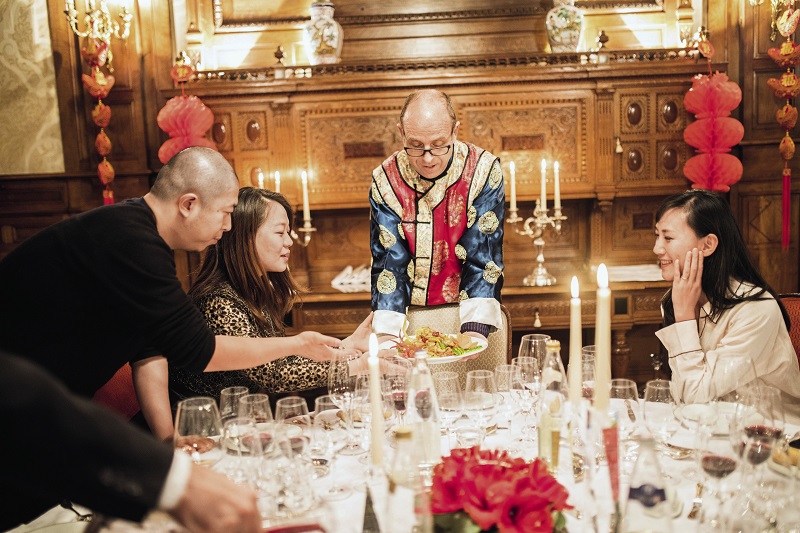 A lot of chateaus in Bordeaux, France, provide special food selections to Chinese consumers on January 5, 2018 before the Chinese New Year.
From China to the World
The significance of the Chinese New Year first hit me in the vibrant university area in Beijing's Haidian District, at the end of 1986. The district is home to many top Chinese universities, including Tsinghua University, Beijing Language and Culture University, and Peking University, in whose classrooms I studied in the second half of the 1980s.
I experienced the Year of the Rabbit celebrations first-hand in Kunming, city of perpetual spring, shortly before climbing the Emei Mountain in January 1987 — an exhilarating way to start the year. I also remember celebrating the 1989 Year of the Snake in the bosom of a Chinese family in Hangzhou.
I celebrated the Year of the Tiger in January 1998 with distinguished Pacific Rim scholars at the University of California in San Diego. A native of east China's Jiangsu invited me to the Spring Festival gathering. The host asked us to cook a meal together, the perfect sharing experience. A few days later, a Thai professor of Chinese descent invited me to luxuriate in more Chinese New Year activities and Chinese culture generally in San Francisco's semi-mythical Chinatown.
In 1999, I had the pleasure of giving lectures to students at Kazakhstan Diplomatic Academy on China's importance to Europe, on the relevance of learning Chinese, and the foundations of Chinese culture, including the significance of the nascent Year of the Rabbit. As Kazakhstan had established relations with China, Chinese businessmen and entrepreneurs had a visible presence in Almaty. But none of my students had yet traveled to their gigantic neighbor. This highly rewarding experience made me wonder whether the trade and cultural exchanges along the historical Silk Road may one day be revived.
I have many memories of Europe celebrating the Chinese New Year that I cherish, but one particularly stands out in being totally unexpected. As I walked, one day in late January 2017, from Berlin's Dialogue of Civilizations Research Institute after exchanging views on the Belt and Road Initiative and its potential for Europe, I passed through the Brandenburg Gate, center of the German capital. There I came upon a group of fresh graduates from Fujian Province and a couple of Malaysian and Indonesian tourists, chatting happily in equally fluent Chinese, basking in the arrival of the Year of the Rooster.
I participated in their family festival snaps. Our wish was that Chinese lunar calendar events might unite people at the distant cardinal points of the Eurasian continent. I urged them to visit Spain, a country which is home to one of Europe's most vibrant Chinese communities.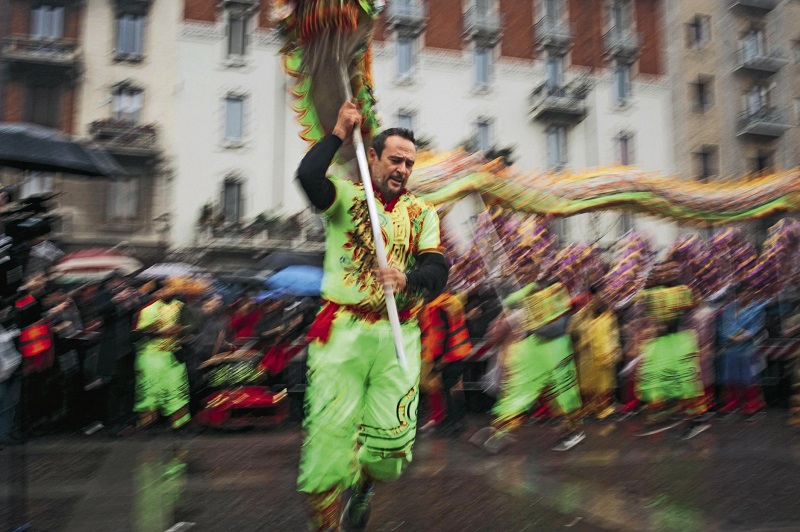 The Chinese community in Milan, Italy, celebrates the Spring Festival on February 10, 2019 with their colorful Golden Dragon Parade and a Chinese lion dance.
The Spring Festival in Spain
Having held Chinese New Year celebrations for six consecutive years, Madrid is now preparing for its seventh fiesta. Usera district is the traditional epicenter. The main square — lined with Chinese-owned shops, restaurants, real estate agencies, software stores, driving schools, travel agents, and hairdressers, ornamented with colorful bilingual signage — is its focus. Not just the Spanish capital, large and small cities across the country celebrate the Chinese New Year too. Typically, after greeting local authorities, Chinese ambassadors and consuls salute the masses of Chinese and Spanish citizens taking part in the striking parades. Orchestrated by various Chinese and Spanish-Chinese professional associations, as well as civil society, they feature dancers clad in unique enormous dragon and lion masks, leaping and somersaulting to the rhythm of drums, firecrackers, and gongs.
The celebrations have become ever more varied and colorful over the years, with Shaolin-style kungfu, taichi, and qigong exhibitions, and southwest Chinese-style sugar paintings on display on various food stalls. Chinese-Spanish flamenco dance groups are also there, flanked by the flags and banners of Chinese language academies in both countries. But this exuberance extends beyond the streets. Let us remember that about 50,000 people in our country are learning Chinese. And for several consecutive years, as Beijing affirms, Spain has led Europe's participation in the HSK exam, which is an international standardized exam that tests and rates Chinese language proficiency.
A Chinese New Year celebration event in Barcelona, Spain. Photo courtesy of Augusto Soto
Memorable Moments
In the public sphere, we may remember that Barcelona Football Club, possessor of the world's football superstar, Lionel Messi, has for the last five years posted Chinese New Year greetings, in Chinese, on social networks. Also, Mayor Ada Colau led the largest Chinese New Year parade to date. Those events are mirrored in private celebrations organized by various civic citizens. In this respect I remember especially the Year of the Dragon in February 2000, when I hosted the visit of a delegation of academics from Beijing and Sichuan Province on an exchange visit to Spanish universities. Together, at home, we prepared jiaozi (the famous Chinese ravioli), and later enjoyed scrumptious toufu, sweet and sour pork, and other traditional Chinese dishes, washed down with China's Qingdao beer, Maotai liquor, and the Great Wall red wine. We proposed toasts to our friendship, families, and home countries, and of course to academic exchanges and prosperity. With hindsight, those toasts took place against the backdrop of history writ large: Europe had just launched the euro, and China was just a few months away from joining the World Trade Organization.
We celebrated the Year of the Goat, in February 2015, with friends from Chile at the Catalonian restaurant near Camp Nou (the largest football stadium in Europe, under whose auspices operates an eminent group of entrepreneurs and Chinese students). For the Year of the Dog celebrations of February 2018, I took relatives from Germany and Russia to the main parade through downtown Barcelona leading to the historic Arc de Triomphe. A few hours later, we crowned the day with a grand Mongolian Hotpot dinner at a Sichuan restaurant. Everyone, locals and visitors alike, took home with them memories of a multicultural Barcelona wherein the Chinese community is an essential facet, just as it is in the rest of Spain.
This year's celebrations are, like last year, constrained by the pandemic, which is bound to pass, sooner or later. It is important now to analyze matters from a broader perspective, and to appreciate the Lunar New Year and Chinese civilization as part of the bigger picture.
Let's remember that the Maritime Silk Road reached Western Europe about half a millennium earlier than originally estimated. Chinese ceramic shards unearthed in various locations in Spain, such as Zaragoza, Almería, and Valencia, among others, date back to the Tang and Song dynasties, so standing witness to the existence of truly ancient commercial and cultural links between China and Western Europe. Under the theme of Chinese New Year celebrations, such concourses are reemerging in concrete, direct, and dynamic manifestations.
AUGUSTO SOTO is director of the Dialogue with China Project in Spain.