In May 2022, at phase two of the UN Biodiversity Conference in Kunming, the 196 parties to the Convention on Biological Diversity are expected to adopt a robust, ambitious, and inclusive post-2020 global biodiversity framework.
The framework will provide a strategic vision and a global roadmap for the conservation, protection, restoration, and sustainable management of biodiversity and ecosystems. Draft One of the framework, released in July, recognizes that urgent policy action globally, regionally, and nationally is required to transform economic, social, and financial models so the trends that have exacerbated biodiversity loss will stabilize by 2030 and allow for the recovery of natural ecosystems, with net improvements by 2050.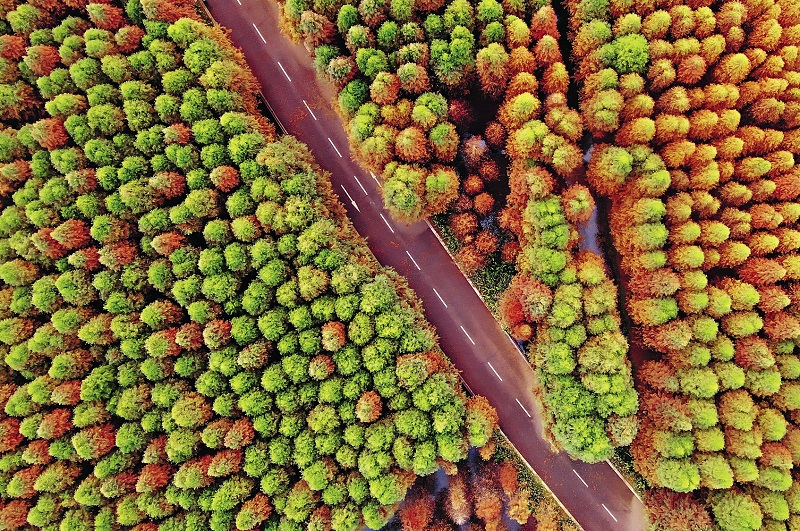 The wetland park along the Laoyu River in Kunming is famous for its breathtakingly beautiful metasequoia forest, which has helped shape the biodiversity in the region.
To many people, this might seem like an issue and process that only governments, academics, or people involved in environmental issues would care about. But that could not be further from the truth.
Biodiversity is the foundation of life. It provides us with the air we breathe, water we drink, food we eat, and medicines we need. It also sequesters carbon and yields many other benefits – all of which are crucial for human survival.
Yet, biodiversity is declining at unprecedented rates, with pressures driving this decline intensifying. Of the world's estimated 8.1 million animal and plant species, one million are now threatened with extinction – more than ever before in human history. Overfishing, pollution, coastal development, and climate change are causing a growing spectrum of adverse effects across marine ecosystems, while land-use change, due to where and how we produce food, is one of the biggest threats posed by human actions to biodiversity.
According to the 2019 Intergovernmental Science-Policy Platform on Biodiversity and Ecosystem Services (IPBES) Global Assessment Report on Biodiversity and Ecosystem Services, 77 percent of land and 87 percent of the area of the ocean have been modified by the direct effects of human activities. These changes are associated with the loss of 83 percent of wild mammal biomass, and half that of plants. Furthermore, human-induced land degradation is costing more than 10 percent of the annual gross world product in loss of biodiversity and ecosystem services.
And, perhaps most alarmingly, humans are overusing Earth's biocapacity, the ability of ecosystems to provide natural resources and absorb waste material generated by humans, by at least 56 percent.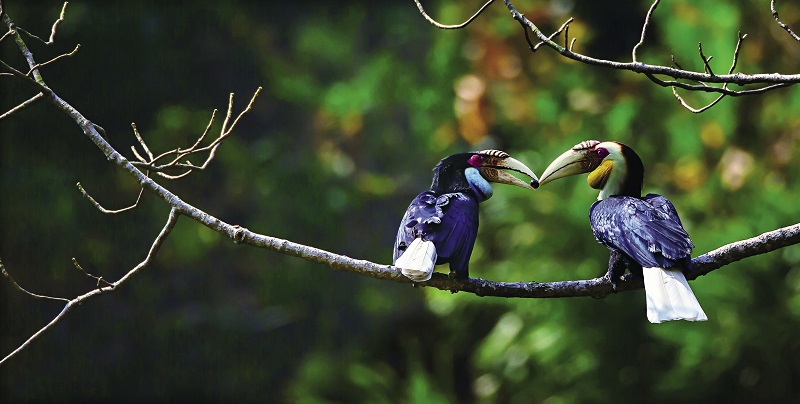 A pair of wreathed hornbills in Yunnan. Chen Jianwei
The stark reality is that continued biodiversity loss and degradation of ecosystems present a fundamental risk to the healthy and stable ecosystems that sustain all aspects of our societies; and reduce the ability of biodiversity and ecosystems to provide essential life-sustaining services, from food security and nutrition to the regulation of water and air quality, in addition to pest and disease regulation.
Moreover, over half of the global gross domestic product is moderately or highly dependent on nature and its services, and, as a result, exposed to risks from nature loss. Over 70 percent of people living in poverty are at least partly dependent on natural resources for their livelihoods. In 2010, for instance, some 2.6 billion people drew their livelihoods either partially or fully from agriculture, 1.6 billion from forests and 250 million from fisheries.
Simply put, biodiversity loss threatens every human being on Earth.
This was further highlighted in last year's fifth Global Biodiversity Outlook (GBO-5), which accentuated the urgent need to act now to slow and end further biodiversity loss in order to address climate change, long-term food security, and health issues. As set out in GBO-5, a portfolio of actions are needed involving transformative change in the way humans manage the planet. These include scaling up conservation and restoration; action on climate change and other direct drivers of biodiversity loss; and changes in production and consumption patterns across all sectors, particularly food and agriculture.
Fortunately, there is a way forward. But time is of the essence. We have reached a tipping point where only talking about the biodiversity crisis is simply not an option. Real, effective, on-the-ground action is urgently needed. The cost of inaction, and not addressing biodiversity loss head-on, is estimated to rise to at least € 14 trillion – seven percent of global GDP – by 2050.
Thus, the time for procrastination is over. This is about our future as a viable species. It is not just about plants, animals, micro-organisms, and their ecosystems. Biodiversity is about people. It is about our need for food security, medicine, fresh air and water, shelter, and a clean and healthy environment in which to live.
Agreeing to a post-2020 global biodiversity framework can play a significant role in building the necessary ecological resilience the IPBES and GBO-5 reports identified as needed in the face of growing environmental, health, and development challenges.
Fortunately, the world is taking note, and political commitments are loud and clear. Last year's UN Summit on Biodiversity saw a record number of countries – nearly 150 countries, and 72 heads of state and government – address the Summit. Likewise, the One Planet Summit held in January saw world leaders highlight the destruction of nature as increasing the risk of future pandemics, and in August, the government of Colombia hosted a high-level gathering ahead of the UN Biodiversity Conference aiming to build political commitment for the post-2020 framework.
Critically, this serves to highlight that the degradation of nature is not purely an environmental issue. Degradation of nature spans economics, health, social justice, and human rights. Neglecting our natural resources can also exacerbate geopolitical tensions and conflicts.
Additionally, the COVID-19 pandemic has reminded us of the health consequences of our destruction of nature, bringing new interest and support from a range of stakeholders, from ordinary citizens to world leaders, for halting biodiversity loss. We must take advantage of this.
Importantly, we know that when we do act, we make progress. Under the Strategic Plan for Biodiversity 2011-2020, we failed to fully achieve its 20 Aichi Biodiversity Targets. However, we did reach the agreed level of protection for land and sea from 10 to 15 percent terrestrial and three to seven percent marine areas at the end of 2020, and then successfully reached the target of 17 percent terrestrial and eight percent of the 10 percent threshold for marine areas in April 2021. We also made good progress on islands invasive alien species. We have seen a 30 percent reduction in the rate of deforestation, and the number of extinctions was likely reduced two- to four-fold.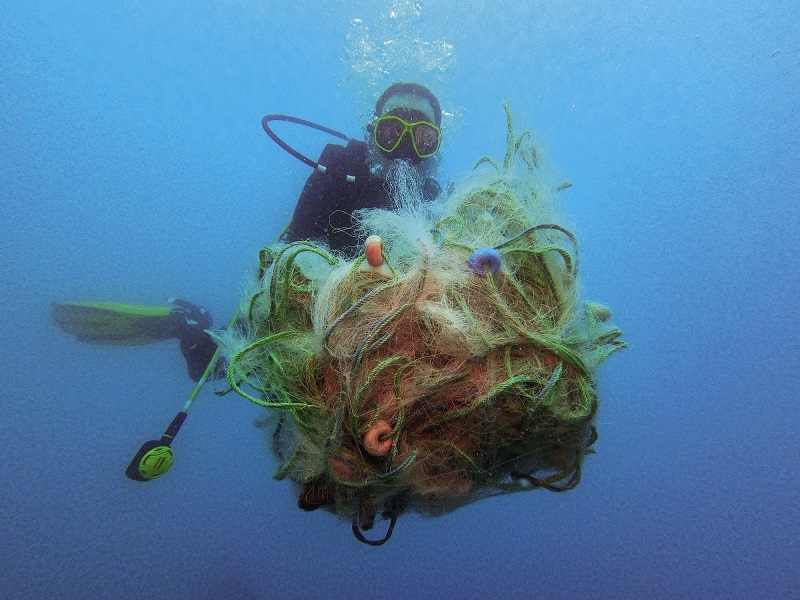 A local diver is collecting trash in the sea of Turkey's Adana Province on August 10, 2021.
Saussurea leucoma diels, a rare alpine plant in Yunnan.
A herd of wild moose forage in a stretch of wetland in Yancheng City, Jiangsu Province on October 7, 2020.
The message is clear: if we put our minds to it, we can achieve our goals. The good news is that we have the tools, the will to reimagine our relationship with nature, and, increasingly, the political momentum to affect real change and ensure a sustainable future for us all.
We also have the location. Phase one of the UN Biodiversity Conference was held virtually on October 11-15. It included a High-Level Segment, from October 12-13, where China encouraged the international community to agree on the Kunming Declaration around the theme "Ecological Civilization: Building a Shared Future for All Life on Earth" with the aim of building consensus for a detailed and effective post-2020 global biodiversity framework. This will be followed by phase two, an in-person meeting in Kunming from April 25 to May 8, 2022, where the post-2020 framework is due to be adopted and set the global biodiversity agenda for the next decade.
The post-2020 framework is meant to guide whole-of-society and whole-of-government work to protect and restore biodiversity in an ambitious and effective way. This means effectively protecting more of the world's land and oceans. It means ensuring sustainable consumption and production, and it means ensuring that all actors are engaged in protecting nature.
The framework will comprise well-designed goals and targets formulated in clear, simple language, with measurable indicators to monitor progress. A variety of actions, if taken, will make the framework stronger. These include greater efforts to address direct and indirect drivers of biodiversity loss, including through integrated and holistic approaches to planning and implementation, and greater interaction among government ministries, economic sectors, and society in general.
This represents our opportunity, as a global community, to make a real difference. Each and every one of us has a stake in its success. The consequences of failing to tackle these issues now will be devastating, and lead to problems that could become unsolvable.
The pressure is on, but I believe countries will deliver. Biodiversity remains the answer to many sustainable development challenges including land degradation, climate change, and health, but only if we change course and transform our relationship with the natural world. We can do it.
ELIZABETH MARUMA MREMA is executive secretary of the Secretariat of the Convention on Biological Diversity.