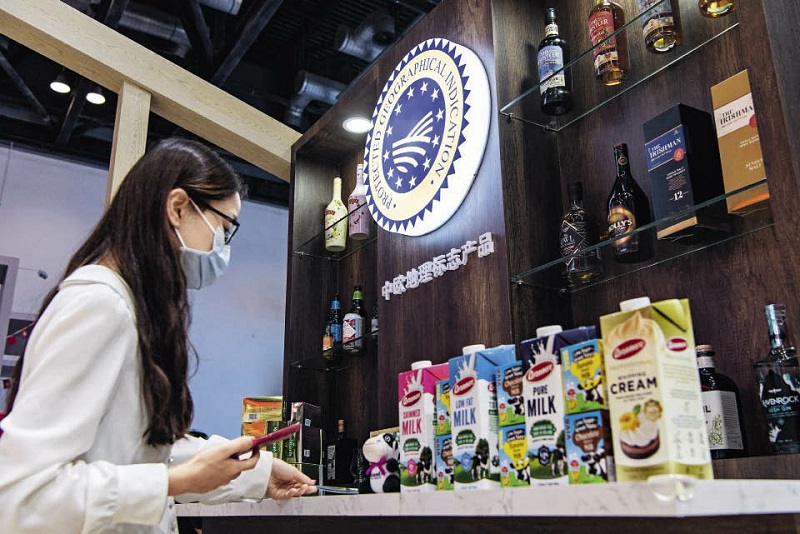 Exhibits with the EU-China Geographical Indication Products certification are displayed at the Irish booth.
The global pandemic has not dampened the desire of the international community for exchanges and cooperation. At the 2021 China International Fair for Trade in Services (CIFTIS), foreign exhibitors praised China's improved business environment and high-quality opening-up policies, and saught ways to further deepen cooperations to activate new growth momentum for trade in services.
The speech that Chinese President Xi Jinping delivered at the Global Trade in Services Summit of the 2021 CIFTIS has been lauded by exhibitors at home and abroad as he sent a clear message of championing opening-up and win-win cooperation in trade in services with partners from across the world.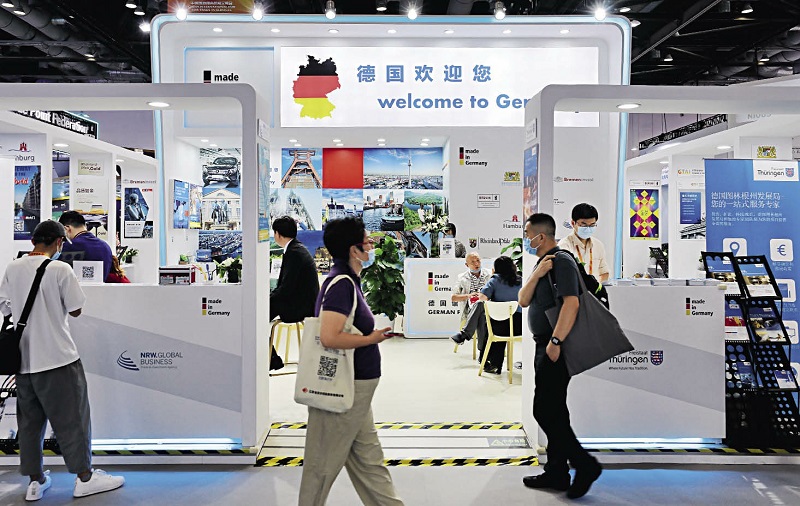 The German booth is ready to receive visitors, on September 4, 2021, at the Pavilion for Countries of the China National Convention Center.
Opportunities amid the Pandemic
"We very much agree with the idea of building a community with a shared future for humankind, which is also a shared vision of Argentina. I hope we can work together to achieve it," Argentina's ambassador to China Sabino Vaca Narvaja said during an exclusive interview with China Today while attending the opening ceremony of the Argentina booth at the CIFTIS.
"The pandemic has shown people that there are many traditional industries that can be re-integrated and upgraded through the service industry, and it also demonstrated the adaptability of many service providers, who are capable of offering solutions to problems that did not exist before," said Narvaja. He then added that this is what he calls "seeking opportunities from a crisis."
He further pointed out that the pandemic would probably disappear ultimately, but all those capabilities would stay in the post-pandemic era, which would play a key role in rebooting the global economy. He took Argentina as an example, "We have used this time of the pandemic to improve software services and services in the virtual form. I believe that in a post-pandemic world, Argentine services providers will increase in number and see improved high-quality services."
Speaking of the cooperation between Argentina and China in trade in services, he said that probably many Chinese people associate Argentina with high quality products, such as meat, wine, and seafood, but Argentina is also extremely competitive and innovative in the services industry. "It has a culture that favors adapting to changes and innovation," he said, noting that the Argentine government has also formulated incentive policies to encourage talents to transform innovative technologies into productivity.
"On the centenary of the founding of the Communist Party of China, the Chinese government announced that technological innovation will be one of the core elements of its governance, which is of decisive significance to China's future development," said Narvaja. The ambassador pointed out that China is the country with the world's largest number of technology patent applications. The Argentine government has also played a concrete role in creating an enabling environment for scientific research. So far, Argentina has carried out in-depth cooperation with China in the field of science and technology. "For example, in the field of aerospace, the Argentine National Commission for Space Affairs and the China Satellite Launch and Control Agency signed a cooperative agreement in 2012, within the framework of which the two parties would cooperate in deep space exploration missions at the Deep Space Station in Argentina's Neuquén."
Narvaja also said that he is particularly interested in President Xi's announcement regarding the establishment of a pilot zone for digital trade and the Beijing Stock Exchange, a decision that will surely further promote digital development in China and spur innovation among small and medium-sized enterprises.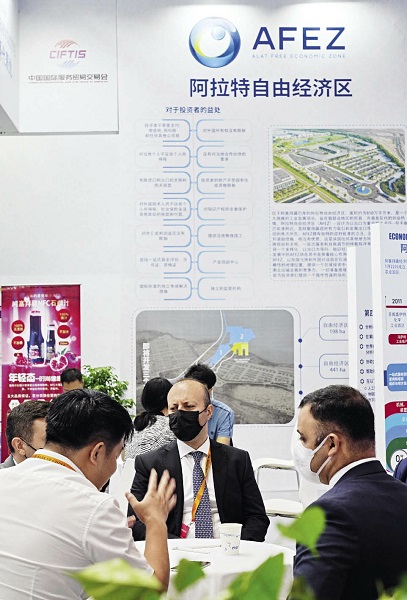 Businessmen from China and Arab countries are negotiating at the Azerbaijan booth at the Pavilion for Countries on the first professional visitor day on September 4, 2021.
Strong Economic Resilience
"Business exchanges can not only boost economic growth, but also promote the exchange of people and ideas, and thus generate mutual benefit and build mutual trust between countries," Hagardon Gareth, economic counselor and head of the economic division of the Embassy of Ireland in China, said in an interview with China Today. He pointed out that Ireland and China have great potential for deepening cooperation in the field of trade in services.
Ireland was the Country of Honor at the 2021 CIFTIS. This time, four Irish state agencies, Bord Bia, Enterprise Ireland, Investment Development Agency Ireland, and Tourism Ireland, represented the nation's various industries at the CIFTIS, hoping to make the most of this valuable opportunity to showcase the charm and strength of Ireland. It is famous for its picturesque landscape, high-quality agricultural products, unique cultural experiences, investment opportunities, promising high-tech and innovation sector, and world-class higher education.
Gareth said that the CIFTIS has built a global platform for exchanges of trade in services, providing a valuable opportunity for Ireland to promote its companies and products. At the same time, it is an occasion to strengthen close ties and cooperation with Chinese companies, he said.
Ireland is a member of the European Union and has a strong services sector, with exports in services being an engine of its economic growth. According to the data provided by the Irish Embassy in China, in 2020, Ireland's total exports in services reached US $262 billion, ranking fourth among OECD countries. The total bilateral trade in services between Ireland and China has been growing steadily and the prospects for cooperation in the services sector are very promising.
"The global economy is recovering from the COVID-19 pandemic, and the digital aspects of the trade in services are becoming increasingly obvious," said Gareth. He pointed out that Ireland has a very strong fintech sector with many excellent companies providing international financial services. According to Gareth, Ireland is the fifth largest financial services center in Europe and the eighth largest exporter of financial services in the world. The country's strong capabilities in R&D and innovation, advanced manufacturing, and services all make it a favorable destination for foreign direct investments, including those from leading Chinese high-tech companies, such as Huawei, TikTok, and Wuxi Biologics. "This has laid a solid foundation for the continuous deepening of cooperation between China and Ireland," said Gareth.
China is one of Ireland's top five food export destinations. "We see obvious changes in Chinese consumers' shopping behavior as they have placed more focus on a healthy lifestyle and more emphasis on the safety and quality of food," said the Irish ambassador. Natural ingredients, excellent product quality, and strict food safety controls are the advantage of the agricultural sector in Ireland. The Irish government launched the Origin Green program, requiring the industry to set and achieve measurable sustainability targets that respect the environment and offer consumers with safe food. He was optimistic on future cooperation in the food sector between China and Ireland.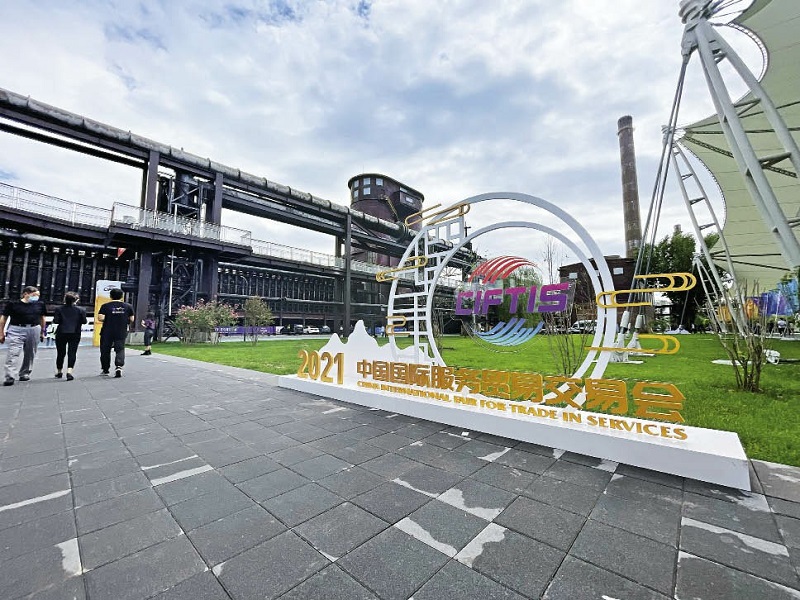 The Shougang Park exhibition area of the 2021 CIFTIS.
Expanding International "Circle of Friends"
The 2021 CIFTIS attracted many international organizations and institutions to participate for the first time. Germany Trade & Invest, the country's federal economic development agency, joined hands with the economic promotion agencies of seven federal states, Bavaria, Berlin, Bremen, Hamburg, North Rhine-Westphalia, Lefah, and Thuringia, to represent the full roster of participation in the CIFTIS for the first time. Dennis Wilkens, director of the China region of the Germany Trade & Invest, said he hoped to make full use of the CIFTIS platform to expand cooperation fields between Chinese and German enterprises, and inject new vitality into the world economy in a post-pandemic era.
Ikhtiyar Atalizada, who has worked and lived in China for more than 10 years, is a business representative of the Ministry of Economy of the Republic of Azerbaijan. He said that he has participated in the CIFTIS every year, but this year is particularly impressive. "The Chinese economy seems to have not been affected by the pandemic, instead showing strong resilience. I believe that China's economy will be sustained by robust consumer demand and heavy investments in the overseas markets, and will provide strong momentum to the world economy."
Asraf Imteyaz from the Federation of Handicraft Association of Nepal said that it was the third time his team participated in the CIFTIS. They also showcased Nepal's handicrafts in the China International Import Expo held in Shanghai for three consecutive years. "Nepal's handmade products are world-renowned. Our handmade alpaca tapestries and scarves are very popular in the Chinese market," said Imteyaz, pointing at a giant, brightly colored and exquisitely patterned tapestry. "At the major trade fairs held in China's Beijing, Shanghai, and Guangzhou, our products have sold very well, and we saw the signing of a large number of contracts with Chinese business partners," he added.
Italian businessman Andrea Giovannini works for the International Health and Environment Industry Association. He said that he was a graduate of the Beijing Foreign Studies University, majoring in international economics and trade, and is very optimistic about the cross-border trade in services in China. He said, "Our association has facilitated cooperation in the health and environmental industry between China and Denmark as well as other countries in Europe, which have received strong support from governments on both sides. This has made me even more confident with my career choice."
The annual report of China's trade in services development in 2020 was released at the Forum on Emerging Trends in the Opening-up and Development of Trade in Services held on September 3 during the CIFTIS. The report showed that China has seen an increase in services trading partners. During the 13th Five-Year Plan period (2016-2020), China signed altogether 14 bilateral cooperation agreements on trade in services with the seven countries of Brazil, Japan, Uruguay, Russia, Argentina, Panama, and Portugal; reached and implemented the "BRICS Trade in Services Cooperation Roadmap" and "China-CEEC Cooperation Agreement on Trade in Services." In 2020, China traded in services with 240 countries and regions in the world, an increase of 42 countries and regions compared with the number in 2015.