Tibet'S human rights issues always draw global attention and Western anti-China forces often use this topic as an excuse to stigmatize China. Nevertheless, misinformation for the purpose of political interference can never be construed as facts. Through their field inspections and long-term in-depth research, experts and scholars worldwide, who truly care about Tibet's development and respect Tibetan culture, have more objective evaluations of the status quo of Tibet's social development and human rights protection, than politicians.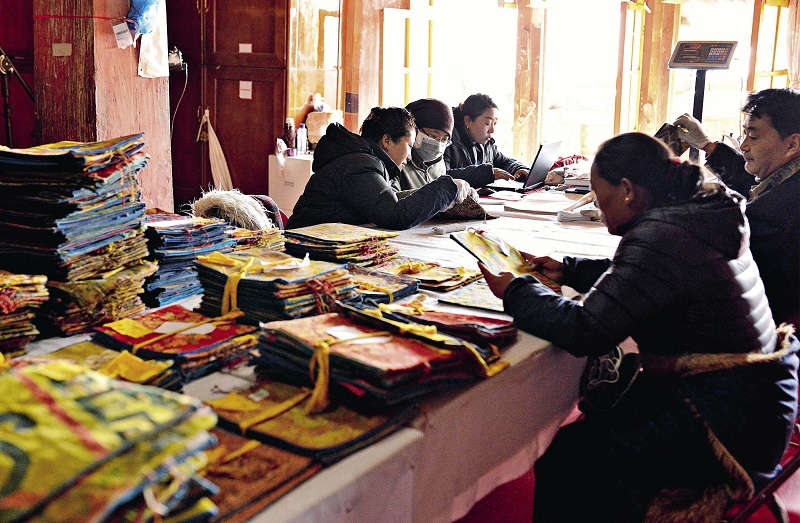 Workers filing results of a general survey of silk fabrics of Potala Palace on April 12, 2016. The Potala Palace has a rich collection of cultural relics, including some 100,000 ancient books and documents.
Achievements in Human Rights Protection
This year marks the 70th anniversary of the peaceful liberation of Tibet.
According to Muhammad Iqbal, a Pakistani lawyer who has done an in-depth study of the feudal serfdom once in place in Tibet 70 years ago, before the peaceful liberation, old Tibet was a feudal serfdom society under theocratic rule. About 99.7 percent of the arable land was controlled by local government, and millions of serfs were cruelly exploited and oppressed. Democratic reforms and poverty alleviation policies have enabled former serfs to have the land use right, farm tools, livestock, and other means of production.
Taking Tibet's waterworks improvement as an example, Iqbal said from the winter of 1959 to the spring of 1960, about 1,500 km of new canals were built in agricultural areas, 300 reservoirs were repaired, and more than 24,666 hectares of irrigated land was added. In 1960, 5,000 km of canals were built, 1,500 reservoirs and ponds were completed, and the irrigation area was further expanded. Iqbal believed that as a region dominated by agriculture and animal husbandry, the improvement of Tibet's water supply system has had a positive impact on social development.
In fact, Tibet's development and changes during the past seven decades have far exceeded this. "After 70 years of unremitting efforts, Tibet's agriculture and animal husbandry are steadily modernizing and are no longer subject to natural environment. Tibet has developed a comprehensive transportation network consisting of highways, railways, and air routes. Trade, logistics, e-commerce, and other new forms of industries are growing rapidly. By the end of October 2019, there were about 38,000 registered students in higher-learning institutions of Tibet. In addition, vocational schools can provide handicraft teaching and other employability skills," said Iqbal, whose research has given him a comprehensive understanding of Tibet's development.
Haile Andargie Wondalem, vice dean of the Law School of Debre Markos University in Ethiopia, has always been concerned about the development of Tibetan women's rights and interests. According to his study, Tibetan women's higher education level has been improving, and there are a large number of female doctors, professors, and professional and technical personnel. Wondalem believes that economic and social development has ensured Tibetan women's rights of life and development, the most important elements of human rights.
Wondalem said, "For centuries, Tibet was ruled by feudal serfdom before the democratic reform in Tibet in 1959. Women were subjected to cruel execution and oppression without freedom of marriage and access to education, their health conditions were not guaranteed, and the death rate was very high." After the democratic reform, "Children can enjoy 15 years of free schooling, from kindergarten to senior high school. The improvement of compulsory education, higher education, adult education, vocational education, and special education systems provided more and more women and children with opportunities to attend school. Tibet now has more than 1,339 hospitals and clinics, 23 times the number in 1959," he continued.
"Human rights can be realized not only by breaking the dark and decayed regime, but also by fully guaranteeing women's rights to survival, development, and self-fullfillment. Respecting, realizing and protecting women's human rights contribute to a better, prosperous and progressive future," said Wondalem.
According to Yogeshwar Romkhami, former senior superintendent of the Nepal police and chief leader of the People's Party of Nepal, over the past 70 years since Tibet's peaceful liberation, the region has gone through noticeable social development, realizing the transformation from backwardness to modernization. While constructing modern infrastructure, the Chinese government has invested large amounts of resources to protect ancient monasteries and culture, and properly handled the relationship among ecological protection, economic development, and enriching the people. "China's great cause of poverty alleviation has completely changed Tibet," said Romkhami.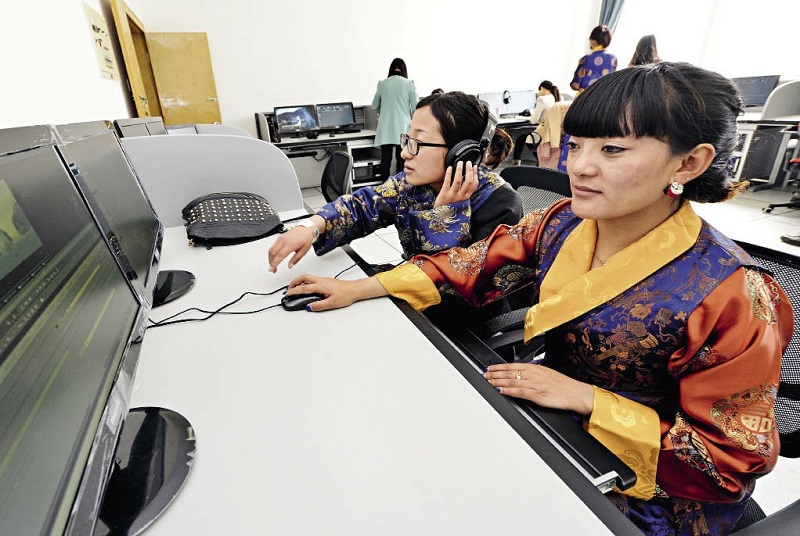 Staff members do post production editing of a program at the Lhasa Radio and Television Station on March 26, 2013.
Keeping Culture Alive
British Tibetologist Elaine Robson has had a deep bond with the Tibetan language and culture since the 1950s. In the early 1990s, she studied under professor Hu Tan, who has long been committed to the research, sorting, and protection of Tibetan dialects at the China Tibetology Research Center. Encouraged by professor Hu, Robson tried to use Tibetan translation to publish a number of world-renowned literary works, which were later welcomed by Tibetan readers. Robson believes that her ability to use Tibetan for literary translation should be accredited to the Chinese government's endeavor to protect and develop minority languages and cultures, vivid proof of the active vitality of minority languages.
According to Sarbottam Shrestha, president of Nepal's Arniko Society (an alumni association of scholars and experts who have graduated from China and are engaged in various government and non-governmental organizations), the Chinese government has long been committed to protecting traditional Tibetan culture and respecting the Tibetan people's love for traditional culture. "King Gesar is a famous Tibetan folk literature work that has been sung by folk singers for generations, and different versions have also been derived. The Chinese government launched a large-scale project to collect all the different editions. After the collection, King Gesar became the longest epic in the world," said Shrestha.
As one of the ancient languages of the world, Sanskrit is extremely rich in content. Its most famous works are the ancient Indian Brahmanism classics, namely four Vedas: Rigveda, Samaveda, Yajurveda, and Atharvaveda, as well as two epics: Mahabharata and Ramayana. Many Sanskrit Buddhist scriptures have been unearthed in China. Among them, the Sanskrit palm-leaf scriptures are the most representative. Most of these precious ancient documents written in Sanskrit on dried palm leaves are treasures kept in monasteries in Tibet Autonomous Region.
The Austrian Buddhologist and Tibetologist Birgit Kellner considers the Sanskrit manuscripts preserved in Tibet Autonomous Region as one of the greatest treasures of humankind. "The contents of these manuscripts reflect the entire range of Buddhist literary culture throughout its long and variegated history. The manuscripts also include Indian literature of a more general nature, for example epic and narrative literature, and scientific and scholarly literature. It's estimated that there are about 60,000 manuscript folios currently preserved in various monasteries and institutions in Tibet, amounting to approximately 3,500 to 4,000 texts or textual fragments. Many of these texts are rare and unique, and not found anywhere else. These texts also include works by philosophers or masters whose names have so far nowhere been recorded. Considering that manuscripts of these periods are poorly preserved on the Indian subcontinent itself, the manuscripts from Tibet – chiefly in Sanskrit – are invaluable resources for our understanding of the cultural, intellectual, and religious history of Buddhism in the context where it originated," Kellner said.
The number of Sanskrit manuscripts found in Tibet Autonomous Region is large and as a cultural heritage it has great historical and cultural value. After the founding of the People's Republic of China, the Chinese government has attached great importance to the protection of Sanskrit scriptures in Tibet Autonomous Region, and organized special personnel to collect Tibetan Sanskrit scriptures, while adopting a series of measures to protect the Sanskrit palm-leaf scriptures in the Potala Palace and Norbulingka. China's research on Sanskrit classics has been carried out orderly in recent years, and remarkable results have been achieved in the research, collation, and publication of Sanskrit documents, as well as international academic exchanges.
According to Kellner, the China Tibetology Research Center has cooperated in recent years with the Austrian Academy of Sciences to carry out research on Tibetan Sanskrit manuscripts. In the future, the two sides will continue to maintain close exchanges and jointly strengthen international cooperation in the study of Sanskrit.
Tibetan food is another important part of the culture of this ethnic group. Austrian writer Rudolf Lantschbauer is a long-time observer of Tibetan food culture. Lantschbauer indicated that there were 48 kinds of vegetables and more than 30 kinds of fruits found in a farmers' market in Lhasa when he stayed there, which were more abundant than the supermarkets in his hometown in Austria. He then added that the Tibetan cuisine is flourishing, and not only allows the general public to enjoy delicacies, but also increases the income of local people.
Lantschbauer studies Tibetan culinary culture from a unique perspective. He believes that the region's social features can be better understood from Tibetan traditional Buddhist thangka paintings. By examing Tibetan traditional medicine and thangka, Lantschbauer found that many traditional Tibetan diets are divided into two categories: edible and herbal for medicinal purposes. Tibetan traditional diets are closely related to medical care, he said.
Tibetan food also has philosophical connotations. Besides, the local diet is closely connected with trade and regional produce. The diversity of food and recipes of the people in today's Tibet Autonomous Region is a vivid manifestation of the rapid growth in the production capacity of its agriculture and animal husbandry. The more open and prosperous the market is, the more inclusive its culture will be, said Lantschbauer.