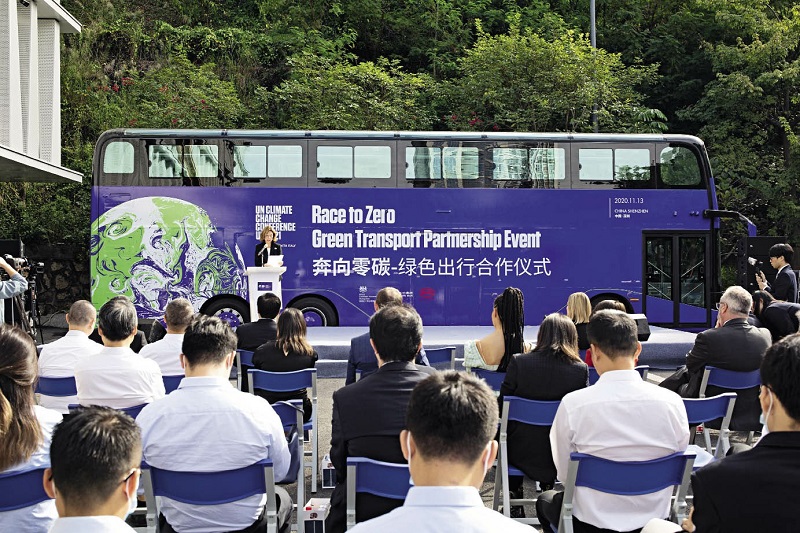 The British ambassador to China Caroline Wilson visiting Shenzhen's Lianhuashan Bus Terminal where she attends the "Race to Zero: Green Transport Partnership Event" on November 13, 2020.
IN November 2020, the new British ambassador to China Caroline Wilson paid her first visit to south China after she took office. At Shenzhen's Lianhuashan Bus Terminal, Wilson visited the world's first and largest pure electric bus operator — Shenzhen Bus Group Co., Ltd. She experienced a ride on a pure electric double-decker bus used for tourism and sightseeing produced by BYD Auto Co., Ltd., a Shenzhen-based Chinese automaker known for its battery-electric vehicles. Wilson said the bus was clean and beautifully designed. After paying for the ride by scanning a QR code, she boarded and mounted to the second floor of the bus to begin her "zero-emission" journey.
Watching the city scenery go by, she recalled that when she visited Shenzhen five years previously, she was deeply impressed by its hi-tech and green development. Her visit this time coincided with the 40th anniversary of the establishment of the Shenzhen Special Economic Zone. Once again, she marveled at the tremendous changes that have taken place in Shenzhen. "The city is now even more low-carbon and environmentally friendly," she said.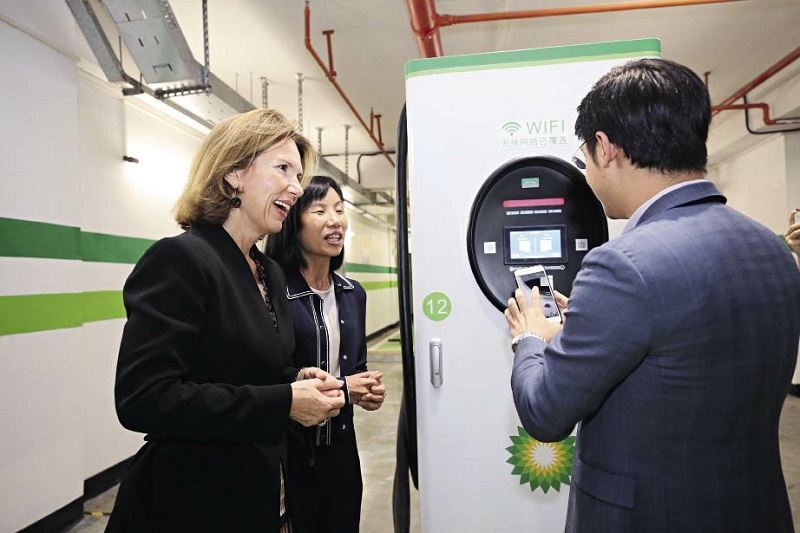 The ambassador learning how to pay for the charging of a new-energy vehicle by scanning a QR code.
Green Transport Partnership
The ambassador also attended the "Race to Zero: Green Transport Partnership Event" during her trip. The ceremony marked a new step taken by China and the U.K. on the road to the 26th UN Climate Change Conference of the Parties (COP26). At the same time, as leading companies in public transportation and electric vehicles, Shenzhen Bus Group and BYD both expressed their support for the "Race to Zero" initiative.
"The world we live in today calls for low-carbon emissions, clean energy, and a better environment. I know that the British energy giant BP and Chinese ride-hailing app Didi are working together to embrace the great change," said the ambassador in her speech. "We are currently preparing for the COP26, which is to be held in Glasgow next November. We need countries, cities and companies to commit themselves to achieving net zero emissions goals. I am also looking forward to joining hands with BP and other companies to move forward."
The mentioned cooperation between BP and Didi is a joint venture called BP Xiaoju. Since it went into operation in February 2020, the company has set up 19 charging stations in Guangdong Province, providing nearly 340 charging outlets for new-energy vehicles. During her visit to the provincial capital of Guangzhou, Wilson visited a charging station built by the joint venture and personally experienced the charging process, expressing her strong support for British and Chinese to cooperate in clean energy transportation.
"The U.K. is a close partner of China on many issues, and no issue is more important than jointly addressing climate change. For example, the U.K. and China have already been strategic partners in the development of offshore wind power, because the U.K. has the world's largest installed capacity of offshore wind power, and China is the world's largest market in this regard. We hope that the U.K.-China Offshore Wind Energy Technology Laboratory will soon land in Guangdong," said Wilson. The Chinese and British governments, enterprises and research institutions are carrying out in-depth cooperation in areas from green finance to hydrogen energy, and from civil nuclear energy to remote power transmission in south China, and will continue to share low-carbon technologies and experience.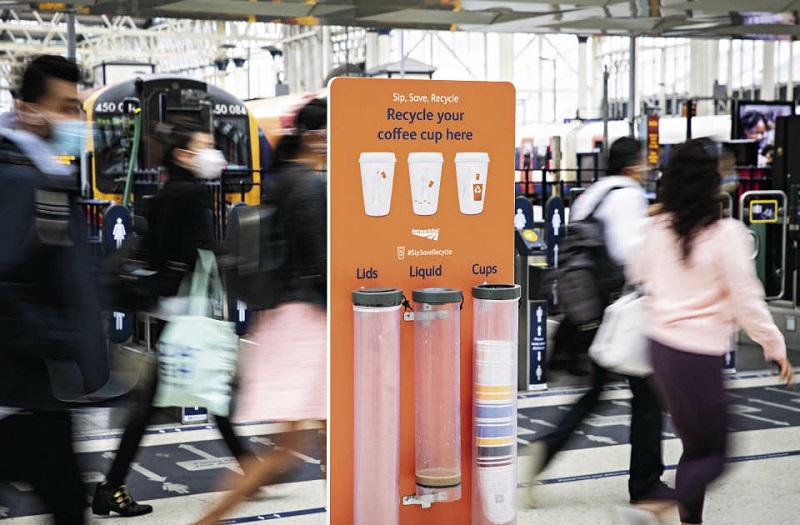 On September 23, 2020, a passer-by disposing a coffee cup in a bin specially designed to recycle coffee cups at London Waterloo station after Network Rail announces the installation of 32 new bins at seven of Britain's biggest and busiest stations.
"Green Industrial Revolution"
Most of the iconic Black Cabs that run on the streets of London are produced by the Chinese new-energy vehicle manufacturer Zhejiang Geely Holding Group.
As early as in 2013, the Chinese automaker's arm of new-energy commercial vehicle acquired London Taxi Company (LTC). Later in July 2017, LTC announced that it officially changed its name to London Electric Vehicle Company (LEVC), starting the company's official transformation focusing on the global new-energy commercial vehicle market.
Being the birthplace of the Industrial Revolution, the U.K. made countless achievements in the automotive industry and has a large number of legendary luxury car brands, including Aston Martin, McLaren, Jaguar, Land Rover, and Bentley. With hundreds of years of experience in automobile manufacturing, the U.K. is keen on the auto industry's new technology trends. The British government is determined to support transformation and upgrading of the automotive industry at all costs, making the U.K. a leader in the R&D of global cutting-edge technology for automobile manufacturing.
Meanwhile, the British government has always been prioritizing energy conservation and emission reduction. London took the lead in formulating a strict taxi emission reduction plan. LEVC, inheriting the classic elements of traditional London taxis, pools the global resources of Geely to carry out technological innovations and is active in building a lightweight, zero-emission electric vehicle platform. Thereby, not only has the company reshaped the glory of a century-old British taxi brand, but the mutual cooperation has achieved a breakthrough in new energy technology.
In 2017, LEVC's Ansty Plant was established in Coventry. Covering an area of 37,000 square meters, the plant has an annual production capacity of 20,000 vehicles. The state-of-the-art facility is the first production plant in the U.K. dedicated to the manufacturing of electric vehicles. It is committed to the R&D and production of zero-emission and ultra-low-emission taxis, as well as a series of zero-emission, lightweight electric commercial vehicles.
As the R&D and production base of Geely in the U.K., the Ansty Plant brings together top engineers from all over the world to create a new lightweight electric vehicle platform. The plant and its R&D center, together with Hangzhou Geely Commercial Vehicle Research Institute of China, have become the new engine for Geely's new-energy commercial vehicle R&D and manufacturing.
Geely has also set up a design and innovation center in the U.K. By investing in Lotus Cars, a lightweight sports car brand based in England, the Chinese automaker is contributing substantial efforts to the revival of the British sports car brand. A full industrial chain ranging from R&D and design to manufacturing and marketing services has taken shape.
Li Shufu, chairman of Zhejiang Geely Holding Group, said, "Geely hopes to continue to pool global resources, leverage the U.K.'s R&D and talent advantages in the field of new-energy vehicles, and provide more diversified solutions for future urban transportation across the globe, making contributions to the economic, trade and technical cooperation between China and the U.K."
Attendees look at the new TX electric black taxi, manufactured by the London EV Co., a subsidiary of the Chinese new-energy vehicle manufacturer Geely Holding Group, during its unveiling in London on July 11, 2017.
United for Global Climate Change
On November 14, 2019, British Prime Minister Boris Johnson inspected LEVC's Ansty Plant. He spoke highly of its contribution to the "Green Industrial Revolution." He said, in West Midlands, the hometown of the first Industrial Revolution, LEVC has manufactured thousands of amazing cars. They not only retain the traditional iconic body structure, but also achieve zero emissions, winning widespread popularity among tourists and taxi drivers. "We are witnessing a new Industrial Revolution, a green Industrial Revolution. It has brought us forward-looking technologies and created thousands of jobs," said Johnson.
Zhu Qin, former minister of the Chinese Embassy in the U.K., said, "This green factory is a witness of the golden era of China-U.K. relations and a model of bilateral business cooperation. It injects a new life into the classic Black Cabs and also increases Geely's competitiveness in the international arena. We look forward to working together with the British partner to promote broader cooperation between the two countries."
In March 2018, LEVC rolled out the new TX model range-extended electric vehicle, which boasts a cruising distance of about 130 kilometers in pure electric mode. It has been unanimously welcomed by drivers and passengers due to its green, environmentally friendly, in-vehicle interconnection technology, and low operating costs. At present, LEVC has become a leading provider of green commercial transportation solutions in Europe. Its taxis have not only seen success in the U.K., France, Germany, Norway, and the Netherlands, but have also been exported to Saudi Arabia, Egypt and operated in China's Shenzhen, Shanghai, and Hangzhou, altogether more than 40 cities around the world.
It is reported that the British government has provided one of the most supportive programs in the world for the transformation to zero-emission vehicles. By 2020, it had invested nearly GBP £1.5 billion (US $2 billion) in the sector. On July 13, 2020, the British government announced the launch of another GBP £1 billion (US $1.34 billion) Automotive Transformation Fund for the development of key technology in the mass production supply chain, including batteries, modules and battery packs, electric motors, power electronics, and hydrogen fuel cells. On November 18, Johnson outlined details of the highly anticipated 10-point plan for a Green Industrial Revolution, which focuses on how the government aims to reach the U.K.'s ambitious target of net zero greenhouse gas emissions by 2050. The initiative covers clean energy, transport, nature, and innovative technologies. According to strict zero-emission standards, the U.K. will stop selling gasoline and diesel cars and vans by 2030, as well as hybrid vehicles by 2035. This move will help British industry move toward a sustainable and green future.
In this context, Wilson said, "I think the bilateral relations between the U.K. and China can go even further, upgrading to a much higher level. In 2021, the U.K. will host the 26th UN Climate Change Conference of the Parties in Glasgow, and China will host the UN Convention on Biological Diversity (COP15). These two conferences are of great significance to the world. We very much welcome Chinese President Xi Jinping's commitment to achieving the goal of carbon neutrality before 2060, and we hope to join hands with China in this regard to tackle global climate change, and to increase our two-way investment to accelerate the economic recovery amid the pandemic."