THE success of China's proactive afforestation was affirmed in Nature journal's recent article, "Climate Change: China's Forest Carbon Uptake 'Underestimated'." The report, based on ground and satellite observations, was co-authored by researchers at the Institute of Atmospheric Physics (IAP), Chinese Academy of Sciences.
Just one month before this, Chinese President Xi Jinping had declared at the General Debate of the 75th Session of the United Nations (UN) General Assembly China's endeavor to reach a CO2 emissions peak before 2030 and achieve carbon neutrality before 2060. This inspiring commitment has polarized global attention on China's moves over the past few decades to "go green."
The fifth plenary session of the 19th CPC Central Committee, which concluded on October 29, set long-range objectives for China to achieve by 2035. They include promoting eco-friendly work and life modes in every quarter of society. The ensuing steady decline, after reaching a peak, of carbon emissions will intrinsically improve the environment and fundamentally realize the building of a Beautiful China.
As for carbon neutrality, He Jiankun, vice chairman of China's National Experts Panel on Climate Change, holds that realizing carbon neutrality requires nature-based solutions, such as relying on forests, grasslands, and wetlands for use as carbon sinks that absorb more carbon than they release, thereby ensuring the country's annual carbon uptake of 0.8 petagrams (1 petagram = 1 billion tons). In addition to efforts to expand carbon absorption, most specifically afforestation, are those that China will take to advance industrial transformation, develop the green and circular economies, and build an energy system that guarantees near-zero emissions.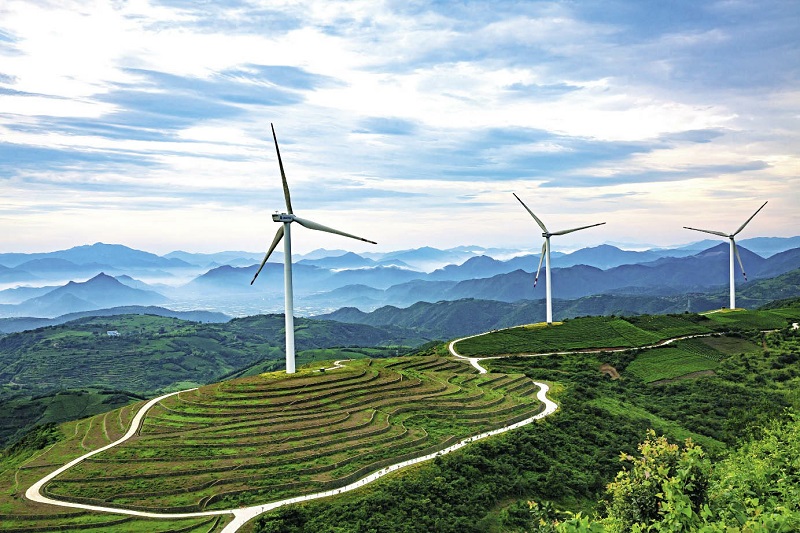 China General Nuclear Power Corporation's wind power farm in Yishi Town of Ninghai County, Zhejiang Province, garners China's first award on water and soil conservation for wind power projects.
Unremitting Afforestation Efforts
Hu Jintao, then general secretary of the CPC Central Committee, first mentioned ecological civilization in the report he delivered in 2007 to the 17th National Congress of the CPC. It was in the context of outlining the goals to be achieved in the country's building of a moderately prosperous society in all respects. The concept, "lucid waters and lush mountains are invaluable assets," was written in the report that Xi Jinping delivered in 2017 at the 19th CPC National Congress, which also proposed that China implement the strictest possible system for environmental protection.
National Forestry and Grassland Administration data show that China's afforested areas amount to 80 million hectares — the world's largest. Moreover, China's position paper for the UN Summit on Biodiversity, released on September 21, 2020, reflects the expansion of both China's forest coverage and stock volume for 30 consecutive years since the end of the 1980s. Between 2009 and 2019, China, with a total of 71.307 million hectares of afforested land, led the world in forest and tree resource increases. Satellite data shows that more than a quarter of the world's newly added green space between 2000 and 2017 was found in China, making it the largest contributor to the global landscape's greening.
The development of the Saihanba Mechanical Forest Farm, where now stands an almost 70,000-hectare stretch of forest — the world's largest single afforested patch — is among the most representative cases of China's afforestation. In the early days of the People's Republic of China, it was merely a vast expanse of desolate, barren land in Weichang Manchu and Mongolian Autonomous County of Chengde City, north China's Hebei Province. In 1955, to improve New China's ecological environment, Chairman Mao Zedong called for the country's wholehearted participation in the national greening endeavor. The establishment of the Saihanba Mechanical Forest Farm in 1962, and the arrival of 100 or more youth from across the country in response to the chairman's call, set the stage for Saihanba's grand afforestation. The lush forests now seen here are in stark contrast to the old scenario of sandstorms enshrouding a vast, treeless expanse of barren land.
The term carbon sink generally refers to the capacity of a forest, ocean, or other natural environment for absorbing carbon dioxide from the atmosphere. The two previously underestimated carbon sink areas pinpointed in the Nature article are located in southwest China, including provincial-level regions of Yunnan, Guizhou, and Guangxi, and northeast China (specifically Heilongjiang and Jilin provinces). Taking Guizhou as an example, in 1962, the province's forest coverage rate stood at just 10.7 percent, but by 1979, owing to the provincial tree-planting campaign, it had risen to 18.4 percent. Later, the country's growing emphasis on improving the ecological environment resulted in Guizhou's systematic carrying out of ecological restoration projects, which by 2012 increased the province's forest coverage rate to 47 percent. Soon afterwards, guided by the "lucid waters and lush mountains are invaluable assets" concept, the country combined ecological protection with economic development. By 2018, Guizhou's wooded areas had reached 10 million hectares, and its forest coverage rate had risen to 57 percent.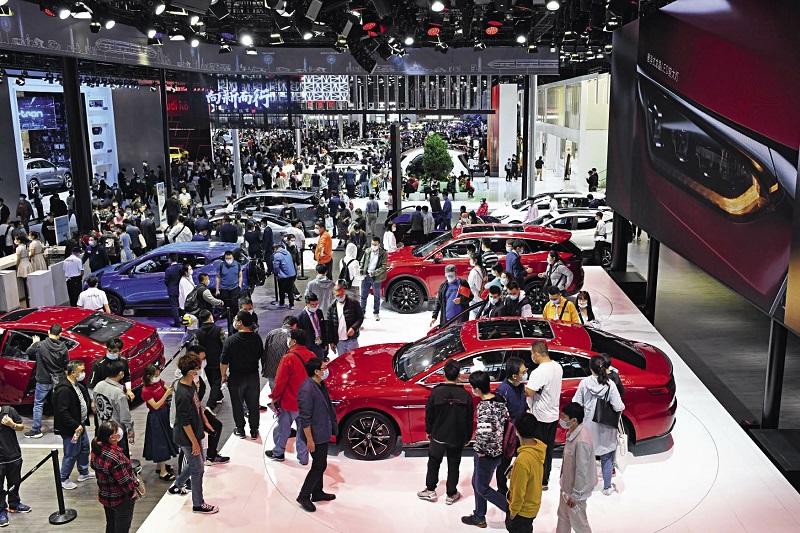 At the 2020 Beijing International Automotive Exhibition, China's car maker BYD showcases its electric cars and blade battery technology.
New Development Concept Ushers in New Green Life
Guided by the new development concept, China's interacting ecological protection and economic development can bring mutually beneficent results. It was in August 2005 that Xi Jinping, in his capacity at that time of secretary of the CPC Zhejiang Provincial Committee, first raised the "Lucid waters and lush mountains are invaluable assets" concept, while inspecting Yucun Village of Ji'an County, Huzhou City, east China's Zhejiang Province. At its fifth plenary session held in October 2015, the 18th CPC Central Committee called for "development that is innovation-driven, coordinated, green, oriented toward global progress, and beneficial to all." Green development has since been given even greater priority. On May 18, 2018, at the National Conference on Eco-Environmental Protection, Xi clarified the relationship between economic development and eco-environmental protection, expounding on the logic that to protect the eco-environment is to protect productive forces, and that to improve the eco-environment is to develop productive forces. He also pointed out a new way to realize the balance and mutual promotion of economic development and eco-environmental protection.
To take Yucun Village as an example, in the 1990s, this mountainous village made economic gains from exploiting local resources and developing highly polluting industries like cement production. Gritty air and polluted rivers detrimental to local people's life quality were consequently the price it paid for economic development. Later, Ji'an County embarked on a new development path of improving the eco-environment and tapping into the subsequent economic gains thus achieved. During the years following Xi's inspection, Yucun shut down local mines and cement plants, relocated its industrial park, and started developing rural tourism. In 2018, the village's net yearly per capita income reached RMB 41,378 — RMB 10,000 higher than the average among Huzhou's rural residents, and about RMB 14,000 higher than the provincial average.
The green development concept has also guided and facilitated China's poverty alleviation campaign. Eco-environmental protection, green industry, and ecological immigration have indeed brought economic gains to the formerly poor population. A range of environmental compensation policies have been introduced, enabling environmental protection to generate economic benefits. According to National Forestry and Grassland Administration data, China's forest scenic spots received more than 1.6 billion tourists in 2018, raking in a comprehensive social output of nearly RMB 1.5 trillion. A People's Daily report revealed that 350,000 registered impoverished households had benefited from forest tourism, increasing their annual income by RMB 3,500 in 2016. Tourism has indeed lifted large numbers of those registered poor people out of poverty, accounting for 17-20 percent of the national total.
Sanhanba is a good example of this. Once Beijing's nearest sand source, the forest farm has extended its forest area to 74,700 hectares, and its forest coverage rate has risen to 80 percent. The farm's forest resources have an estimated value of over RMB 15.3 billion. Meanwhile, annual visitors to Saihanba National Forest Park soared from 90,000 in 2001, when it was established, to 600,000 in 2017, and the annual tourism income increased from RMB 1.04 million to RMB 62 million. Tourism has also provided 25,000 jobs to local people, with accumulative comprehensive social benefits of up to RMB 3 billion. This has appreciably boosted the local economy and highlighted tourism's role in helping lift people out of poverty.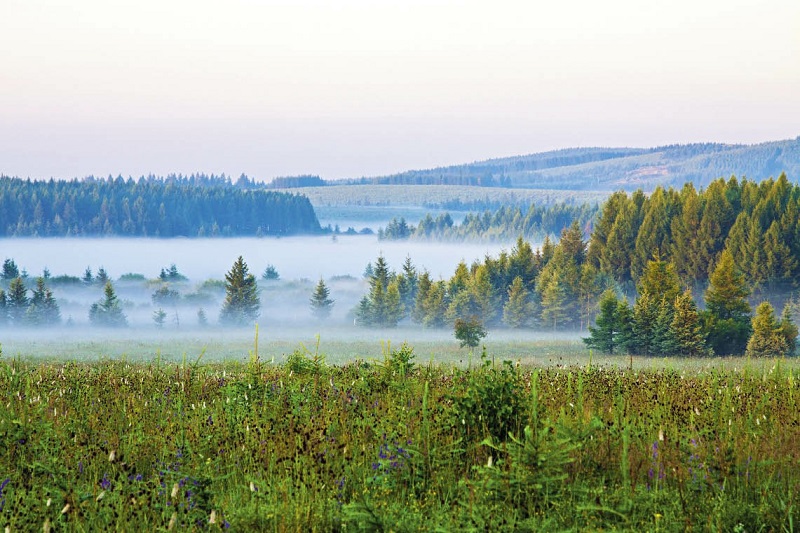 Stretches of lush green trees in Saihanba Mechanical Forest Farm.
According to the Chinese Academy of Forestry, Saihanba's planted forest can absorb 747,000 tons of CO2, and release 545,000 tons of oxygen, thus meeting the oxygen needs of 1.99 million people for a year. Meanwhile, as the habitat of 261 species of terrestrial wild vertebrates, 32 of fish, 660 of insects, 179 of macrofungi, and 625 of plants, the forest constitutes an animal and plant gene bank.
In recent years, Saihanba has also explored ways of establishing a market-oriented, new compensation mechanism that benefits the forestry ecology by transforming its ecological assets into economic gains. Carbon sink trading, whereby afforestation or forest protection entities sell carbon dioxide quotas calculated according to a forest's carbon absorption capacity, and carbon-emitting entities buy a certain amount of such quotas to offset their emissions, is one such endeavor.
In August 2016, the country approved Saihanba's first carbon sink trading project. Involving 182,800 tons of CO2, the project encompasses China's largest amount of CO2 for a single project. Its completion will, according to Saihanba Mechanical Forest Farm, generate an income of several hundred million yuan.
Meanwhile, China has proactively participated in international cooperation in climate change and honored its commitments. The country signed the United Nations Framework Convention on Climate Change in 1992, the Kyoto Protocol in 1998, and the Paris Agreement in 2016. China's latest commitment was manifest in President Xi's declaration last September that the country will attain a CO2 emissions peak by 2030 and carbon neutrality by 2060. This has considerably bolstered the international community's confidence in coping with the challenge of climate change.
Currently still the world's largest source of human-produced carbon dioxide, in addition to its efforts to expand land carbon sinks through afforestation and so hit the target of carbon neutrality, China must also push forward its industrial structure transformation and build up its new energy system. The country has been making progress in this regard.
In fact, as the green development concept becomes espoused by growing numbers of Chinese people, many Chinese cities previously plagued by smoggy days are now growingly beguiled by blue skies. This change is thanks to the country's implementation of a wide range of green development policies. These, and other such measures, bolster the Chinese people's confidence in China's ultimate attainment of carbon neutrality.