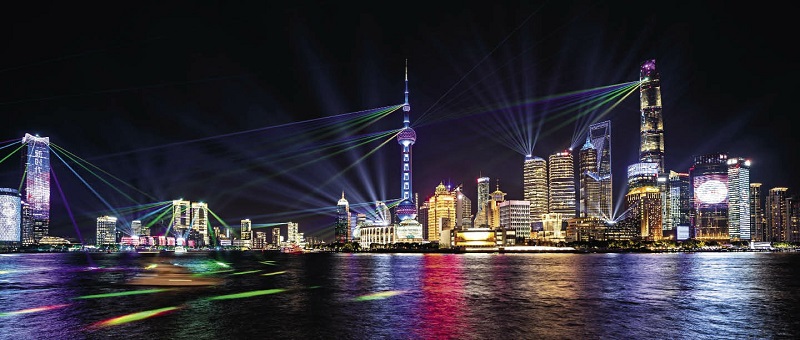 The light show held in honor of the third China International Import Expo is put on in Lujiazui, Shanghai, illuminating the two banks of the Huangpu River in early November 2020.
IN response to changes in China's development level, environment, and conditions, Chinese President Xi Jinping recently called for the country to nurture a new development pattern that takes the domestic market as the mainstay while letting domestic and foreign markets boost each other. This call reflects a strategic choice China has made to reshape its advantages in international cooperation and competition. As the new development pattern underlines domestic and foreign markets reinforcing each other, it will be impossible to achieve without high-standard opening-up, which creates the conditions, provides the driving force, and serves as safeguards for sound development.
Over the past 30 years, Pudong has achieved remarkable development through reform and opening-up. The former fishing hamlet is now an international metropolis with a booming economy – its GDP has soared from RMB 6 billion in 1990 to RMB 1.27 trillion in 2019. It has built a modern industrial system that is based on the modern service industry, spearheaded by the strategic emerging industry, and backed by the advanced manufacturing industry. In the coming years, Pudong will build a new development pattern with domestic market as the mainstay and domestic and international markets mutually reinforcing each other. It will continue to advance innovative development and reform and become more engaged in international cooperation and competition.
Laying a Firm Material Foundation
During its reform and opening-up, China has focused on economic development as the central task, unleashing and developing productive forces, and made tremendous progress in social and economic development. The Chinese people are better-off, and the Chinese nation has become more prosperous and stronger as a result. These lay a solid material foundation for creating a new development pattern.
Economically, China's GDP grew from RMB 367.9 billion in 1978 to RMB 99.1 trillion in 2019, comprising 1.8 percent and 17 percent of the world's total respectively. During this period, the value of China's goods imports and exports grew from US $20.6 billion to US $4.5 trillion, influx of foreign direct investment in China exceeded US $2.2 trillion, and China's outbound investment added up to nearly US $2.2 trillion. As for industries, China has built up the most modern industrial system in the world. Its output of main agricultural products is among the largest globally, and the services sector is playing a bigger role in fueling economic growth. In the field of infrastructure, China has built the world's most advanced railway network and most developed expressway network. Strong headway has also been made in the construction of highways, pipelines, power grids, as well as water and air transport, information, and logistics infrastructure.
The days of lacking life's basic necessities have become a memory of the past for the 1.4 billion Chinese people. With the poverty headcount ratio at 0.6 percent among rural residents, the country has clinched a decisive victory in combating poverty. Today China is the world's second largest economy, largest manufacturer, largest trader in goods, second largest consumer of goods, and No. 2 destination for foreign investment. Its foreign exchange reserves have been the world's largest for many years. China is therefore well positioned to reach a higher development level.
China however remains the largest developing country on earth with many prominent problems holding back its development that are yet to be solved. These include inadequate internal forces driving economic growth, insufficient innovation capacity, and gaps to be closed in development quality and efficiency. All in all, there are many challenges to overcome while China strives to meet its people's ever-growing needs for a better life, and the foundation for building the new development pattern is not solid enough. The key to solving these problems lies in further development, which can only be achieved in an open environment. China's experience of opening-up proves that openness brings about progress, while isolation can only make a country fall behind. In a time of greater connectivity, the interests of all countries are intertwined and their fates interdependent. Opening-up is the right policy to strengthen a country, boost its development, and enrich its people. Now when China is seeking higher-quality development, high-standard opening-up is needed more than ever before.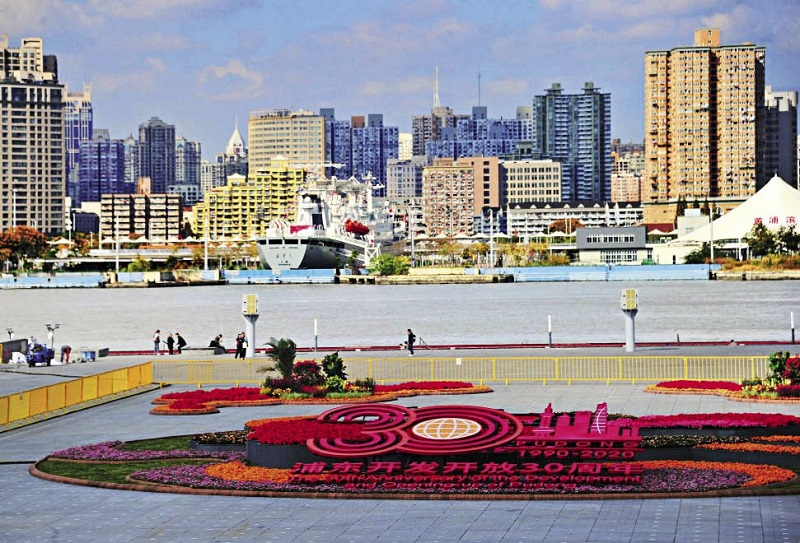 A large public sculpture is set up on November 13, 2020, at the Shiboyuan Plaza by the Huangpu River in Shanghai to celebrate the 30th anniversary of the opening-up of Pudong.
Boosting Driving Forces
In recent years, more and more countries are grappling with low growth, inflation, and interest rates but growing debts, large income gap, and high asset prices. Global economic growth has repeatedly fallen short of expectations. Under the COVID-19 pandemic, risk factors that hold back economic growth are continuing to pile on, plunging many countries into recession. The global economy is in the doldrums.
In its updated World Economic Outlook Report released in October, the IMF projected global growth to be -4.4 percent this year, contracting 7.2 percentage points from last year. In this context, it is challenging to invigorate the domestic market and even more so to create dual development dynamics on domestic and international markets. To create new driving forces for its development, China seeks to push forward the building of an open world economy through high-standard opening-up, which will advance China's supply-side structural reform and boost its high-quality development.
In both economic theories and practices of the past and through the contemporary age the world over, opening-up is believed to be a key path to and the engine of social-economic progress and national development. It is particularly true for China. In theory, high-standard opening-up has enabled China to deeply engage in the international division of labor and share in the "treasure by foreign trade," creating a situation in which both China and the rest of the world gain. It also boosts technological innovation, facilitates breakthroughs in technology bottlenecks, enhances Chinese industries, products, and the whole country's standing on the industrial chain, and forges an interdependent relationship between China and the rest of the world.
A salient example is Shenzhen, the special economic zone established 40 years ago as the forerunner and testing ground of China's reform and opening-up. From 1980 to 2019, the city's GDP soared from RMB 270 million to RMB 2.7 trillion, ranking fifth among all Asian cities, at an annual growth rate of 20.7 percent by average; its fiscal revenues increased from under RMB 100 million to RMB 942.2 billion; import and export surged from US $18 million to US $431.5 billion, gaining 26.1 percent year on year. The per capita disposable income of its residents reached RMB 62,500 in 2019, 31.6-fold of what it was in 1985. Over a relatively brief period of just 40 years, Shenzhen has been transformed from a backward coastal town where people struggled to meet the basic needs of life to a globally famed metropolis where life is better-off by every measure.
In recent years, protectionism, unilateralism, and populism have reared their ugly heads, throwing a wrench into the process of economic globalization. But in the long run, globalization will remain the trend of history, so is cooperation among all countries with due division of labor for mutual gains. Despite the deteriorating external environment, China has garnered rich experience in reform and opening-up, and is unleashing more vigor for development in the new era. In its high-standard opening-up, China will further strengthen its advantageous industries and products through technical innovation and scale expansion to make them irreplaceable elements of the international industrial chain, thus invigorating both domestic and international markets.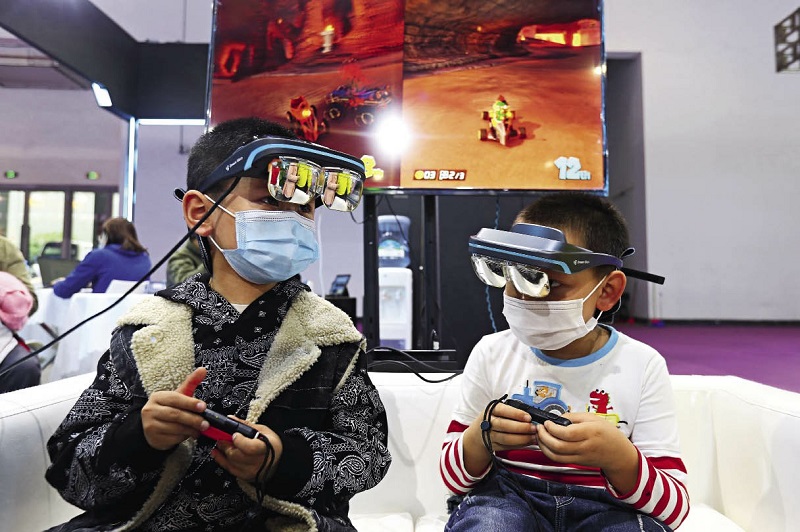 Two children playing VR games at the 2020 VR/AR Product and Application Exhibition held at the Nanchang Greenland International Expo Center in Nanchang City, Jiangxi Province on October 18, 2020.
Enhancing Institutions
Increasing applicability of international institutions and rules is a key feature of economic globalization of our time. In this era of greater interdependence among countries, acts of pursuing hegemony or bullying will not solve the existing problems confronting the world, but instead will create more problems and difficulties. In his remarks at the High-level Meeting to Commemorate the 75th Anniversary of the United Nations, Chinese President Xi Jinping said, "Relations among countries and coordination of their interests must only be based on rules and institutions; they must not be lorded over by those who wave a strong fist at others." This is the right approach to addressing global issues and challenges.
A pressing task for high-standard opening-up is to shift from opening-up only based on flows of goods and factors of production to opening-up based on rules and related institutions. During this process, China will continue to be actively engaged in reform and development of the global governance system, play a leading role in the making of international rules, seek more say in international institutions, and thereby create a more enabling international institutional environment for its new development pattern.
Institutions are crucial for the overall, long-term, and stable development of China. Reform and opening-up in the new era puts more emphasis on institutional development, with more reform tasks targeting deep-rooted institutional issues. This requires better top-level design and more systematic, holistic, and coordinated measures in reform. In building the new development pattern, China must adhere to and improve upon the socialist system with Chinese characteristics, show greater courage, and introduce more measures to remove deep-rooted institutional and operational barriers.
Concerning the basic economic system of socialism, China will see that the market plays the decisive role in allocation of resources, the government plays a better role, and an institutional environment of predictability and long-term stability is created. On protection of intellectual property and property rights, China will establish a high-standard market system, improve the system of fair competition, and spark the enthusiasm of market players.
During recent years, China's business environment has undergone steady improvement. In June this year, the National Development and Reform Commission and the Ministry of Commerce released two revised negative lists about foreign investment market access — one for the piloted free trade zones (FTZ) and another for the rest of the country. They contained 30 and 33 items respectively, compared with 37 and 40 in the 2019 editions. The removal of every item on the negative lists means further opening up of one more sector to foreign investment.
To sum up, in order to build more mature institutions, China needs to draw on successful results of institutional innovation of other countries and also stay grounded in domestic conditions. In the coming years, it will better align itself with international rules and institutions by promoting high-standard opening-up, find new inspiration and driving force for domestic reform, and increase institutional support for building the new development pattern.