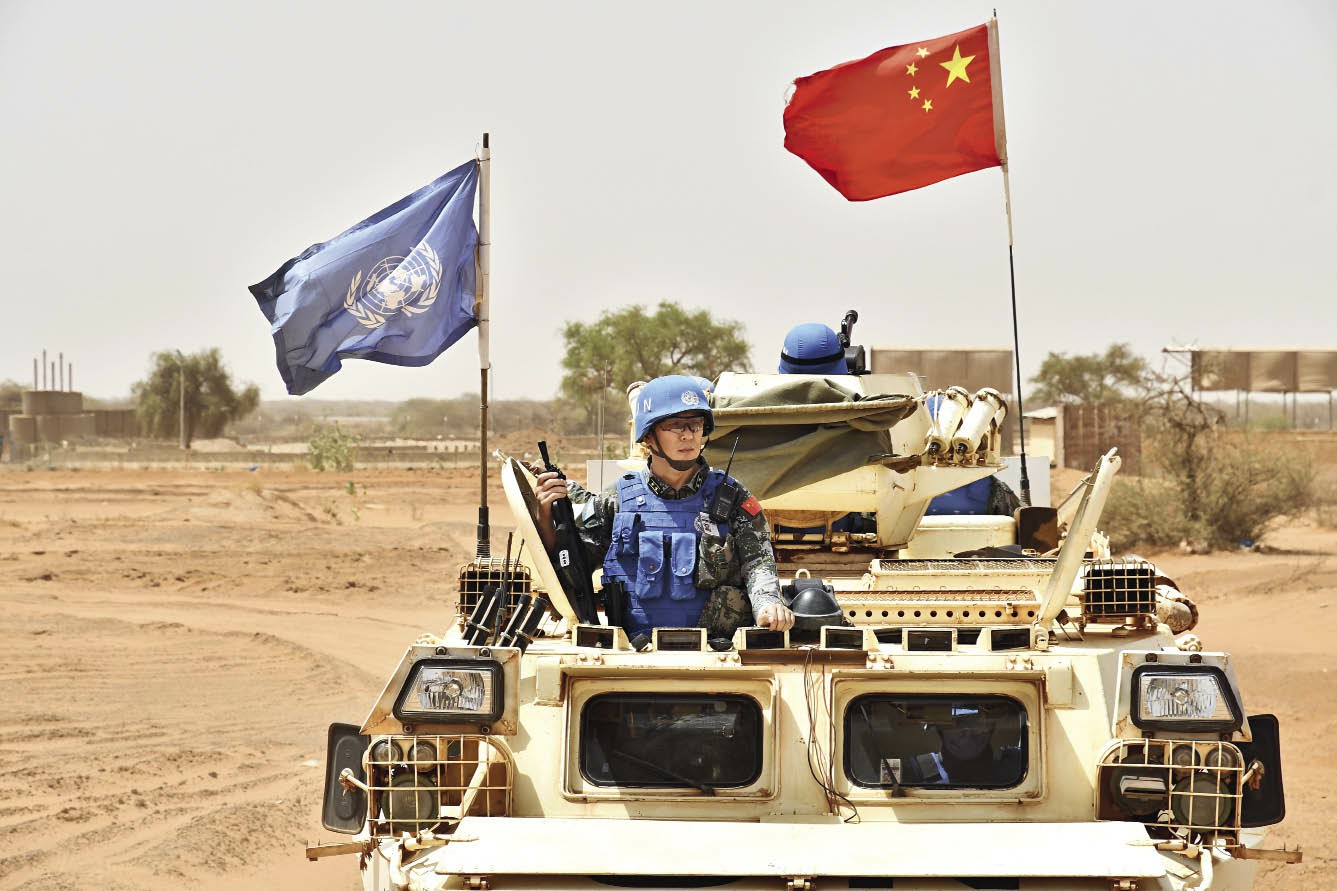 Liu Yong on patrol in the outskirts of a super camp.
THE year 2020 marks the 75th anniversary of the founding of the United Nations (UN), the 20th anniversary of Chinese police's participation in UN peacekeeping operations, and the fifth anniversary of President Xi Jinping's attendance at the UN Leaders' Summit on Peacekeeping.
In January 2000, China sent the first group of 15 police officers to the UN's peacekeeping operation in East Timor. After 20 years of dedicated work, Chinese police officers have become important contributing forces of the UN peacekeeping operations.
Always Prepared
Liu Yong is the commander of the seventh contingent of Chinese peacekeepers to Mali. It was the third time he was on peacekeeping missions. From Darfur, Sudan, to South Sudan and Mali, Liu has worked his way up through the ranks by fulfilling different tasks and became the commander of the contingent from the head of an engineering squad.
In Nyala, Darfur of Sudan, the engineering squad drilled a 100-meter deep well in granite ground within a few weeks. This rapid response effectively brought much needed water to the local community.
In Mundri of South Sudan, Liu learned first-hand the harm conflicts have on people's lives. One day, clashes between government and non-government forces broke out less than one km from the camp of Liu and his fellow soldiers. On the early morning after the clashes, local civilians took advantage of a truce to seek refuge in the camp out of trust in Chinese peacekeepers.
The most dangerous place in Liu's view was Mali. "In addition to clashes between local government and non-government forces, terrorist attacks were also frequent. The terrorists carried out indiscriminate attacks on peacekeepers and they did not stop just because we are Chinese troops. So we had to be vigilant and stay alert," said Liu.
According to Liu, over the 456 days on mission in Mali, his troops kept alert 24 hours a day. "Terrorists may attack at any time. Each guard post was responsible for an area of 300 to 500 meters wide and about one kilometer long. To guard such a large area, our sentries must keep sharp," said Liu.
On the afternoon of July 22, 2019, the French military camp near the city of Gao, Mali, was attacked by terrorists. Two terrorists detonated explosives loaded in a pickup about 800 meters to the northeast of the UN camp. About 30 French military personnel were injured. Liu responded swiftly. He ordered all personnel to enter the covered dugout and close the camp gate, and get ready to fight.
"It was a huge test to soldiers who grew up in a peaceful environment," said Liu.
"In the face of the dangerous and complex environment, we had to be hard on ourselves and take every moment as if we were in an actual combat situation," he added. "We must always be ready for battle."
The sudden outbreak of COVID-19 complicated the already challenging situation for Liu and his troops. As security forces, they were responsible for rapid reaction support, guarding and defending the Super Camp in the eastern combat zone of the UN Multidimensional Integrated Stabilization Mission (MINUSMA) in Gao, Mali, and patrolling the perimeter. To rapidly respond to any emergency, peacekeepers have to wear heavy body armor and face masks in sizzling heat. "We had to keep vigilant against both terrorists and COVID-19."
Thanks to the painstaking efforts of Liu and his troops, the Chinese peacekeeping security detachment became the only one of the MINUSMA units that did not suspend its mission due to the pandemic.
During their peacekeeping duties in Mali, Chinese peacekeepers also participated in the building of the local community.
In a run-down primary school, teachers and students proudly fly the Malian national flag despite ongoing armed conflicts. Liu and his troops were deeply moved by the scene. "In such a war-torn country, people showed such strong patriotism. It is admirable," he said. The Chinese troops made a five-meter-long steel flagpole and presented it to the school along with a new Malian flag with a solemn flag-raising ceremony.
When they headed home after their stint, teachers and students in the school held a special ceremony for them. A local interpreter told Liu that the ceremony was the Muslim way to show appreciation and best regards.
Liu said nothing made them more proud than to be recognized by the local people.
As UN Under-Secretary-General for Peacekeeping Operations Jean-Pierre Lacroix said, "Chinese peacekeepers have played a valuable role in several UN operations over the past 30 years."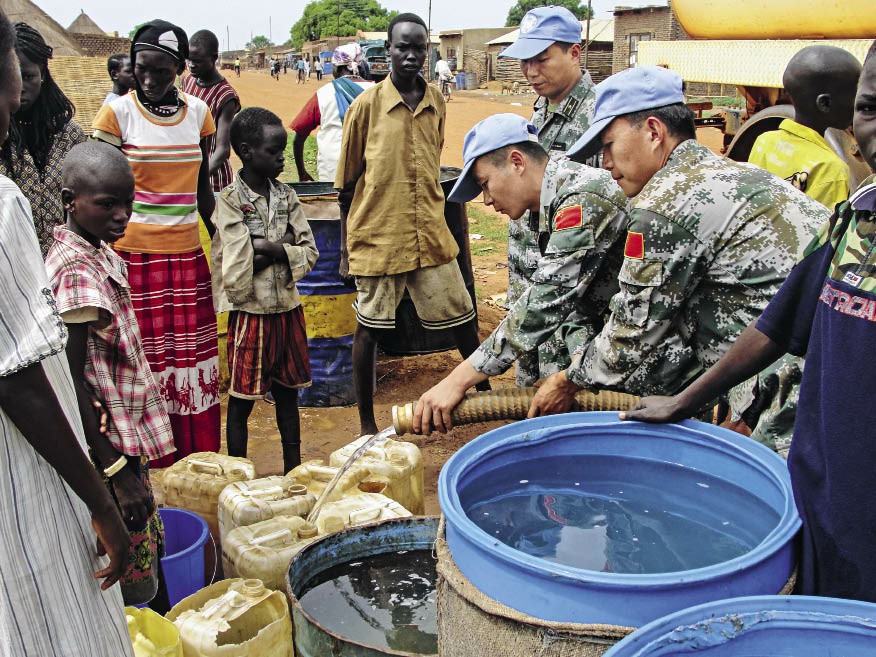 The engineering squad of the Chinese peacekeeping troops sent to South Sudan arrive in Wau City to deliver clean drinking water to the local people to help ensure their basic needs for daily life on May 28, 2010.
Safeguarding World Peace
Over the past 20 years, Chinese police have made their mark in UN peacekeeping history. From East Timor to Bosnia and Herzegovina, Haiti, and South Sudan, they have helped rebuild people's homes after armed conflicts in nine countries on four continents. From individual officers to contingents, China has been making increasingly greater contributions to the UN peacekeeping endeavor. Now, it is capable of sharing its peacekeeping experience and contributing its wisdom in that regard, making positive contributions to building a community of a shared future for humanity.
Since first putting on their blue berets, Chinese peacekeepers have shown the world that China has taken an active role in maintaining international peace.
In October 2004, a Chinese anti-riot police squad arrived in Port-au-Prince, Haiti's capital. On the afternoon of January 12, 2010, a 7.3-magnitude earthquake struck Port-au-Prince, causing the collapse of the UN peacekeeping headquarters building there. Eight Chinese police officers laid down their lives. However, Chinese police didn't stop performing their duties. They wiped off their tears, overcame incessant aftershocks, and devoted themselves to disaster relief and maintaining social stability.
In January 2013, an armed conflict broke out in Rumbek, South Sudan. Chinese peacekeepers, along with the UN peacekeeping force, braved a hail of gunfire and moved civilians to safe places.
In 2014 and 2015, Liberia in West Africa was hit hard by the Ebola epidemic. Chinese peacekeepers, while actively carrying out peacekeeping operations, worked with local government and people to fight the epidemic.
In December 2016, China established the world's first standing peacekeeping police squad, marking a new milestone in the peacekeeping endeavor of a major country.
Up to now, China has dispatched more than 2,600 police officers to the UN peacekeeping mission, eight of which have sacrificed their lives for the cause of world peace. There are still 33 officers fulfilling peacekeeping duties in South Sudan, Cyprus, Darfur, and the UN headquarters.
China is "firmly committed to peaceful development and will always safeguard world peace." In September 2015, Chinese President Xi Jinping attended the Leaders' Summit on Peacekeeping and announced to the world six measures to support the UN in improving and strengthening its peacekeeping operations, including joining a new UN Peacekeeping Capability Readiness System, taking the lead in setting up a standing peacekeeping police squad, and training 2,000 peacekeepers from other countries.
The performance of Chinese peacekeepers has won high recognition from the UN. On April 9, 2018, UN Secretary-General Antonio Guterres said during a visit to the China Peacekeeping Police Training Center in Beijing that China has not only sent a large number of peacekeepers to world hotspots, but it is also the country that invests the second largest amount of money in global peacekeeping endeavor. China has not only committed itself to participating in all UN peacekeeping efforts, but has also taken concrete actions.
In June 2018, Executing Deputy Minister of Public Security Wang Xiaohong made China's stance on peacekeeping clearer at the Second UN Chiefs of Police Summit at the UN Headquarters in New York. China will get more actively involved in peacekeeping, recommend more talent to the UN, and share its experience with all countries in managing peacekeeping teams so as to build a safe global community, he said.
At the critical moment in the global fight against the pandemic, the Chinese government has decided to send a police squad on peacekeeping mission to Abyei in Africa. The members are now ready to set off.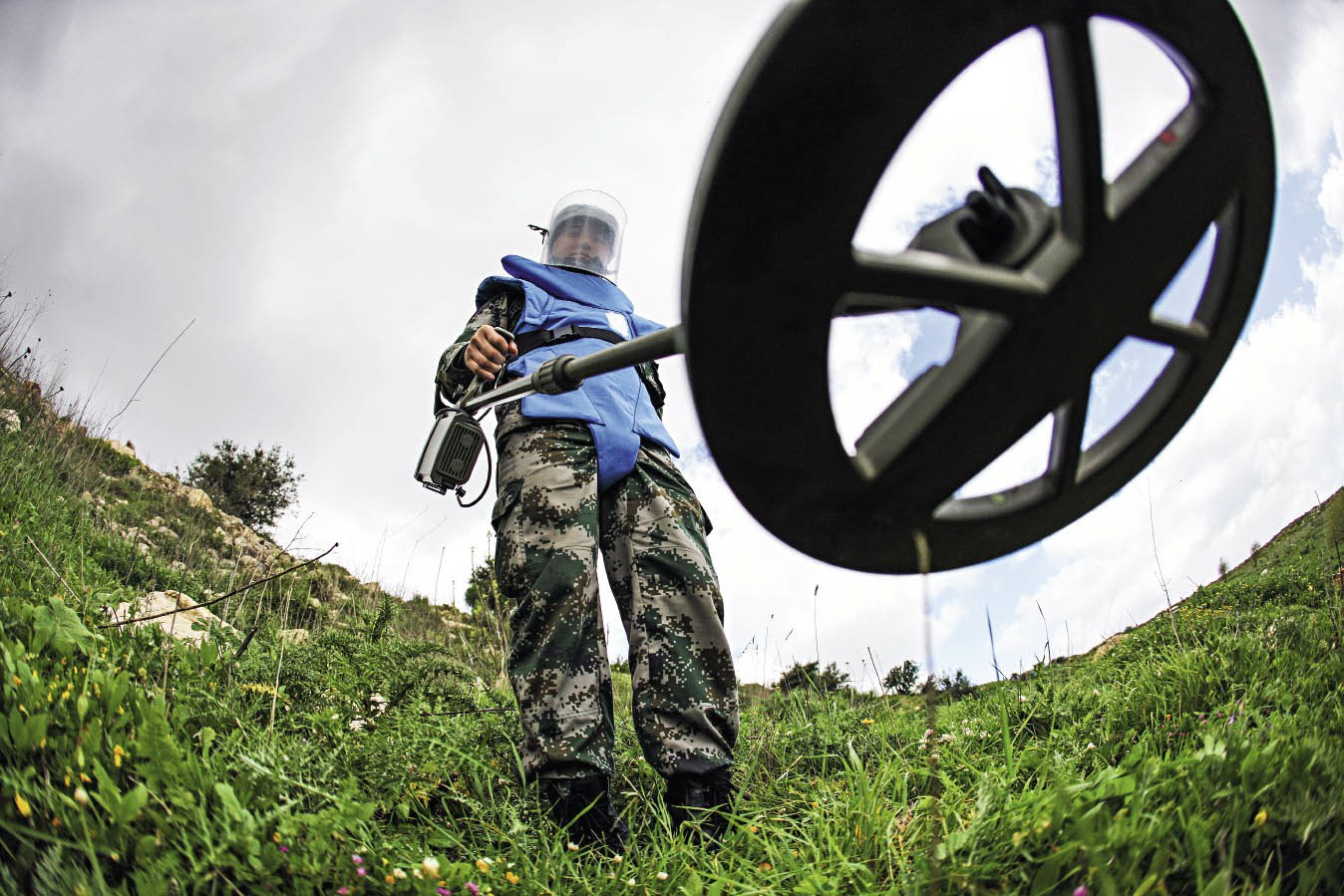 Chinese soldiers clear the area of landmines in Lebanon.
Staying Committed
A permanent member of the UN Security Council, China has been championing the building of a community of a shared future for humanity. It has been following the principle of global governance featuring extensive consultation, joint contribution and shared benefits and working as an important participant and firm supporter of UN peacekeeping operations. Tijani Mohammed-Bande, president of the 74th Session of the UN General Assembly, said that China is playing a bigger role in UN peacekeeping operations.
Over the past 20 years, Chinese police have shared their experience and conflict solutions with the international community. At the UN headquarters, they participated in the design, formulation, and revision of UN training programs, policies and regulations, and strategic plans regarding peacekeeping operations. In East Timor, they applied Chinese experience in resolving community disputes. In Kosovo, they helped improve police services for refugees, and carried out humanitarian assistance, making important contributions to the peace process in Kosovo. In Liberia, Chinese police explored and established a number of empirical practices, including information-technology-driven peacekeeping police service, a joint military-police service mechanism, equipment and materials management, and environmental regulations for the camps. In Sudan, Sun Dongxing, a Chinese peacekeeping police officer, donated his savings and funded the building of a police station. The local government named it Dongxing Police Station.
China attaches great importance to cooperation with the UN and other international partners. It has co-organized peacekeeping training, and given priority to programs for African countries. Capacity building has been a focus in China's peacekeeping agenda. During the past five years, the country has trained more than 1,000 peacekeeping police officers from different countries.
"Peacekeeping is an important part of China's participation in international police cooperation," said Liao Jinrong, director of the International Cooperation Bureau of the Ministry of Public Security. "Chinese police will actively participate in international law enforcement cooperation, and take part in more and higher-quality peacekeeping operations."