EOPLE'S livelihood is always the top priority for the Chinese government. It is of particular concern now due to the ongoing COVID-19 pandemic. At this time when economic development is plagued with unprecedented challenges, how to ensure people's livelihood has become an important topic to deputies to the National People's Congress (NPC) and members of the National Committee of the Chinese People's Political Consultative Conference (CPPCC) in 2020.
The harvest season approaches as fields of wheat are turning golden in Chang'an District of Xi'an on May 23, 2020.
Convenient Online Medical
Consultations
"My proposal to this year's NPC session is to build online hospitals to optimize the medical system as soon as possible," said Zhou Songbo, an NPC deputy who is a rural doctor in Zhuozhou City of Hebei Province. On May 20, after registering for the third session of the 13th NPC in Beijing, he distributed a stack of paper printed with the WeChat two-dimensional QR code of his hospital to his fellow deputies for use in the case they needed medical consulting.
Over the past few decades, Zhou encountered many elderly patients who could neither tell the doctor the nature of their illness clearly, nor understand the doctor's advice, which distressed both doctors and patients.
"I then came up with a solution. I printed the WeChat QR code of our hospital on a piece of paper and asked the elderly to give it to their children. Through scanning the code, their families could get in touch with the hospital and then report the elderly person's health conditions in detail through a video call with our doctors. In that way, I'm able to do more remote consultations," Zhou said.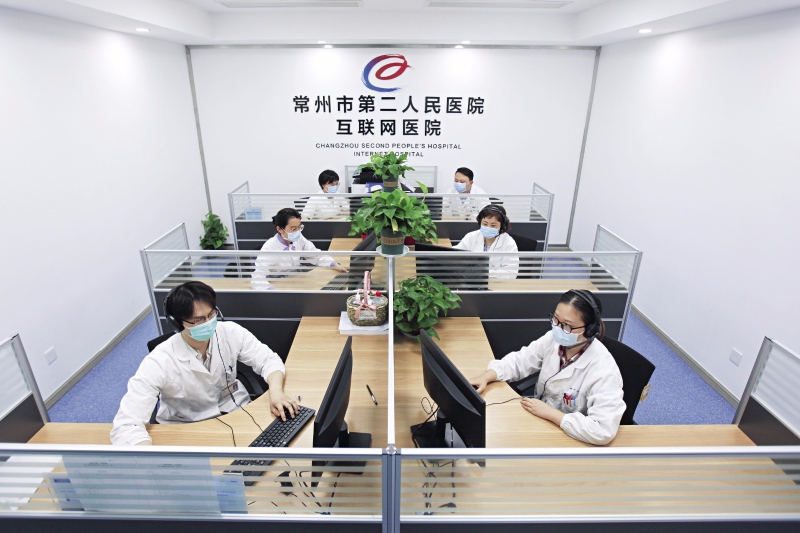 Doctors communicate with patients via video at the Internet hospital of the Changzhou No.2 People's Hospital in Changzhou City, east China's Jiangsu Province on May 11, 2020.
Zhou explored delivery of online medical services when he was attending the NPC session in 2018 as a way to serve patients back in his hometown. He said remote video and telephone consultations played a big role during the novel coronavirus pandemic.
"During the outbreak of COVID-19, for villagers with chronic diseases, online consultations can lower the risk of people getting infected. At peak times, we received more than 100 phone calls a day from patients," said Zhou. He organized a medical team of 15 doctors from his hospital to provide 24-hour online consultation services for free.
Statistics show that during the COVID-19 pandemic, at least 10 online medical platforms in China launched special online consultation services, and more than 200 public hospitals carried out free online consultations, diagnosis and treatment of suspected COVID-19 cases. More than 100,000 doctors were mobilized and more than 4 million people were helped. Since China's first online hospital appeared in December 2015 in Wuzhen, Zhejiang Province, the online healthcare industry has started to boom. Online medical platforms, such as Haodaifu Online and DXY, have all provided free consultations, psychological counseling and other services, which are widely praised by patients.
Recently, the National Health Commission (NHC) issued a number of documents, stressing the need to make full use of online medical services and asking all levels of government to be responsible for real-time supervision of these services.
At present, Jiangsu, Shanghai, Zhejiang and other regions have included "Internet Plus medical services" in their medical insurance payments, and are upgrading their information systems.
Ensuring a Stable Food Supply
On May 22, China's Minister of Agriculture and Rural Affairs Han Changfu said, "The ministry will spare no effort on grain production, especially amid the spread of the global pandemic and the increasing downward pressure on the economy. In the past months, we did a good job in the prevention and control of the pandemic and the spring tillage production."
Ensuring a steady supply of food produce has always been an important task for the government. In the Wumart supermarket in Haidian District, Beijing, the shelves are full of grains, meats, fruits, and vegetables.
"Pork prices have been dropping, and the daily supplies are abundant here in the supermarket. Every day, I prepare all kinds of food for my family," said a local shopper. With the gradual implementation of measures introduced by the government to improve people's livelihood, the prices of pork and vegetables have remained stable and the production and supply chain has also improved.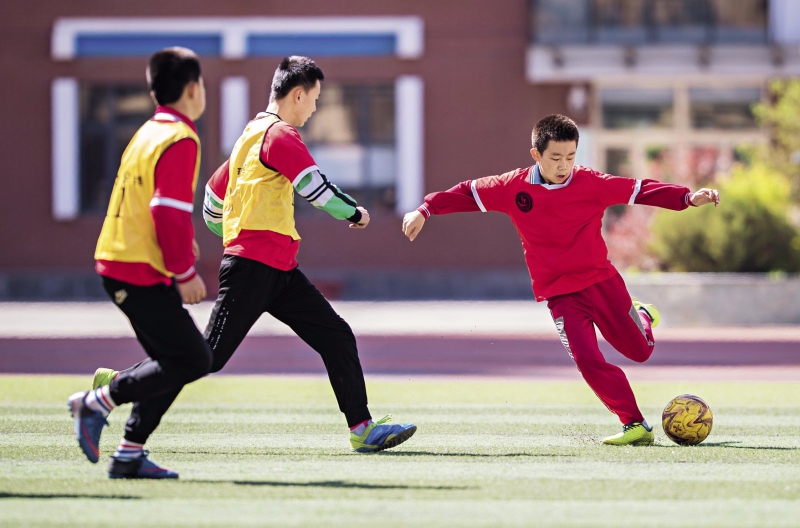 Students at the Hengchangdian Lane Primary School in Yuquan District of Hohhot play soccer during a physical education class on May 18, 2020.
According to Wei Baigang, director of the Development and Planning Department of the Ministry of Agriculture and Rural Affairs, since early 2020, against the impact of the COVID-19 pandemic, China's rural economy has been stable on the whole, and the supply of fresh agricultural products has gradually increased, with prices basically falling back to the normal level. However, due to the ongoing pandemic, the ministry will closely monitor the global agricultural market to make agricultural trade play a role in stabilizing the domestic market, promoting industrial development and increasing farmers' income.
At the same time, local governments have introduced policies to boost consumption by issuing targeted vouchers. Nanjing, Hangzhou, Ningbo, and more than 30 other cities have introduced consumer vouchers ranging from a few million yuan to hundreds of millions of yuan, achieving effective results. All the vouchers are digital, and catering, retail, sports, and entertainment are the major areas where these consumer coupons can be used. Hangzhou, according to a CGTN report on April 27, issued a total of RMB 400 million of shopping vouchers from March 27 to April 10, and 30 large shopping malls in downtown Hangzhou have since seen their trading volume increasing from RMB 40 million to 60 million per day.
Making Educational Resources
Accessible to All Children
Zhu Yongxin is a member and deputy secretary-general of the CPPCC National Committee and full-time vice chairman of the Central Committee for the China Association for Promoting Democracy. While attending the third session of the 13th CPPCC National Committee, he said, "The whole world has conducted an unprecedented large-scale online education experiment during the COVID-19 pandemic, and online education has been seriously tested. Whether it comes to hardware construction, resource integration, quality evaluation or faculties, online education has obviously lagged behind the current requirements."
The pandemic has pressed the fast forward button for online education. In order to stop the spread of the pandemic in campuses, schools and colleges across the country have suspended on-campus classes, and tens of millions of teachers across the country have become online educators. Many educational institutions have also seized the opportunity to launch livestreaming and recorded video classes to capture the market.
Yu Minhong, founder of the New Oriental Education & Technology Group, said that within a week after the outbreak, his company had transferred nearly 2 million students from 87 schools and subsidiaries to online teaching. According to another report released by the China Internet Network Information Center (CNNIC) on April 28, the number of online education users in China reached 423 million by March 2020, up 110.2 percent from the end of 2018, accounting for 46.8 percent of the country's total Internet users. Of these, 265 million are school students who have switched to online courses.
As hundreds of millions of students and teachers across the country flock to livestreaming platforms, some new problems have emerged. Zhu observed that there are gaps in the infrastructure and teaching resources of online education across the country, and the level of online education varies greatly among different regions. In poor, remote areas where digital broadband is not available, the cost of Internet access is high for poor families who need extended use of the Internet. Therefore, at this year's CPPCC session, he put forward a free Internet access for online learning proposal, hoping to promote educational equity.
Education is closely related to the development of a nation. In his 2020 government work report, Chinese Premier Li Keqiang stressed the need to "promote fair and quality education," to strengthen the development of boarding schools in towns and counties, provide quality special needs education and continuing education, support private schools and keep them well regulated, and help private kindergartens overcome their difficulties.
Garbage Classification to Be Mandatory
"At the hotel where the Guangdong delegation attending the NPC annual session stays, you can see the Beijing municipal guide to the classification of household garbage and garbage cans," said Wang Xiaohong, an NPC deputy and deputy dean of the School of Environmental Science and Engineering at Guangzhou University.
"The hotels accommodating the participants of the NPC and CPPCC sessions are taking the lead in garbage classification. The citizens will surely follow suit," said Wang.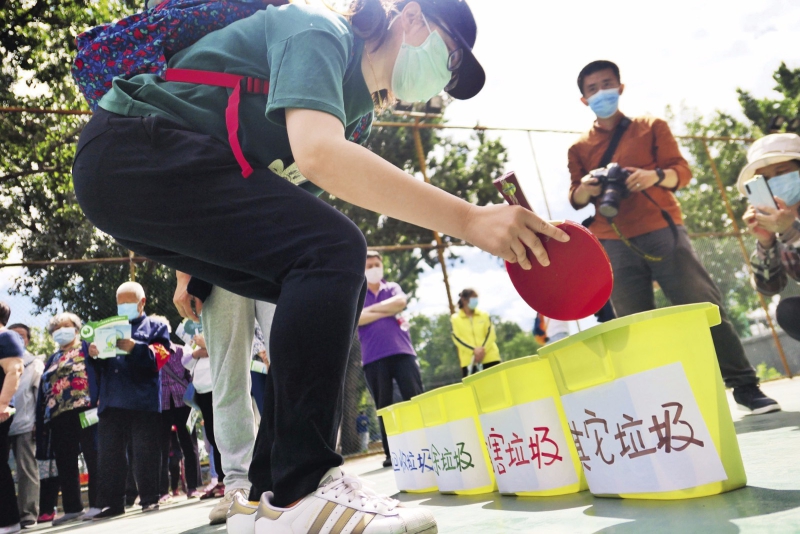 On May 23, 2020, a garbage classification through fitness activity is held in a basketball court in the Sikuaiyu community in Beijing to spread garbage sorting knowledge.
With the prevention and control of the pandemic becoming the routine practice in Beijing, various preparations for garbage classification have also been under way. Since May 1, Regulations on the Management of Household Waste in Beijing have been put into effect. Following the example of Shanghai, Beijing is providing functional mechanisms for mandatory garbage classification buttressed by rule of law.
China's garbage classification began in the 1990s, with Beijing as one of the pilot cities. In December 1996, the Dacheng Lane community committee of Xicheng District in Beijing posted a letter to its residents, calling on them to put garbage into different categories. It became the first garbage classification pilot community in Beijing. Currently, the community is actively implementing the Regulations on the Management of Household Waste in Beijing.
New technologies make garbage classification intelligent. "The introduction of smart waste sorting and recycling equipment into the community is in line with the development trend of Internet Plus, but the situation of each region and community is different, so we should take measures according to local conditions," said Wang Xiaohong. In the Xinyi Jiayuan community of Dongcheng District in Beijing, residents told
China Today
, "After the intelligent sorting and recycling equipment came into the community, garbage classification becomes easy. Besides, we can also earn points to exchange for gifts when recycling."
"Against the background of epidemic prevention and control, residents cooperate more closely in sorting garbage and even supervise each other because they are worried that garbage may become the source of infection," said Wang.
In addition to doing a good job in informing the public, she noted, the recycling of waste resources should be followed by a chain of other steps from transportation to the final disposal of the sorted waste.
"It is still a long way to go," said Wang.