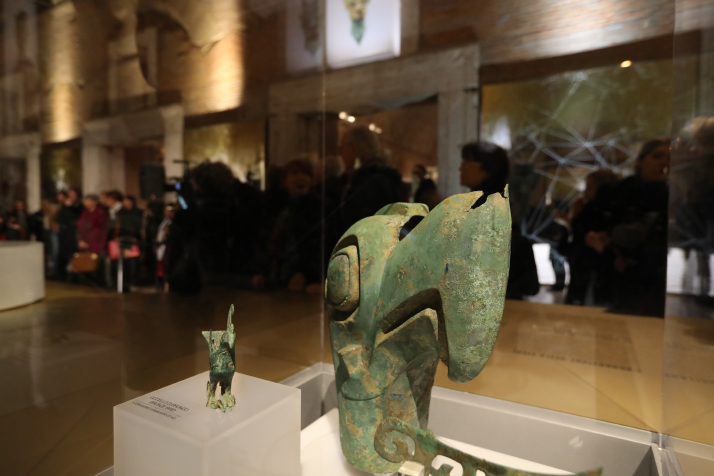 A cultural relic from the Sanxingdui archaeological site in southwest China's Sichuan Province is on display in Rome, Italy, on March 25 (XINHUA)
Chinese President Xi Jinping and Italian Prime Minister Giuseppe Conte stood witness to the signing of an agreement by the two countries on March 23, according to which Italy will return 796 cultural relics and artworks to China. It signified the largest Chinese cultural relic and artwork return from overseas in two decades.
Striking relics
The pieces span some 5,000 years from the Neolithic Age to the period of the Republic of China (1912-49). Numerous in variety and well-preserved, the items are of great historical, archaeological, cultural and aesthetic value, representing the production, lifestyle and cultural progress of Chinese people in different eras, according to Wu Min, Director of the Social Heritage Department of the Museum Department of the National Cultural Heritage Administration.
For example, there is painted pottery showing the techniques and life scenes of ancient people living in China's northwestern regions during the Neolithic Age, including a red pottery jar with geometric patterns from today's Gansu Province that can be dated back to 3,000 B.C., a sleek pot in the shape of a cocoon from over 2,000 years ago, and a clay figurine in the shape of a camel from the Tang Dynasty (618-907). There are also terracotta figurines from the Han (206 B.C.-A.D. 220), Tang and Ming (1368-1644) dynasties.
The journey home for the cultural relics can be traced back to 12 years ago. In 2007, the Carabinieri Art Squad, an Italian police unit responsible for the protection of cultural heritage, seized a large number of Chinese cultural relics and artwork suspected to have been illegally imported into Italy at a local market.
Learning about the situation, China's cultural relics authorities contacted its Italian counterpart, starting the return process. After more than a decade, an Italian court made the final ruling on their repatriation at the beginning of this year. Details of how to transport the relics back to China will be decided later, according to Wu.
At the agreement signing ceremony, a small number of the items were on display, even though the complete list of 796 relics had yet to be released. Alberto Bonisoli, Italian Minister of Cultural Heritage and Activities, said the return of the relics should be a grand celebration, enabling all people to feast their eyes on them.
Saying he was looking forward to the exhibition to be held at the National Museum of China, Bonisoli noted that one of the most important ways to protect cultural relics is to combat the illegal cultural relic markets. He added that the two countries should make joint efforts to prevent the trade in cultural relics that enter the market illicitly.
Expanding cooperation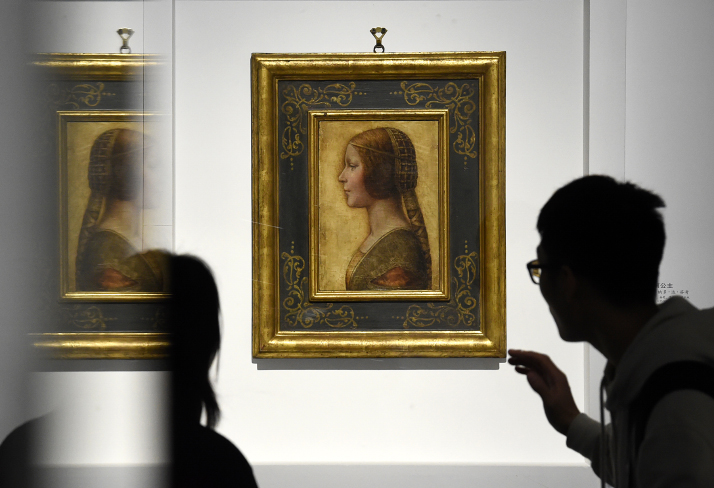 A cultural relic from the Sanxingdui archaeological site in southwest China's Sichuan Province is on display in Rome, Italy, on March 25 (XINHUA)
The return of the cultural relics began a new chapter in bilateral cooperation on cultural heritage protection. On March 23, China and Italy signed cultural heritage memoranda and agreements on preventing illegal entry, theft and smuggling of cultural relics, and on projects jointly promoting, developing and sharing UNESCO world heritage sites.
As countries with long ancient civilizations, China and Italy enjoy the largest number of UNESCO world heritage sites in the world. On March 20, ahead of his state visit to Italy, Xi stressed that the two countries should encourage their world heritage sites to forge twinning relationships and cultural institutions and individuals to organize premium relic and art exhibitions in a signed article titled East Meets West—A New Chapter of Sino-Italian Friendship in Corriere della Sera, an Italian daily newspaper.
Italian President Sergio Mattarella said in an interview with Xinhua News Agency that the heritage of both Italy and China "arouses admiration everywhere in the world," and that this heritage could be a great development driver. He specifically referred to the mechanism of forging twinning relationships between the two countries' world heritage sites.
The agreement to pair up Italy's Vineyard Landscape of Piedmont: Langhe-Roero and Monferrato and China's Honghe Hani Rice Terraces, as well as the establishment of a sister-city relationship between Italy's Verona and China's Hangzhou, signed on March 23, are manifestations of the enhanced cooperation effort.
China and Italy have a long-established relationship to promote cooperation and exchanges regarding cultural heritage protection. Back in 2009, a cultural relic and artwork exhibition tour under the theme Qin-Han and Roman Civilizations was held in Beijing, Luoyang, Milan and Rome as one of the opening programs to celebrate the 2010 Chinese Culture Year in Italy.
The following year, a memorandum was signed, where the two countries strengthened cooperation on managing museums and historical ruins, organizing exhibitions, enhancing exchanges among museums and museum staff, fighting against cultural relic smuggling, exchanging protection techniques and technologies, and interchanging permanent exhibition halls.
An intergovernmental agreement between the two countries enables the National Museum of China and the Palazzo Venezia in Rome to hold major exhibitions of cultural relics from each other's countries frequently. In 2018, 102 artworks and artifacts from 17 Italian institutions were exhibited in Beijing's Capital Museum.
"Italy is one of the countries that have conducted the most thorough, comprehensive and effective cooperation in terms of cultural relic protection and restoration with China," said Zhan Changfa, deputy head of the China Foundation for Cultural Heritage Conservation.
Through exchanges, China and Italy will make new contributions to the diversity of civilizations and mutual learning between different cultures, Xi wrote in his signed article.