Chinese President Xi Jinping delivered a keynote speech via video link at the Leaders' Summit of the 15th Meeting of the Conference of the Parties to the Convention on Biological Diversity (COP15) on October 12, 2021. His call for "building a community of all life on Earth" has struck a resonating chord with the international community. On the sidelines of the COP15, China Today interviewed Dr. Elia G. Kaiyamo, Namibian ambassador to China.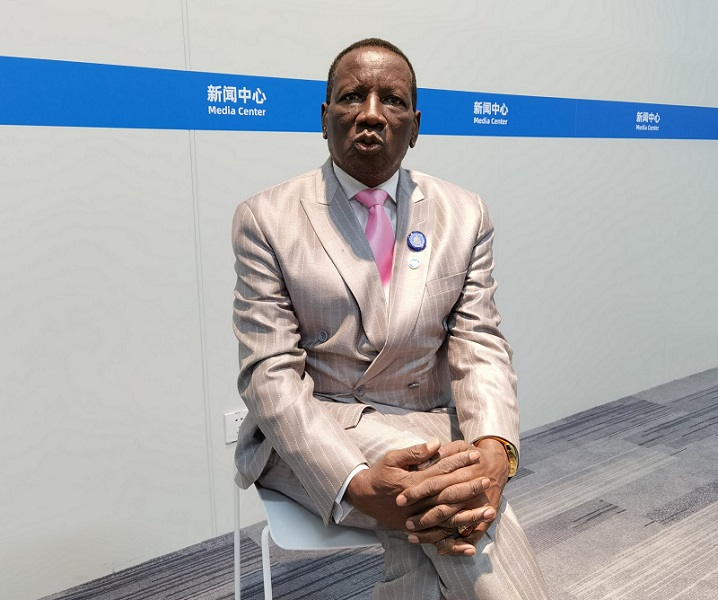 Dr. Elia G. Kaiyamo, Namibian ambassador to China. Photo by Zhou Lin
"I am quite impressed with the commitment and achievements China has made to biodiversity protection, and I hope Namibia and other African countries can learn from China's experience and benefit from the Chinese solutions," said Kaiyamo.
"As President Xi said, we are to build a homeland of harmonious coexistence between human and Nature. It is just what we strongly believe in," he said and then explained how excited he was at hearing the news that China officially designated its first group of national parks and would take the lead in establishing a Kunming Biodiversity Fund with an investment of RMB 1.5 billion to support biodiversity protection in developing countries.
He further indicated that, despite being the most arid African country south of the Sahara Desert, Namibia holds a remarkable variety of wildlife habitats and ecosystems ranging from deserts to subtropical wetlands and savannas.
According to Kaiyamo, Namibia is home to the world's largest cheetah population. It also boasts nutrient-rich waters along its 1,500-kilometer coastline, which support some of the planet's largest populations of marine life. The coast is unique in the world for being entirely protected as a national park forming the largest terrestrial protected area in Africa and the sixth-largest globally. "How to make full use of these resources, while protecting them, is what Namibia hopes to exchange ideas on with the Chinese partners," he said.
"I expect the COP15 to issue clear guidelines for the protection of our environment. And I hope that Namibia and other countries on the African continent can benefit from the Post-2020 Global Biodiversity Framework, so animals are protected, and man and nature can live in harmony," he concluded.