"We need to find ways to lower the tensions around these issues [human rights issues] and actually have a dialogue," said George Papandreou, President of the Socialist International and former Prime Minister of Greece, in his meeting via video link with Song Tao, Minister of the International Department of the Central Committee of the Communist Party of China (CPC), on April 2.
In their meeting, Song first briefed Papandreou about China's stance and overall situation on human rights. China has worked to better protect basic human rights, with its primary focus on the rights to subsistence and development. However, some countries, ignoring the facts, have smeared China on issues regarding human rights in Xinjiang.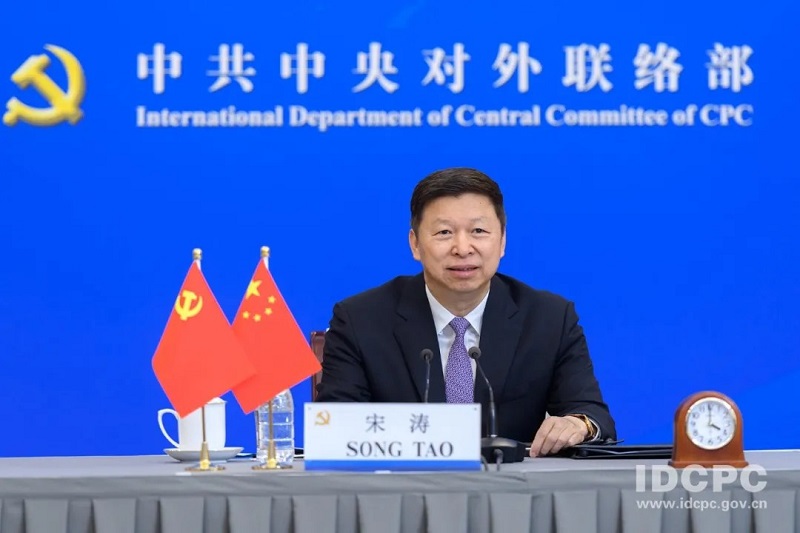 Song Tao, Minister of the International Department of the CPC Central Committee (IDCPC) holds a video talk with George Papandreou, President of Socialist International on April 2. Photo courtesy of IDCPC
Song emphasized the following points: First, the CPC has tried its best to empower Chinese people to pursue a happy life, and led them to realize a string of development miracles. Xinjiang, as an epitome of China's development, has seen unprecedented progress in its economic and social development over the past six decades, with its per capita GDP expanding 40-fold and average life expectancy lengthened to 72 from 30. The population of Uyghurs in the past 40 years has grown to 12.8 million from 5.5 million. Second, to better maintain human rights, hegemonistic behaviors should be condemned. The human rights issue should not be taken as a tool to interfere in other countries' internal affairs. Countries should advance their human rights cause based on their specific conditions. Third, exchanges and cooperation on human rights must be carried out on the premise of respecting facts and truth. Concerning issues of human rights in Xinjiang, China has been very open and patient, by organizing activities and seminars to promote understanding and allow foreign observers to learn more of the truth. However, there is still rampant misinformation distorting the facts.
Papandreou indicated that many countries have similar issues as China's and held that it is important to create platforms for more contacts and dialogues between the Chinese government, the CPC, and European countries and parties. "If we get into this tit-for-tat policy, it often escalates. In the zero-sum game, nobody wins or everybody loses it," he said.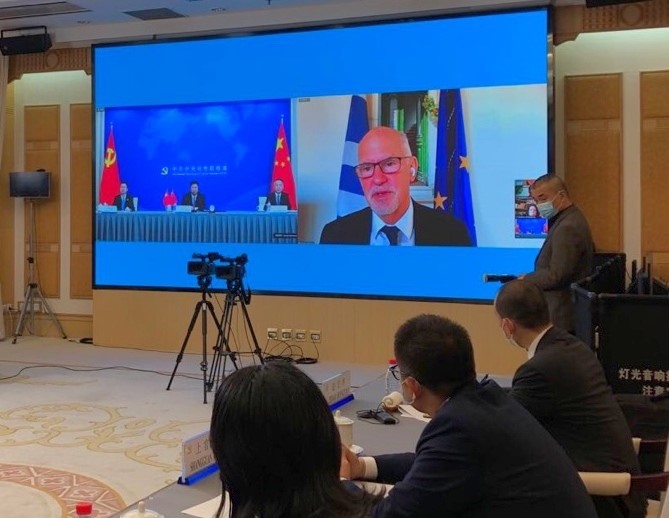 President of the Socialist International George Papandreou talks to Minister of the International Department of the CPC Central Committee Song Tao via video link. Photo by Zhang Hui
Taking the people's yearning for a better life as its goal, the CPC attaches great importance to the protection of human rights, and resolutely opposes the interference of some countries in China's internal affairs in the name of human rights and the tarnishing of the CPC's image, said Song. The CPC is willing to continue to strengthen exchanges with political parties and Party organizations around the world, including Socialist International, to safeguard multilateralism and jointly promote world peace, stability, prosperity, and development, said Song.
Socialist International is a worldwide organization of social democratic, socialist and labor parties. It currently brings together 134 political parties and organizations from all continents. Since the establishment of the mechanism for strategic dialogue, the CPC and Socialist International have maintained close exchanges and fruitful cooperation on many issues of mutual concerns. During their meeting, Song and Papandreou also exchanged views on maintaining multilateralism, poverty reduction, sustainable development, climate change, and joint construction of the Belt and Road.
Papandreou applauded China's recent heartening victory in its fight against poverty prior to the centenary of the CPC and commended it as a great contribution to the final realization of the UN sustainable development goals.
As vice chairman of the International Olympic Truce Centre, Papandreou also spoke highly of China's contribution to the Olympics. "As a Greek, and also as part of the Olympic movement, we see the Olympics as neutral ground, one, which should not be politicalized," he said, referring to recent contentions around a range of issues between China and the United States. Papandreou hopes that the Games would be a great opportunity for countries to celebrate humanity and sport while putting aside their differences.