BRAZILIAN Vice President Hamilton Mourão visited China last May, during which he reactivated COSBAN, the meeting of the China-Brazil High-Level Coordination and Cooperation Committee. On behalf of the new Brazilian government, Mourão conveyed positive signals for strengthening bilateral cooperation with China. Chinese President Xi Jinping received Mourão, and in the dialogues between them he underscored, "It is a crucial time for China and Brazil. Both sides should continue to utilize the partnership between us for our development, and to respect, trust, and support each other. We should build the relationship between us as a model of cooperation between developing countries and an important force for facilitating world peace and development."
This year marks the 45th anniversary of the establishment of diplomatic relations between China and Brazil. In an inclusive interview with China Today , Brazilian ambassador Paulo Estivallet de Mesquita, shared his views on topics such as bilateral relations, bilateral trade and cooperation between China and Brazil, and BRICS.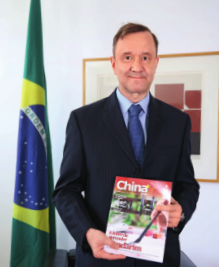 China and Brazil: Friendship and Cooperation
China and Brazil officially established diplomatic relations on August 15, 1974. Ambassador Estivallet described the 45 years' development of their bilateral relationship as fast and dynamic, and he believes that it is one of the most important ties in the world. "When we first established diplomatic relations in the1970s, the Chinese foreign trade volume was lower than that of Brazil, accounting for less than one percent of the world's total. Since China implemented its reform and opening-up policy, the country gradually acquired unprecedented dynamism in the history of the world's economy. It is now the second largest economy in the world, and the first in terms of purchasing power parity. During this period, China has also became Brazil's largest trading partner, and Brazil is China's important cooperative partner as well. The relationship between the two countries is set on a strong economic base. The economic and investment relations between us have acquired a significant density and shall continue to grow at high rates."
Brazilians' view of China has changed remarkably over the last 45 years. The fundamental reason for that, according to the ambassador, is twofold, "First of all, China itself has changed a lot. The other aspect is that cultural exchanges have helped to increase mutual understanding. The number of Brazilians studying Mandarin, and the number of Chinese learning Portuguese have kept on rising, and the number of enterprises in both countries having business ties with the other has also largely increased. The change of perception always turns to the positive, the Brazilians have a lot of interest and appreciation for China, and the Chinese feel the 47 August 2019 same way for Brazilians, all of which contribute positively to the continuous development of our bilateral relationship."
Brazil has had a very close relationship with China in economy and trade in recent years, according to Estivallet, "China has been Brazil's biggest global trading partner since 2009. Tendency shows our trade will stay on the development path. At the same time, there is still room for both volume increase and product diversification. Chinese exports to Brazil will increase as the Brazilian economy is showing signs of recovery. Chinese demand for Brazilian products continues to grow, as its supplies of high-quality food, oil, and iron ore are also very important to China."
China has expanded its investments in Brazil in recent years. Chinese capital can be found in many areas in Brazil. On this subject, Estivallet stressed, "We hope Chinese investments will continue and diversify in even more sectors, rather than concentrate in the areas related to production of raw materials. Additionally, with the recovery of the Brazilian economy, we would like to see more Brazilian enterprises entering China, because China is a huge and diverse market."
It is undeniable that the two governments played great roles in smoothing bilateral trade and economic development by removing relevant barriers and simplifying application and approval procedures in the infrastructure construction process.
In future cooperation, Estivallet regards culture as the sector that has the greatest potential and needs more attention. "There are gaps in mutual understanding between Brazilians and Chinese, and the promotion of cultural activities is one of the best ways to fill those gaps. Two years ago, China put culture as one of the main themes of the activities during the BRICS Summit that year. The Chinese government introduced us to a number of Chinese cultural institutions. Since then, the Brazilian embassy in Beijing has been dedicated to promoting cultural programs, likewise, the Chinese government has sought to develop more cultural events in Brazil. Of course, the 45th anniversary of the establishment of diplomatic relations between the two countries requires us to put out additional effort in planning cultural activities. We are preparing programs on Brazilian films, gastronomy, and music in China to celebrate the anniversary."
Starting the Second Golden BRICS Decade
Brazil will host the BRICS Summit in November. This year marks the beginning of the second decade of BRICS. Over the last 10 years, members have explored many cooperation opportunities, and through them successfully achieved fruitful results in trade, investment, exchanges, and cooperation. Cooperation projects among BRICS members now cover more than 30 areas. "The leaders of BRICS member countries meet at least once a year, an approach which is not only bilateral in nature between countries, but also a good opportunity for these leaders to compare notes on international trends. It has made positive contributions to international order. In the second decade, BRICS will consolidate its foundation of co-operation based on the achievements from the past," the ambassador added.
In commenting about some critical remarks about BRICS, Estivallet said, "BRICS is not an alliance of countries that pursues a certain goal, but rather is a forum at which different but relevant countries seek to benefit from their own differences. BRICS has brought benefits, both to governments and to society, and spots opportunities that were previously unknown or underutilized."
Working Together for Global Prosperity
This year marks the 70th anniversary of the founding of the People's Republic of China, and Estivallet spoke highly of the development and achievements of China, "Considering the population size of China, lifting hundreds of millions of people out of poverty is an incredible contribution it has made to the general happiness of the planet. The quality of Chinese people's lives has improved, which we regard with all admiration and satisfaction. Of course, every process with this magnitude and speed will bring side effects, like some of the environmental challenges China is now facing. However, Chinese government´s determination on environment governance is admirable."
Speaking of the international situation, Estivallet commented, "China greatly affects the world's economy. Take Brazil as an example, Chinese demands for Brazilian products have led to a large expansion of Brazilian exports, which have a positive impact on our external balance and the development of the country. The strength of present China is influencing some original order in multilateral trading systems, which requires the commitment and cooperation of all countries to adjust to this new situation, for the sake of the world's prosperity and welfare."