THE UN Economic Commission for Latin America and the Caribbean (ECLAC) is one of the institutions that has done in-depth study on the relationship between China and the Latin American and Caribbean region over the last few years. In mid-December, its executive secretary Alicia Bárcena visited Beijing to participate in an Advisory Council meeting of the Belt and Road Forum for International Cooperation (BRFIC), with the intention of finding new ways of better exploiting the initiative sponsored by the Chinese government to benefit countries related.
China Today: Mrs. Bárcena, what is the reason for your visit to Beijing?
Alicia Bárcena: I'm here as a special guest to the Belt and Road Advisory Council. During this occasion, I've had meetings with representatives of various important institutions like the National Development and Reform Commission, the Development Research Center of the State Council of China, the Ministry of Industry and Information Technology, and the China Council for the Promotion of International Trade, the council of Chinese enterprises both state-owned and private. These four meetings have been crucial in helping us define ways to improve the relationship of China and the ECLAC.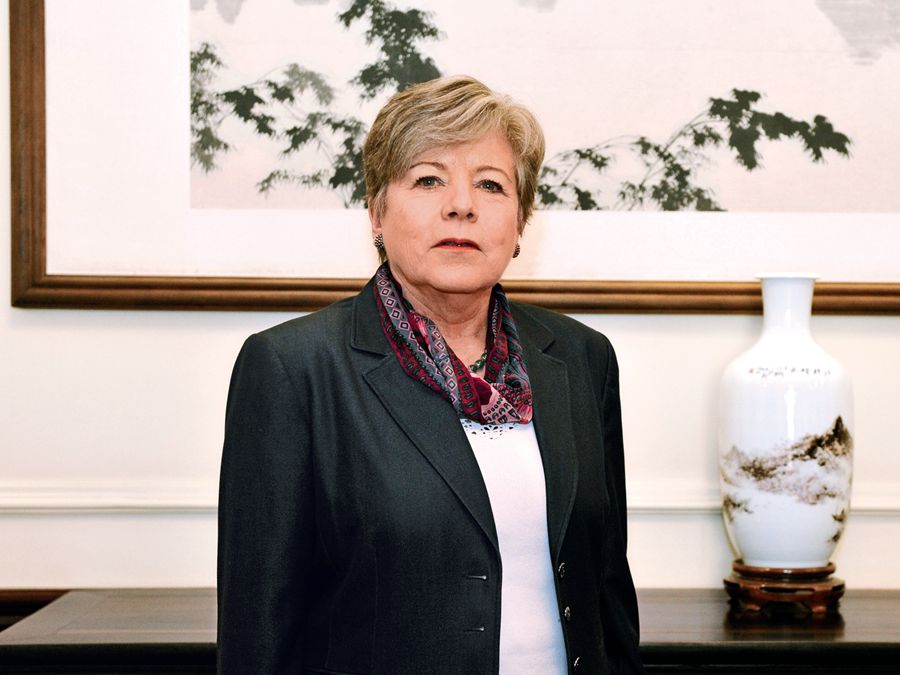 Alicia Bárcena visits China as a special guest to the BRFIC Advisory Council in December 2018. Dong Ning
China Today: You participated in the fourth Silk Road Forum conducted in Paris on December 7. During the forum, you pointed out that the Belt and Road Initiative (BRI) could be an important opportunity to boost inclusive and sustainable investments. What benefits could this initiative generate for the accomplishment of, let's say, the 2030 Sustainable Development Agenda or the Paris Agreement?
Alicia Bárcena: Several things. On the one hand, we're aware that the Belt and Road Initiative is oriented towards the connectivity of the European and Asian regions, but we also feel that it could be an opportunity to shorten distances between China and Latin America and the Caribbean (LAC) on many fronts for enlarging digital, maritime, and aerial connectivity between our regions, and then increase trade and investment, etc. On the other hand, we are glad to see more environmental sustainability and social justice criteria being incorporated into the Belt and Road Initiative, which goes right in line with the 2030 Agenda.
We see how China has changed immensely over the last 40 years economically and socially, and now how it is strongly committed to environmental sustainability. From this we see many benefits of mutual learning, as well as a great chance to promote Chinese investments in LAC. Today, we have over 16 signatory countries to the initiative, starting with Panama and now including many other countries. As a result, we see great interest inside our region in the initiative as well as many opportunities for cooperation.
China Today: The government of China considers LAC as the "natural expansion" of the Belt and Road Initiative, which was officially established in the Second Ministerial Meeting of the China-CELAC Forum, conducted in January 2018 at Santiago, Chile. How did the CEPAL react to this invitation from the Chinese government for the LAC to join the initiative?
Alicia Bárcena: We reacted very positively, and as a matter of fact, we are dedicated to publicize the features of this big project of the Belt and Road, and also to help our countries understand objectively what are the opportunities and challenges that would be brought about through this relationship with China. For example, aspects like infrastructure, renewable energy, environment, science and technology can benefit from it, and we could achieve that jump to industrialization and be able to diversify our production structure.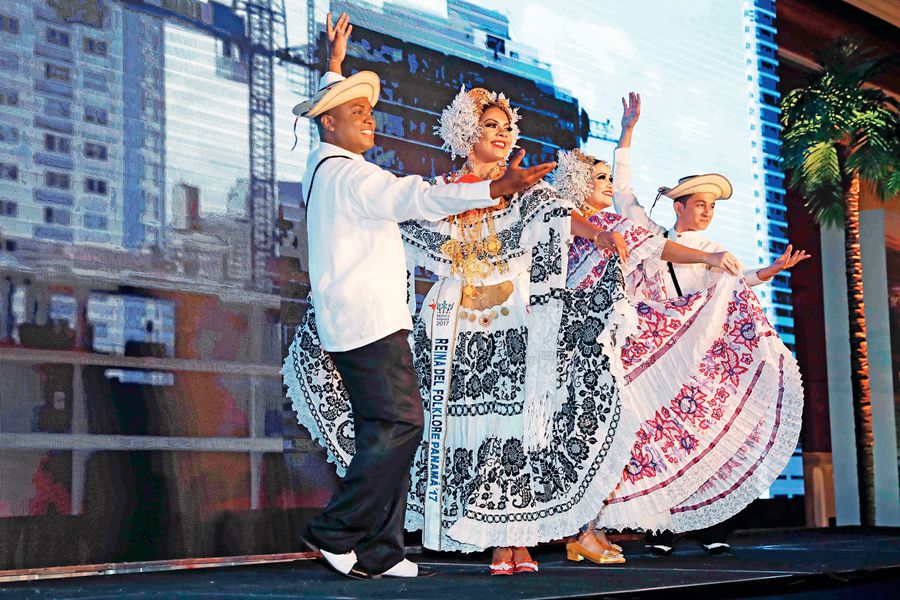 On November 21, 2017, a Panamanian folkloric dance is performed in Shanghai for the promotion of tourism of Panama.
China Today: Sixteen countries from LAC have signed memorandums with China for the joint construction of the Belt and Road, the first one being Panama in November 2017, and the most recent one being Ecuador. In what ways do you think LAC countries should participate in the Belt and Road Initiative?
Alicia Bárcena: I think each country should be involved in the initiative based on their size, export structure, and role. For example, Panama is a great place for logistics and connectivity between the Atlantic and Pacific oceans. For this reason, I am convinced that Panama's role is very important. But it's up to each country to decide. If we talk about Peru, for instance, there's more opportunities besides oil, for example it can diversify its agriculture. I think there are many opportunities for a country to be diversified like Peru.
On the Caribbean case, Granada, Dominica, Antigua and Barbuda, Trinidad and Tobago are also joining in. These are countries that can benefit greatly from Chinese tourism, since 280 million people travel there each year, a number that is great news for LAC. There are other projects that can be very appealing to these countries, like technology exchange that already exists with Cuba for example, one of the few countries in which China has a biotechnology company.
There are many edges, like renewable energy of course. We think that China is becoming a great power in renewable energy and many opportunities lie there. For example, China owns an important share of the Sociedad Química y Minera de Chile (SQM), which produces lithium. Through this, Chinese investment can achieve great diversity if the investment could include some sort of technology platform. This is what we are looking for. The idea is to see if with this company, among other European and Latin American ones, a wider electromobility platform could be made. This Chinese company is purchasing 24 percent of the SQM, but the region produces 60 percent of the world's lithium, a very important resource for rechargeable mobile batteries. You see here is an opportunity to create an industrial structure that's not only restricted to lithium export, but also sets up a whole platform there. It's also the case with electrical networks and solar panels, since China is now an important producer of solar panels.
China Today: China is going through a time in which it focuses on qualitative economic growth rather than the quantitative one. In other words, the 9 - 10 percent growth indexes are in the past and more recently we see a more sustainable growth around 6.5 or 7 percent. Which LAC countries are better prepared to face the present stage of the Chinese economy, and which ones should make more adjustments?
Alicia Bárcena: We have to understand that China's economic structure has gone through a major change. In the past, it basically depended on the exports of goods and services, and now it has evolved from an export-oriented structure to a more investment-oriented one. Right now, the consumption part seems more important, an inner consumer market representing 53 percent of China's GDP.
There's a deep change. The countries that get to know more clearly the needs of China's consumer market and what changes are occurring within it will be more successful. If people are really migrating from rural zones to urban ones, there's a clear change in their consumer basket, and that's what I think could be a great opportunity for LAC.
China Today: According to studies conducted by ECLAC, what products from Latin America are sold the most? What Latin American products do you think will have a greater demand in China's near future?
Alicia Bárcena: Right now we're focusing on exporting five main products, and that's part of the problem. The challenge is how to diversify what we offer. I think this is one of the biggest challenges we haven't overcome yet. The five products we're selling to China are basically minerals, like copper, iron, and refined copper. We've made improvements in agricultural products, for example, we have Chile's case, which succeeded with exporting cherries. There's not a single cherry left there; they all come to China. This is also the case with avocados.
The change in China's consumer market could be really important. I see many possibilities in cold meats, dairy products, fruits, and agricultural products in general. But let me repeat one thing here: it'll be better for us if we make an aggregated value before exporting, I mean, attracting Chinese investment to LAC and then exporting from there.
China Today: Today, China is the third major investor in LAC countries, while LAC is the second largest destination of China's direct foreign investment. Which LAC countries are currently receiving more investment from China than others? Is the investment from China still concentrated only in a few countries?
Alicia Bárcena: Of course it is. That's part of the problem too. Investment has reached the accumulated sum of US $125 billion. In 2017 we had an investment of US $25 billion, but the truth is that it is concentrated in certain sectors of metals, automobiles, and coal. Luckily, it's presently expanding to telecommunications, real estate, foods, financial services, and renewable energy.
As for which countries receive the most, I'd say Brazil. I think it's one of the main destinations, but of course, it's coming to other important destinations like Chile and Bolivia. And in financing, I'd certainly say Venezuela and Ecuador. But those who receive more direct foreign investment from China are Brazil, Peru, and Argentina.
China Today: When China adopted the reform and opening-up policy in 1978, its bilateral trade with LAC was only US $736 million. In 2017, that number multiplied by more than 350 times and reached around US $257.8 billion, according to Chinese sources. The year 2018 marks the 40th anniversary of the reform and opening-up policy. In addition to the exponential growth of bilateral trade, what effects do you think the reform and opening-up policies have had in LAC countries?
Alicia Bárcena: The truth is that it's been a great example of how within a period of 40 years a fundamentally rural country that represented only 2 percent of the world's GDP managed to change entirely its production structure into a powerful industrialized economy, with great technological innovation, and also has multiplied by nine its contribution to the world's GDP. Today it has the second largest GDP in the world.
They have also made improvements related to poverty alleviation. In rural zones where it's more evident, it has successfully brought around 740 million people out of poverty. It managed to lower the incidence of poverty from 97.5 percent in 1978 to 3.1 percent in 2017. The numbers really show its success in reducing poverty.
In the area of exports, back in 1978, China represented 0.8 percent of world's exports and in 2017 it represented 13 percent of world's exports and 10 percent of imports. China has become some sort of Asian factory with its technological and industrial power. I think this is one of the great contributions it has made to the world: demonstrating that it's possible to improve integrally over 40 years. What challenges does it still have to face? First of all, the pollution challenge, which is very tough; secondly, Xi Jinping's commitment to get everybody out of poverty, of which there are 30 million people today still in extreme poverty; and thirdly, I'd say finding its place in an increasingly protectionist world, filled with commercial and technological tensions, and position itself, as it is doing now, with a very clear vision of opening-up and multilateralism.