THIS year marks the 13th anniversary of the comprehensive strategic partnership between the two nations. China is Spain's main economic partner in Asia, as well as a major destination for Spanish exports in the region. Spanish ambassador to China Alberto Carnero Fernández talked with China Today about the over four and a half decades of foreign relations between our two nations, Spanish participation in the Belt and Road Initiative, and the growing influx of Chinese tourists to Spain, among other subjects.
China Today (CT): How would you value the current level of relations between the two countries? What's the agenda to commemorate the 45th anniversary of diplomatic relationship or are there any important agreements signed in 2018?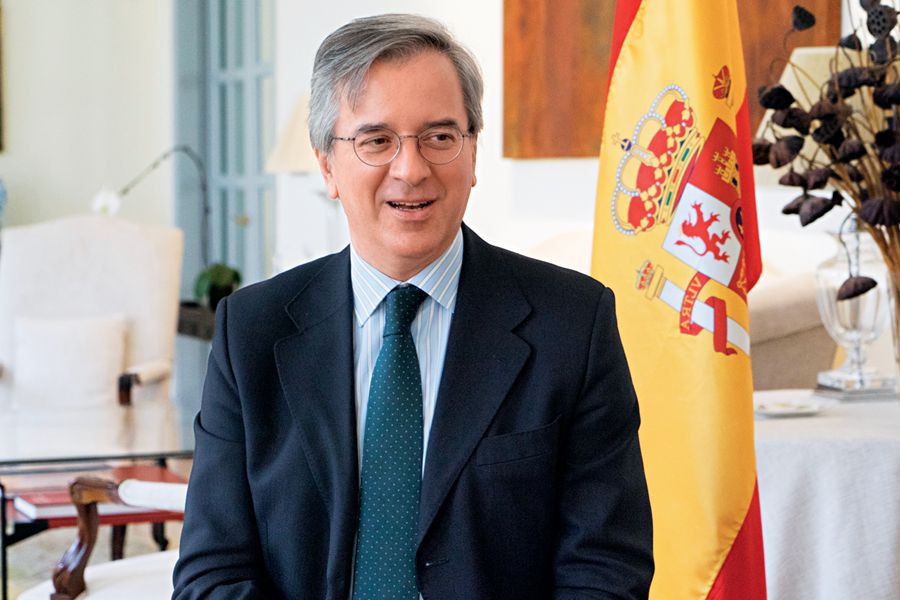 Ambassador: I believe that the 45th anniversary of the establishment of diplomatic relations between Spain and China is a remarkable milestone in our relations. We celebrate it by working to improve upon these already excellent bilateral relations. State Councilor and Foreign Minister Wang Yi was in Madrid back in May. It was a visit fundamentally centered on the 45th anniversary of foreign relations along with plans to prepare future visits. Wang Yi indicated the intention to intensify our bilateral relations by taking advantage of the anniversary acitivities. There are agreements that are now being negotiated in various fields, like the political one, and there are also some agreements with economic aspects that will promote trade and increase enterprises' presence in both countries. In addition, we also explore ways to have cooperation in the cultural and educational fields. I believe that this is the best way to celebrate and commemorate the 45th anniversary of China-Spanish diplomatic relations.
CT: This year transnational companies like El Corte Inglés included in its payment system Alipay, and Chinese brands like Huawei and Xiaomi participated in the Mobile World Congress in Spain. Do you feel that there is a growing interest in Spain to take advantage of Chinese technological advances?
Ambassador: There is a growing interest in fostering the relationship with China and a strong intention to attract more Chinese tourists to Spain and making them feel welcomed. Also, there is effort to ensure that they can be able to follow their daily routine, including paying via the means that you mentioned, which are highly developed here in China. You've mentioned a very well known Spanish company, but it's not the only one, there are plenty others adapting themselves to facilitate and enhance the experience of Chinese tourists in Spain.
CT: Spain has a special touristic appeal in the eyes of Chinese nationals. According to estimates from the Spain China Tourism Association, from just 187,000 Chinese tourists in 2012, the number rose to 718,000 in 2017. Is it a priority in 2018 to keep making easier the arrival of Chinese tourists to Spain?
Ambassador: Spain is a very attractive country to tourists from China and from other countries too. We hold the world's second place in tourist arrivals. Last year we received 82 million tourists. China is the world's biggest source of international tourists. The figures of Chinese tourists in Spain have had an impressive growth over the last few years, with an annual growth of 30 percent approximately. 718,000 tourists is an important figure; but if we compare it to absolute figures, we see that Chinese tourists account for less than one percent of the total number of tourists in Spain, and of the number of Chinese tourists who travel abroad, less than 0.5 percent go to Spain. In any case, I believe there's a great potential for growth because what Spain is able to offer to Chinese tourists, like culture, cuisine, architecture, dances, and many other things, makes us think that we can increase that figure. I believe it's safe to say that in little time Chinese tourists to Spain can reach or even surpass one million. In order to achieve that we need to work on various fields like connectivity, so that there exists convenient and frequent flights, as well as safely making easier the fulfillment of all requirements that the European Union's regulations impose with the visa. We also need to work on what you mentioned before: ways of payment, to make the Chinese tourists' stay an enjoyable experience so that more Chinese want to come and to encourage return visits for those that have already visited.
CT: What advances have been achieved with Spain's participation in the Belt and Road Initiative?
Ambassador: Former Prime Minister Mariano Rajoy participated in the 2017 Belt and Road Forum for International Cooperation. Our country has supported this crucial initiative because it aims to improve connectivity and open markets, and brings about development opportunities over a very large geographical area. There have been some concrete collaborative projects in third countries like Egypt and the United Arab Emirates, where Chinese and Spanish enterprises cooperate in different ambits like energy, water, and others. On December 19, 2017, the Third-Party Markets Seminar celebrating the Spain-China cooperation was held in Beijing, in order to analyze joint opportunities with companies in the Belt and Road framework. We're also negotiating an institutional agreement for this to have a regulatory framework that can funnel it. I believe there is both interest and opportunity. I also want to remark, although it's no direct link with projects under the initiative, Spain's participation as a founding member of the Asian Infrastructure Investment Bank, which as a tool is also going to enhance the development of projects as part of the Belt and Road Initiative, promoting connectivity with international laws and market opening.
CT: Educational sector's links between the two nations have risen up over the last few years. In China, the interest in the Spanish language is on the rise. What's your expectation of next year's educational exchanges between the two countries?
Ambassador: We ought to realize one thing: Chinese is evidently one of the most spoken languages in the world; and Spanish, which is not only spoken in Spain but also used in many other nations, has 577 million speakers. Therefore, there's a whole Spanish-speaking world offering new opportunities, and I believe that the Spanish-language learning community is on the rise in China and the world. Recently, the Chinese government announced that Spanish is going to be a selective course in Chinese secondary education and that is also going to be available as a foreign language option in the National Higher Education Entrance Examination or gaokao. That opens new possibilities to further education relations. Meanwhile there is a perceptibly increasing interest in learning Chinese in Spain. Also of note is that this year we commemorate a great Spaniard, Diego de Pantoja, who visited China in the 16th and 17th centuries, documented the Chinese way of living back then for Europe and learned the Chinese language, translating Chinese classics to Spanish, and also wrote works in traditional Chinese itself. All this tradition is undergoing a strong resurgence, and interest for China and its culture in Spain is on the rise. It's easy to find Spanish youngsters that master Chinese and that's a guarantee to keep building bridges between both countries in the future.
CT: In your point of view, what has captured your attention the most since your arrival in China?
Ambassador: This is a country you always know only in part; I came to China back in the 90's on a few short visits, sometimes for work assignments and other times as a tourist. What I think impresses me the most about this country are two complimentary, yin-yang-like things: on the one hand, change and dynamism; on the other, the well established culture and tradition's continued importance. It's so fascinating because, although they look contradictory at first glance, they're actually complementary. China is a country that draws attention for its dynamism more than for its size; dynamism in all ambits like economy, technology, and infrastructure among many others. Then we have its wisdom, its fascinating culture, which is alive, and those things that bind Spanish and Chinese together like that enthusiasm for life we see in the music, cuisine, concept of family, and the desire to enjoy friendship, which also gives me Latin vibes, very joyful. The experience of being in China is an honor, a pleasure, and a daily surprise. I'm enjoying every second here.