— An Exclusive Interview with Malta's Minister of Foreign Affairs and Trade Promotion Carmelo Abela
By staff reporter ZHANG HUI
Malta, a picturesque island nation in the south of Europe, is often dubbed as the "heart of the Mediterranean." Geographically connecting Europe, Asia, and Africa, Malta, an EU member country, is an economically well-developed country with its GDP per capita in 2017 reaching US $27145.81, considerably higher than the world's average.
Malta established diplomatic relations with China in January 31, 1972, one of the first Western countries to do so. Since then, the two countries have maintained friendly relations with high-level reciprocal visits gradually intensifying and exchanges and cooperation in a range of fields deepening. On September 11, 2013, Chinese Premier Li Keqiang met with Prime Minister Joseph Muscat of Malta in Dalian and reached consensus on formulating a medium-term cooperation plan between the two sides. On July 9 of the following year, the two sides signed the Memorandum of Understanding (MOU) on Medium-term Plan of the Governmental Cooperation between China and Malta from 2014 to 2019.
Invited by Chinese State Councillor and Foreign Minister Wang Yi, Malta's Minister of Foreign Affairs and Trade Promotion Carmelo Abela paid an official visit to China from September 12 to 15. The two sides had their first meeting of the Malta-China Steering Committee for the Medium-term Cooperation Plan, and discussed possibilities of expanding fields for bilateral cooperation, involving trade, energy, infrastructure, financial services, tourism, and culture, to name a few.
On September 14, at the Malta Day activities commemorating the 54th anniversary of independence of the Republic of Malta, held in Beijing, Minister Abela accepted to give an exclusive interview to China Today, sharing his views on the new momentum and prospects of China-Malta relations.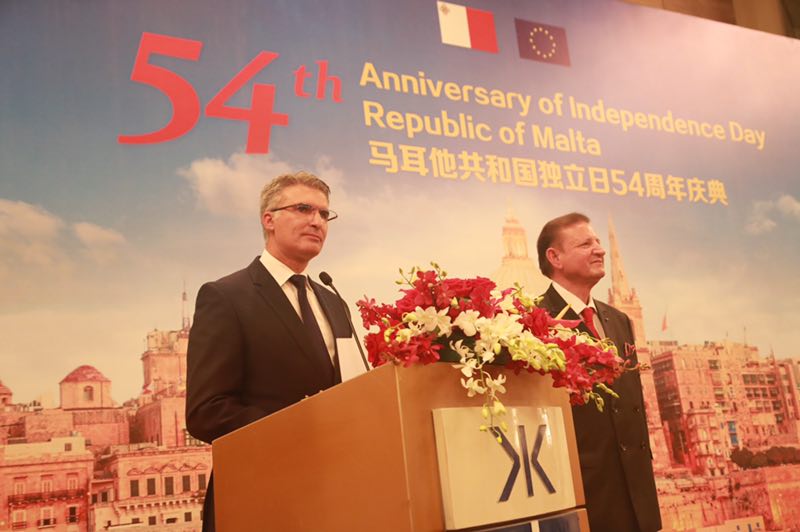 Carmelo Abela gives a speech at the reception to commemorate the 54th anniversary of the independence of the Republic of Malta in Beijing on September 14.

A Promising Cooperation Platform
According to Abela, as one of the participating countries, Malta will make an appearance in the first China International Import Expo (CIIE). "This is the opportunity to have a wider perspective, not only focusing on our work, regional (affairs), but to expand. We need more cooperation rather than working on our own." Abela believes what the world needs is cooperation instead of a trade war, and the CIIE is providing a fantastic platform for cooperation.
Abela revealed to China Today that Malta's Prime Minister Joseph Muscat planned to attend the CIIE opening ceremony. Now the country's Chamber of Commerce is responsible for organizing enterprises to participate. "A couple of companies are coming. We hope to increase the number, (and) hope for more participation from the business sector." With a yearly increase of 27.5 percent, China-Malta trade volume stood at US $2.5 billion in 2017, out of which US $2.09 billion was for Chinese exports to Malta, the remaining US $410 million coming from Malta's exports to China.
Abela regarded tourism as one of the areas with the greatest potential for bilateral cooperation. He expected that Malta's tourism would be promoted in the first CIIE. "Today, I'm informed of that Chinese people make about 1.3 overseas trips a year, which is a huge amount of people travelling, but we only get a few. We hope more Chinese will visit my country, and there is much potential to do that. I know the products we can offer to Chinese people that they would like. But we also need to find ways and means to make the Chinese know Malta, to make them come to my country when they make travel plans. So we need to work together on that. We also need to increase connectivity to make it easier for Chinese to travel to Malta," Abela said. He thought it's also necessary for Malta to cooperate with Chinese travel agencies to promote his country's tourism.
"We hope the nice experience of Chinese tourists in our country will market our country," Abela said.
Malta, consisting of the biggest archipelago in the Mediterranean Sea, has a typical Mediterranean climate with mild winters and hot summers. The country is a popular holiday paradise in Europe. Queen Elizabeth II and Prince Philip celebrated their Diamond anniversary in Malta, where they spent some of their happiest days as a young couple. The Mediterranean island country is also British football star David Beckham's favored vacation destination. The smash-hit fantasy TV drama "Game of Thrones" once filmed on the Gozo island of Malta, taking the stunning natural arch Azure Window as a setting.
"Malta now receives more than two million tourists a year. The ambitious program of the Malta tourism authorities is to reach three million tourists in the not too distant future." Malta, as an island in the middle of the Mediterranean, has a long history and diversified cultures, as well as hospitable people, which are all factors appealing to tourists, according to the minister. "Tourism is one thing that brings people together. Culture is another circumstance where people get to know each other. And we have different and diverse cultures."

New Momentum for China-Malta Cooperation
Malta, as an important node along the 21st Century Maritime Silk Road, serves as a springboard for the Belt and Road Initiative to advance deep into Africa and Europe. Malta has been an active participant of the initiative, and joined the Asian Infrastructure Investment Bank in 2015 as a founding member.
"We see the initiative as a positive thing not only on the bilateral level, but also on the European level." According to Abela, some high-level officials from the European Commission have talked about the initiative quite positively recently, taking it as a way to further cooperation between China and the EU.
Abela endorsed China's stand on multilateralism, "We both emphasized the need for multilateralism, and are both active countries when it comes to multilateralism. Global challenges need global response. "
The minister stressed, despite their distant geographic locations and different sizes, China and Malta have maintained sound momentum of bilateral relations. "In fact, I happen to be in China today because — in the presence of a sizeable delegation of experts from Malta, hailing from eight different Maltese Ministries — a historic First Steering Committee Meeting of the Malta-China Medium Term Cooperation Plan, established between the two countries in 2014, met yesterday to take stock of the current state of bilateral relations and to plan the future building blocks of this broadly interactive friendship between Malta and China."
Abela revealed, "We had practical and fruitful discussions. For example, we discussed a number of possibilities of having better connectivity." The minister in particularly emphasized the bilateral cooperation potential in the blockchain sector. "We have made Malta the very first world jurisdiction to provide legal certainty to the blockchain-like sector, and we will soon be introducing cryptocurrency."
The minister welcomes Chinese companies to invest in the field in Malta. "Malta is the place to be, because we have the rules of gaming in our legislation, so they know what the possibilities are according to our rules. And that's good for them to invest."
In September 2003, China established its first Chinese culture center in Europe in Malta. And the center-sponsored Word Tai Chi Day has become a signature event in Malta, captivating lots of visitors both domestically and abroad.
In 1994, China also set up its first traditional Chinese medicine center in Europe, the Mediterranean Center for Traditional Chinese Medicine, in Malta, receiving yearly visits of around 5,000. Via training and other activities such as a free clinic, the TCM center has expanded its influence in the host country. Then, in 2008, the center set up a Chinese medicine clinic in the newly-built Mater Dei Hospital in Malta. For the first time, Chinese medicine featured at an EU national hospital in the form of an independent department.
Meanwhile, bilateral cooperation has also witnessed bountiful fruits in the fields of economy, trade, and finance. In October 2011, HSBC launched RMB cross-border trading in Malta. In March 2014, China and Malta signed off on an energy deal, the biggest foreign direct investment ever in Malta, giving the Shanghai Electric Power Co., Ltd. a 33 percent equity stake in the Maltese energy utility Enemalta for a price of € 320 million (US $432 million).
"These are but a few of the multitude of examples which underpin the spirit of cooperation with which Malta understands and welcomes China's philosophy of the Belt and Road Initiative -- in amalgamation with Europe's Vision for Connectivity with Asia -- and therefore, looks forward to the next level in our bilateral relations, framed in this rare chance to augment mutual learning and therefore, a more profound perception of one another." Abela said.