CGTN's news anchor Wang Guan can tell you verbatim the first question he asked U.S. Department of State deputy spokesperson Mark Toner at a press briefing though it took place 10 years ago. "Back then, reporters from China Central Television (CCTV) didn't attend State Department and White House press briefings regularly. I started the practice," he told China Today in an exclusive interview in Beijing.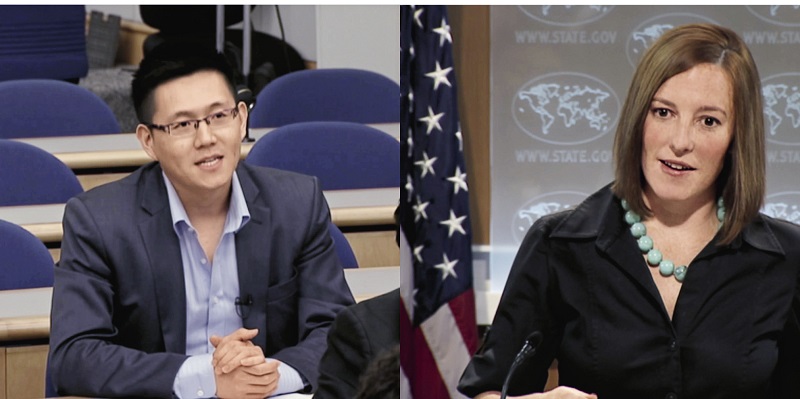 Wang Guan attends a briefing of the U.S. Department of State in 2014.
Before CCTV America was founded in February 2012, the network had only about a dozen reporters stationed in North America. In late 2011, the network dispatched more reporters from its headquarters in Beijing to expand its American presence. Wang Guan was one of them, becoming the channel's chief U.S. correspondent based in Washington, D.C.
"We used to edit video clips purchased from Western media agencies. The problem was that both the spokesperson and the reporters asking questions always tended to cater to the Western audience, be it the topics or perspectives of their briefings and questions, oftentimes ignoring alternative perspective."
Particularly when it came to China-related issues, the repeated stance alongside with the specific angle and stories the Western media intended to feed and please their viewers had constantly reinforced the stereotypical view of the Western public about the Eastern country. Wang decided to bring something fresh into the newsroom. "We need to make our voice heard. Let the world know our perspective and the truth."
He asked his first question in the Department of State press briefing room in January 2012. Following the discussion about Washington's sanctions against the Democratic People's Republic of Korea and Cuba, "I pointed out that in fact it was the U.S.'s sanctions against the two countries that had led to their hostility towards the U.S., not just the other way around. It's a chicken-egg problem at best," Wang recalled. It was a rare presentation of a Chinese reporter's angle on the issue and the spokesperson took note of the newcomer asking such questions.
A Media Boom
The past decade has seen the Chinese media industry booming. There has been a rapid rise of international viewership of Chinese TV programs and the readership of print or digital media outlets like Global Times, Sixth Tone, and China Focus has also grown. This has been boosted by new foreign language editions of established Chinese publications and websites. The result has been a wide range of media products for people outside China to know the country better as well as have a perspective different from the Western one, from which to view the world.
Wang Guan interviews then U.S. Secretary of State John Kerry and Secretary of the Treasury Jacob Lew in June 2014.
"CCTV America's staff was later expanded to around 200-strong from the original 10-odd," Wang Guan said. Of them, more than 100 were locally recruited. "We have an eclectic team thanks to an open selection and hiring process. We hired many seasoned local reporters, anchors, and producers, which all paid off eventually."
CCTV America, known as CGTN America since 2016, has garnered a lot of awards in the United States. Its weekly talk show Full Frame's 18-minute segment "Jen Bricker: When 'Can't' is a Four-Letter Word" won the 2016 News and Documentary Emmy Award for Outstanding Feature Story in a News Magazine. In 2019 alone, CGTN America won 27 awards from the White House News Photographers Association.
"Our team with members from different cultural and work backgrounds has diversified our perspectives and produced many high-caliber international news programs and documentaries," Wang said. They include in-depth coverage of climate change in the Amazon rainforests and a documentary about drug traffickers in Colombia. "Those international news programs were a whopping success. We became a de facto representative of the Global South in the global news media scene."
Even the late former Secretary of State Colin Powell admitted to Wang Guan before an interview that he frequently watched the channel. A veteran diplomat dealing in international affairs for decades, Powell was keen to know what was really going on outside the U.S., something American networks often failed to cover.
"Our global-mindedness is also rooted in the coverage of ordinary people's lives in Asia, Africa, and Latin America, which is often ignored by Western mainstream media," Wang said. "We've gained widespread recognition and positive feedback including some from senior Western government officials even though they couldn't say so on the record," he added.
Being not profit-oriented, it has lavished a lot of resources on covering what truly matters to people. For instance, it sent teams to Greenland, the Arctic Circle, and the Amazon rainforests to produce a series of documentaries on climate change over several years, and the series earned them acclaim.
But for Wang, the most meaningful achievement goes beyond praise. "We've broadened the scale and scope of 'news,' which in many Western societies has been reduced to 15-second soundbites and sensational headlines. We focus on long-format productions spanning half an hour or one hour. And instead of zooming in on the conflicts and divisions, we strive to inform our global audience about issues that matter to our collective future, such as climate change, public health challenges and poverty."
The Echo Chamber
When the U.S. started a trade war on China in 2018, many U.S. governmental officials and ordinary Americans held the view that China was a threat and had been taking advantage of its trade relations with the U.S.
"This reflects the difference in the philosophical concepts and values of China and the United States," Wang said. "In terms of international politics, many in the West are firm believers of realism or 'rule of the jungle.' They think China will inevitably seek hegemony with its rising status and power." Wang thinks it's dangerous for the United States to continue its current containment strategy against China. History has shown, again and again, the high cost and disasterous results of rivalry between two major powers. "We Chinese believe in harmony in diversity. We respect people as they are, no matter what their social systems, religions and colors are. This is behind China's proposal of building a community with a shared future for mankind."
But some people in the West are deaf to that, or maybe insulated from voices of China, as they live in an "echo chamber." During a reporting trip to the countryside of Corpus Christi, a coastal city in Texas, Wang Guan was stunned by how the right-wing American media had shaped local people's perceptions.
"We interviewed a family of three generations in a farm. They were really nice and hospitable. However, when it came to the United States's trade war with China, they simply repeated what Donald Trump said on his Twitter account [which was subsequently suspended by the platform] and Fox News anchors conveyed in their news programs." They used practically the same words to say that China's "predatory trade practices" had harmed the interests of their country, claiming, "We need fair trade."
Later, Wang found that many Americans like the farmer family mainly watched Fox News and followed right-wing websites to get their daily news. "It was an echo chamber, a close-looped news communication circle, insulated from different voices, including their domestic left-wing sources, not to mention the Chinese ones."
According to Nielsen TV ratings, Fox News was the most-watched cable news network in the second quarter of 2022. Six of its programs topped cable news shows in viewership. While its rivals face a dwindling audience, it continues to grow.
"This shows how big the American right-wing influence is. It also reflects what American audiences like to watch. They tend to be drawn to simplistic narratives." And it's such TV shows that have sowed the "China threat" theory in their viewers' minds, unsupported by any serious research or solid evidence.
Wang once interviewed an American father who had traveled extensively. "He worried about the way his daughter looks at the world. When the teacher in the class of a senior high asked who rescued Jews from the Nazi concentration camps, his daughter immediately said 'the American soldiers.'" They were not aware of the major role played by the Red Army of the Soviet Union in liberating the biggest and most notorious concentration camp, Auschwitz, besides other Nazi killing centers. There is an indifference towards international issues among a large chunk of the American public. American media therefore has the "unique" power to shape the public perception on issues such as China with their American-centric or Euro-centric perspectives, Wang noted.
The American elite are better informed, but still, some of them deliberately resort to China bashing for various reasons. Politicians use the China card to either lambast their opponents or forge temporary alliances in order to push forward their agendas. "Those advocating cooperation with China and improving the bilateral relations are becoming the silent minority, under stress from the overwhelming mainstream 'political correctness.' Public opinion has been held hostage by a simplistic 'China is our enemy' story line propagated by politicians and mainstream media," Wang pointed out.
Getting Chinese Stories Across
The social media era has amplied the echo chamber effect. "Big data and algorithm have enabled news agencies to recommend stories viewers already believe in," Wang observed. He then emphasized the importance of "common value communication," "I think non-governmental exchanges and people-to-people dialogues, in areas such as culture, the arts, sports, entrepreneurship, and green economy, can play an important role in advancing bilateral relations. This will allow the ordinary folks in the West and elsewhere to bond with people in China."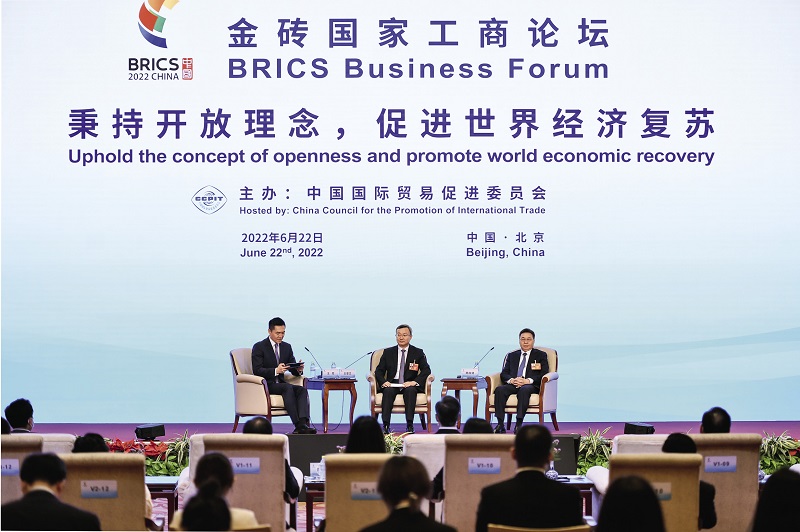 Wang Guan coordinates a panel discussion themed "uphold the concept of openness and promote world economic recovery" during the BRICS Business Forum in Beijing on June 22, 2022.
Finishing his eight-year tenure as the CGTN's chief political correspondent in the U.S., Wang Guan returned to China in 2019. He is now a well-known CGTN anchor. Besides his regular weekly show The Hub with Wang Guan, which discusses current political issues with experts from various fields, Reality Check with Wang Guan is a special monologue show which dissects prominent issues, showing the actual reality behind the perceived reality. He also debuted as an author in 2021 with Manufacturing the China Narrative, which discusses how the West got China wrong and what China can do to better showcase itself.
In his book, while talking about how to get Chinese stories across in a better way, Wang analyzes the cultural difference between China and the West, which determines their different ways of approaching international affairs. "Our Chinese culure values harmony, whereas the Western society accents competition and confrontation. In fact, American education is a process of de-authorization. Their news and entertainment shows mock their leaders to an extent which would be regarded disrespectful and public support for the government has been stagnant at around 50 percent for many years. This is diametrically opposed to the Chinese society." Therefore, to strike a chord with the Western audience, an effective way is to focus on issues concerning ordinary people in a down-to-earth manner, Wang Guan suggested.
Wang emphasizes the importance of directly responding to Western viewers' doubts and questions about China, even if it means admitting shortcomings and flaws, and on this basis, going on to unfold the Chinese side of the story, to make them understand what the truth is. He puts this theory into practice in his shows and the result has been startling. The 60-plus episodes of Realty Check with Wang Guan have a viewership of more than 300 million – and half of the viewship is from abroad.
Two episodes on Xinjiang are a case in point. To counter the West's narrative that there were "re-education camps" in Xinjiang, where people were being held virtually prisoners and there was religious repression of the Uygur ethnic community, who are mainly Muslims, the team went to the spot. They interviewed some of the people who had taken part in such programs and they said on camera that they were neither repressed nor held against their will. Instead, they had been taught vocational and language skills to improve their lives and livelihoods.
If you look at the facts, though 22 Western countries and Japan wrote a letter to the UN, criticizing the Xinjiang "camps," 54 countries, most of them Muslim-majority states, supported China's counter-extremism efforts in Xinjiang and commended the development policies there.
The two Xinjiang episodes have been viewed more than 500,000 times, which is higher than the viewership of those by established Western media outlets defaming the re-education centers.
"The Western narrative has always highlighted 'ethnic repression,' and downplayed terrorism in China. On this matter it shows a double standard," Wang Guan said.
"Each time I question U.S. officials about terrorist attacks in China, they usually came short of calling them terrorism, until I pressed them hard after the 2014 Kunming train station attack," Wang Guan said in his show.
"How would the U.S. characterize those attacks (in Kunming)?" Wang Guan asked in an interview with Susan Rice, then U.S. National Security Adviser, in November 2014.
"We've been very clear in condemning all forms of terrorism. And we've condemned these attacks," Rice said, and then admitted it was a terrorist attack.
Yet Western media didn't follow suit; among the top 30 reports on France's Charlie Hebdo attack in 2015, 25 used the term "terror attack," whereas, about the Kunming attack, only two used it, Wang pointed out in his show.
In-depth research, a quick and witty response to unjustified accusations leveled against China, and apt historical and international comparisons have made his shows gain traction among Western audiences. "Facing accusations from the West, though not going the way of tit for tat, it's necessary to make clear our stance and drive home our point with facts and logically sound argument." That's Wang Guan's principle and prescription.