At 10:44 am on June 5, the gaze of TV audiences globally riveted on the Long March-2F Y14 carrier rocket launch at northwest China's Jiuquan Satellite Launch Center. About 577 seconds later, the Shenzhou-14 crewed spaceship separated from the rocket and entered its designated orbit.
Seated at the launch center's command and control hall, chief designer of the Long March-2F Y14 Rong Yi watched on the monitor the rocket's lift-off, stage-by-stage detachment of the escape tower, the four boosters, and the fairing, and finally its separation with the spacecraft, knowing their rocket has fulfilled its mission. She so witnessed the launch of China's first crewed flight mission since the construction of its space station began last May. This was also her ninth successful launch mission in 10 years.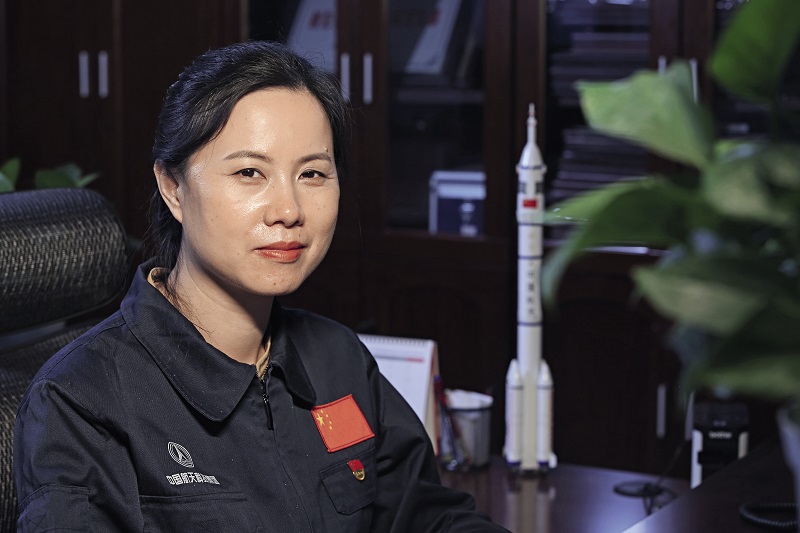 Rong Yi, chief designer of the manned carrier rocket Long March-2F.
Pull Out All Stops to Ensure Complete Success
"I must say I felt a bit nervous about the launch from my post in the command and control hall. After all, the entire world was watching China's very first crewed flight mission since construction of the space station got into full swing. Its success was our solemn mission," Rong Yi told China Today. She emphasized to engineers and technicians on a daily bases the serious responsibility their work carried in ensuring astronauts' safety. "The other rocket's payload may be costly, but the lives of the astronauts that make up the Long March-2F payload are beyond price," Rong said.
Although somewhat jittery, Rong had full confidence in their rocket. "Knowing we'd left no stone unturned in our launch preparations, I had complete faith in both our rocket and our team."
Developed by China Academy of Launch Vehicle Technology, a subsidiary of China Aerospace Science and Technology Corporation, the Long March-2F carrier rocket has, since its maiden flight in 1999, launched all Shenzhou spacecraft and target spacecraft. Its 100 percent success rate has engendered the epithet "divine vessel."
The China Manned Space Program consists of specific systems mainly encompassing astronauts, space applications, manned spacecraft, carrier rockets, launch sites, control and communications, landing sites, manned space stations, and a space laboratory. "As to the role of carrier rockets in the space program, China upholds the concept whereby 'the carrier rocket system must first be developed in order for the space program to advance.' In other words, the capacity of our carrier rockets determines how far our space program can go. As a vanguard, therefore, the carrier rocket system laid the groundwork for China's space program," Rong Yi told China Today. She explained that the manned carrier rocket embodies the quintessence of carrier rocket technology excellence in fulfilling its high requirement for reliability and safety. It consequently constitutes an important foundation for the expedition of China's manned space program.
Rong Yi, now in her mid 40s, obtained her bachelor's degree from National University of Defense Technology, and her master's and doctoral degrees from Tsinghua University. Having joined China Academy of Launch Vehicle Technology in 2006 to do her postdoctoral research, she soon established an indissoluble bond with the Long March-2F rocket. "I started by participating in the 2011 Tiangong-1 space lab and Shenzhou-8 spacecraft launch missions, before going on to expedite all of China Manned Space Program's ensuing Long March-2F rocket launches," Rong said.
For Rong, the manned rocket's most distinguishing characteristics consist in its high reliability and safety requirements. "In the early 1990s, when our country first began developing the Long March-2F rocket, the evaluated reliability value of rockets at that time was around 0.90. The required reliability value of the Long March-2F, however, was set at 0.97," Rong said. Such an ostensibly minor change was achieved through the rocket R&D team's unremitting study and experimentation.
Rong explained that, after reaching to a certain degree, the further improvement of reliability is difficult. "For example, as a single rocket flight contributes only 5/100,000 to the reliability index, you can imagine how hard it is for the rocket R&D team to improve the index by 7 percent," Rong said. She went on to mention many experiments geared to improving and verifying the reliability of all related products, and the wide range of measures that have been taken in regard to high reliability redundancy of any of the rocket's components, parts, machines, and subassemblies. In many cases, technicians had to pull an all-nighter just to verify a product parameter.
The Long March-2F's distinguishing feature is the lightning rod-like escape tower atop it. "The escape tower is a safety device which, in the event of a failure or safety hazard, draws the spaceship away from the rocket, so ensuring the astronauts' safety," Rong told China Today.
Eventually, the Long March-2F rocket achieved the holy-grail-like reliability index of 0.97, and moreover hoisted the actual reliability evaluation value to 0.9894. The evaluation value for the safety of astronauts guaranteed by the escape system, meanwhile, reached a dizzy 0.99996. This equates to one failure in every 100 launches and, should a flight failure occur, less than one failed escape attempt of the 100 the escape system facilitates.
The Long March-2F Y14 rocket is transferred to the launch site from the technical zone at the Jiuquan Satellite Launch Center in northwest China on May 29, 2022.
Meticulous Work Ensures Improvement
China decided to bring the manned space program into effect on September 21, 1992, by means of a three-step strategy. The first step was sending astronauts into space to do space application experiments, and bringing them back safely. The second step was to make technological breakthroughs in regard to the orbital docking between the manned spacecraft and other space vehicles. The third step is to assemble and operate a permanent manned space station.
"From its maiden flight in 1999 through to 2020, the Long March-2F had been launched more or less every three to five years. Since last year, the launch frequency has been two times each year. So our workload has considerably increased," Rong said.
To ensure astronauts' safety, a standby rocket was put in place in 2021, when China launched the Long March-2F Y12, as an emergency response. Since then, a new two-rocket launch mode has been adopted. "Emergency rescue might be necessary at the space station stage of our manned space program. In the event of an emergency, we must launch another rocket that will take the standby spacecraft into the space station to bring the astronauts back. This distinguishes our manned rocket launch mode from that of others. It's also why our technicians need to be stationed at the launch center for more than 50 days before the launch. Our new mode comprises one rocket for launching and another as standby," Rong said.
The Y15, standby of the Long March-2F Y14, scheduled to be launched in November, is now vertically stored at the launch center. "After the Y14 launch mission we embarked on assembling and testing the Y16 which, as the Y15 standby rocket, will be transferred to the launch site around October. This year we must also do preparatory work for the Y17 and Y18, which are to be comissioned next year."
The Long March-2F rocket has steadily undergone improvements for 20 or more years. "Our industry as a whole has an excellent fault-detection and information-sharing mechanism. Any failure, defect, or risk that appears in a rocket will be rapidly made known to the development teams of each rocket type. We all participate in troubleshooting and analysis of problems, and generally do our best to make improvements. The attention we pay to what appear to be minor problems stems from knowing that improving our rocket's reliability hinges on daily accumulation," Rong told China Today.
As Long March-2F launch missions become more frequent, rockets are being produced in batches rather than singly. Rong revealed that the Y15 is among the new batch, wherein updated improvements are manifested, that is about to be put into use.
Technicians conduct a vertical checkout of the Long March-2F Y14 rocket at the Jiuquan Satellite Launch Center in northwest China in May. Photos courtesy of China Academy of Launch Vehicle Technology
Dedicated Team Fuels China's Space Dream
After entering the core module of China's space station on the day of the launch, the three Shenzhou-14 spacecraft astronauts will stay in orbit for six months to complete their tasks. The two lab modules, Wentian and Mengtian, will be launched in July and October respectively to dock with the core module, forming a T shape that completes the in-orbit construction of China's space station. The Tianzhou-5 cargo spacecraft and Shenzhou-15 crewed spaceship will then arrive before the end of the year. The three Shenzhou-15 astronauts will rotate in orbit with the Shenzhou-14 crew and then remain at the space station for six months.
"The priority of our work this year will undoubtedly be to guarantee the successful launch of the Y15 that sends Shenzhou-15 to the space station, thus bringing our launch mission during the construction stage of the space station to an end," Rong told China Today. Next year, China's space station will formally enter the operation stage, during which one to two manned flights will be scheduled yearly. The task of Rong's team is to streamline their work and ensure the quality of all launch mission-related products.
As chief designer, and also chief technical expert at China Academy of Launch Vehicle Technology, Rong Yi has full confidence in the Long March-2F rocket. "It may be said that this type of rocket holds a leading position internationally, whether in terms of reliability, safety, payload capacity, or orbit insertion accuracy."
Meanwhile, China is developing a new generation of manned carrier rockets that feature a bigger payload capacity and higher task adaptability, and are also smarter. "The payload capacity will double the current one (8.1 tonnes). And their smartness will be reflected in the ability, to replan a flight in real time. This will greatly improve the rockets' ability, should some failure occur, to resist potential risks and failures, and so be better able to complete their tasks," Rong told China Today.
Over the past 10 years, China has made incredible progress and breakthroughs in space exploration. "For example, around 2016, three respresentatives of our country's new-generation carrier rockets — the small-lift launch vehicle Long March-6, the medium one Long March-7, and the large one Long March-5 — all made their maiden flights within a dozen or more months. In my opinion, the ability to launch three brand-new, technically advanced rockets into space successfully over such a short time span underlines China's space industry peerlessness," Rong said. She attributed these impressive achievements to the merits of China's social system, which have made concentrating the necessary resources for big projects possible, as well as the country's impressive national strength and powerful support of the space program.
On the first Space Day of China, President Xi Jinping made the remark, "To explore the vast cosmos, develop the space industry, and build China into a space power is our eternal dream," thus incorporating the Chinese pursuit of space exploration into the Chinese Dream. "Inspired by the call, supported by our country and people, our space program has made successive breakthroughs," Rong said.
After the successful maiden flight of the Long March-5 in November 2016, there emerged in the West the opinion: What's frightening about China's space program is not its great achievements, but its ownership of a large group of young scientists and engineers. "We in China's space industry have followed the concept of seeking technical progress while cultivating new talents," Rong said. The young faces appearing in TV coverage of the launch site impressed the entire world. "We intentionally assign major tasks to young people and give them important parts to play in the mission. Thus through performing their tasks, they have opportunities to grow," Rong said.
For Rong, the phrase "extremely responsible and very synergetic," whereby "everyone tries to contribute to the final resolution of problems, instead of citing their difficulties as an excuse," defines the spirit of their team. Rong ascribes their high morale to devotion to and reverence for the space program. "Our respect for each other's professions and work and common wholehearted devotion to the program have entwined and evolved into a consensus and a unified voluntary action within the industry," Rong said.
As to her R&D work on the manned carrier rocket, Rong feels honored and is also keenly aware of the great responsiblity. "This is a great, glorious, high-profile program, which has drawn much attention at home and abroad. So we're very honored. Development of the manned carrier rocket, meanwhile, concerns astronaut safety. Ensuring the reliability and safety of our rocket is our paramount responsibility," Rong stated.
The greater launch frequency puts even more pressure on Rong's team. But Rong is still reveling in her good fortune. "A country's space program embodies its technological know-how and overall national strength. The manned space program, with its specialized technical requirements, merits even more investment. Completing such a grand program without strong national support would be impossible. I feel very lucky to be part of our country's program in this prosperous era," Rong said.
The 2022 sees the completion of China's construction of its space station. It also marks the 30th anniversary of the China Manned Space Program. Talking about the tasks that lie ahead, Rong brims with confidence, vitality, and ambition, "We'll strive to witness more glories of China's space program to come."