The journey of Su Yiming, the youngest Chinese Winter Olympic Champion and the first Chinese snowboarder to win an Olympic gold medal.
On February 15, the 17-year-old Chinese athlete Su Yiming was overjoyed to receive the gold medal in the men's snowboard big air event on the Winter Olympic podium. It is his first gold and second medal for the Beijing 2022 Olympic Winter Games.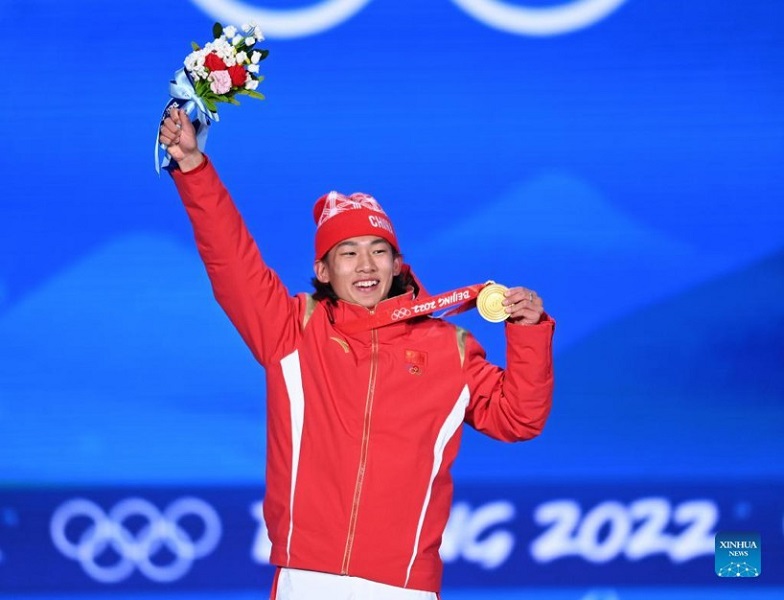 Gold medalist Su Yiming of China poses for a photo during the awarding ceremony of the men's snowboard big air at the Beijing Medals Plaza of the Winter Olympics in Beijing, Feb. 15, 2022. (Xinhua/Huang Zongzhi)
On February 7, he held aloft his first gold-rimmed Bing Dwen Dwen, official mascot of Beijing 2022, with a big radiant smile, after winning the silver medal in the men's snowboard slopestyle. It was a big breakthrough for China, as he is the first ever Chinese Olympic medalist in a snowboarding event.
On February 15, he again held the gold-rimmed Bing Dwen Dwen up in the air on the Olympic podium. This time, he bagged gold, becoming the first Chinese gold-winning snowboarder in Olympic history. Su will turn 18 this week and this gold is the best birthday present for him as he realized his childhood dream.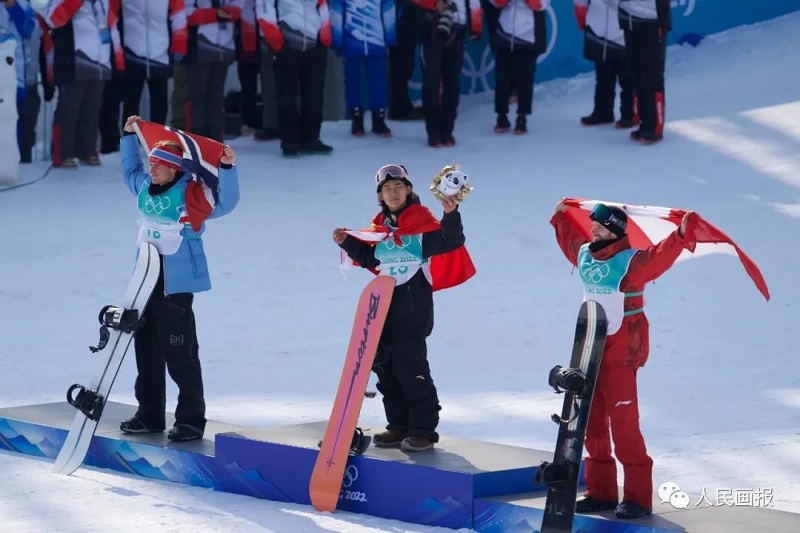 Gold medalist Su Yiming (middle) of China, silver medalist Mons Roisland (left) of Norway and bronze medalist Max Parrot (right) of Canada pose for photos after the men's snowboard big air final of Beijing 2022 Winter Olympics at Big Air Shougang in Beijing, capital of China, Feb. 15, 2022. (China Pictorial/Chen Jian)
Childhood Dream
Su Yiming was born in Jilin Province, which has long and harsh winters. His parents introduced Su to the sport of snowboarding when he was around four years old. At that time, snowboards for children were unavailable in China, so Su used a board for adults, which was taller than him.
The boy immediately fell in love with the sport and spent all his spare time honing his skills. He got up early in the morning, finished his homework as quickly as he could, and headed into the mountains despite the threat of frostbite. He soon built a reputation in snowboarding circles and was sponsored by a world-famous snowboard brand at the age of seven.
Movie Star or Athlete?
Su's athletic prowess won him a film role in 2014 in The Taking of Tiger Mountain, a movie about the army led by the Communist Party of China defeating bandits in the snowy mountains in northeast China in the 1940s. The film crew looked for a child of his age who could ski faster than adults in one of the scenes. The director realized that Su was the boy they were looking for after watching a video of him in action. After debuting in The Taking of Tiger Mountain, Su took roles in more films and TV dramas, such as Rock Kid, A Splendid Life in Beijing, and The Wolf. He seemed to have a promising acting career.
However, when Beijing and Zhangjiakou won the bid to host the 2022 Winter Olympic and Paralympic Games in 2015, it inspired Su to pursue his dream in snowboarding. "On hearing the news that the winter games would be held in Beijing, I dreamed of joining the competition. But to qualify, I needed results in professional contests. So, from that moment, I decided to become a professional snowboarder, as this was the only way to enter professional contests," said Su.
His friends in the movie industry did not forget their silver screen star. Days before the men's snowboard slopestyle finals, Xu Ke (Tsui Hark) and Huang Jianxin, director and executive producer of The Taking of Tiger Mountain, wished Su good luck via social media platforms.
"Your acting was very impressive in my movie and your skiing skills are superb. I'm looking forward to the moment when you to take gold at Beijing 2022," Xu said in a video before the winter games. Huang recalled a playful Su on the movie set and how he would have fun skiing and make the crew anxious each time he fell. "I'm so happy that you will compete at Beijing 2022. Keep going!" he said.
Back on the Snow Slopes
After making the decision to focus on snowboarding, the young Su set out to secure a ticket to compete in the Beijing 2022.
Su was officially admitted onto the national team in 2018 at the recommendation of his Japanese coach who had trained him since 2012. The following year, he won first place in the 2019 Spy Optics New Zealand Freestyle Open Rookie Fest Slopestyle Finals, at Cardrona Alpine Resort, New Zealand. In the process Su beat many world-renowned athletes from whom he had learned by watching videos of their performances.
The championship reinforced the teen's self-confidence. "Competing with them was a great joy in itself. I was confident about completing my set, but I did not expect I would win gold. I was thrilled. The victory was a self-affirmation and augurs well for my snowboarding career," said Su after his win.
A Prodigy who Sets Records
In the following years, Su won more awards and set more records. In 2020 and 2021, he made a clean sweep of gold medals in the national slopestyle and big air events. In March 2020, he pulled off the Bs Triple Cork 1620 Mute, the first Chinese snowboarder to do so. The following year in January, he again made history in Chinese snowboarding by completing the Cab 1800. In October last year, he became the first person in the world to finish an insane stunt called Backslide 1980 Indy Crail in Austria. To date, only five people around the world have performed this stunt, and Su is the youngest among them. In December 2021, he became the first Chinese snowboarder to compete in a big air World Cup event. He was also the first snowboarder who landed both a backside triple cork 1800 and a frontside 1800 in a FIS (International Ski Federation) competition.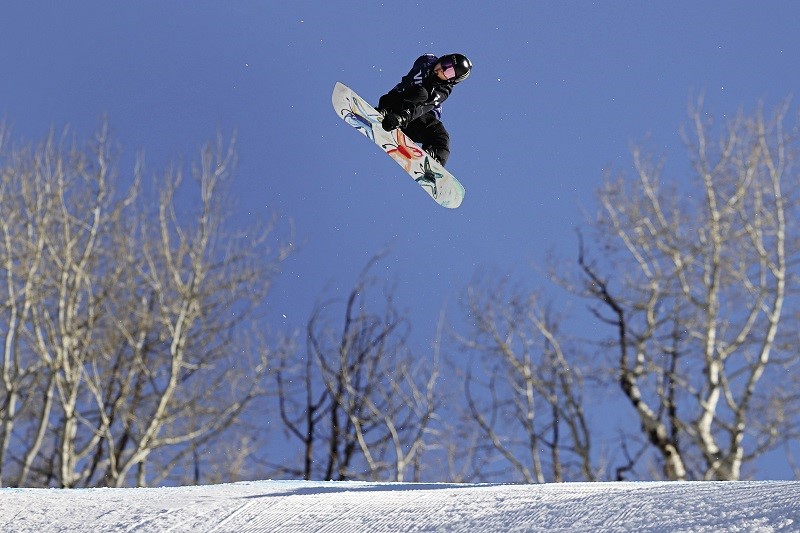 Su Yiming of the Chinese team competing in the Men's Snowboard Big Air World Cup finals at the Steamboat Resort in Steamboat Springs, Colorado on December 4, 2021.
"I think the collective level of Chinese snowboarders is improving. The sport is relatively new in China, and we lag behind the rest of the world. After I chose to be a professional athlete, I have been trying to follow their [the best snowboarders in the world] steps, and I am making progress." said Su.
He was candid about his goal. "I have always been aiming for gold. I will do my best no matter what. [However], if I finish the set as planned, I will be happy regardless of the scores."
The young athlete has even more exacting requirements for himself than his coach. "I am the only one who knows if I am up to a satisfactory level. It is hard to express in words. The process from jumping off to landing involves so many details. How it appears to onlookers and how it is perceived by me may be different, and the latter is more important. I will repeat the sets until I am completely satisfied with myself," he said.
Su once said on his twitter-like Weibo account that he loves the feeling of flying. But now he has no time to relish the feeling while performing a stunt. "When doing a simple set, I don't need to think much about it, and I can just look around or upward into the sky. But when performing a difficult move, I have to think about all the specifics."
Vying for Olympic Medals
All the hard work paid back at Beijing 2022. On February 6, with an incredible opening run, Su took first place in the qualification round of men's slopestyle, meaning that he led his childhood hero, Mark McMorris, a two-time Olympic silver medalist. When asked before the finals about the color of the medal he wanted to win, he said he just wanted to enjoy the moment and do his best in the finals. And he did just that, securing a silver medal with 88.70 points in his second of three runs where he landed a cab 1800. After completing the run, he threw himself in the snow and waved his fists in the air, overwhelmed with joy for landing the complex trick.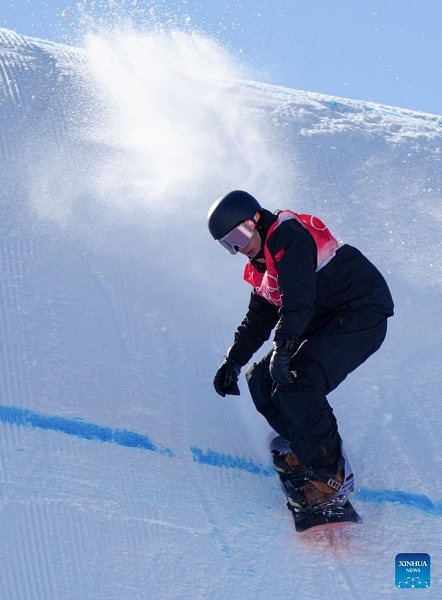 Su Yiming of China competes during the men's snowboard slopestyle qualification match at Genting Snow Park in Zhangjiakou, north China's Hebei Province, Feb. 6, 2022. (Xinhua/Xue Yubin)
"Today I competed at the Winter Olympic Games in my country. There are many people cheering me on. All the snowboarders did great today. I competed against my childhood hero and stood on podium with him. It is a very precious episode in my life," Su said excitedly after winning the silver medal at the slopestyle final. "I made it today. I am really happy. I hope I can win more Bing Dwen Dwen by doing my best."
Basking in the celebration glory of his silver medal, this teenager did not dwell on the victory. The minute he finished the slopestyle event, he started to concentrate on his second event at Beijing 2022 – men's snowboard big air – a week later.
In the big air's qualification round, Su placed fifth among 12 qualifiers, with the Canadian slopestyle winner Max Parrot leading the round.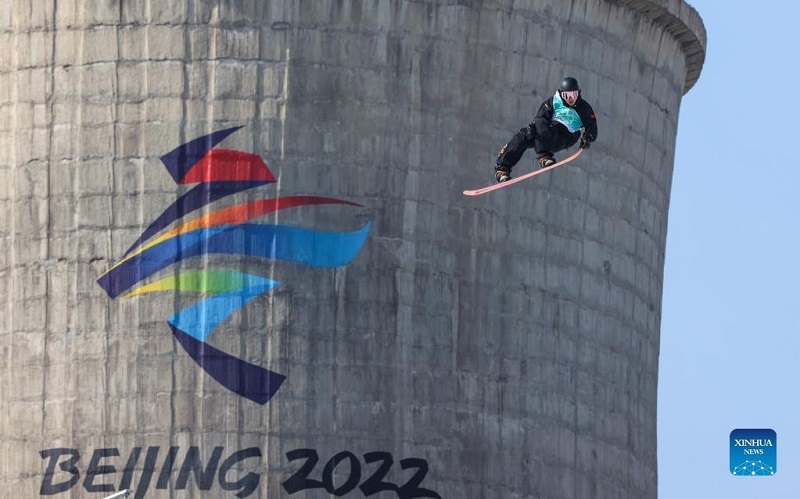 Su Yiming of China competes during the men's snowboard big air final of Beijing 2022 Winter Olympics at Big Air Shougang in Beijing, Feb. 15, 2022. (Xinhua/Yang Lei)
In the final, nearly all competitors started with landing the dangerous 1800 in the first run. Su landed a frontside 1800 in the first run and scored a solid 89.50 points. His domination emerged in the second run with a smooth ride of backside 1800 at 93.00 points.
Su was the last to ride in the third run, so at the time the second last competitor finished the race, Su knew he led the event. At the starting line, he could not hide his excitement and hugged his Japanese coach Yasuhiro Sato. As part of the "warm-up" celebration, he wrapped up his Olympic debut with a simple but triumphant landing at Big Air Shougang. Su won gold with 182.50 points, while Norway's Mons Roisland won silver with 171.75, and Canada's Max Parrot took bronze with 170.25.
In the interview after the final, the teenager was overwhelmed with emotion. "I was so happy that I couldn't even hold back my tears. I know my parents came to see my performance today. I know where they sat though I couldn't get close to them. I'm really grateful to my parents, my coach and my motherland. I appreciate all the support," he said.
As Su always says, he enjoys snowboarding not just for the sake of winning. "Snowboarding is not just a competition, but a tool facilitating communication among snowboarders. All the best snowboarders get together and enjoy the games," said Su.
Winning a gold and a silver at Beijing 2022 is a dream coming true for this gifted teenager and just reward for his years of devotion to snowboarding, along with the perfect 18th birthday gift.