The 2022 Winter Olympics spring from the conviction that sport can inspire individuals and mankind as a whole to overcome global challenges as a community with a shared future and unite under the Olympic flag, whose spirit transcends political, religious, and ethnic boundaries.
Throughout 2021, the multiple telephone conversations that Chinese President Xi Jinping held with President of the International Olympic Committee (IOC) Thomas Bach highlighted their strong coordination. A solid infrastructure, reinforced with the latest preventive healthcare measures, reflects the Chinese government's commitment to the Beijing Olympic Winter Games, which will begin on February 4, 2022. This is no surprise when we remember the Beijing 2008 Summer Olympics, and the extraordinary organizational skills, keen competitiveness, boundless hospitality, and dramatic evocations they encompassed. Beijing will now become the world's first city to host the Olympic Games in summer (2008) and in winter (2022).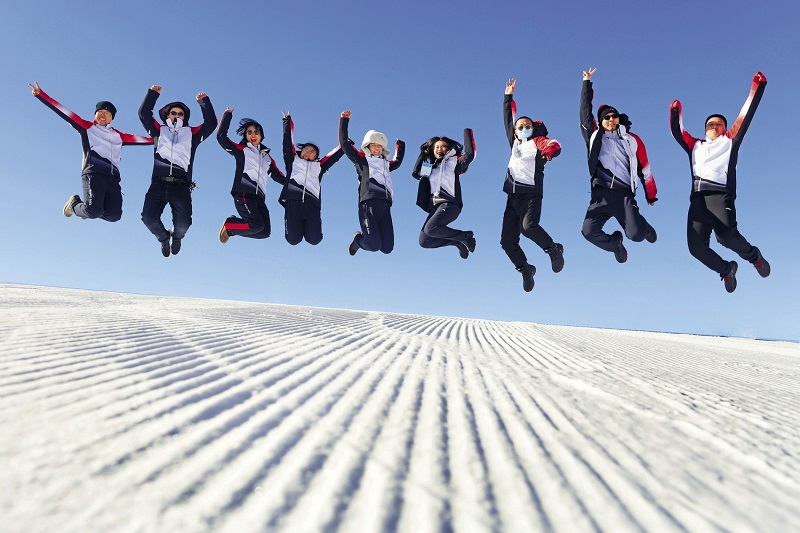 Genting Snow Park in the Zhangjiakou competition zone of Beijing Winter Olympics is ready for the Games on January 5, 2022.
Faster, Higher, Stronger – Together
With vaccines, various tracking measures, and a coordinated strategy, cornering COVID-19 is possible. The highly competitive physical energy imbued in the 2022 Olympic Winter Games is emblematic of the triumphant excellence of the spirit and human body in the pursuit of new goals, frontiers, and inspiration. Solely that country can now wholeheartedly promote and live up to its new motto, recently approved by the IOC, "Faster, Higher, Stronger – Together."
Winter sports have made significant progress in China since China's reappearance at the Olympic Winter Games in 1980. During the ensuing decades, China ascended the organizational podium. Moreover, today, due to an accumulation of Olympic medals in recent events, it is a sports superpower. So from any angle you look at it, Beijing 2022 will ensure that the Olympic flame transcends all non-sporting considerations. Or, as Chinese speed skater Yang Yang, the first Winter Olympics gold medalist in China's history, observed, "The greatest thing about Beijing 2022 is that it will happen."
Nearly 3,000 athletes from around the world are to compete in 15 disciplines distributed in seven sports. They are: biathlon, bobsleigh (including skeleton), curling, ice hockey, luge, skating (including figure skating, and short-track speed skating); as well as skiing (including alpine, cross-country, aerobatic, Nordic combined, ski jumping and snowboarding).
Innovative Games
The event will stand out, first of all, for its sporting innovation. Following its success at the Winter Youth Olympic Games in Lillehammer, Norway in 2016, and in Lausanne, Switzerland, in 2020, the women's monobob is on the program of the 2022 Winter Games among other new mixed team events such as short-track speed skating, freestyle skiing aerials, ski jumping, and snowboard cross, as well as men's and women's freestyle skiing big air.
Another noteworthy aspect is that the 2022 competition will be the most equitable in regard to gender equality in the history of Olympism, since around 45 percent of participating athletes will be women. Female participation is well above the highest percentage of 41 percent in previous Olympic Winter Games.
Third, the Games embody extraordinary and unparalleled potential due to their vast capacity to promote the joys of winter sports to hundreds of millions of potential Chinese and international winter sport fans.
Fourth, a green and sustainable approach has guided fundamental aspects of headquarter infrastructure and venues.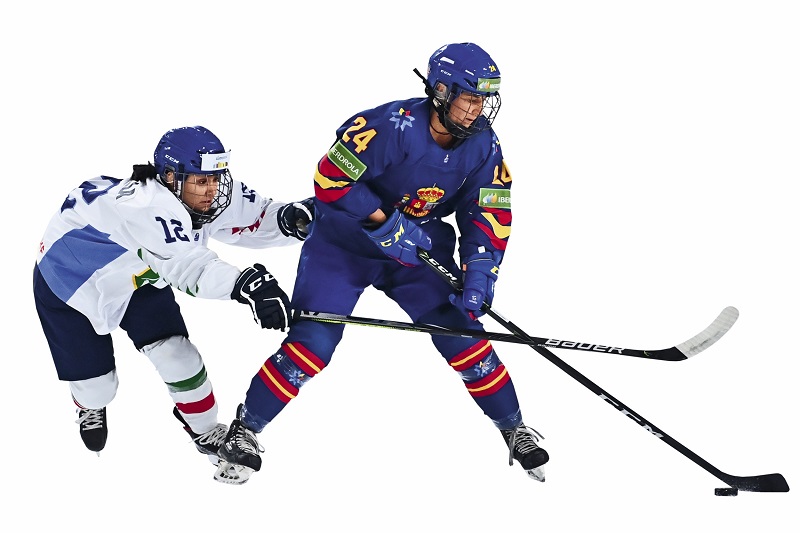 Rebecca Roccella (left) of Italy against Elena Alvarez (right) of Spain during the Spain v Italy – Women Ice Hockey Winter Olympic Pre-Qualification on October 7, 2021 in Turin, Italy.
Hi-Tech Infrastructure
Hi-tech is another defining feature of the Beijing 2022 Games. The tailor-made bullet train, running at 350 km per hour on the high-speed railway linking Beijing and Zhangjiakou, connects attendees from the two places. China Media Group set up a studio in a carriage of the Beijing-Zhangjiakou high-speed railway bullet train to conduct live streaming, featuring the world's first application of 5G+4K/8K+AI technology in an ultra-high-definition TV live broadcast.
In addition to ultra-modern infrastructure, sustainable green technology has been used to save resources and protect the environment involving such aspects as waste and sewage treatment, green power generation, and ice manufacturing. Ensuring the sustainable use of the venues after the Games is another challenge for the host city to meet. As the only city that will have hosted both Summer and Winter Olympics, Beijing is reusing several venues from the 2008 Summer Olympics. After the 2022 Winter Games, the multi-purpose venues will serve both winter and summer sports events, and will also be used for the training purpose or as a tourist resort.
Beijing 2022 has launched a WeChat mini-program, aimed at raising public awareness of the need to maintain an eco-friendly lifestyle, which invites users to list ways in which their lifestyle is low-carbon.
The Olympic Dialogue Between Beijing and Barcelona
It is also interesting to recall the connection between Barcelona (Olympic city, 1992) and Beijing (Olympic city, 2008) that strengthened European support towards Beijing 2022.
Here we bring to the fore former president of the IOC for more than two decades, Juan Antonio Samaranch, native of Barcelona, and affectionately known in China as Samalanchi or "grandfather Sa." "Sa," in his desire to modernize and globalize the Olympic flame, early understood what a fundamental pillar China would be to a sports event embodying both competition and peace, and was hence convinced of Beijing's capability to hold the Games in 2008. Such support extends across generations. In a recent visit to the Chinese capital, the son of "grandfather Sa," Juan Antonio Samaranch Salisachs, chairman of the IOC's coordination commission for Beijing 2022, stated that China's impeccable preparations, "[have] earned the full trust of all parties."
The global audience may then experience the vibrant Beijing 2022 opening ceremony which, as disclosed by auteur and world-class filmmaker Zhang Yimou, (who directed the Beijing 2008 Olympics opening and closing ceremonies) differs from that seen at the 2008 Games in its manner of lighting the Olympic Cauldron, and is, "unprecedented in the over 100-year history of the Olympic Games."
Chinese speed skater Yang Yang recommends that all athletes participating in the Beijing 2022 "Enjoy all the details, and each aspect, because they are all truly about life."
AUGUSTO SOTO is director of the Dialogue with China Project.