On December 8, 2020, while Nyingchi City was feeling the icy chill of winter, students at a technical school were adding warmth to the ambience as they enjoying a cooking class. The catering training building was a hive of activity as more than 30 students from various counties and districts in Nyingchi learned how to use various seasoning methods from a culinary master Tsering Yangzom.
Although only a 21-year-old, Tsering is a passionate guru on Tibetan culinary skills. This is her second stint as a teacher for the Tibetan breakfast training class in the vocational school. Her easy-to-understand theoretical explanations and skillful cooking demonstrations helped trainees to gain essential knowledge and skills during the month-long course.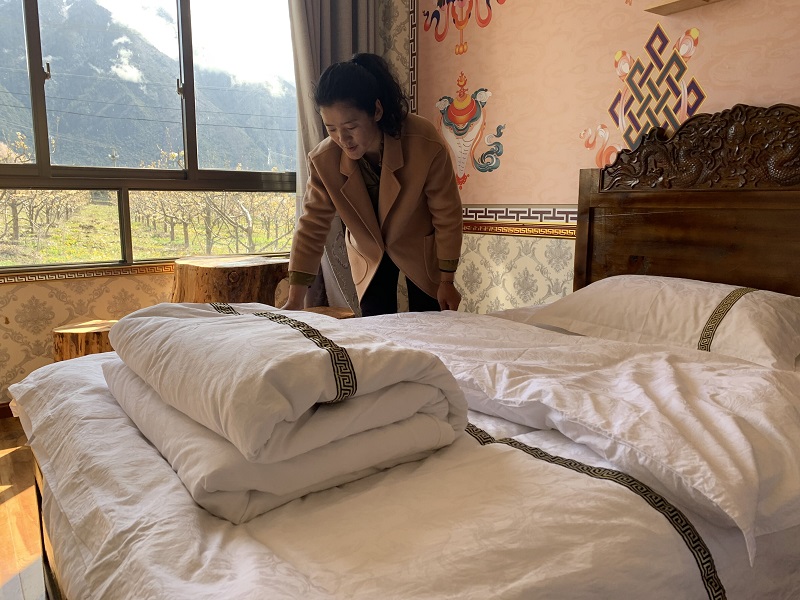 Dechen Wangmo makes the bed at her family inn.
Located in the southeast of Tibet, Nyingchi boasts dense forests and picturesque scenery. However, the beautiful place had been plagued by poverty for years. At the end of 2015, the city had a poverty-stricken population of 22,803. The poverty incidence rate was 16.42 percent. Most of local farmers and herdsmen had no skills. For generations, they could only rely on growing highland barley and raising yaks for a living.
In order to change this situation, the city upskilled these villagers and helped them find employment so that they can rise above poverty.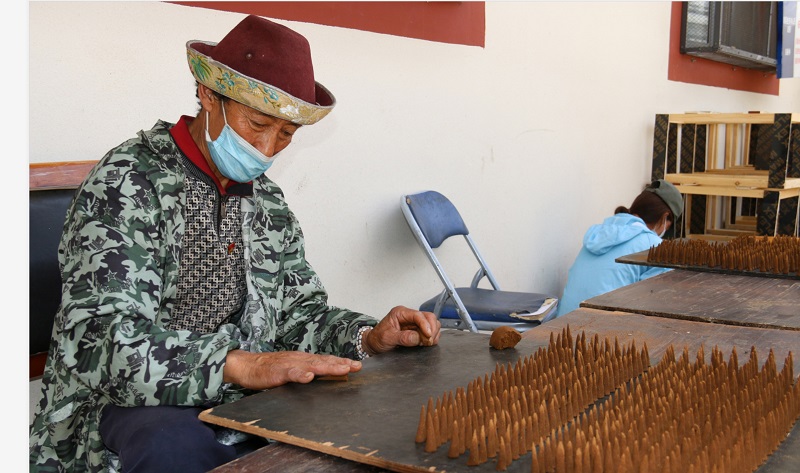 Samdrup makes Tibetan incense by hand at her factory.
Technical Training
"We tailor make training programs for farmers and herdsmen, and the purpose is to make sure they master a certain skill," said Zhu Baijia, principal of Nyingchi Technical School. Instead of complicated or profound theories, teachers focus on easy-to-understand techniques and methods to arouse students' enthusiasm about learning.
"Thanks to government support, I got a diploma and landed a job," said Dechen Wangmo from Guxiang Township, Nyingchi. Wangmo was crippled by polio, and her parents are in poor health. She was recommended to work on a domestic service major at the technical school. "I was exempt from tuition fees, and got scholarships and a paid part-time job offered by the school," she said. Now, the young Tibetan runs a homestay business under the support of the school and local government. "It is skill training that completely changed my life," she said. 
Sonam Tsering hails from Gongbo Gyamda County, Nyingchi. Previously, he spent his days at home unable to find employment. He later registered in a program for electrical applicance repaire. He plans to open a repair shop in his county after finishing the program.
Paljor, a classmate of Sonam Tsering, signed up for the program after finding friends went on an upward career trajectory thanks to skills learned in the school.
Neither Tsering nor Paljor had basic knowledge of the profession, so it was a bit difficult for them at first. Teachers have taken the condition into account. They slowed down the teaching pace, made elaborate explanations, and gave hands-on tutoring to help students like Sonam Tsering master the skill. A pair-up approach was also adopted, asking outstanding students to help those who found the learning a challenging task.
Students at the technical school generally come from low-income families. The school offers them with free stationery and helps them with certificate tests and employment.
According to Li Jicheng, director of the Nyingchi Municipal Bureau of Human Resources and Social Security, as of November 2020, the city had found employment for 37,800 farmers and herdsmen, accounting for 49.4 percent of local total labor force, translating to incomes of RMB 430 million. Among them, 9,603 were from impoverished families, an increase of 1,311 over the previous year. On average, each of these workers from poor families had their income increased more than RMB 11,400, Li said.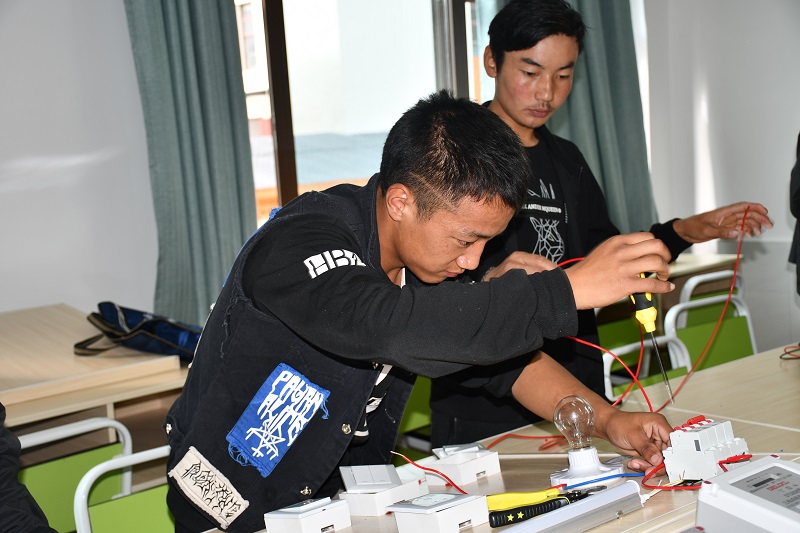 Sonam Tsering and Paljor learning about electric circuits at electrical appliance repair training.
New Income Sources
Tibetan incenses are made from a variety of precious Chinese herbal medicines. They were mostly used for religious rituals in ancient times. In modern days, the time-honored specialty in Tibet has been widely received as people believe it can purify the air and help prevent diseases. Amid the fight against poverty, local people tapped into the potential of Tibetan incenses as a way to increase their incomes.
Samdrup, who comes from Jiemai Village at an altitude of 2,900 meters in Nyingchi, is a well-known expert in making Tibetan incenses. But the cash-strapped Tibetan woman could only run a cottage business. In 2016, the local government loaned RMB 309,800 to Samdrup and helped her build an incense processing plant. In September 2016, the factory was officially put into operation.
Samdrup has been dreaming of starting a business since childhood. She also has the skill. After the factory started operation, she turned her focus on securing sales channels. With strenuous efforts, she reached sales cooperation agreements with nine handicraft shops in Lhasa and other areas in Tibet. She also registered vending outlets on e-commerce platforms.
To produce products that cater to the preferences of various customers, Samdrup asked more than 30 tourists from various places for their opinions and suggestions on the aroma, shape and packaging of incenses. She went to local Tibetan incense markets for market research, and continuously improved her Tibetan incense formula. Thanks to the efforts, she earned RMB 60,000 in just four months in 2016.
There were another six poor households in her village. They have shaken off poverty thanks to participation in Samdrup's incense making business. Since 2017, the six households have been receiving business dividends amounting to 3,100 yuan every year. Besides, they could earn a monthly salary of RMB 3,000 by working in Samdrup's factory. The business enabled local residents to find a job at their doorway and secure a stable source of income.
Nyingchi has been supporting able people like Samdrup in leading the fight against poverty and endeavor for well-off lives. In addition, the construction project of the Sichuan-Tibet Railway has also created many job opportunities for local farmers and herdsmen. As of the end of November 2020, a total of 12,282 farmers and herdsmen had been working for the project, earning 100 billion yuan in labor compensation.
After years of hard work, in 2019, the city achieved a regional GDP of RMB 17.25 billion; the per capita disposable income of urban residents was RMB 33,041, an increase of 11.3 percent; and the per capita disposable income of rural residents was RMB 16,710, an increase of 12.8 percent. All 490 impoverished villages were lifted out of poverty. Absolute poverty was completely eliminated, and people's sense of benefit was continuously enhanced.
Nyingchi now has the completion of a well-off society in sight.
ZHANG MENG is a reporter at Tibet Daily.