RWANDA, a landlocked country in Central and East Africa, is not well known by many ordinary Chinese. As President Xi Jinping started his state visit to the African country in late July, the first paid by a Chinese president since the two countries established their diplomatic relations in 1971, people began to notice the "land of a thousand hills."
However, for Rwandans, China is not strange at all. China has become Rwanda's biggest trading partner and project contractor, also one of the major sources for its foreign investment. Chinese companies have undertaken more than 70 percent of Rwanda's national highway construction. As Xi said in an article he wrote for Rwandan newspaper The New Times, titled "China and Rwanda: A Friendship Higher than Mountains": "The friendship between our two countries is the epitome of the friendship between China and Africa."
To help our readers learn more about the vibrant African country, the friendship and mutually beneficial cooperation between China and Rwanda, and see China through the eyes of an African diplomat, China Today interviewed Rwandan Ambassador to China Charles Kayonga.
Complementary Advantages Promising Huge Cooperation Potential
African countries are active participants of the China-proposed Belt and Road Initiative. During President Xi's state visits of four African countries in late July, China and the four countries of Senegal, Rwanda, South Africa, and Mauritius sought to expand their cooperation under the framework of the initiative by aligning their development strategies and taking advantage of their economic complementarity.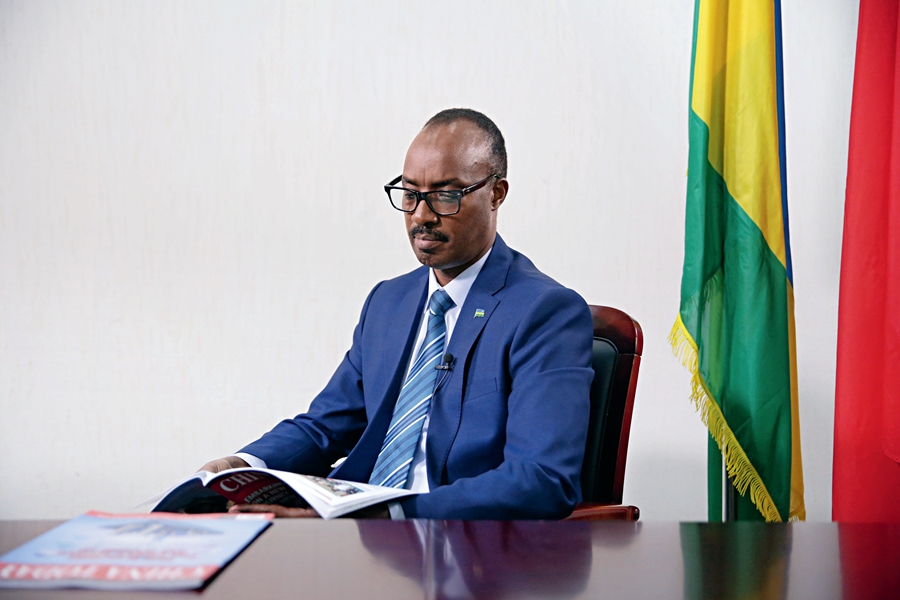 Charles Kayonga, Rwandan Ambassador to China.
"The Belt and Road is a very welcome opportunity for both Africa and China, indeed for the whole world, because it aims to create conditions for development, building infrastructure, improving interconnectivity, and also boosting productivity along the routes. And Rwanda is eager to take advantage of this to build infrastructure connecting us with the coast, and also build productivity capabilities, in order to boost production and improve the added value of products," said Kayonga.
He went on to elaborate that as a landlocked country, Rwanda looked forward to cooperating with China to lift the country out of geographical isolation so that it can easily move goods to the coasts, or transit them to the other side of Africa. In addition, according to the ambassador, the country also expects to upgrade its development level in fields such as manufacturing, education, health care, and agriculture by cooperating with China under the Belt and Road Initiative. In fact, all these aspects are covered in the cooperation agreements sealed during President Xi's visit.
Since the two countries established diplomatic ties, their bilateral relations have developed by leaps and bounds. The Chinese government started to provide scholarships to Rwandan students in 1976. Each year, several hundred talented Rwandan students go to study in China on Chinese government scholarships. As for health care, China started to dispatch medical teams to Rwanda in 1982, and there have been hundreds of medical staff working in Rwanda since then. According to President Xi's article, the China-sponsored project of drilling 200 wells in Rwanda, soon to be delivered, will help ease water shortage for over 110,000 people. Digital TV services will soon be brought to 300 villages in Rwanda under an ongoing project of providing access to satellite TV to a total of 10,000 Rwandan villages, enriching the cultural life of over 150,000 rural residents.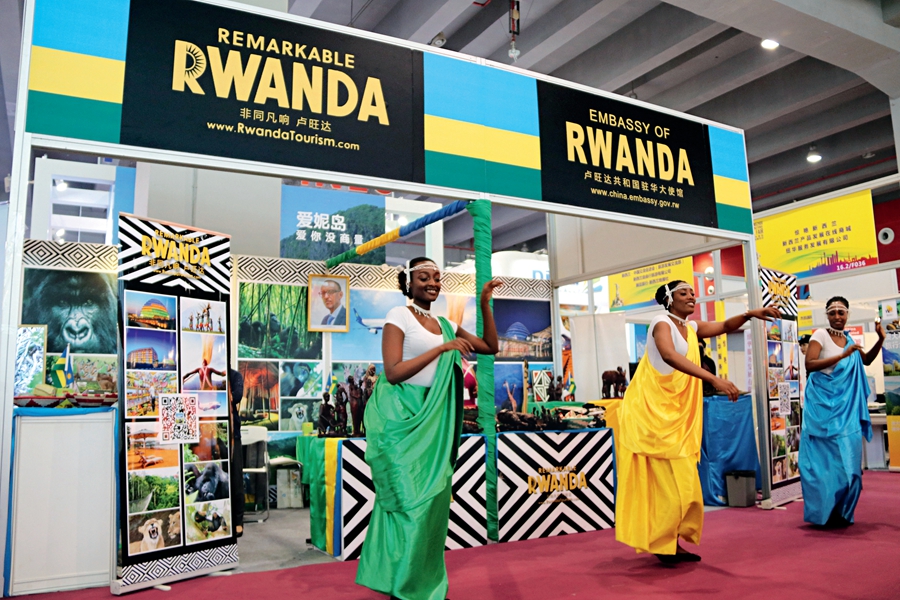 Rwanda displays its tourist attractions at Guangzhou International Travel Fair 2018.
"China has done a lot in Rwanda. I would say that the current development of Rwanda really cannot be spoken [about] without the role of China. It has been a major contributor to our development," said Kayonga. According to the ambassador, besides roads, Chinese companies have also built many skyscrapers, new residential areas, and hotels. "Chinese companies are very involved in these, and also in the industrial sector. For instance, our biggest garment factory was established by a Chinese entrepreneur," he said.
Rwanda is dubbed the "Switzerland of Africa," for its elevated geographical location and lower temperature compared to typical equatorial countries. For example, its capital Kigali is endowed with a very clement weather with temperatures between 12°C and 27°C all year round. The capital city is also recognized as one of the safest in Africa, and won the UN Habitat Scroll of Honor Award in 2008. In addition, the country abounds in rare animals, for example the Mountain Gorilla and 700 species of birds. All these constitute Rwanda's unique tourism resources.
According to Kayonga, Rwanda is working to attract more Chinese tourists by carrying out promotion activities and improving its facilities. "We know that China is the world's biggest outbound tourist market, so Rwanda surely hopes to attract more Chinese. What we are doing now is working with the RDB (Rwanda Development Board) and the embassy to promote tourism products and conduct tourism fairs, to brand Rwanda. Apart from that, there are plans by the government of Rwanda to work with China to start flights from Rwanda to China, beginning with Guangzhou. And already China has provided us very good conditions, because China has listed Rwanda as one of the preferred destinations. The government encourages Chinese travel to Rwanda as one of the top destinations."
In Rwanda, there are also Chinese restaurants and hotels run by Chinese firms. Moreover, supported by the local Confucius Institute, many Rwandans are learning Chinese. All this makes Kayonga believe that more and more Chinese tourists would visit Rwanda.
China in the Ambassador's Eyes
As the world is becoming increasingly interconnected, globalization has become an irreversible trend. In the report delivered to the 19th National Congress of the Communist Party of China (CPC), General Secretary Xi Jinping of the CPC Central Committee reaffirmed China's commitment to a path of peaceful development, building a community with a shared future for mankind, and forging a new form of international relations featuring mutual respect, fairness, justice, and win-win cooperation. Kayonga showed his endorsement of the new concepts concerning international governance.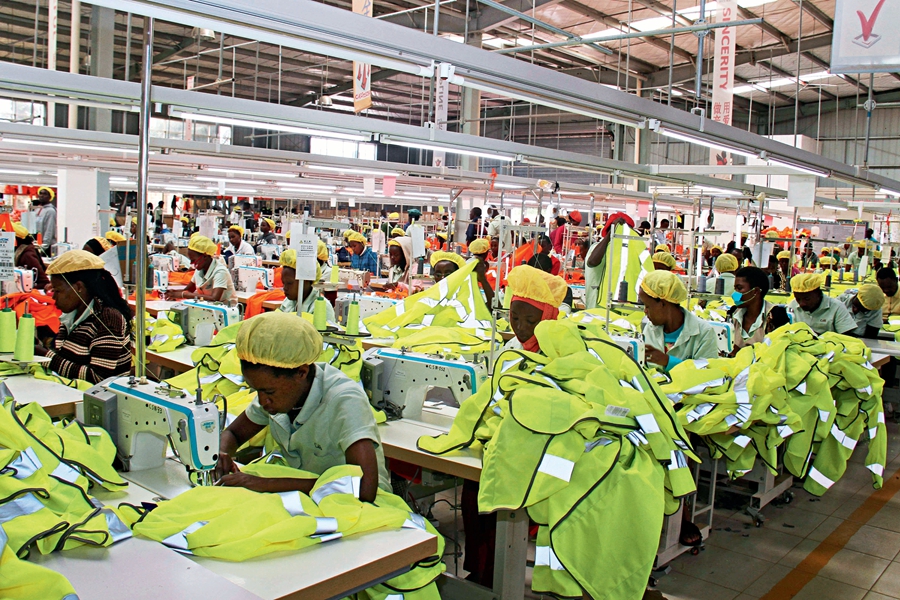 The C&H garment factory established by a Chinese firm in 2015 in Kigali, capital of Rwanda, has created 1,200 jobs for local people.
"We have had a very difficult past that has been characterized by unequal, sometimes, exploitative relationships, whereby people have not been treated equally. So President Xi Jinping's proposal of building a community with a shared future for mankind is a welcomed plan, because it's a guarantee for a stable future. When people have mutual benefit, when they relate equally with sincerity and respect, that is when you can have a guarantee of stability and continued development," said Kayonga.
Without this type of concept rooted in people's minds, "definitely there is potential for conflict and problems as we have seen in our past," the ambassador said. "Whether [looking at] the past of Africa or even globally, we do not have very good histories. It's because of the main role of unequal relations. That's why I believe that the vision of President Xi Jinping of building a shared future for mankind is also supported by our leadership in Rwanda. Our country is stable also because of shared and equal opportunities. In the past that has not been the case, that's why I applaud this idea."
This year also marks the 40th anniversary of China's reform and opening-up. Under the leadership of the CPC, China has lifted over 700 million people out of poverty, a history-marking feat. Meanwhile, over the span of 40 years, China has developed into the world's second largest economy. China's experience is undoubtedly inspiring and enlightening for African countries, which share similar development trajectories with China and also seek to shake off poverty and boost their economies.
"[It is very important to have] political stability. We understand from China's experience that without political stability, you cannot have a good, solid base for your development. And this has been assured by a good political system, which is directed by good politics, which mainly focuses on improving the lives and conditions of the people. So we share that in Rwanda. We have also found our own political system that is suited for our conditions, supported by our people, and has guaranteed stability," said Kayonga.
He noted that China's opening-up has also inspired Rwanda a lot. "China's development began with its opening-up, which started 40 years ago when the country allowed international companies to come in and run businesses in China. In Rwanda we have also worked to establish a good business environment to attract foreign investment. Currently Rwanda is rated the second [best] African destination for doing business."
A Bright Proepect for China-Africa Cooperation
Xi once likened the fast developing Africa to a galloping lion. As African countries speed up their development and begin to realize industrialization and modernization, and China quickens its economic restructuring and upgrading, the two sides are seeing great potential for mutually beneficial cooperation. The FOCAC Beijing Summit convened in early September maps out new plans, rolls out new measures, and brings about new opportunities for cooperation between China and African countries by aligning the Belt and Road Initiative, the UN Sustainable Development Goals, the African Union 2063 Agenda, and national strategies of African countries.
"China-Africa cooperation has been there for some time since the 1950s. It was institutionalized in 2000 when FOCAC was established. Now there is a platform where our leadership can meet regularly, from senior official level to ministerial level, to presidential summits to discuss cooperation. And we see programs being developed and implemented. For instance, in the Johannesburg Summit in 2015, President Xi Jinping proposed 10 cooperation plans, putting forward 60 billion dollars to implement these plans," said Kayonga.
The ambassador indicated that people are looking forward to more plans and programs for the next three years. "You see, we are cooperating in all these areas. We are cooperating at the political level where the two sides exchange views on politics, political affairs, and pay visits to each other to build political understanding and trust between our peoples. At the economic level, we are cooperating on infrastructure construction, industries, trade, and finance facilitation. At the social development level we have exchanges on poverty alleviation strategies and carry out cooperation programs on education and medical care. We also have cultural and people-to-people exchanges where communities meet. And this is how we build public support for the cooperation between China and Africa," said Kayonga.
The ambassador went on to say, there is also cooperation in peace and security, because peace is needed to do business.
"China and Rwanda are both participating in peacekeeping operations. For instance, in South Sudan, we are working together with other countries. It is also in the context of China-Africa cooperation to meet and discuss peace and security and then cooperate at the international level. From all those levels, FOCAC provides a good platform for collaboration between China and Africa. So I think the forum is a good thing."
Despite China's selfless assistance to African countries of all these years without any political strings attached and their mutually beneficial cooperation on an equal footing, China has been accused of neocolonialism from time to time.
Responding to that, the ambassador said, "We know history very well. We know the historical colonization and the parties who have been involved in the colonization of Africa. For instance in Rwanda, we know the colonial history in Rwanda and the divisions in our country, which even led to genocide. But we also know the history of liberation of the continent of Africa, and the role of China in that liberation. So the allegation of Chinese colonization of Africa definitely is fake news."