MY father Héctor Mora is a famous Colombian documentary director, producer, and journalist. He was dubbed "the Google map of his time" and "the one who helped Colombians to see the world" by local media for what he did. From 1977 to 2001, my father set foot on 107 countries and regions, making 1,250 documentaries, among which 52 are related to China. The programs he made were the first, both in Colombia and in other parts of South America, to depict China.
My Father's First Visit to China
In 1976, my father started his weekly TV program Cámara Viajera, in which he presented the world from a Colombian point of view and objective.
About three years later, when his program got to its 150th episode, someone contacted him on behalf of the Chinese government, saying it was hoped that he could shoot a documentary in several Chinese cities as a way to introduce China to Colombian people.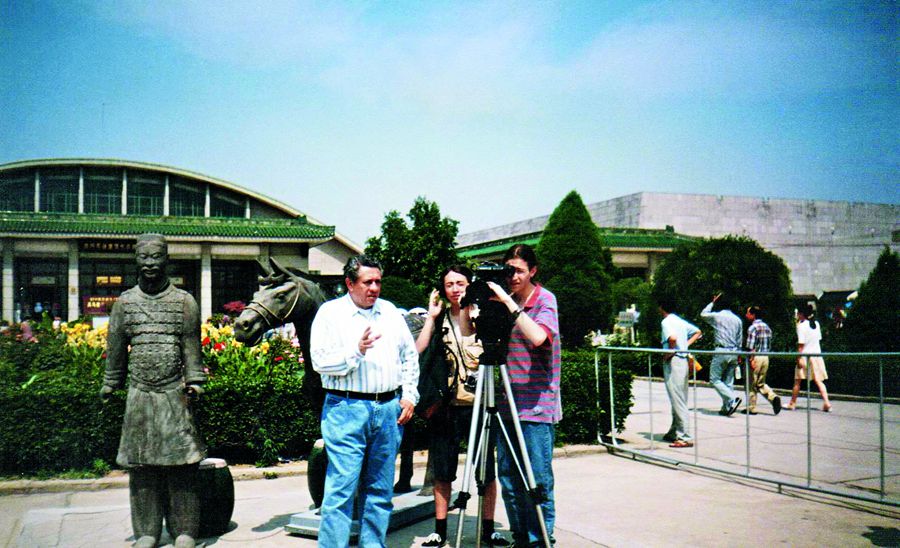 1997
Héctor Mora, Andrés Mora, and Héctor Arturo Mora (from left to right) at the entrance of the museum of the Terracotta Army in Xi'an.
At that time, there were no diplomatic relations between the two countries. In fact, diplomatic relations had not yet been established between China and most Latin-American countries. To my father, the proposal was both challenging and appealing as he literally knew nothing about China apart from gunpowder, the compass, Chinese calligraphy, silk, and Chairman Mao, just like most Colombians. Thus, my father flew to Tokyo first to get his Chinese visa, and then headed for Beijing, another world in his mind.
He wrote about his first visit to Beijing in his diary: It's autumn when I arrived in Beijing. Poplar tree leaves flutter in the wind amid the fog. The airport of Beijing is quite small, only harboring 27 airplanes at a time. The airport staff, solemn faced, are dressed in military uniforms. International flights are rarely seen, which I guess explains why no one could speak English. But we are warmly welcomed on arrival as the first media team who came all the way to China from Colombia.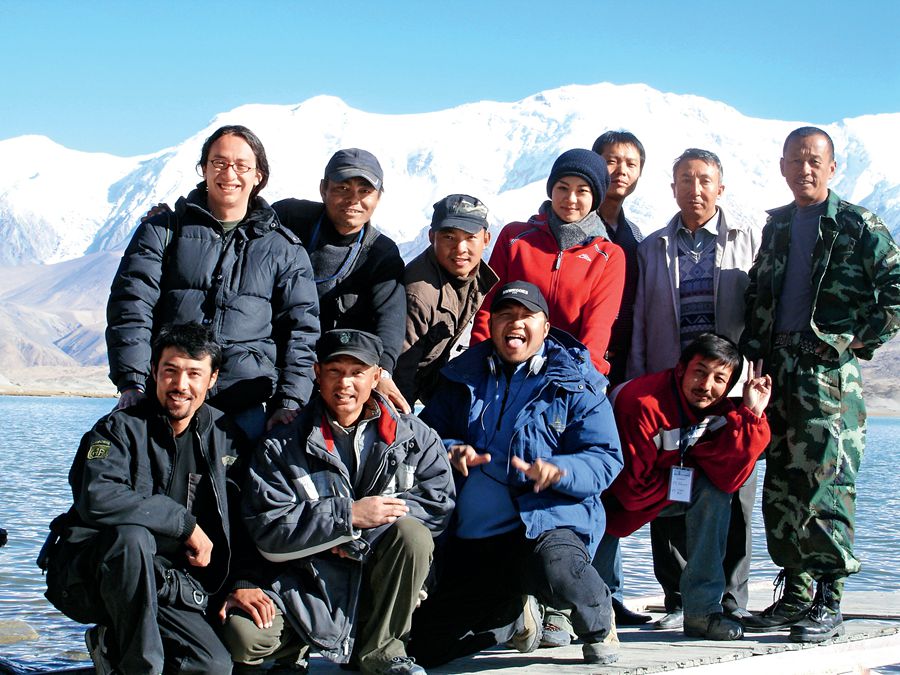 2006
Andrés Mora (first left), with part of the production team for Cometas En El Cielo (Kites in the Sky), on the shores of Lake Karakul, Xinjiang Uygur Autonomous Region.
In Beijing, their stay was arranged in the biggest garden hotel in Asia, the Friendship Hotel, an iconic hotel at the time. My father wrote in his diary: Chinese people live a regular life. Every morning we are awakened by soft music in the neighboring park where a group of old men, some dancing, others practicing tai chi, are quite relaxed. At around 9 p.m., there are few people on the street. Stores usually close around seven at night, as that's dinner time for Chinese people. Bicycles are the main vehicles, while cars are hardly seen on the street, and so are pedestrians, who are dressed in black, grey, or deep blue tunic suits or round-collared shirts, and wear black cloth shoes.
My father's first trip in China started from Beijing's Tian'anmen Square, the Monument to the People's Heroes, the Forbidden City, and the Great Wall to Shanghai, Hangzhou, and Guangzhou. His last stop was Hong Kong from where he flew back home via Europe. Then he made his first documentary on the ancient country.
A Witness to China's Profound Change
My father came to China again in 1989 to shoot the grand ceremony for the 40th anniversary of the founding of the PRC. This time the Beijing airport had been expanded, and tourists from all over the world could be seen waiting for exit and entry. A professional film making team was waiting for him at customs. It was much quicker to go from the airport to the downtown, and along the way, he saw numerous construction sites and cranes. Vibrancy permeated the air.
Beijing took on a brand new look. People no longer wore tunic suits; instead, their dressing style was more diversified with many going Western. Besides, the way Chinese people expressed their feelings were more open and warmer, though no hugs or kisses.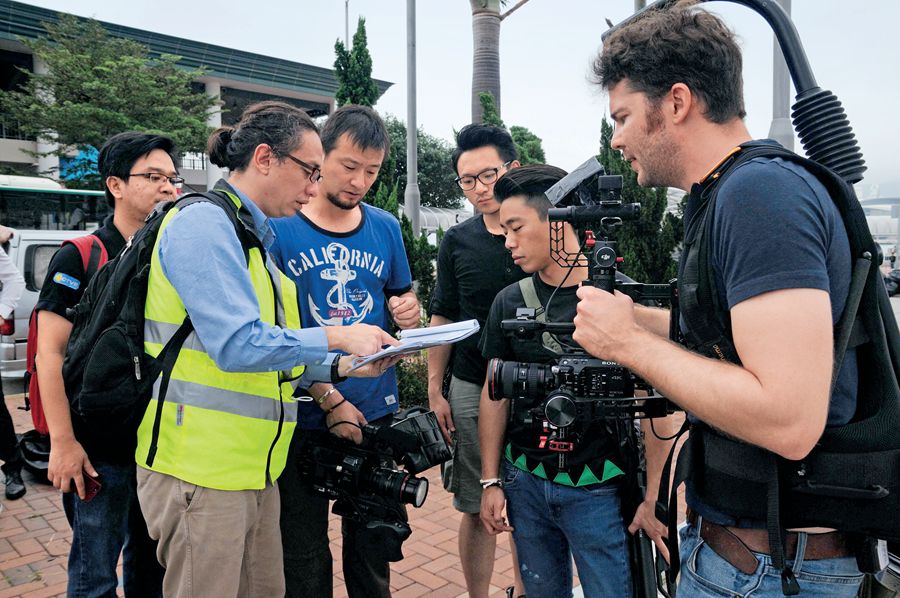 2016
Andrés Mora (second left) in Hong Kong during a shoot with the CTVS team.
In 1992, my father came to China the third time to shoot terra-cotta warriors in Xi'an and the customs and life in Tibet. At that time, China was thriving in many ways.
In 1997, my father was invited to attend the ceremony of the return of Hong Kong to China. "Together with 8,000 other journalists from all over the world, I witnessed the historic moment of 11:59 p.m. on June 30, when the world's 15th largest economy was returning to the arms of China."
On October 1, 1999, China's National Day, as one of the two dozen foreign media representatives, my father and I went to Tian'anmen Square to shoot the country's 50th anniversary celebration. There was a grand military parade which showed troops equipped with modern weapons marching in step as well as the most advanced intercontinental missiles.
We filmed in Beijing, Inner Mongolia, Suzhou, and Guilin, and got a strong feeling that China was growing rapidly.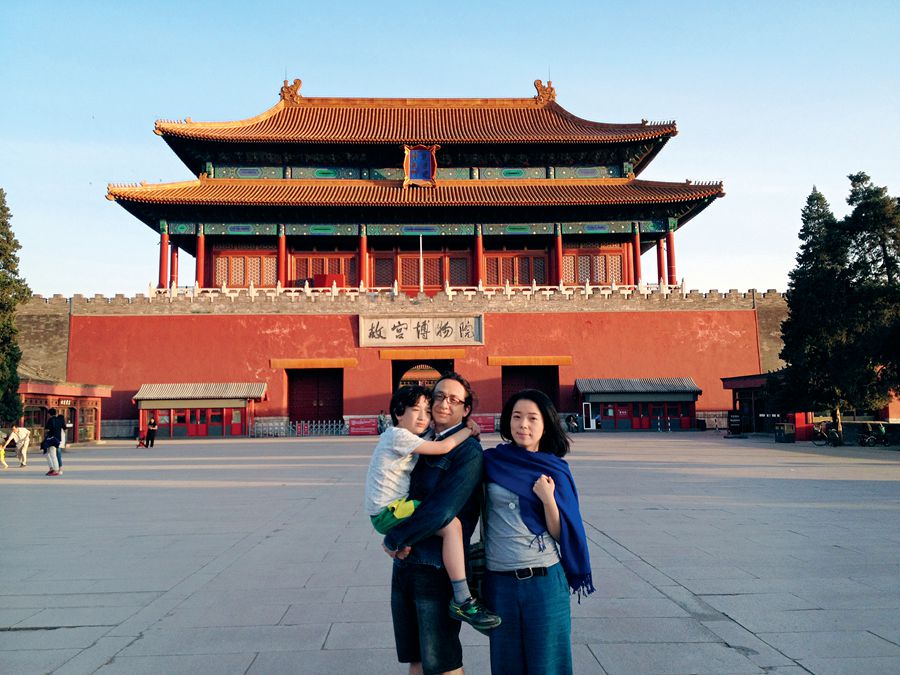 Andrés Mora, his wife Morita Sakura, and their son Eiso Mora in front of the Forbidden City in Beijing.
I accompanied my father to China several times. In 2008, we came for the Beijing Olympic Games. In 2011, we came for the 30th anniversary of the establishment of diplomatic relations between China and Colombia. In total, my father made 52 documentaries about China to introduce China's industrial development and economic changes in an all-round way. He believed that China had a bright future, and in three or four decades, it would draw the attention of the world.
The Opportunities China Brings to Me
The first time I visited China was in the summer of 1997, when my parents, my elder brother, myself, and another photographer came to shoot Hong Kong's return to China. Later we stayed for three more weeks and went to Shenzhen, Guangzhou, Shanghai, Xi'an, Beijing, Hohhot, and Baotou where we worked with government institutions for several documentaries.
At that time, though Shanghai's Pudong, downtown Shenzhen, and the fourth ring of Beijing had just been planned as hubs for future development, they were still nothing but empty new streets or barren lands. It was hard to conjure up modern blocks with skyscrapers. However, that China trip was a big influence on me, as I saw a vibrant China and a country of proud, vigorous, and determined people.
I studied anthropology at the Universidad de los Andes. After graduation, I saw a brochure of the Beijing Film Academy, which intrigued me. Therefore in 2002, I went there for further study. The rapid development of the Chinese economy was reflected in China's film and television industry, which gave me many opportunities. I was the third assistant director in The Kite Runner (2007), co-produced by China and America, and shot the live show of the British band Keane on the Great Wall. Besides, in 2015, my team spent a week in Dunhuang, west China's Gansu Province with the 105-year-old painter, calligrapher, and master of Chinese culture, Wen Huaisha to make a documentary for him.
Today, modern telecommunications technologies keep developing rapidly, and China is growing by leaps and bounds in this field, which makes communication through videos easily approachable. More communication channels and services are thus needed to better connect China and Latin America and to make documentaries accessible on mobile devices. Documentaries and films can bridge two nations, and the more accessible on portable devices they are, the better the results. Now, as I get to a more mature stage in life and career, I want to put the filming bases I have in Beijing, Hong Kong, and Bogota to full use to do something in further connecting China and Latin America.
In my father's eyes, China has undergone vast transformation. The wide variety of goods, the fashionable clothes people wear, the rapid and convenient transportation...everything is in stark contrast to the not so distant past. But he said in many aspects, China remains unchanged; for example in the park, the elderly still enjoy a leisurely time playing board games, playing with grandchildren, and chatting with friends. People feel happy deep down.
To me, China's economic reform and opening-up open a world for my life and career. I believe more enjoyable and meaningful experiences await me here.
ANDRÉS MORA is a Colombian TV program producer living in Beijing.